Media Bits and Bytes - It's A Jungle Out There edition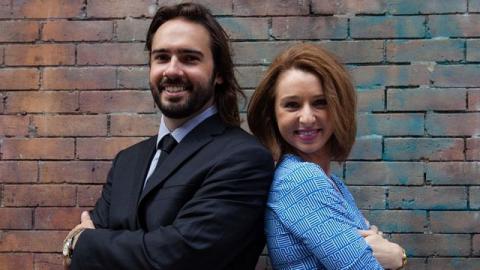 SketchFactor, co-founded by Allison McGuire and Daniel Herrington,Photo: Courtesy of SketchFactor // Crains
[Click on links below to read at original sources]
 
Gentrification: White People Following White People
By Kevin Hartnett
August 6, 2014
Boston Globe
An inventive new study using Google Street View and an archive of 1990s videotapes has found that gentrification may involve less racial mixing than we assume-and in fact, may reinforce residential segregation.
In an article this month in the American Sociological Review, doctoral student Jackelyn Hwang and Harvard sociologist Robert Sampson used Google Street View to take a virtual walking tour of Chicago. As they went, they looked for details like home renovations or new construction that indicate gentrification is underway, or litter and graffiti, which indicate it's not. Based on those observations they gave each census tract in Chicago a gentrification score. Then they compared those scores against a similar but far more labor-intensive study Sampson had carried out twenty years earlier.
Sampson and Hwang's study shows that gentrification may operate by the same rules that have governed urban inequality for decades-white areas flourish, and minority neighborhoods are left behind.
New App Will Keep You Away from 'Sketchy' Areas
By Thornton McEnery
August 7, 2014
Crain's New York Business
SketchFactor, the brainchild of co-founders Allison McGuire and Daniel Herrington, is a Manhattan-based navigation app that crowdsources user experiences along with publicly available data to rate the relative "sketchiness" of certain areas in major cities.
According to Ms. McGuire, a Los Angeles native who lives in the West Village, the impetus behind SketchFactor was her experience as a young woman navigating the streets of Washington, D.C., where she worked at a nonprofit.
After meeting Mr. Herrington, an electrical engineer who was taken with the SketchFactor idea, the two quit their Washington D.C.-based jobs and decamped to New York City with funding from family and friends.
Writers Unite in Campaign Against 'Thuggish' Amazon
By Mark Brown
July 25, 2014
The Guardian (UK)
Some of the biggest literary names on the planet have joined an unprecedented campaign against the world's biggest books retailer, Amazon.
The writers have lent their name to a letter objecting to Amazon's tactics as it negotiates over ebooks with Hachette, the fourth largest publisher in the US.
As the standoff continues, Amazon has been slowing down delivery of Hachette books, preventing pre-order and removing previous discounts.
It is "thuggish behaviour", said the Maine-based thriller writer Douglas Preston. "I'm talking to so many young authors, struggling debut authors who have worked for years and years to get published and then Amazon does this and crushes their hopes and dreams of building an audience."
Another Nixon Reminder: Media Ownership Rules
By Brooks Boliek and Katy Bachman
August 8, 2014
Politico
Journalists have been writing nonstop this week about how the resignation of President Richard Nixon - 40 years ago Friday - changed Washington and the American landscape. Add the media landscape to his legacy list.
The Federal Communications Commission's media ownership rules, which were shaped during the Watergate scandal, are currently under review. The first comment deadline was Wednesday. The rules that govern how many TV or radio stations can be owned in a single market is always a flash point in Washington - especially the rule barring most newspaper, TV and radio combinations. Some want to loosen things up to help revive the struggling print business.
That the newspaper business is fighting for its life since the rise of the Internet is well documented. But the cross-ownership rule made it even harder to compete, the Newspaper Association of America said in its comments to the FCC.
"Newspapers - and only newspapers - are prohibited from being jointly owned with broadcasters in the same market," the NAA wrote in its comments to the FCC. "In contrast, Internet companies, which compete with newspapers for advertising revenues, have the flexibility to make business investments based on changes in the marketplace."
LinkedIn, U.S. Labor Dept Settle Overtime Case for $6 Million
By Amanda Becker
August 4, 2014
Reuters
In a settlement announced by the Labor Department on Monday, LinkedIn will pay more than $3.3 million in retroactive overtime wages and more than $2.5 million in damages to workers in California, Illinois, Nebraska and New York.
The Labor Department's investigation revealed that LinkedIn, based in Mountain View, California, failed to record and compensate workers for all hours worked, violating provisions of the Fair Labor Standards Act (FLSA).
In addition to the settlement payment, LinkedIn will train all employees that "off-the-clock work" is prohibited for all non-exempt workers, the Labor Department said.