labor
Across Asia's Borders, Labor Activists Team Up to Press Wage Claims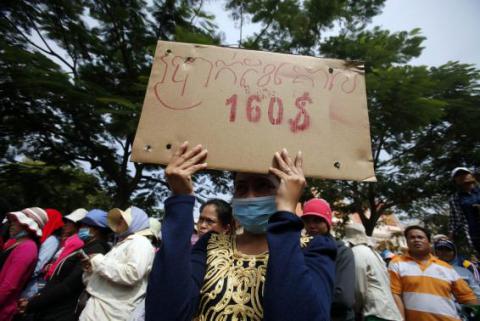 A garment worker holds a placard during a protest in central Phnom Penh in 2013,Reuters/Samrang Pring
Labor leaders behind the biggest strikes in Cambodia's $5 billion garment industry knew last year they had a strong case for higher wages: they had already compared notes with activists in neighboring countries.
The result was a 25 percent increase in the minimum pay for an estimated 600,000 garment workers, to $100 a month, the biggest jump in around 15 years. Now, they're asking for more.
Negotiations over pay and working conditions have typically remained within national borders, but activists are now bringing more muscle to the table and putting more pressure on employers and governments by using shared experiences in nearby markets.
For global companies that have shifted production to Southeast Asia's low-cost manufacturing hub, this could mean less room for wage bargaining, a squeeze on profits and maybe even higher price tags on anything from shoes and clothing to cars and electronics appliances.
"I see a trend towards more and stronger collaboration among labor leaders that can take different shapes and forms, from exchanging information to partnerships," said Peter van Rooij, director of the International Labor Organization (ILO) in Jakarta, noting ties would likely strengthen with next year's planned economic integration by the 10-member Association of Southeast Asian Nations (ASEAN).
Thousands of workers in China, Indonesia and Cambodia have protested in recent months at local firms supplying U.S. sportswear company Nike Inc to press for better pay and conditions. Up to 4,000 workers at Sabrina (Cambodia) Garment Manufacturing Co, which makes clothes for Nike, went on strike in May last year demanding higher wages to keep pace with transport, rent and healthcare costs.
HOTEL LOBBY
Across Asia's low-cost garment manufacturing industry in particular, there have been more strikes as unions use a shortage of skilled workers to press for better pay and improved safety - an issue highlighted by the April 2013 collapse of the Rana Plaza garment factory in Bangladesh, which killed at least 1,130 people.
Members of the Garment Manufacturers Association in Cambodia (GMAC) have reported a jump in the number of strikes to 147 last year from fewer than three dozen in 2011. Other international brands hit by protests at Cambodia-based suppliers last year include H&M Hennes and Mauritz AB, Wal-Mart Stores Inc, Gap Inc and Puma SE.
Following the Bangladesh disaster, local unions reached out to international labor representatives, said Annie Adviento, director of IndustriALL's Southeast Asia office, helping create the landmark Accord on Fire and Building Safety - a legally binding agreement signed by more than 150 apparel firms and the unions that requires factories to have independent safety inspections with the results made public.
IndustriALL, which represents 50 million workers in 140 countries worldwide, said it arranges meetings two to three times a month to bring together labor activists from across Asia, something that was rarely done before last year.
"Issues are not being kept secret at the national level anymore. The capacity of the unions to share information has improved," said Adviento. "We're doing many exchanges this year as we found they are very effective and we intend to continue in 2015," she said, adding Cambodia and Bangladesh have been "high profile cases" for the global labor union.
"We communicate with each other and we give duties to this international union to lobby in asking for pay rises," said Chea Mony, president of the Phnom Penh-based Free Trade Union.
Said Iqbal, who heads the Confederation of Indonesian Trade Unions, with more than 1.4 million members, said he has been invited to Malaysia, Vietnam, Cambodia and Laos to share his experiences with other activists.
"Our motto is clear - say no to cheap wages. We're spreading that principle in Southeast Asian countries," he told Reuters.
Iqbal said the meetings arranged by IndustriALL can be seminars for up to 50 people, or gatherings drawing a group of labor leaders from several countries to a hotel in one of the region's capitals, where they compare minimum wages and talk about social security and other labor-related issues.
"We're trying to spread the principle of 'concept, lobby, action'," said the 46-year-old, recalling how he became involved in labor activism to fight the kind of poverty that forced his mother to sell cakes to fellow workers in a Jakarta textile factory just to make ends meet.
"That probably took root in my mind and heart. A person can work for decades for one company and still remain poor. I felt a call to really fight at the labor unions," he said.
UNION INFLUENCE
When negotiating with the GMAC and the Cambodian government, unions have drawn on examples from other Asian countries such as Thailand - which last year brought in a national daily minimum wage of 300 baht ($9.42) - said Pav Sina, president of the Collective Union Movement of Workers.
While the GMAC agreed to gradually raise the monthly minimum pay to $160 by 2018, the unions - which have power and influence over Cambodia's economy - are pushing for $177 a month and have threatened more strikes, Pav Sina told Reuters.
In Jakarta, capital of Southeast Asia's largest economy, the minimum monthly wage has jumped around 60 percent to 2.4 million rupiah ($205.30) over the last two years, partly due to intense lobbying by labor activists. That compares to 1,820 yuan ($295.79) a month in Shanghai - the highest in China, once the world's 'cheap factory'.
Even as wages rise, labor activists are confident they aren't at risk of pricing themselves out of the market. Arief Budiman, President Director of consultancy PT. McKinsey Indonesia, says global firms recognize Asia's "market opportunity" and expanding consumer base.
"Companies have threatened to move out of Indonesia, but I think that's just an empty threat," said Wahidin, an official at the Indonesian Muslim Workers Brotherhood. "The reality is that few have closed, and in fact more want to expand here."
In an emailed statement, Nike said it takes a "long-term approach" to sourcing decisions - it has contract factories in 44 countries - and is always looking to improve its supply chain, through increased productivity and efficiency.
(Additional reporting by Dennys Kapa in JAKARTA and Emma Thomasson in BERLIN; Editing by Ian Geoghegan)