Media Bits & Bytes - Black & White & Read All Over edition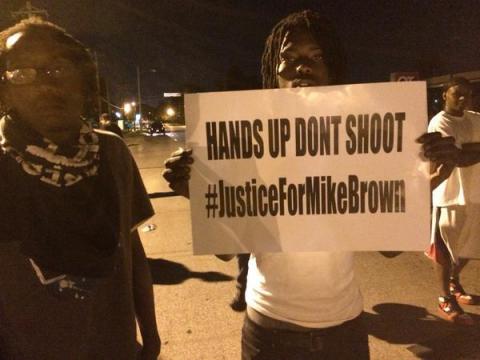 .,Credit: Matt D. Pearce (https://twitter.com/mattdpearce)
Thank You, Black Internet, for Bringing #Ferguson to Me
By Malkia A. Cyril
August 15, 2014
Huffington Post
From digital activism that echoes local demands for police accountability, to the humbling bravery of Black bloggers that have traveled to Ferguson to speak truth to power--the open Internet is a critical battleground where Black communities can connect across geographic lines, fight media misrepresentation, and oppose the police violence we find in every city, in our own voices.
#Ferguson, and moments like this one that lay this nation's greatest contradictions at our feet, is the reason a new generation of African American change-makers are demanding that the Federal Communications Commission (FCC) reclassify the Internet as a common carrier service. Too often, our lives depend on our ability to tell stories of the abuse of power, without interference from corporate gatekeepers.

A Ferguson Story on `Conflicting Accounts' Seems to Say `Trust Us'
By Margaret Sullivan
August 21, 2014
New York Times/Public Editor
Want an object lesson in the problems of dubious equivalency and anonymous sources?
Look no further than Wednesday's Times, where a highly fraught question - precisely how, in Ferguson, Mo., a black teenager, Michael Brown, was shot by a white police officer, Darren Wilson - is the subject of the lead story.
The story's first paragraph says that "witnesses have given investigators sharply conflicting accounts of the killing."  But where is the backup for the "he said she said" that readers are so tired of? What's the sourcing?
My take is this: The Times is asking readers to trust its sourcing, without nearly enough specificity or detail; and it sets up an apparently equal dichotomy between named eyewitnesses on one hand and ghosts on the other.
What Do We Learn From Big Data Visualizations Of Net Neutrality Comments?
By Harold Feld
August 18, 2014
Wetmachine
In its ongoing network neutrality proceeding, the FCC has received about 1.1 million public comments so far (we can expect more when replies come due in September). To facilitate further discussion and debate, the FCC released these comments in 5 XML Files that make doing searches and analysis much easier. Briefly, the volume of individual comments and the analysis shows a high level of engagement. More importantly, the comments do not simply reflect the talking points we see in the mainstream media and debated in DC policy circles. A lot of people are actually thinking about this issue and deciding why it is important to them personally, and it has nothing to do with cat videos or Netflix.
The number of individual comments opposing net neutrality regulations as unnecessary and overly burdensome government regulation of the Internet is so small as to be statistically irrelevant to data visualization analysis. Those people who care enough to comment all run one way - they want the FCC to adopt rules that prohibit paid prioritization and protect an open Internet.  The level of participation by individuals is unusually high, unusually passionate, and unusually independent.  

Boston Police Used Facial Recognition Technology to Capture Every Face at a Recent Music Festival
By John Vibes
August 21, 2014
The Free Thought Project.com
On May 25 and 26 of 2013, Boston police tested an advanced facial recognition system to monitor concert-goers at the Boston Calling Festival.  Recently, independent investigators with Dig uncovered documents on the Dark Web, showing how IBM was contracted by the city's government to provide technology that would keep track of all 20,000 attendees at last year's festival.
The documents showed that IBM allowed the city's government to use its "Face Capture" software with the intent of tracking the face of every person who came through the door.
Kate Norton, the press secretary for Boston Mayor Marty Walsh, said that the use of this technology during large events in the city has only been a test, and that they have no plans for long term implementation.  Although, she also revealed that this technology was used yet again for the Fall edition of the Boston Calling festival.  The testing of this technology was a pilot for IBM's "Smart Cities Initiative", which plans for widespread and permanent implementation throughout the country.
Union Calls for Broadcaster Sharing Disclosures
By Julian Hattem
August 5, 2014
The Hill

A top telecom workers union is calling for the Federal Communications Commission to require radio and TV broadcasters to publicly detail all sharing agreements that they have.
"Disclosure is long overdue, and does not require further consideration," the Communications Workers of America wrote in their filing on Monday.
The union said that broadcasters make deals to share the same news programming or give each other operational support "to evade the Commission's local television ownership rules and its newspaper/broadcast cross-ownerships rules."
The FCC should expand an order banning broadcasters from selling at least 15 percent of another's advertisements to those other sharing arrangement, the union said. That would prevent companies from trying to skim profits by getting rid of employees and degrade "the quality and quantity of locally originated news and public affairs programming at the expense of quality journalism."
The filing comes on the heels of a Government Accountability Office report that said the commission is essentially flying blind on oversight of the sharing deals.

Study: Government Blocks Specific Journalists From Accessing Information
By David Sirota
August 7, 2014
International Business Times
As states move to hide details of government deals with Wall Street and as politicians come up with new arguments to defend secrecy, it was revealed this week that many government information officers block specific journalists they don't like from accessing information. The news comes as 47 federal inspectors general sent a letter to lawmakers criticizing "serious limitations on access to records" that they say have "impeded" their oversight work.
The data about public information officers was compiled over the past few years by Kennesaw State University professor Carolyn Carlson. Her surveys found that 4 in 10 public information officers say "there are specific reporters they will not allow their staff to talk to due to problems with their stories in the past."