Media Bits & Bytes - Money Doesn't Talk, It Spins edition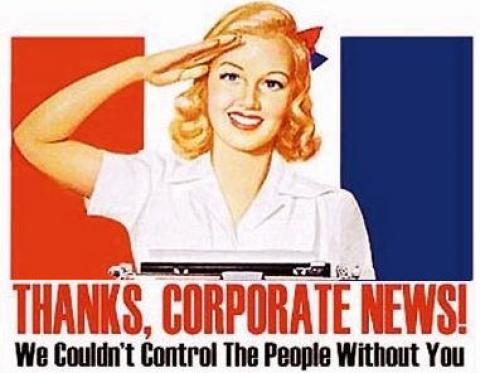 Legal Cheek
Who's Paying the Pro-War Pundits?
By Lee Fang
September 16, 2014
The Nation
If you read enough news and watch enough cable television about the threat of the Islamic State, the radical Sunni Muslim militia group better known simply as IS, you will inevitably encounter a parade of retired generals demanding an increased US military presence in the region. They will say that our government should deploy, as retired General Anthony Zinni demanded, up to 10,000 American boots on the ground to battle IS. Or as in retired General Jack Keane's case, they will make more vague demands, such as for "offensive" air strikes and the deployment of more military advisers to the region.
But what you won't learn from media coverage of IS is that many of these former Pentagon officials have skin in the game as paid directors and advisers to some of the largest military contractors in the world. Ramping up America's military presence in Iraq and directly entering the war in Syria, along with greater military spending more broadly, is a debatable solution to a complex political and sectarian conflict. But those goals do unquestionably benefit one player in this saga: America's defense industry.
The Invasion of Corporate News
By Andrew Edgecliffe-Johnson
September 19, 2014
Financial Times
A population of 100,000 is no longer a guarantee that a city like Richmond, California can sustain a thriving daily paper. Readers have drifted from the tactile pleasures of print to the digital gratification of their smartphone screens, and advertising revenues have drifted with them. Titles that once served up debates from City Hall, news of school teams' triumphs and classified ads for outgrown bikes have stopped the presses for good.
Last January, however, a site called the Richmond Standard launched, promising "a community-driven daily news source dedicated to shining a light on the positive things that are going on in the community", and giving everyone from athletes to entrepreneurs the recognition they deserve.
The Richmond Standard is one of the more polished sites to emerge in the age of hyper-local digital news brands such as Patch and DNAinfo.com. The site - which is upfront about wanting "to provide a voice for Chevron Richmond on civic issues" - includes a section called Chevron Speaks where the company has challenged "incorrect and misleading information" in rival local publications by spelling out its argument that its refinery upgrade will reduce pollution and create jobs. When the Richmond Standard questioned the mayor's ties to a PR firm "suspected of hiring phony protesters to demonstrate outside the Chevron shareholders meeting", however, the article was tagged as news, not spin.
Remote Data Wipes of Workers' Personal Devices Are Rising
By Lauren Weber
September 9, 2014
Wall Street Journal
The Bring Your Own Device, or BYOD, trend can seem like a win for workers and employers alike. Staffers use their personal phones or tablets for work so they don't need to juggle multiple gadgets, and they frequently get a portion of their monthly charges reimbursed by their companies. Meanwhile, employers save money by not having to purchase such hardware or upgrade whenever a new model launches.
But the trend comes with a troubling consequence: employers can remotely erase data from those devices, and they aren't required to make a distinction between personal and professional information. Workers at a variety of companies report losing their lists of contacts and treasured photos.
The Unbearable Whiteness Of Late Night
By W. Kamau Bell
September 11, 2014
BuzzFeed
Every time a late-night job becomes available, people on social media and websites like this one get to play Fantasy TV Exec! And we toss around overqualified, non-white guy candidates like Aisha Tyler, Maya Rudolph, Wayne Brady, Tina Fey, Margaret Cho, Ellen DeGeneres, and Chris Rock.
Occasionally, I even get thrown into the mix. And for a little while it is exciting to think of the possibility of these shows. until we actually hear the announcement.
Don't get me wrong. I'm super excited to see what Stephen Colbert does with The Late Show. He's unquestionably a comedy genius. But you can't tell me that Wayne Brady wouldn't do as good a job as Jimmy Fallon.
And now The Late Late Show is going with another Jimmy, James Corden. And there was a collective same as it ever was from those same people who made all those fantasy lists.
On Net Neutrality and Labour Strategies
By Benjamin Elgie
September 22, 2014
The McGill Daily
On September 10, several organizations, including the Columbus Institute for Contemporary Journalism, the progressive Demand Progress campaign group, and internet and tech sector lobby groups Fight for the Future and Engine, joined to promote 'net neutrality' via an online protest against proposed rules from the Federal Communications Commission (FCC), an independent U.S. government agency.
The symbolic protest endorsed by these campaign groups involved placing a `loading' icon on a variety of websites. Tumblr, Grooveshark, Reddit, Netflix and Vimeo all took part in the protest, as well as other media-heavy sites that would be forced to pay for a faster connection.
The action was labelled a `slowdown' to highlight the consequences of the proposed FCC rules, but the organizers were quick to reassure users that no actual slowing of services would occur. A much more impactful and significant action would have been to actually slow internet traffic to demonstrate the effects of the proposed rules. What's more, an actual slowdown would have drawn on successful labour tactics. The net neutrality protest merely appropriated the language of labour organizing.