Tidbits - May 5, 2016 - Reader Comments: Daniel Berrigan; Gary Tyler Free; The People's Summit; The Sanders Campaign; When Socialists Won Elections; Liberalism's Crisis; and more...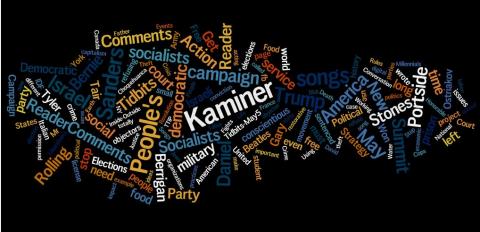 Tidbits, Reader Comments and Shorts - May 5, 2016,Portside
Shorts:
Announcement:
This is a fantastic statement and reminds ALL of us that a better world is possible when we step up and demand positive changes by acting for/with people versus corporate power not just in America but here too!
Joe Grogan
Bolton, Ontario
My world is smaller, and colder, and sadder today because he's no longer in it. Rest in glory and in the peace you fought for so hard and so well, Father.
Virginia Blackert
This is a long read for an exceptional human being. I was educated by men of his order at Seattle University, and he was an exceptional example of their values and commitment.
Ethel Kirk
I am so glad that Gary Tyler is finally free!! What a miscarriage of justice that it has taken so long to free an innocent child!! I worked to free him decades ago. So glad that it has finally happened. Stay strong Gary. You are one of my heroes.
Sandra Stimpson
People need to come to Chicago and share their ideas on a post-election future. How do we build the movement? How do we unite the various more specific constituencies together? How can we reach into poor communities and communities of color to expand our understanding and our reach? Come to Chicago!
Nancy Romer
Go there for more information, speakers, schedule, registration information, housing, etc.
These are the organizations that are supporting the People's Summit:
National Nurses United (NNU); Food & Water Action Fund; People's Action' Progressive Democrats of America (PDA) ; The People for Bernie; People Demanding Action; Reclaim Chicago; United Students Against Sweatshops (USAS); Democratic Socialists of America (DSA); 350.org; Physicians for a National Health Program (PNHP); African Americans for Bernie; Latinos for Bernie; Asian Americans/Pacific Islanders for Bernie; presente.org; Maine People's Alliance (MPA); Iowa Citizens for Community Improvement Action Fund (CCI); Progressive Maryland (PM); Rights & Democracy Vermont: Student Labor Action Project (SLAP); United States Student Association (USSA); Socialist Alternative; The People's Lobby; Hold Strong for Justice (Illinois); Showing Up for Racial Justice (SURJ); Labor Campaign for Single Payer; Working Families Party (WFP); RootsAction; Healthcare-Now!; Friends of the Earth; MillionHoodies Movement for Justice; Friends of the Earth Action
Jay Schaffner
This is wonderful & important! He needs to finish all the primaries & go on to the Convention. This is a movement. It's important to keep contributions coming in.
Diane Laison
Big job!
Paula Meyer
The Democratic Party will never be democratized as long as it is committed to Wall Street. the 1%, and the military, industrial, prison complex. He should focus on helping to organize a mass party committed to the political and economic revolution he has called for and most importantly a party that will fight for an authentic multiracial democracy.
Carlos Munoz Jr
This blog profiles the areas in the past where socialists won elections and connects to a much larger base of digital public history on the subject. I am sure readers will find it interesting.
Rosemary Feurer
the reactionary petty bourgeoisie as per usual.
Nikhil Singh
Another indictment of capitalism. It must fall, or it will destroy all life on earth.
Ellen Cantarow
it's appalling that our children are under police control in schools. Get the fluoride out of their water supplies, GMOs out of their food supply and Big Pharma drugs out of their system. We didn't have a security guard when I was in school. I don't understand this.
Sheila Lewis Ealey
Cambridge Public School Department is-- I do believe-- an exception to this op-ed. In fact I would suggest that other municipalities and urban school departments look closely at the Cambridge Police Dept. very pro-active programs and policies. Everything can be greatly improved, even in the Peoples' Republic of Cambridge, but that being said, I would submit that the CPD bends more towards restorative justice, and social justice than most every other. The CPSD, on the other hand, still needs to make its programs and policies regarding detention, suspension and expulsion more aligned with restorative justices practices. It may be better than some. Although I CRLS has complied with the DOE's demands to make the enforcement of student deportment rules more equitable with regard to race, class and gender, there is in my humble opinion a paucity of restorative practices, and the teachers would surely benefit for training around said practices.
Larry Aaronson
Sarah Block
definition of racism:  
"Thus, while Israel allows Jews born anywhere on Earth to move to Israel and automatically gives them citizenship, Palestinian refugees - including those born in what is now Israel - are forbidden from returning"
Francisco Gonzalez
Conscientious objector, Tair Kaminer, sentenced to an additional 30 days in prison. 
Two conscientious objectors were sentenced yesterday to a new stretch in military prison.  One of the refuseniks, Tair Kaminer, who  has served 95 days so far in military prison, wrote in her Facebook that it is not easy for her to refuse knowing that she will return to prison again, but to her sorrow, "reality continues to prove that we must oppose what is going on." She wrote that as a result of the shooting of the brother and sister, Maram Ismail and Salah Taha at Kalandia, she has "chills all over her body out of anger and frustration over the situation. I am sad that I have today yet another reason to refuse induction, to refuse to serve this horrible occupation."
Reuven Kaminer
May 05, 2016
Kaminer, 19, has already served a total of 95 days in military detention for refusing to enlist. When she completes her fifth sentence, she will hold the record for time served for refusing to serve in the IDF, according to Mesarvot, an organization that supports Kaminer and other conscientious objectors in Israel.
Kaminer has repeatedly declared that she isn't trying to evade service to society and is willing to swap her compulsory military service for civilian national service. Before refusing conscription, she performed a year of volunteer service with the Israeli Scouts in Sderot. . .
The army's fear of these young people stems from the unjustified concern that others will follow in their footsteps. But the draconian measures taken against them betray a lack of moral confidence and a weak ethical backbone. 
Kaminer could have chosen one of many options that would have exempted her from service, like getting married or declaring that she's religious. Her parents claim that the IDF even hinted to her that "there are ways to get out of serving in the army," by trying to get a mental health exemption, for example.
The IDF must stop maltreating Kaminer and other conscientious objectors, and let them do civilian service instead.
This is an interesting article, but it neglects a whole literature on democratic socialism or social democracy. In and around the Russian Revolution 1917 socialists debated their future and a permanent split occurred between Marxist socialists who believed in revolution, autocratic states and were frequently not crazy about unions as their vehicle was "the party," and democratic socialists who believed in elections, supported what we came to call the social welfare state and strongly supported unions as they were democratic organizations. This divide never healed and resulted in very different politics in different countries. While Russia morphed into the Soviet Union, democratic socialists retained power democratically for long periods of time in different Scandinavian countries. Other democratic socialist parties like the CCF which became the NDP in Canada mostly remained the third party but sometimes headed provincial governments and once became the Official Opposition in Parliament. Its presence probably pushed the Canadian political spectrum left compared to the United States.
Historically American socialists tended to lean to the Marxist camp but there were others who were aware of democratic socialist parties in Europe and Canada, particularly as the Scandinavian nations developed the highest medical, social welfare and educational standards in the world. Bernie Sanders, who has been totally consistent for 30 years at least, was one of these American democratic socialists. So what he has introduced into the election campaign are the ideas of a small minority in America, but he has stimulated the youth, which suggests the time is ripe. The full-blown capitalism of the last 35 years of "globalization" has so favoured the 1% over everyone else that it has left out many even most people, and some of those people are looking for new ideas. The labour movement in America has mostly been busted so the road to change is through politics. In the past socialists in America have set up a third party and failed badly. The more possible strategy seems to be to push the Democratic party left, push for election reform rules to maintain democratic procedures and control money in elections, encourage the youth in the Sanders campaign to run for office and develop a fair program that most Americans will support.
Despite Sanders initiative, there is a long way to go but even the existence of a left wing tends to make politics more moderate, create conditions to assist the labour movement, and develop progressive policy on social, racial and gender issues. In a new world society multiculturalism would seem a good option in America, not the old stratified structure with the whites on top, immigrants lower down and blacks still widely discriminated against.
The choice in the coming election reflects the current systems in the two parties and will not solve any issues. Any change the Sanders supporters can bring about at the Democratic convention is important. As for Trump, he has tapped into the widespread anti-establishment anger in the population but he is elitist, racist, sexist and uninformed on policy issues so obviously not able to resolve current economic and social issues.
Laurel MacDowell
Toronto, Quebec, Canada
All this is good; but where is the discussion about ETHICS in
Congress? i.e. NO random amendments to legislation? NO business at 2 o'clock in the morning? NO bills passed without discussion? the list. is hard to stop, but the inability of   Congress to police itself must stop
Robert Pritchard
Even if it wasn't criminal intent (the Pentagon's excuse), it surely qualifies as criminal negligence (which is included in the terms defining a war crime)
Alfred Rose
I find it ironic that the old revolutionaries are now called conservatives because they oppose creeping capitalism into the Cuban economy.
Lincoln Smith
Discussion of 'Taxman', the Beatles song, reminded me of why I had little time for them at that time. Of course, military spending in Britain was too high but university tuition was totally free and, as a student with low-income parents, I also got a maintenance grant which paid for a room and three good meals a day in my student accommodation, with some left over for vacations. Not to mention the National Health Service - totally free medical attention and at that time very cheap drug prescriptions and dental care. All this coming out of general taxation, mainly corporation and income tax. Purchase (sales) tax was at a low rate..
If the Beatles were paying a marginal rate of 95% tax they were earning obscene amounts pf money. The savage attacks on social spending came later, but began in the '60s. The first major student protest was an internationalist one, against the imposition of university fees on overseas students - a tax-saving measure, helped along by the feelings behind the Beatles song.
Daniel Morgan
I'm not sure who runs your fb page or if you read your direct messages but you guys are by far my favorite fb page. I don't understand why you don't have more traffic
Evan James
This article shows exactly how the TPP and TTIP circumvent national laws and court systems to benefit oil, fracking, mining and tobacco companies at the expense of citizens.
Ben Eli Osterberg
May 3, 2016
Judges overturned a theft conviction against Roman Ostriakov after he stole cheese and sausages worth EUR 4.07 (£3; $4.50) from a supermarket.
Mr Ostriakov, a homeless man of Ukrainian background, had taken the food "in the face of the immediate and essential need for nourishment", the court of cassation decided.
Therefore it was not a crime, it said.
A fellow customer informed the store's security in 2011, when Mr Ostriakov attempted to leave a Genoa supermarket with two pieces of cheese and a packet of sausages in his pocket but paid only for breadsticks.
In 2015, Mr Ostriakov was convicted of theft and sentenced to six months in jail and a  EUR 100 fine.
In times of economic hardship, the court of cassation's judgement "reminds everyone that in a civilised country not even the worst of men should starve".
It criticised the fact that a case concerning the taking of goods worth under EUR 5 went through three rounds in the courts before being thrown out.
The "historic" ruling is "right and pertinent", said

Italiaglobale.it

- and derives from a concept that "informed the Western world for centuries - it is called humanity".
However, his case was sent to appeal on the grounds that the conviction should be reduced to attempted theft and the sentence cut, as Mr Ostriakov had not left the shop premises when he was caught.
Italy's Supreme Court of Cassation, which reviews only the application of the law and not the facts of the case, on Monday made a final and definitive ruling overturning the conviction entirely.
Stealing small quantities of food to satisfy a vital need for food did not constitute a crime, the court wrote.
"The condition of the defendant and the circumstances in which the seizure of merchandise took place prove that he took possession of that small amount of food in the face of an immediate and essential need for nourishment, acting therefore in a state of necessity," wrote the court.
Associated Press
May 4, 2016
In a statement Wednesday, the rock band said they have not given permission to the Trump campaign to use their songs and "have requested that they cease all use immediately".
A Trump campaign spokeswoman didn't immediately respond to a request for comment or say whether they had a license to play their songs.
Political campaigns don't need artists' permission to play their songs at rallies as long as the political organization or the venue has gotten what's known as a blanket license from the performing rights organizations Ascap and BMI for all the music in the licensing group's repertoire.
But artists do have some recourse. BMI, for example, has said it has a provision in its license agreement that allows BMI songwriters or publishers to object to the use of their songs and they have the ability to exclude those songs from the blanket license.
Conversation with the Honorable David Choquehuanca, Foreign Minister of the Plurinational Republic of Bolivia
Donde/Where:
Cuando/When:
Organized by Bolivarian Circle Alberto Lovera NY
Endorsed by: Metro NY Catholic Climate Movement, International Action Center, Bayan U.S.A., Metro NY Committees of  Correspondence for Democracy & Socialism (CCDS), Answer Coalition New York, Franciscan Action Network, New York State Communist Party