Tidbits - May 26, 2016 - Reader Comments: Defeating Trump; Israel Today; Austrian Election; Fighting Racism; Public Tribute to Michael Ratner...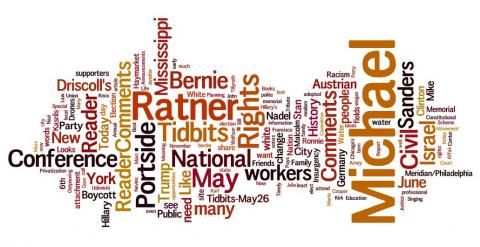 Tidbits - Reader Comments and Announcements - May 26, 2016, Portside
Announcements: 
To make revolutionary change possible, Bernie will need Hillary's voters
Francisco Gonzalez
Be polite to your competitors as you may need them in the future
Ethel Kirk
This is serious -- both Hillary's and Bernie's campaigns need to recognize that.
Alfred Rose
Why can't Bernie or his supporters be more polite? Why do they continue to burn (not Berne) down the party jeopardizing the election? Bernie is 3 million votes and 300 pledged delegates behind Hillary. As he runs short of money and possibility of winning he gets more negative and divisive. I was never for Bernie, but I at least respected him. Not so much now.
Kathy Ritch
I appreciate Krystal Ball's points, but she ignores the near certainty that a Sanders' nomination would be sabotaged or ignored or undermined by many of the forces of the state and local Democratic Party, like was the case in the nomination of McGovern. Without the organization behind him, he would lose, Trump would win, and there go 2 or 3 Supreme Court picks as well as real uncertainty for the tight U.S. Senate races and who knows how many Congressional races. It is part of the equation that Sanders doesn't talk much about, but clearly he knows. After all, he has told us that he has had to fight the state and local Democratic Party structures in the primaries.
Michael Arney
Yes to Chomsky.  "Hold my nose and..."  sums it up.
Carola Marte
Good news, however .... the majority of VOTERS are Baby boomers,  who had the evils of socialism even in it's mildest form drilled into them...
Tracy Turner
An excellent article, Dr. Hablim!
Nina Udovicki
Good, we need an insurgency. Climate change is inherently racist and classist, because the people (in the 0.01%) who direct the continuation of use of fossil fuels (and the refusal to quickly shift to renewables) are very rich and imagine (probably correctly, at least initially) that they and their families will be able to "buy protection" from the horrors that unchecked climate change will bring.
The same 0.01% is also responsible for dumbing-down the reporting on the science of climate change, which is scarier than people think.
Peter Belmont
Averny writes " Some accuse him of comparing Israel to Nazi Germany in that speech. Nothing of the sort. He compared developments in Israel to the events that led to the disintegration of the Weimar Republic. And that is a valid comparison."
But many "pro-Palestinain" anti-Israel activists are using Golan's words to mean exactly what Averny denies they mean. Thanks to Portside for getting this correction out.
Stan Nadel
"How could it happen that Germany, perhaps the most cultured nation on earth at the time, the homeland of Goethe, Beethoven and Kant, could democratically elect a raving psychopath like Adolf Hitler as its leader?"
Bill Nevins
"The rain of racist bills in the Knesset, those already adopted and those in the works, strongly resembles the laws adopted by the Reichstag in the early days of the Nazi regime. Some rabbis call for a boycott of Arab shops. Like then. The call "Death to the Arabs" ("Judah verrecke"?) is regularly heard at soccer matches. A member of parliament has called for the separation between Jewish and Arab newborns in hospital. A Chief Rabbi has declared that Goyim (non-Jews) were created by God to serve the Jews. Our Ministers of Education and Culture are busy subduing the schools, theater and arts to the extreme rightist line, something known in German as Gleichschaltung. The Supreme Court, the pride of Israel, is being relentlessly attacked by the Minister of Justice. The Gaza Strip is a huge ghetto."
John Jernegan
this is chilling -- not only Israel, but us, the US today
Tillyruth Teixeira
All the facts are correctly presented, and well-done.  What is missing is the analysis of how this has come about, whose interest it truly serves, and most importantly, how "white privilege" has been accompanied by a lower over-all quality of life for white workers in the U.S., historically, compared to other advanced capitalist countries, including job security, healthcare, education, etc.  We really do need to remind ourselves of "divide and conquer" and "workers unite and fight"! If we don't believe these things, then there is no reason to hope we can overcome.
Mike Wolfson
Jeffrey B. Perry
Exposing Driscoll's for what they are. A union busting, slave wage corporation which exploits our people in the fields. Racism, sexism, workers abuse, slave wages, no wages, modern day child slavery, pesticide and hazardous chemicals being exposed to the people who pick your food. Sexual assaults and rape in the fields to the women. Inadequate housing, inadequate bathroom breaks and bathrooms. No water for field workers and modern day slavery. No health services when it comes to medical, dental and vision. Farm workers voices are being oppressed with violence. Boycott Driscoll's! Vote with your money. We don't want your blood berries! Driscoll's exploitation border to border
It is even worse than I first reported, the 2 major professional analyses of the election now put blue collar support for Hofer at 72% (ATV) and 86% (SORA).  The members of the Austrian working class are right to be concerned about the effects of globalization on their prospects as the social democrats have proven themselves unable or unwilling to defend their interests and the labor unions have become totally sclerotic.  But, except in the city of Graz (where the Communist Party continues to elect representatives to the city council), they have mostly been deaf to the message of leftist groups and attempts to form an effective Austrian der Linke on the German model have gotten nowhere.
BTW, I live in Salzburg, not Vienna.
Stan Nadel
Our children and their mental health are not a priority in this country. We allow them to be hungry, isolated, locked up, and then say , "pull yourself up by your bootstraps" . The way we treat our children reflect on who we are as a nation.
Julia Fisher
Jennifer L. Knox
According to Ronnie Kasrils "humanity has a profound weapon . . . and that is Marxism - a compass for the labouring masses, vital for the strategic and tactical route to socialism . . . as relevant and necessary as ever." That's a well-rusted compass, one whose needle appears to be stuck in the 19th century. Time to move on.
Marc Beallor
In a just world, we would have a 'Malcolm X'  day, 
Mike Liston
We saw it last night in Chicago, it was fantastic! Highly recommend.
Mary Dore
Mexico's ruling Institutional Revolutionary Party (PRI), and its allies, suffered a major setback March 10th, when a law to privatize Mexico's water resources was shelved. President Enrique Peña Nieto had attempted to "fast track" approval of the General Water Law, but the rapid mobilization of grassroots opposition forced the indefinite postponement of a vote on the legislation that would place water distribution under private sector control.
Taury Rosales
==========
By: Friends and Family of Michael Ratner - New York City - June 13
Doors open at 6:30 PM.
The Great Hall is located in The Foundation Building, 7 East 7th Street, between Third and Fourth Avenues.
Co-sponsored by Cooper Union, Center for Constitutional Rights, Democracy Now!, National Lawyers Guild, The Nation Institute, Nation Magazine, Haymarket Books, and Voices of a People's History of the United States.
The National Civil Rights Conference will coincide with [1] the Annual Mississippi Civil Rights Memorial Services, an annual event remembering and honoring the three slain civil rights workers (James Earl Chaney, Andrew Goodman and Michael Schwerner) and other Mississippi civil rights movement participants; [2] memorial activities on the grounds of the Historic Mt. Zion United Methodist Church - see attachment # 1; and [3] the Civil Rights and Social Justice Awards presentation - see attachment #2.
The planning committee is very please to share attachment #3 with you,  the keynote speakers and panel discussions.  Please share the attached information with family and friends.
Sincerely,
Keith D. Parker, Chair