Tidbits - July 28, 2016 - Reader Comments: Sanders and the Democrats; #BlackLivesMatter; Trump - Whiff of Fascism; Black Athletes Speak Out; Women's Boat to Gaza; and more...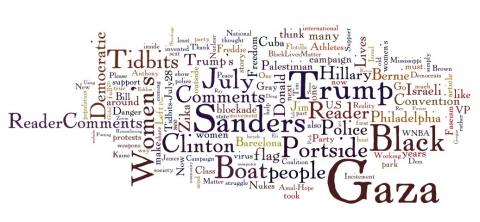 Tidbits - Reader Comments, Resources and Announcements - July 28, 2016, Portside
Announcements:
Jay Schaffner
And to show us what actual, progressive, meaningful change might have looked like.
Vali Buland
I am glad both he and Warren are going to be in the Senate. I thought it was brilliant for him to get up and list the things that both he and Hillary are for. As she tries to pivot away from those things, he's there to hold her to it. She picked a right to work, pro-TPP, anti-banking regulation guy for Veep. I wonder who the real Hillary is. He's going big to be holding her to what she has said. Or rather, we all are.
Ann
A terrific speech.
Ray Markey
A travesty of justice.
Elizabeth Zitrin
Why have I been denied access to this online article?
Jim Lucas
Moderator
I do not think Trump's speech was unusual or original. US history if full of examples of this type of demigod and the right wing, racist , nationalist movements that they have stirred.  Fortunately to this point unsuccessful in grabbing power.  I do think though that while Trump was a bit slow in reading the teleprompter he did well presenting a classic rendition of the genre - though of course it was better in the original German and the setting of the 1930s - harder to sell, I hope, these days.
Peter Orris
Trump has as much to do with the Middle Class as I have to do with disco music - which is to say, nada.
Steven Sholly
When Trump talks about his "working class" support he means the Fox News Ditto Heads. The "mythology" is that they are the "true" working class, and it's not a mythology that Trump invented. Rush Limbaugh and Roger Ailes invented it.
Doug Percival
A comparison of translated Hitler speeches  (circa 1933-34) to Trump's acceptance rant would reveal strong similarities !!!
Aaron Libson
One more clip that the media didn't cover: On Monday, around 500 protesters amidst thousands more got the City of Philadelphia to take down what we thought was the confederate flag (it was actually the state flag of Mississippi). It was a great symbolic victory of sorts, given that in 1964 the Democratic Convention refused to seat Fannie Lou Hamer and the Mississippi Freedom Democrat Party. 52 years later they still have that confederate flag as part of their state flag, yikes! So it was a fitting symbol from one Democratic Convention to the next, to remove that awful flag of slavery.
Harold Meyerson can hold whatever opinion he wants, but he's not entitled to make up his facts.
The marches and protests outside the convention in Philadelphia have NOT been "almost entirely white and non-immigrant". And his snide way of caricaturing those he disagrees with is simply more of the same snotty arrogance that drive well-meaning people further away from Meyerson's concept of "the Left" that he purportedly represents.
It contains interviews with several indigenous people who traveled from reservations in New Mexico, and others from Colorado and Los Angeles. They were leading the environmental march for a clean energy revolution, in which around 5,000 people took part, very spirited, marching the 4 miles in the sweltering heat from City Hall all the way south on Broad Street to FDR park, across the fences from where the convention is being held.
I end the piece with a short interview with a 6 year old girl from South Philadelphia.
Trying to convey the excitement of being in Philly at this VERY interesting historical juncture, and providing space for people to express for themselves, rather than the typical news story where the reporter becomes the voice of god telling you what to think about it all. (I was at the Democratic Convention police riot in Chicago in 1968, too, when I was 19 years old. Thus far, much different here.)...
Mitchel Cohen
It is very exciting in Philadelphia. People are doing a wide range of protests, those who participated in the Confederate Flag (Mississippi Flag) protest said it was their favorite moment. People marching saw the flag, were angered, sat down and Philadelphia sent in a team that got lifted up and took the flag down. Police are playing it very smart, the opposite of the Republican Convention last held here. Letting protests proceed with minimal police restriction.
A lot of open debate about inside vs. outside the Dem Party. At least in the places I have been, the outside the party view is winning. Some think Sanders shows the left is so close to taking over the Dems -- but this is just not true. Sanders ran a great campaign but the Dem rigged system worked and will be re-worked to make sure it continues to work as it has since 1982 when it was put in place. It is a false path that looks easier than building our own party, but it leads into a Democratic cul de sac where people will find themselves trapped. This is how the Dems kill movements, they want the anti-Wall Street, living wag, student debt, Black Lives Matter and other protests to go inside the party where they will disappear  A lot are staying outside, and those movement will continue to grow under Clinton term which will be a presidency of protest. Too many are no longer falling for the Dem Party. The Wikileaks DNC leaks on top of the Sanders primary campaign experience have exposed too much of their corruption and people cannot be fooled as easily. At least that is true for many of them -- enough to build the movement rather than shrink it. That is how it looks now, we'll see as it develops.
Kevin Zeese
what unutterable reactionary garbage -- lets do a half vote for fascism. And this passes for an  "acceptably left" contribution? I would vet the author first and find out if he is funded by trump or the koch bros -- who are also funding "bernie bro" hate Hillary crap in WV.
shame for printing this crap.
John Case
Harpers Ferry, WV
More rounds of Trump-bashing ahead.  Portside posts its share.  But are we really concerned that Donald Trump may win the election?
Then we have to focus more on defeating Hillary Clinton.  Her campaign is now boosting Donald Trump into the catbird seat.
I am STILL a supporter of Bernie Sanders.  But he does make mistakes.  He can correct his biggest one so far and snatch victory from the jaws of defeat next week, if he is politically nimble.
Now that Wikileaks has exposed the crooked Clinton campaign (which even stoops to anti-Semitism), Bernie has a chance to rescind his ill-timed and disgusting endorsement of Hillary. And convince Clinton's superdelegates once and for all to switch to Sanders and save us from Trump and a Republican takeover.  I worry more about who rides in on his coat-tails than Trump himself - although he is a worrisome mystery indeed.  Trump must be seen fairly to appreciate the full peril.  For many reasons, and for many voters, he is a very attractive candidate.  Whether we like to admit it or not.  Exaggerating the negativity impedes understanding the Trump phenomenon.
Like them or not (I don't, in principle), why were the Democratic Party superdelegates invented - to stop someone who won the primary through chicanery and fraud.  It has not occurred before, at least with this degree of transparency, but now is such an occasion.
If Sanders and his campaign do not take advantage of this opportunity at Philadelphia next week, we will wind up with Trump.  He will make use of those DNC emails if Sanders doesn't.  Bernie must beat Donald to the punch or November is liable to see a GOP KO.
Dave Ecklein
VP is largely ceremonial unless your last name is Cheney. It is certain Sen. Warren will not abandon her seat, but someone like that would help. Anti TPP is a plus which would eliminate Tim Kaine. Clinton needs a known quantity in a swing state. It remains an enigma.
Ben Eli Osterberg
Safe is silly in a time where critics of the status quo are able to rally numbers and passion. Save the Supreme Court, Hillary-- go for a VP like Watren or Brown.
Chuck Weed
Given where Trump is coming from Clinton must go Left. Time for Sanders to be more visible and involved in the Democratic Campaign.
Joe Grogan
Bolton, Ontario-Canada
Thank you for your review of William Perry's book. Vital. I will get out and buy asap. I'd like you to be aware of and please feel free to share the below link to a recent documentary on those who've tried to halt nuclear weapons from the start.  Together these works may awaken the movement and sense necessary for humanity not to learn the hard way about this vast waste and incalculable horror.   Please help, and share. Thank you
Anthony Donova
There is something wrong with the statement that the weapons are hydrogen bombs and the output is 170 ktons. Hydrogen bombs are rated in megatons.
bicycle nut
I LOVE my WNBA sistahs!!
Excellent story on their calm and cool insistence on standing for Black Lives!!
Pam Brooks
A few years ago, in an interview with The New York Times' William Rhoden, National Football League Hall of Famer and longtime political activist Jim Brown said: "I think within the next three or four years, there'll be a major coming together of some Black athletes and entertainers to really have a platform that can bring about a whole different awareness." 
Bill Berkowitz
what century are we living in
Jim Price
We can't have these freeloading Cadillac Granny Queens undermining the profit margins of private prisons which not only boost awareness and reverence for the market economy, but also reward many of the most special people in our society.
Edward Graves
If I'm not mistaken, there's no lead summarizing the date the lawsuit was filed and the date a court ruling against it was made - elementary journalism.
Ellen Cantarow
Agreed. But headline should read "single study" not "one study".
Bill O'Malley
A beautiful story, and important to remember.
David Bacon
We here at the Mindful Dissenters would love to offer counter information that is based upon scientific DATA and extrapolate the Zika virus to the West Nile Virus and offer simply one thought to consider.
The Zika virus having spread as swiftly as it has recently can only be an indication that the virus is already endemic in the Wild Bird population and cannot be eliminated by killing mosquitos simply because any new mosquitos emerging from the pupa stage every twenty four hour period will be able to acquire the virus (both or either of them actually) from the wild bird (and as a consequence the other game and even domestic warm blooded animals) population.
Cuba would have every reason on the planet to lie about this; TOURIST DOLLARS/EUROS/AND ANY OTHER MEDIUM OF EXCHANGE.
Portside would be doing a better service by allowing us to submit a story on the subject.
Thank you for all that you do.
Rev. James "Jake" Harrison
2,300 Palestinians killed in Israel's 2014 counter-attack on Gaza. The BDSers deny the reality of hundreds of Hamas rockets being fired first.
Stan Nadel
The dream of sending a women's boat to break the illegal Israeli blockade of Gaza has moved one step closer to reality--but it's a big step. The Women's Boat to Gaza, a project of the Freedom Flotilla Coalition, has acquired its first boat. The Amal-Hope is scheduled to set sail with 15 women, from Barcelona, Spain, on Sept. 14.
In Barcelona, members of the Palestinian solidarity community will send off the Amal-Hope on its journey around the Mediterranean before heading for Gaza.
In 1998, Barcelona was 'twinned' with Gaza, with the goal of fostering international support. In 2005, a park called the Barcelona Peace Park was inaugurated in Gaza. The park was destroyed by the Israeli military in the 2009 Israeli attack on Gaza. The park was rebuilt in 2010. As her name suggests, Amal-Hope will send a message of hope--and an international demand that the Peace Park and the whole of Gaza must never be bombed again.
Schedule of Events in Barcelona:
Monday 12 September - Music and festival at the port
Tuesday 13 September - Non-violent resistance workshops, local speakers and tour of the boat
Wednesday 14 September - Local ceremony and departure
The Women's Boat to Gaza will carry prominent women, including Nobel Peace Prize winner Mairead Maguire, award-winning U.S. playwright Naomi Wallace, New Zealand parliamentarian Marama Davidson and Norwegian author and former sports star Gerd von der Lippe. The vessel will visit ports in the Western Mediterranean before reaching the shores of Gaza around October 1.
The Women's Boat to Gaza is a Freedom Flotilla Coalition initiative. By launching a women's flotilla, women from all over the world aim to highlight the undeniable contributions and indomitable spirit of Palestinian women who have been central within the Palestinian struggle in Gaza, the West Bank, inside the Green Line and in the diaspora.
Gaza has been under Israeli blockade for the past decade, during which Israel has also launched countless attacks against the besieged population, turning their life into a nightmare and a continuous struggle. Through Freedom Flotillas and other maritime missions, we have brought international attention to their suffering and their resistance.
The Women's Boat to Gaza seeks not only to challenge the Israeli blockade, but to also show solidarity and bring a message of hope to the Palestinian people. With the support of women, men, non-governmental organizations, civil society groups and women's collectives and events around the world, we will make this happen.
Our fiscal sponsor is Nonviolence International, 501(c)(3), tax ID 52-164578.  Donations by check can be mailed to: