Both Trump and Clinton Curb Press Access - Plane Rides and Presidential Transparency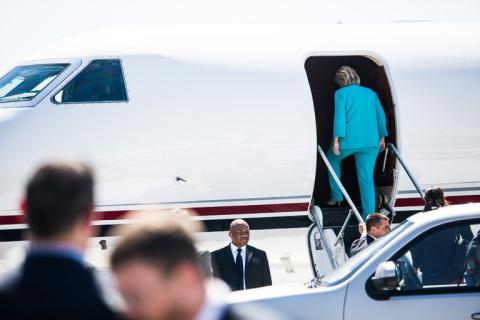 Hillary Clinton boarding her campaign plane after a rally in Reno, Nev. - No press allowed.,Credit Max Whittaker for The New York Times
When Hillary Clinton headed for Reno, Nev., to make a big speech attacking Donald J. Trump on Thursday, her campaign used two planes. One was for the candidate and her entourage. The other was for the reporters, photographers and videographers assigned to follow her every move - which, of course, is impossible when she's not physically on the same aircraft.
You may wonder why Mrs. Clinton, or any politician, is obliged to bring our wretched national press along with them on their airplanes. Mr. Trump does not bring them on his plane, either.
This is about something much bigger than eyewitness accounts and plane rides. It's about how much we want to know about each candidate's plans for the White House, and how open and accessible we want them to be as president. And ultimately, it's about whether we truly believe in the premise that transparency is vital for democracy.
Mrs. Clinton has expressed regret. But if there's been any new show of openness, it has not noticeably extended to the news media.
Yet he has been far more personally accessible than Mrs. Clinton. This worked to his advantage during the primaries and now is working against him in the general election.
Interviews with reporters who cover her day in and day out - that is, those who know her and the issues surrounding her campaign the best - were rare.
We've seen Mrs. Clinton in action as secretary of state. But as Mr. Sanger noted when we spoke last week, "The world has changed a lot since she was secretary of state four years ago" - especially with regard to Syria and newly aggressive behavior from Russia, China and North Korea - and "we'd like to know what she would do."
Mr. Fallon said Mrs. Clinton "will continue giving interviews to a variety of outlets." The news media, he said, will always want more, though. "That's their job, and we understand and respect that."
A true accommodation would be to do more. Much more.
No one is asking her to provide Mr. Trump's level of exposure. But at this point I would take Mitt Romney's.
This is not to let Mr. Trump off the hook for his blacklist or his own failure to fly with his press corps. A pox on both their jetliners.
Maybe that's where you think they belong.
But a candidate who doesn't want journalists around is a would-be president who presumably doesn't want to be transparent with his or her many millions of viewers and readers - with you. You don't have to go too far back in history to find the rotten fruit that secrecy has seeded. Accept the media banishment now and miss them when they're gone.