Tidbits - October 6, 2016 - Reader Comments: UE Calls for Trump Defeat; Fact Checking Pence; Israel Seizes Women's Boat to Gaza; Women of Salt of the Earth; New York's Muslim Communities; and more...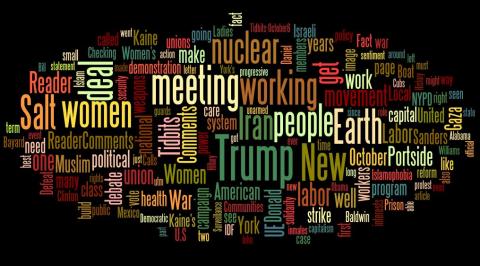 Tidbits - Reader Comments, Resources, Shorts and Announcements - October 6,2016,Portside
Resources:
Announcements:
The 2016 elections have made it clear that the current political system is not serving the needs of American working people. The establishment of an independent political movement for the working class is needed more than ever. However, we face the cold reality that either Hillary Clinton or Donald Trump will be elected President in November and working people need to make a decision how to best survive the coming period.
UE embraced the candidacy of Bernie Sanders for President. His campaign was straight out of UE policy on everything from workers' rights, to racial and economic justice, to climate change, to the war on Iraq. We had not seen a candidate like him in decades. It was shameful that some major unions endorsed Hillary Clinton, despite her representing the worst corporate tendencies of the Democratic Party. Arguably this backing of Clinton kept Sanders from winning the Democratic nomination and deprived working people of a candidate that they could have enthusiastically supported.
Whatever Clinton's shortcomings, Donald Trump cannot be seen as anything other than a sworn enemy of working people and their unions, with his statement that "wages are too high" and his support for "right-to-work" legislation. His appeals to racism and sexism, his attacks on immigrants and Muslims, and his incitement of violence make him the gravest danger to democracy and progress for working people in the U.S. in generations. Given the age of the current Supreme Court justices, Trump will be able to leave a long-lasting anti-worker stranglehold on the US legal system.
Over the 80 years of UE's history, the national union has made only seven endorsements of presidential candidates, the most recent being Bernie Sanders. This board is not making an endorsement in the 2016 presidential general election. Neither of the two major candidates has earned our endorsement. But because of the extreme danger posed by Trump, as well as the need to decisively reject campaigns based on hatred and division, we recommend as a tactical approach that our members go to the polls and vote for Clinton.
We say this knowing full well that from day one of a Clinton administration we will need to mobilize our members to defend their interests and attempt to ensure that she upholds the positions that the Sanders campaign forced her to adopt. But with a Trump presidency, rather than fighting for advancements, we would be entirely on defense with strong prospects that we would face a Wisconsin-style liquidation of the labor movement and all of the gains that it has won.
Following the election, we must build upon the successes of the Sanders candidacy and construct a permanent political formation of those prepared to challenge corporate power in this country. In the coming period we will need both to work within the existing political system to protect the immediate interests of working people while working to create a broad united front outside the current power structure that will enable us to no longer be confronted with such limited political choices.
September 23, 2016
During Tuesday night's Vice Presidential debate, Sen. Tim Kaine (D-VA) touted Secretary Hillary Clinton's role in the Obama administration's diplomacy that ended up blocking Iran from building a nuclear weapon.
"She worked a tough negotiation with nations around the world to eliminate the Iranian nuclear weapons program without firing a shot," Kaine said.
A few mainstream media fact checkers claimed that Kaine's comment wasn't true – calling it an "exaggeration" or flat out "false" – thus creating space for Iran deal opponents to cry foul about the agreement.

But the reality is that Kaine's statement was largely correct. Here are the facts:
CLAIM: ABC News explained rating Kaine's claim as "false" by saying that the deal "does not completely eliminate the Iranian nuclear program."
FACTS: Kaine never said the deal eliminates Iran's "nuclear program," he said it eliminates Iran's "nuclear weapons program." And while U.S. intelligence has said that Iran stopped its nuclear weapons program in 2003, Kaine is 100 percent correct that the agreement will permanently prevent Iran from ever having a nuclear weapons program going forward.
CLAIM: The Washington Post said Kaine was "way over his skis," claiming that the deal doesn't completely block an Iran nuke because it "expires in 15 years." Similarly, the New York Times called Kaine's comment and "exaggeration" because "Iran will be able to resume its work after the deal expires in 15 years."
FACTS: Iran will not be able to build a nuclear weapon after 15 years. Certain elements of the deal do expire in 15 years, but the agreement that Iran not build nuclear weapons – and rigorous inspections that monitor and verify it – remains in place in perpetuity.
Meanwhile, Politifact looked into Kaine's statement and rightly pointed out that it was indeed factual. "[M]ost independent experts agreed with Kaine's stance that the Iran nuclear deal did put a lid on Iran's nuclear ambitions," Politifact wrote. "They say the deal is both effective on paper and close to the best outcome the United States could have achieved through diplomatic means."
Kaine also said during the debate that Israeli joint chiefs of staff Gadi Eizenkot and other Israeli military officials agree that the deal has blocked Iran from building a nuclear weapon. This claim is also largely true. While Eizenkot praised the deal as a "strategic turning point," many senior members of the Israeli security establishment support it as well.
Finally, the Iran deal is working. The UN nuclear watchdog, the IAEA, said this month that "the deal is being implemented since January without any particular problem."
(202) 232-3317
Yet a new page was added today to the glorious heroic heritage of the IDF. A large and complex operation was implemented, deploying the most elite of combat troops, aimed at capturing on the high seas a small rickety boats, on board which were sailing thirteen unarmed women. The mission was successful. The IDF's might was quite sufficient to stop women peace activists from all over the world and prevent them from realizing their plan to dock at the port of Gaza, get ashore and hold a friendly meeting with Gazan women. Well done, IDF!
Please act now. Call or write:
+972 252 945 2966
and
Please also contact the following authorities and demand that they call for the safety and respect for these women:
Secretary General of the United Nation
Telephone: 202-647-4000
Yes. Disclaimer: I worked for Gene McCarthy in 1968 but, after much agonizing, held my nose and voted for Humphrey in November
Gloria Johnson
My first vote was for LBJ in 1964. He reversed JFK's moves toward withdrawing from Vietnam and escalated the war. But Barry Goldwater might have escalated to nuclear weapons and we certainly would not have had civil rights and war-on-poverty legislation. I voted for Humphrey but Nixon's win got us all the things described so vividly and painfully in this article. Perhaps the lesson is to listen to what the candidates say and don't assume they won't do it. They'll probably do worse. I'll vote for Hillary and do everything I can to help build a movement for what we really need.
John Fisher
When are you going to print an article called, "The lousy reason the Democratic Party rejected the progressive movement in 1968, and why the Democratic Party should have learned from it in 2016"?
Philip Chagnon
I'm not sure why anyone would listen or even pay for the strategic advice of Michael Ansara.
Ansara, William Hamilton, and Gery Nash were the "Gang of Three" whose illegal fundraising brought down Ron Carey and his reform leadership of the Teamsters following the victorious UPS Strike of 1997.
UPS, the Republicans, and the Teamster old guard couldn't have paid these guys for better work.They saddled us with 17 years of Hoffa.
Joe Allen
Daniel Millstone
"But late at night, with his campaign staff far from his side, Trump was free to follow his gut." Trump is unhinged. Will he withdraw or be forced out by the GOP?
Bill Nevins
All through law school I read case after case after case where judges insisted an ordinary citizen is not bothered by being stopped by police. I was like, then what about allowing regular citizens the opportunity to get some type of compensation or other remedy for a constitutional violation, if the constitution is really that important?
Instead they effectively restrict that right to get some type of remedy for a constitutional violation to persons already charged with a crime, in the form of a motion to suppress the evidence.
Scott McCampbell
Daniel
I'd add a small personal note, as one who was deeply moved by Baldwin's writings.
Some many years ago  James Baldwin agreed to speak for the War Resisters League at New York's Community Church - it had been arranged by Bayard Rustin,  then working for WRL.  Bayard told me to make arrangements to get Baldwin out of the church at the end of the meeting. I went up to Baldwin before the meeting started and asked him if he wanted to leave immediately after the end of the meeting, or to stay and talk with people. Baldwin said "please get me out as soon as the meeting ends". So as the meeting came to a close, I went out and hailed a taxi, told them to wait for a few minutes, went back inside, got hold of Jimmy, and said "sorry folks, Mr. Baldwin has a taxi waiting" and got him outside. I went with him downtown to Folk City and at his invitation, came in with him where he met some friends. One of my few encounters with a celebrity!
David McReynolds
Why isn't mainstream media covering this strike?
Geri Rhodes
My people this is ORGANIZING!!! Please read, a great story! ORGANIZE!!!
Curtis Muhammad
This is the first example I've seen of prison guards and inmates overlapping their strike activity.  The Holman incidents may fall short of outright solidarity, or even coordination.  But the guards' sick out, as Pastor Ken Glasgow says, show a common interest in safety that has been compromised by under staffing, poor living and working conditions, mistreatment of inmates, and the refusal of right to work states to allow collective bargaining. 
McCray interviewed Lance Lowry, sergeant at Huntsville TX correctional facility and AFSCME local 3807 president.  He seems to get it.  Guards' unions are not allowed in Alabama and cannot bargain in Texas.  Two sections of the working class seem to have antagonistic interests yet those in the dominant position are displaying an inkling of awareness that solidarity as the only solution to improving their conditions.  Ultimately such actions will dismantle prisons. 
McCray unthinkingly and unfortunately uses the term "allies" to describe the relationship.  The term implies weak, temporary connection, convenience, coincidental, parallel interests rather than a strategic link to fight capital and state power.  Pastor Ken Glasgow's use of the term war suggests he understands the common interests of guards and inmates as workers. 
Prison guards, like coal miners and other "old energy" worker in refineries, or if we get single payer the 300,000 who work for health insurance companies whose primary task is denying claims, or those who process the chemical food additive high fructose corn syrup (HFCS), will have to "reskill."  Reskilling probably will become a major source of jobs in itself.  But the only way the working class can direct this transformation is through anti-white supremacist, anti-male supremacist solidarity that will provide the leverage to bring capital to comply with the long range planning it will take.
More of these actions might open a crack in the door for all correctional unions that fighting for the right of prisoners to bargain collectively would benefit them as well as the inmates.  That kind of solidarity of oppressor with oppressed in order to fight their common exploitation by capital would set an example in other circumstances, such as tenured/ tenure track faculty's relations with non-tenure track, adjunct etc. 
David H Slavin PhD  
Decatur GA 30033
This should be headline news
Charles Patrick Lynch
The more general this strike becomes, the more likely prison reform gets some attention soon.
Mary Lou Spencer
Kimbely Christensen
Process matters.  I fail to see how the condescending and snarky tone of parts of the article does anything to facilitate genuine dialogue or to suggest to non-partisans that the "left" is or will be different than the society we seek to improve.
In the spirit of dialogue,  I think it time for all of us to reexamine long entrenched ideas about race and class. A wave of new scholarship offers a fresh perspective that challenges the traditional narrative held at just about any and every point on the political spectrum.
It is now clearer than ever that in the United States race and capital were created simultaneously and interdependently.  One is hydrogen,  one is oxygen.  Together they created the water in which we still swim today.  Call it plantation capitalism,  race-based capitalism,  eugenic capitalism or something else,  white supremacy is in its every cell.
Following is a partial list of valuable recent works:
Gerald Horne's The Counter Revolution of 1776
The American Slave Coast - A History of the Slave-Breeding Industry by Ned and Constance Sublette
The Half Has Not Been Told by Edward Baptist
An Indigenous People's History of the United States by Roxanne Dunbar-Ortiz
Empire of Cotton - A Global History by Sven Beckert
Slave Patrols-Law and Violence in Virginia and the Carolinas by Sally E. Hadden
Bind Us Apart by Nicholas Guyette
Frank Joyce
Remembering the bleachers; remembering Ernie Banks, Billy Williams and Ron Santo; remembering the games Fred dragged me to when the Braves were in town and Hank Aaron was getting close; and remembering the movements that we built - the civil rights movement, the anti-Vietnam war movement and the student movement. Yes, we believed, and we still do.
Jay Schaffner
Grew up in Brooklyn and was devastated when the Dodgers left. Live in LA and still refuse to go to a (fake) Dodger game. Would be wonderful if the Cubbies could take the Series. The Detroit Tigers, another working class city where I also lived for many years, could do it too. Baseball, the real American sport, Boys of Summer.
Claire Carsman
I mark the rise of monopoly capitalism with the flight of the Dodgers from Brooklyn to LA.
Harry Targ
I rode the L with three of my kids and we saw Stan Musiel's last game at Wrigley.
Jim Brough
I wasn't a Cub fan, but early on I liked Ernie Banks as well as Billy Williams and Ron Santo later. And as for Hank Aaron, who didn't want to swing a bat like he did.
Sam Webb
But Minnie Minoso was a Sox.
James H. Williams
He was, but I was a zealous Red Sox fan and the White Sox, along with the Yankees, were the enemies. I learned the language of "enemies" at a young age.
Sam Webb
Very very BRAVE of Springsteen & only FURTHER confirms that he's not only a GREAT artist but, a fine human being. Still LOVE his music SO much!
Lydia Howell
I have seen no other issue in my lifetime that has been so muddled by liberal sentiment as the health care reform debate. On the basis of the /sentiment/ "Everybody In/ Nobody Out" many have embraced the proposed /Realpolitik/ that the public option would "work" as part of an overall compromise with health insurance and pharmaceutical industry capital. (Of course, it cannot work, if by use of the term "work" you have any rational or humane intention.) Such sentiment is real and has to be made into something more than sentiment. /It's a principle:/ It is a guide to the kind of world we want to live in: Any human being who needs medical treatment should get it. Period. No Compromise.
Further, the /principle/ "Everybody In/ Nobody Out" is based on the sound policy insight that risk is spread in the biggest pools and the biggest pool possible is /Everybody/. If that policy principle is not observed, as is the case in this multi-payer system, the system is opened to cost-shifting and the adverse selection that McCanne points out. As we used to say in the Navy, "Shit flows downhill," so cost-shifting in this system takes the forms of shifting from insurers to patients, from private to public, and from employers to workers. Sound familiar? The ACA molded these pre-existing dynamics into the shape of what only now can be recognized as a "system."
The mudbrained liberals saw the additional advantage of the public option and indeed, for some of them, the entire ACA scheme, as a way to avoid the dreaded opprobrium of being tagged "too idealistic," "immature" even, this the steady moral drumbeat to the corporate liberal march that you can hear on dozens of issues. The lyrics: "Let's make a deal with capital." Better to embrace, they reasoned, the /Realpolitik Diktat/ that this is the best we'll be able to get and it will be "better." And after all, Our Leader was piping this as "reform" and they had actual Ivy League- level experts- Penn, MIT, you see- who were figuring all this out on our behalf.
Count the class conscious out. We're with Tony Benn when he said "I immature with age."
None of this is inherently all that "complicated," but it becomes so when corporate liberal politicians bend working class lives into pretzels while trying to reconcile the imperatives of capital with the needs and aspirations of the people. That so many "progressives" string along in the transparently bullshit operation that is the ACA tells us that we've got a lot of work to do.
Bill Harvey
A few months ago Donald Trump came to town for a rally.  Hearing of a meeting to organize a counterdemonstration, I found out (with difficulty) where the meeting was, and attended.  It had to have been the oddest meeting I've ever attended, and I have been going to meetings since at least 1962 or 1963.  A LOT of meetings, some of them remarkably silly (especially here in Eugene).  It had been called by two women of color, who set up a Facebook page, a "secret Facebook page", to "organize" the action.  The location of the meeting, or in fact the meeting itself, was not mentioned on the page "for security reasons".  The two young women announced that since they had set up the page, the demonstration was "theirs", and they would make the decisions.  Odd, but lets see what you have in mind.  Perhaps due to the "secrecy", most of the attendees at the meeting were residents at the house where it was held, a student (more or less) collective called "The Lorax".  I was the oldest one present, by a wide margin.
I knew we were in for one of "those" meetings when the butcher paper started to go up on the walls.  Oh dear.  Then the person facilitating (not chairing, mind you) the meeting asked us to go around the room and state our names, our pronouns, and what we hoped to come out of the meeting. Excuse me?  Our WHAT?  "Our pronouns, so the transgender people will not feel uncomfortable."  Huh?  As my nephew explained to me, when I told him the story, "No, Jack, you don't understand.  The purpose is to make the NON-transgender people feel UNcomfortable."  In the event, some people announced themselves as "I, me, mine" and others "We, them, and thus."  I foolishly failed to think that "Comrade" was my preferred gender-free pronoun.  Needless to say, in the course of the meeting, no one used any pronouns of any kind.
My thinking was, "Uh, wasn't this meeting called to organize a demonstration of opposition to the candidacy of Donald Trump?  Does it matter in any way what the gender preferences, sexual proclivities, or orientation of the participants are?"  I have to say it would not have astonished me if we had been asked to also state our dietary principles, not that there were plans to feed the group, just to be sure to exclude carnivores and consumers of gluten.
At one point I noted that the non-violent character of the demonstration had already been challenged by what were either members of our local anarchist scene or possibly Trump provocateurs.  I had received two death threats on the FB page for suggesting those who wanted to practice "diversity of tactics" should do so in a diverse location - somewhere far away from our demonstration.  So we might have the bandana bros looking to rumble, a mob of Trump supporters who would be waiting out a long wait to get through security.  These folks were being warned not to bring weapons into the auditorium, but there was no mention of the parking lot, and during their long wait, it was not inconceivable some would be holding deep discussions with John Barleycorn.  And of course then there was the repressive arm of the bourgeois state - the cops would be out in force, and if anyone thought to block traffic on the arterial street that passes the location of the rally, would probably be eager to clear it, quickly.  So, we would need someone empowered to make quick decisions, who would have the ability to communicate with and quickly move peace keepers (what monitors are called in this town) to protect the crowd, or to get them to move the crowd out of harm's way.  "We aren't going to have time to call a meeting, one of you will have to make the decisions."  They stared at me with eyes like plates, eyeballs twitching from side to side.
"That's a very good question.  Now, lets discuss how we are going to establish our hashtags during the demonstration..."
I've decided to hang up my armband.  I'm too old for this shit.  In the event, the "organizers" split after an hour of the demonstration, the anarchos were a no-show, the crowd had some very friendly discussions with people waiting to get into the rally, the vibe was mellow as hell, most of the people who showed had never heard of the organizers or their secret Facebook page, just read about it in the newspapers, and the police were on their very best behavior, left their party suits home, were in soft hats and were calm, polite, and friendly.  Their prime mission was to see to it that Eugene did not feature in any national news stories the next day.
I had a fall, injured my knee, and was off my feet for three days (and on a walker for two weeks) and missed the whole thing.  Time to pass the baton, but lord, I do hope someone knows what to do with it.  "Wait, a baton?!! Isn't that offensively phallocentric?  Why not a ring?   Or maybe a chain, see, a chain of rings, symbolizing our unity.  But isn't that insensitive? You know, slavery and stuff?  And besides, racing?  Isn't that competitive?"
Well, good luck, kids.  Its not like we didn't do some silly things too...
Jack Radey
Salt of the Earth mural on the outside of Local 890 hall
After eight failed negotiating sessions and the expiration of their labor contract, Mexican-American workers at the nearby Empire Zinc mine struck for higher wage and benefit equality.  When an injunction prohibited union members from picketing, the women -- wives, mothers, sisters and daughters - took the union workers' places on the line.
The "striking" women persevered despite life threatening situations, violence, incarceration and tension at home.  Their determination made national news and resulted in the popular documentary film, Salt of the Earth.  These courageous women not only survived in solidarity until the strike ended, but they commanded recognition as well as respect. 
- New Mexico Historic Marker  (at the intersection of NM 152 & 356)
Created by students and local artists to honor the workers who, in 1950, struck the Empire Zinc Mine. Bayard, New Mexico
Salt of the Earth -- Official Trailer (3:58 minutes) Click here
Anita Torrez - Salt of the Earth participant - remembers the strike (5:49 minutes) Click here
Rosaura Revueltas - Mexican actress who starred in Salt of the Earth (48 seconds) - Click here
Ladies auxiliaries were women's organizations associated with trade unions in male-dominated industries.  They played a central role in labor struggles since the end of the 19th century.
Ladies auxiliaries helped to sustain and build the strength of the union. During strikes these women fed thousands of workers on the picket lines and organized clothing drives for striking needy families.  They initiated letter-writing campaigns, participated in organizing and collectivized around various social issues such as child care and health care. The Ladies Auxiliaries of the International Union of Mine Mill and Smelter Workers - the union depicted in Salt of the Earth - were a powerful force within the union in the United States and Canada.In 1967 Mine-Mill merged with the United Steelworkers of America.
The role of the women commanding recognition as well as respect as the brave saviors of a strike on the verge of defeat is a singular and remarkable episode inNew Mexico's labor history.  Their action served as a catalyst for a quicker evolution of a civil rights movement among Mexican-Americans in the area.  They gave incentive to the creation of a cohesive  swing vote that gave Mexican-Americans a political voice for the first time in the county.  Finally, the strike itself opened up the union to give its Mexican-American members more upward mobility.New Mexico Historic Marker Program 
Michael Munk
Moderator's Note: See also:
by Ericka Wills
March 29th, 2014
The David Rubenstein Atrium is on Broadway between 62nd and 63rd Streets on the Upper West Side.
Darakshan Raja - Co-director, Washington (DC) Peace Center
Reece Chenault - National Coordinator, U.S. Labor Against the War
Islamophobia (fear of Islam and Muslim people) is not just a matter of personal opinion.  It has become a structural element of American society that feeds militarism and war, as well as violence and oppression here.  Long after Donald Trump leaves the scene, we will need to confront and defeat the racist and reactionary force he has helped bring to prominence. 
Islamophobia is an increasingly powerful and dangerous force in American political and social life.  Donald Trump is its most obvious proponent, but his rhetoric has unleashed millions of hateful voices across the country.  Murderous acts aimed at Muslims are increasing.
The labor movement must appreciate the dangers Islamophobia presents and mobilize against it, during this election season and beyond.  The Oct 17 forum at 1199/SEIU is our opportunity to learn about structural Islamophobia and plan our agenda against it, in our union contracts and our broader social action.  This is the first of several "Labor, Islam, and War" forums U.S. Labor Against the War will sponsor around the country through May 2017 to build the strongest possible labor campaign against Islamophobia.
near B, D, F, M, N, Q, R, PATH, 1, 2, 3, 6, A, C, E & 34th St. bus;
After the 9/11 attacks, the NYPD became one of America's most aggressive domestic intelligence agencies. In 2011, Matt Apuzzo led an Associated Press investigation that revealed how the NYPD deployed undercover officers into minority neighborhoods as part of a human mapping program. The AP's investigation determined that the NYPD subjected entire neighborhoods to surveillance and scrutiny, often because of the ethnicity of the residents, not because of any accusations of crimes. Hundreds of mosques and Muslim student groups were investigated and dozens were infiltrated using informants, known as "mosque crawlers," to monitor sermons, even when there was no evidence of wrongdoing. Many of these operations were built with help from the CIA, which is prohibited from spying on Americans but was instrumental in transforming the NYPD's intelligence unit after 9/11.
Join us for "The Anatomy of Change: The NYPD's Illegal Surveillance Program'" as we explore the process and impact of this investigation as well as what this masterfully executed project and tell us about NYC today. Moderated by Moustafa Bayoumi, the conversation will feature Matt Apuzzo, one of his former editors, Michael Oreskes, Executive Director of the Arab American Association of New York, Linda Sarsour, and others.
Linda Sarsour
Matt Apuzzo
Michael Oreskes
Moustafa Bayoumi