Tidbits - December 22, 2016 - Reader Comments: Time's Trump Cover; Trump Passing Secrets to Putin or is Borowitz Satire or Reality Check; Trump Nominee Meets Austrian Nazis; Teachers; Trump Jobs Plan; and more...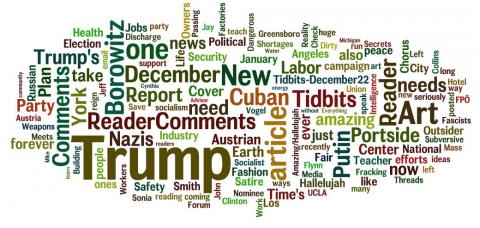 Tidbits - Reader Comments and Announcements - December 22, 2016,Portside
Announcements:
And likely Trump has no idea of the important meanings attached to this photo. Brilliant.
Pam Brooks
Great article!
William Firestone
It is amazing how an art critic's mode of knowing can enrich a political empiricist appreciation of...
The divisions here and now-- even if some of the critique may be a stretch.
Chuck Weed
I agree. We should welcome all forms of labor activism. Although I have been critical of the AFT and UFT in the past, I recently posted a plea from Randy Weingarten to sign a letter rejecting the proposed education appointee, DeVos. When the unions show any signs of life, they need our support. And we need them. However only one person, a Southern relative who is a teacher, responded. I was baffled by the lukewarm response from friends.
Sonia Collins
This is an amazing article and should be required reading for all of us.
Margaret White
    ====
Here's a link to The New York Times' First Profile of Hitler (1922).  How do we get the electors to read this before Dec 19?
Marc Batko, 
Portland OR
Oppose Trump's cabinet. Oppose fascism. Happy New Year.
Brad Smith
Senate CANNOT confirm Retired Lt. Gen. Mike Flynn, Donald Trump's pick to serve as his national security adviser. House (which has no vote in the actual confirmations) needs to hold parallel hearings on every Trump nominee, with open testimony from the public, citizen groups, etc. We can turn-around and crate enough pressure on some of these nominees. Remember we were able to Bork Reagan's Supreme Court nominee.
Jay Schaffner
Given that the Nazi-founded party in Austria was a close second in the polls for president, this is not the strongest grounds to oppose Flynn. There are better ones. For example, when as new head of the Defense Intelligence Agency, he announced to his chief administrators and analysts, "You will have one way of knowing if you are correct in your assessments. That will be if you agree with me!" This is the very worst possible position for an intelligence officer to take. Alternate theses and an open mind are requirements for the job, otherwise you paint yourself a picture you like and try to act as if its true. The results are always really, really bloody, especially for your own people.
He, not just his son, recirculated the "story" of Hillary running a child sex ring in the basement of a Washington pizza parlor (that lacked a basement), with the comment, "This is real important." In other words, the National Security Advisor to the most ignorant president in our history believes stories he reads on the alt-right (neoNazi) internet sites, without examining them for traces of facts.
The National Security Advisor is the guy who takes the reports of the intelligence community, and the military, and presents them to the President as, "Here are your options, sir."
Scared yet?
Jack Radey
The Austrian news today is full of reports about the visit of the leadership of the Austrian Freedom Party to Moscow. The leaders of a party formed by ex-Nazis and first led by a former Waffen SS officer from the invasion of the Soviet Union and which has long been noted for its adherence to the Nazis' anti-Russian & anti-Slav propaganda campaign, have now made a pilgrimage to Russia and signed a 5 year cooperation agreement with the leaders of Putin's United Russia Party-the first "Five Year Plan" since the collapse of the Soviet Union. Until recently the FPÖ was also known for adhering to the Nazis' anti-clericalism as well, but recently they have been presenting themselves as defenders of the "Christian West" against the threat from Muslims. Well now it seems they have now promoted the former "Slavic sub-humans" to the status of fully fledged fellow white folks and fellow defenders of the "Christian West." To top it off, FPÖ party leader H.C. Strache has posted a series of photos from his Moscow pilgrimage that includes one of him and the other FPÖ pilgrims all wearing yarmulkes as they paid a visit to Chabad Rabbi Berel Lazar-who seems thereby to have naively provided them with a visual certification of non-Antisemitism, one that the Jewish Community of Austria has long refused to provide because of frequent evidence to the contrary.
Stan Nadel
Similar scenario in Wisconsin. Throughout the campaign the Clinton campaign was tone deaf to all the indicators, from the primaries on, that there were a huge number of disaffected voters who felt left behind in the recovery from the great recession, including Democrats, whose top concern was getting an economy which would work better for them, produce more jobs for them. The lengthy exit poll interviews also support that.
Alfred Rose
Maybe if she didn't put her headquarters in Brooklyn and put in Detroit instead it might have helped
Tommy J, Moore, Sr.
I don't think the needs of teachers can be separated from the needs of students (any more than so-called "welfare reform" tried to separate needs of poor children from their parents)
Lydia Howell
Teacher shortages are looming? In 2018? Looks more like the sword of Damacles held up with a fraying thread to me.
Kathleen Fredd
Pat Bagley
December 15, 2016
A good thing! And we can organize, too. 
Jenny Kastner
this one hits home
John Nelson
The Borowitz Report is a satire column. Since the recent firestorm about "Fake News" all the stuff of his that appears on Facebook now says clearly on the image "The Borowitz Report - Not the News" and since you are a news source you should also include SOME kind of notification of that type (including in your email header). In my experience the left is just as vulnerable as the right to getting all riled up and spreading fake news. (That said I do enjoy reading Borowitz - but it is not the news).
The disclaimer is there if someone clicks through on the original New Yorker article, but how many of your readers even go beyond the message header in their inbox - or, once into the email, onto your site - or once on your site, through to the link to the original article? That's three clicks to find out that this is "Not the news".
OK, at the BOTTOM of your email it says he's a comedian but that doesn't mean he doesn't also write seriously. So - seriously - don't be part of the problem. Add a disclaimer. This was a fun article and, in the current era of everything turned upside down, not entirely unbelievable.
Thank you,
Cynthia Phinney
Given the already farcical nature of this issue, Borowitz1s humour is in bad taste.
Greg Felton
Oh FFS, can you PLEASE at least let readers know this is a SATIRE piece from And Borowitz! You are posting this like it's real and that's part of the problem! Shame on you!
Lori Olivet
An accord has been reached!...God bless Andy Borowitz.
Connie Burak Rubinstein
is this a joke or fake news?
Don Maroc
I'm sorry. I stopped reading this article as soon as the author called Putin a dictator. This reveals a slant on the story from the gitgo. Putin was elected in elections no more corrupt than our own "democracy". If the author wants to be taken seriously  i suggest he cools his anti russian /anti soviet? Prejudice
Lincoln Smith
Please re-post, or share, as you see fit.
Leonard J. Lehrman
In collaboration with the Garment Worker Center and UCLA Occupational Safety and Health (UCLA LOSH), the UCLA Labor Center just released "Dirty Threads, Dangerous Factories: Health and Safety in Los Angeles' Fashion Industry." The study finds that fast fashion, an approach that moves garments from design to shelf at an accelerated pace, leads to dangerous working conditions for garment workers.
Peter Dreier
Fracking is not the answer to our energy needs.
It's renewable energy.
Edward Flaherty
This does not surprise me. I was in the Philadelphia Detention Center about 16 years ago for several weeks while being transferred from one federal prison to another. Although far from the worse place to do time, of all the prisons and jail I passed through this was the only one in which I was never able to talk to anyone outside by phone. So for them to take this that one step further and inhibit the ability of those locked up to see loved ones, is cruel indeed -- but flows out of the cruel logic that informs our entire criminal justice system.
Kurt Stand
People are obsessed with big. It makes life a perpetual war.
What we need is to encourage small groups where people can address their
own needs and have a voice which is their own, not just that of the crowd.
Beth Holden
The task for socialists is to initiate and sustain a determined, systematic drive to build popular new understandings (from below) of what socialism is and ways to struggle for a huge mass of society to `get' it - that it's all for us all, NONE for our Owners, this latter which is all that capitalist government is for.  This that we've been working to teach with people for 100 years up until today.
All respect for Sam Gindin, this is where the article needed to begin, the long dissertation on the complexities - those that have been tried, examination of the degree to which they've worked or not, those needed to be way secondary - or left for another article.  Right now we have to tell ourselves all the efforts we've been doing that are the right ones, the ones that carry our ideas toward where we need to go - daily and for the coming times.  What are those ideas.  What are directions to take.   
We have a lot of good ideas of what to think and what to do. Those need to be reinforced.  Amplify and magnify Occupy; same for community budgeting efforts, efforts for us to run our municipalities.  Many such local efforts are ways for us to take charge, to teach populations they-we can take charge and begin to make our work be for us all, none for our Owners.  One way is for huge numbers of us to run for office. This would have manifold benefits:  we'd learn what needs to be said with people to carry socialist structuring forward.  We'd learn how to deal with the suspicion that we can't run the government/s.
We'd teach us all that we can, that the many offices we'd need to fill ALL concern ALL the issues we care about.  We speak a language that is not conciliatory with profit, with our Owners' control of our minds and actions, that's all - that's the difference.  We can rely on that difference to enable us to speak of what we need to do in each of the positions we campaign to fill.  Occupy the electoral podium.
Teach ourselves-us all via a tortured vestige of the democratic process - make it ours.
And speak perfect socialism, a system that is democratically totalitarian - refuses to permit overthrow of our victories, the process where our Owners legalize ruination of our every effort to control our lives for our benefit - as described in Gindin's article.
Norma Harrison
I read the book and it was illuminating in the many ways women are used by men in power.  It was like 1984 for women.  I question whether or not it will transfer to the big screen without crapping out with a phony ending.
Claire Carsman
New York City Labor Chorus premieres their new version of Hallelujah Chorus from Handel's Messiah
Here are the revised lyrics that I wrote that we sing:
"Life on Earth, So Amazing/Hallelujah" (from Handel's Messiah)
Revised lyrics by Jeff Vogel
Life on Earth,
So amazing, so amazing, a-ma-a-a-zing.
Orbiting `round a gol-den su-un,
So amazing, so amazing.
The radiance of the sun,
Shines on all the creatures of the earth,
And of the sea, and of the sky.
And peace shall reign forever and ever.
Hallelujah, Hallelujah.
Peace on Earth, forever and ever,
And war no more, forever and ever.
And peace shall reign forever and ever.
All for one,  and one for all.
And peace shall reign forever and ever.
Hallelujah.....
Jeff Vogel
Show your support for us and for our Cuban artists by coming to this terrific art fair. We'll also be opening a show of self-taught art at the Center on January 18 so that we can, hopefully, draw out of town visitors from the Outsider Art Fair to the Cuban Art Space!
We'll be sending you more information in January.
Sandra Levinson,
Executive Director
Center for Cuban Studies / Cuban Art Space
231 West 29 Street #401
New York NY 10001
212.242.0559
212.242. 1937 fax
Left Forum 2017 will take place June 2nd - 4th at John Jay College of Criminal Justice, The City University of New York
Early-bird registration is now open!
Stay tuned: 
Further information (on panel proposals, exhibition, speakers, theme, and more) will be announced in the coming month!