The Victory in Alabama - Black Voters Crucial - How Roy Moore Was Defeated (four perspectives)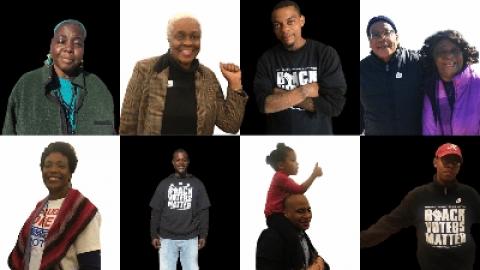 .,credit: Think Progress
Congratulations to the people of Alabama who have rejected irrationalism!  The war, however, is far from won.
The Victory in Alabama - Bill Fletcher, Jr. (billfletcherjr.com)
Black Voters Catapult Democrat Doug Jones to U.S. Senate - Ally Boguhn (Rewire)
Black Alabamians Discuss Their Decisive Role in Doug Jones' Victory - Kira Lerner (Think Progress)
The Black Belt's Revenge - Douglas Williams and Bryan Conlon (The South Lawn)

By Bill Fletcher, Jr.
December 13, 2017
billfletcherjr.com
Well, team, I must confess that i expected Moore to win Alabama's special Senatorial race.  As a result, I was shocked this morning when I awakened and received a text from one of my best friends celebrating Moore's defeat.  I immediately went to msn.com to read about the election results.
When I subsequently went to Facebook i saw a posting from an African American who was, in effect, treating the Jones victory as a victory for white people, i.e., that African Americans had placed no demands on the campaign and we gained little from the victory.
I disagree.
What struck me about the results–besides the fact that the election was so close–was that initial analyses indicated that African American turnout was comparable to 2008 and 2012,  In other words, Presidential years when Obama ran (and won).  African Americans in Alabama understood what was at stake in this election and this turnout demonstrates that, under the right circumstances, voters who normally don't vote in non-Presidential elections can be mobilized.
Is Jones a revolutionary?  Certainly not.  But the election was not a choice between revolution and counter-revolution.  It was an election against misogynism, right-wing populism, irrationalism and racism.  It's significance cannot be underestimated given Alabama's history as a home of the former Confederacy and a state that voted for Trump by an overwhelming margin.
Yet the book is not closed, and not simply because there will inevitably be a recount.   What is so essential is the building and strengthening of progressive organizations in Alabama that can take advantage of the voter mobilization toward the achievement of longer term, progressive strategic objectives.  There are organizations popping up all over the country that are advancing progressive electoral work with an "inside/outside the Democratic Party" orientation that are making a difference.  My hope is that such organizations will proliferate in Alabama.
Congratulations to the people of Alabama who have rejected irrationalism!  The war, however, is far from won.
Black Voters Catapult Democrat Doug Jones to U.S. Senate
Roy Moore, a Christian fundamentalist and longtime favorite of anti-choice activists, lost his U.S. Senate bid in one of the nation's reddest states.
Ally Boguhn
December 13, 2017
Rewire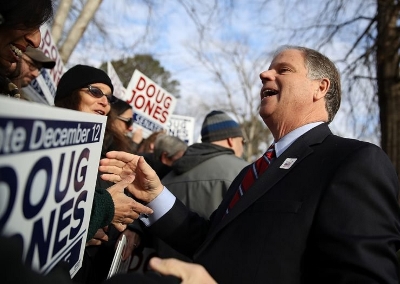 Jones called himself "a firm believer that a woman should have the freedom to choose what happens to her own body."
Justin Sullivan/Getty Images // Rewire
Democrat Doug Jones scored a narrow victory in Tuesday's special election against Republican Roy Moore to become the next U.S. senator representing Alabama.
A heavy underdog headed into the race against Moore, Jones won Tuesday's election with 49.9 percent of the vote. Ninety-eight percent of Black women voted for Jones, while 93 percent of Black men voted for the Democratic candidate. Two-thirds of white voters in Alabama cast a ballot for Moore, who campaigned on stripping LGBTQ people of civil rights and outlawing abortion care.
Jones, who successfully prosecutedmembers of the Ku Klux Klan involved in the 1963 bombing of the Birmingham 16th Street Baptist Church that left four Black girls dead, stood in stark contrast to Moore. When Jones in August won the Democratic nomination, he referenced his work fighting white supremacists as a federal attorney and then-recent violence by white supremacists in Charlottesville, Virginia.
Moore, however, has pushed the racist conspiracy theory that President Barack Obama was not a natural-born citizen and suggested that the last time the United States was "great" was during slavery.
Steve Bannon—executive chairman of white supremacist site Breitbart News—appeared at Moore's campaign rally on the eve of the election after having backed the candidate throughout the race. Bannon has reportedly suggested that limiting voting rights to those who own property would be "not such a bad thing."
The state of Alabama already has barriers to the ballot box, such as requiring photo identification in order to cast a ballot—a policy that disproportionately affects those with low incomes and people of color. Such laws disenfranchise those who don't have government-issued photo IDs, because, as Rewire's Imani Gandi has explained, they lack the funds to obtain one, don't drive, or don't regularly need it.
Anti-choice activist Janet Porter appeared at Moore's rally on Monday evening, telling the crowd that the Alabama Republican accused of sexual misconduct was "one of the most honorable men [she has] ever known."
Porter is the founder and head of Faith2Action, the anti-choice group behind the so-called fetal heartbeat legislation at the state and federal level that would effectively outlaw abortion. Porter appeared in defense of Moore throughout the campaign's final weeks, often pointing to Moore's opposition to abortion rights to shift the conversation away from the allegations against him.
She did the same on Monday, noting that the winner of the special election could play a key role in choosing the next justice to sit on the U.S. Supreme Court and that Moore would only support those opposed to abortion rights.
Porter said there was significant "pro-life support" behind Moore. Though some Republicans attempted to distance themselves from Moore in the wake of numerous allegations of sexual misconduct, many anti-choice activists stood firm in their support.
That support stems from Moore's extreme platform opposing reproductive freedoms.
In a 2014 court decision upholding a child endangerment conviction of an Alabama woman who gave birth to a healthy baby that tested positive for cocaine, Moore and colleague Justice Tom Parker made "the judicial case for prosecuting women who have had abortions," according to Rewire's Jessica Mason Pieklo. His campaign had touted endorsements from anti-choice extremists like Matt Trewhella, who once signed onto a statement suggesting that the murder of an abortion doctor was "justifiable," though he later removed his name from the letter.
On the campaign trail, Jones called himself "a firm believer that a woman should have the freedom to choose what happens to her own body." He voiced his opposition to a 20-week abortion ban during a September interview, though he later noted he did support current law banning what he called "late-term procedures."
Moore's position on abortion rights was hardly the only extreme position he has taken. Moore has been an outspoken opponent of LGBTQ equality, and was suspended from the Alabama Supreme Court for issuing an administrative order urging judges in the state not to comply with the U.S. Supreme Court's marriage equality ruling.
[Ally Boguhn is the Political and Campaigns Editor at Rewire. Prior to joining the team, she worked as an associate research director at Media Matters for America, where she specialized in analyzing media representations of reproductive rights and health.]
Black Alabamians Discuss Their Decisive Role in Doug Jones' Victory
"That's the power of the sister vote."
By Kira Lerner
December 13, 2017
Think Progress
Outside Doug Jones' campaign headquarters on Sunday, after the candidate appeared alongside Sen. Cory Booker (D-NJ) and Rep. Terri Sewell (D-AL) to make a last-minute pitch to Alabama voters, I approached Birmingham City Councilor Sheila Tyson to discuss the race. Tyson had been doing outreach in black communities in 23 counties through an effort called Power of the Sister Vote. "Will black voters turn out?" I asked her.
"The problem isn't going to be with the black voters," she responded. "If Jones doesn't win, it's not our problem."
Two days later at Jones' election night party — after the results came in, the confetti fell, and Jones thanked the diverse coalition that made the historic moment possible  — I bumped into Tyson among the still-teary and joyous supporters. She grabbed me by the wrists and pulled me close.
"Did I not tell you? Didn't I tell you? I told you," she said. "Ninety-three percent of black women that voted in the state of Alabama voted for Doug Jones… That's the power of the sister vote."
Pundits will continue to spin the results of this special election in more ways than we can count. It's a strong rebuke to Trump. It's thanks to Jones' unapologetic pro-choice stance. It's an example of an effective ground game strategy. It's because allegedly molesting children is a step too far, even in our current political climate.
Those points may have some truth to them. But when it comes to Tuesday's results, one takeaway stands out above all else: Black voters turned out.
According to Washington Post exit polling, 98 percent of black women voted for Jones (Tyson's initial estimate was conservative) along with 93 percent of black men. Black people make up a quarter of Alabama's population, but they made up roughly 28 percent of the electorate — a turnout rate that hasn't been seen by black voters here since President Obama's 2008 and 2012 campaigns.
Those rates prove what many black voters here have said all along: When they have the right candidate, they can and will swing elections.
"We're gonna do it for the governor's race," Tyson said. "We'll do it for the presidential election. This state is going to be a blue state from this election on."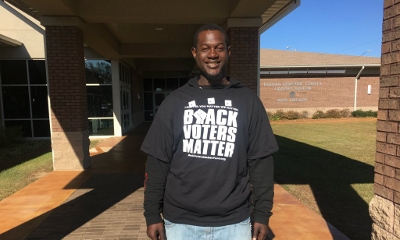 Kameron McGlown votes for the first time ever in Dothan, Alabama.
(CREDIT: Kira Lerner)
Grassroots organizing
Jessica Norman, who coordinated get-out-the-vote efforts for the Jones campaign, told me that the candidate's strategy was to get out into black communities and to speak to them about the issues that matter.
"Just calling, knocking on doors, talking to people face-to-face, letting them know why this campaign matters, I think that's the reason we won," she said. "You would be amazed — there were people who didn't know about the election."
Aided by groups like Tysons' and the NAACP, the Jones campaign was able to reach out to voters who had never before been mobilized in Alabama. Local branches of the NAACP called every registered voter who did not cast a ballot in 2016. Paid canvassers went door-to-door. Jones visited black churches on multiple Sundays, speaking about health care and jobs and infrastructure.
Birmingham resident Blair Liggins, who celebrated the victory with his young daughter on his shoulders, said that he was witnessing history because of Jones' efforts to reach black voters.
"Everyone automatically thinks that with a Democratic candidate that you're just going to get the African American vote, and I really believe that Doug Jones did not just take that for granted," Liggins said.
Cynthia Woodfin-Kellum agreed. "I'm 64 years old — I've seen a lot in Alabama," she said, adding that black women like herself would have never thought this night was possible. "Alabama is a great state, from the top of the highest mountain to the lowest sea. Tonight, it's the greatest state."
First-time voters
Thirty-three year old Nuris Bigelow said she was moved this year to vote for the first time ever. Tearing up as she left the polls in southeast Alabama, she told me that casting her ballot felt "great."
"My vote counts!" she said. "I was glad that I was able to vote. My vote counts. One more makes a difference."
Bigelow celebrated the moment Tuesday alongside Pastor Kenneth Glasgow — an Alabama voting advocate who has helped tens of thousands of people with criminal convictions register to vote since losing and then regaining his rights himself because of a drug charge. After Alabama's GOP-controlled legislature passed a law this year defining the vague "moral turpitude" clause of the state's constitution, thousands of people who were previously disenfranchised regained the right to vote.
Glasgow spent most of the day outside a Dothan, Alabama polling location, encouraging and helping dozens of people — including many first-time voters — to cast their ballots. Despite being harassed by some people who he characterized as GOP voters driving by and telling him what he was doing was illegal, Glasgow remained optimistic.
Late in the morning, Glasgow helped two first time voters, Chazarius Harden and Kameron McGlown, get print-outs of their mugshots from the city jail because neither had the appropriate photo ID required to vote. Harden said police recently took his ID when he was stopped for walking on the wrong side of the street, and McGlown said he lost his in a house fire. 
"It feels real good," McGlown said after the polling officials eventually let him use the mugshot, changing their minds after initially saying it was not a certified ID.
Last month, Anna Reynolds told me she had registered to vote but was worried she would be turned away because of court costs and fines on her record. Alabama law requires people pay off their court fees before regaining their right to vote, a stipulation that voting advocates call a modern day poll tax. But on Tuesday, Reynolds came up to me, proudly waving a piece of paper — a letter from the state indicating that she had been pardoned for the two charges.
"It feels good," she told me as her "I voted" sticker blew away in the wind. Reynolds headed back inside to grab another one.
A successful strategy
Black voters told me over and over that Tuesday's turnout is not a fluke — and doesn't have to be an aberration. The same coalition of voters that turned out in Alabama on Tuesday, they said, can turn out and swing elections across the country. Democrats in other states can nominate candidates who have been working in the communities for decades, like Jones, or candidates that are not afraid to advertise on billboards in black neighborhoods. The winning candidate elsewhere could also be someone who isn't willing to moderate his or her progressive views, they said.
In Alabama, it may mean more Democratic seats in 2018.
"Great things are in store for us," Norman said. "I can't say exactly what, but we have a new mayor in Birmingham, and with a new member of the Senate, I think great things are in store for us."
Woodfin-Kellum said more of what we saw this year is in store in 2018.
"More voters registered, more voters out, more voters standing up for what they believe and sticking with it."
[Kira Lerner is a political reporter at ThinkProgress, where she covers a wide range of policy issues with a focus on voting rights and criminal justice reform. Her reporting on campaigns, elections, town halls, and the resistance movement has taken her to a long list of states across the country (but she's still working on hitting 50). A native of the Washington, D.C. area, she holds a degree in journalism from Northwestern University's Medill School of Journalism.]
By Douglas Williams and Bryan Conlon
December 13, 2017
The South Lawn
It came down to turnout, much as it always does.
1.3 million people voted in Alabama tonight, a turnout of over 50% in an off-year election. Black voters especially overperformed, turning their hands against Roy Moore, a man who said the last time America was great was before the Civil War (and an sexual predator to boot…seems like revanchist politics and predatory behavior is co-morbid). This has resulted in making Doug Jones, a prosecutor previously best known for successfully prosecuting Klan murderers, Senator from Alabama.
When Moore was last on the ballot, in 2012, he very narrowly defeated Bob Vance, Jr. to retake his seat as Chief Justice of Alabama's Supreme Court. The Black Belt, named as much for the Black people who had been enslaved on plantations before the Civil War as much as the rich soil those plantations were situated on, was a wall across the state that ultimately broke Roy Moore's dream of becoming Senator. The county-by-county turnout of that 2012 election largely matches the pattern seen in tonight's election, with three exceptions: Lee County (home of Auburn University) and Talladega County went from supporting Moore in 2012 to opposing him, and Pike County ended up doing the opposite.
Other major communities in Alabama also turned out in force: Tuscaloosa went for Senator-elect Jones by seventeen points. Huntsville did much the same. Montgomery, Mobile, and Birmingham all went for Jones, and it was turnout in those communities that put Moore away tonight, now hopefully for good.
—
But the structural and ideological problems that the Democratic Party faces in the South cannot be overlooked.
Doug Jones ran a campaign that, in a normal election, would have resulted in a landslide defeat. His paeans to bipartisanship and reducing the deficit missed the mark amongst a Black population that is amongst the poorest in the nation — Wilcox County, Alabama has the fourth-lowest median household income in the country, with Sumter County not far behind in tenth place — and his refusal to make his biography a larger part of his campaign narrative until the end of the campaign nearly cost him the election. His attempts to connect with Black voters was….well….let's just say he did not get the best advice on his mailers.
And then there's the Alabama Democratic Party, rated as the most dysfunctional state party in the country by CQ Roll Call in 2014. The rare national investment into electing Jones as the state's next United States Senator aside, decades of disinvestment in places like Alabama have left state and local party organizations with no resources and suffering from a lack of leadership. At one point during a bad bout of party infighting, Joe Reed — the chair of the Black-led Alabama Democratic Conference who holds the real power in the party — threatened to table a motion that would take away representation on the State Democratic Executive Committee from any county where President Obama won less than 40 percent of the vote.
The reason for this? A motion that would have placed representatives from the Alabama College Democrats, Alabama Young Democrats, Stonewall Democrats, and the Alabama Federation of Democratic Women amongst other constituency groups on the state party's steering committee. So committed were the people who have power in the party to hold on to it that they would have erased representation on the party's decision-making body for 42 of the state's 67 counties in order to keep the status quo.
(Reed's threat was not carried through, as the motion to expand representation on the state party's steering committee was dropped.)
But what a rebuke to the party's leadership this election was, as counties with large state universities — save for Pike County, the home of Troy University — almost universally broke for Doug Jones. This is to say nothing of the counties that contain the state's HBCUs; one such county, Talladega, flipped from supporting Moore in 2012 to Doug Jones in 2017. It is safe to say that without the votes of young people — and young people of color in particular — we would be waking up tomorrow morning wondering what to do about U.S. Senator-elect Roy Moore.
—
Relying on the far right to produce candidates that provoke something akin to an immune response against them in the Black parts of the electorate ain't a sustainable strategy. The Republican Party will not always run Chief Justice Child Molester for high office, and you will need to have a more substantive message to keep people waiting in deliberately created long lines at polling places. This is what all the criticism from the left of Jones (and of Northam and Ossoff before them) has been about: building the kind of enduring structures necessary to readjust the politics of the South.
Without a concerted effort to build (or rebuild) a grassroots alternative to the un-Reconstructed horror of Roy Moore and the rest of the right in Alabama, this victory, a hybrid borne from the marriage of a uniquely vile candidate and the response to the national trend set by a staggeringly unpopular President, will be as sterile as a mule.
The next three years ain't gonna be great for Alabama, much as the next three years ain't going to be great for America, but tonight was a great night for Alabama.
[Douglas Williams originally hails from Suffolk, Virginia. He is a third-generation organizer, having a grandmother who worked to integrate the schools in his hometown and a father who continues to be active in labor organizing. He is currently a doctoral student in political science at Wayne State University in Detroit, where his research centers around public policy as it relates to disadvantaged communities and the labor movement.
Bryan Conlon is a union organizer in North Carolina and a member of NC Piedmont DSA. He believes very strongly in the importance of building the labor movement in the South as a way to end the horrors from its history that still haunt this region. He can be found on Twitter at @Cato_of_Utica and at the nearest Biscuitville.]