Tidbits - June 7, 2018 - Attacks on Women's Health; Puerto Rico; Philadelphia Orchestra, BDS; Progressives, the Black Caucus; Religion; Civil Rights Unionism; NFL, tradition of protest; Resources; Announcements; more....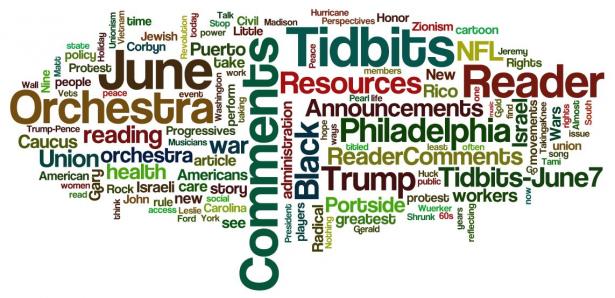 Tidbits - Reader Comments, Resources and Announcements - June 7, 2018,Portside
Resources:
Announcements:
Puerto Rico - New Hurricane Season Has Just Started
 
Hurricane Maria devastated Puerto Rico more than 8 months ago. Today #HurricaneSeason2018 begins and the island is still waiting on a #JustRecovery. h/t Power4PuertoRico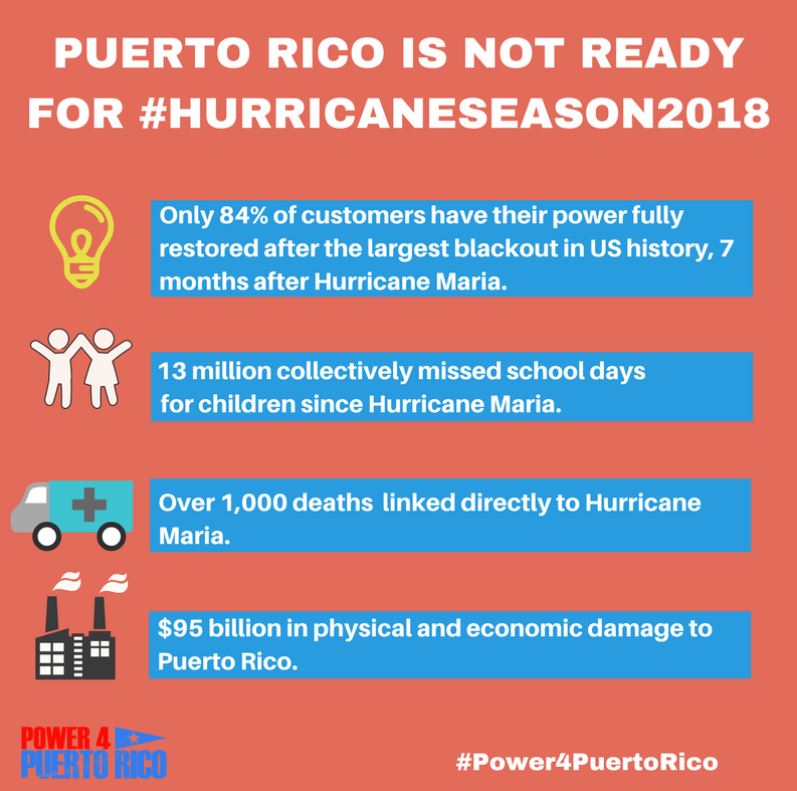 It's obvious Trump has opened the door to an aggressive assault on women and their access to health care, and all the advantages that go with being able to choose whether and when to have babies and parent them in a safe and healthy environment.
To understand concretely how this is being done through bureaucratic appointments and executive actions, I recommend the Trump Tracker -- https://www.trackingtrump.org/ . This is how they're doing it. 
The Tracking Trump website allows you to take in the full significance of the Trump-Pence administration's attacks on women's health and rights through the timeline, the players, and the impact. The landing pages cleanly lay out the who, the when, and the why it matters of every terrible policy, nomination, and administration actor. Tracking Trump uncovers the facts and shows the clear impact of who these policies affect and what it means for your health care.
Since taking office, the Trump-Pence administration has pushed a number of policies that have undercut basic health and rights in this country. The Trump-Pence administration has:
Proposed a dangerous domestic gag rule that would make it illegal for health care providers in the Title X program to tell patients where and how to access safe, legal abortion
Introduced a rule to allow employers to deny birth control coverage to their employees
Tried to eliminate the evidence-based teen pregnancy prevention program
Rolled back protections for survivors of sexual assault on campus
Sought to shift federal family planning funds away from comprehensive reproductive health care providers towards those that push abstinence only until marriage
Worked to block patients from receiving lifesaving, preventive care at Planned Parenthood health centers
Please share this information in your network.
Lisa Foley Stand
Re: Philadelphia Orchestra: Don't Go to Israel
 
Email to Philadelphia Orchestra Musicians
Memorial Day, May 28, 2018
Dear Jonathan Beiler and the Philadelphia Orchestra Musicians,
I hope that at least some of you, if not the entire Musicians Union unit of Orchestra members, will find public ways to distinguish yourselves from support of PO Management's politically insane tour of three Israeli cities. The moment is particularly fraught with images of Israeli sharp-shooters murdering dozens and wounding thousands of people demonstrating on their own land. . .  I understand more killed in one day than who climbed the Berlin Wall in its entire history.
 
Management's defense that "music transforms….heals…transcends conflict" is sanctimonious cover for this utterly one-sided partnership with the Israeli regime. The genuine article of musical mediation is Daniel Barenboim's West-Eastern Divan Orchestra, for many years a 'conversation' between musicians of the Palestinian Territories and of Israel (the 'diwan' being a collection of lyrical poems by Goethe). 
 
As a Jew myself, I cringe to see the Orchestra Association taking sides against brave Israeli Jews such as those for whom B'tselem speaks, those who find the 50-year occupation of Palestine abhorrent to historic Jewish values.
 
Management has to be tone deaf not to acknowledge that the orchestra's image will be sullied as the rare American orchestra to bless the lawless settlers. I wrote the Association: "Have you forgotten that Netanyahu humiliated America's African-American president by defiantly addressing the U.S. Congress at the behest of those Republicans whose sworn oath was to take down President Obama??"
 
While Yannick might perhaps take the biggest hit, the orchestra ensemble and even the 'Philadelphia Sound' will be identified with apartheid. To those who agree with my analysis, I hope you will find ways to dissociate yourselves.
 
Fraternally,
 
John Kailin
Bryn Mawr, PA
P.S.: I am a 20-plus year fan of this phenomenal orchestra. I am also a retired union activist and negotiator. While Executive Director of AFTRA Philadelphia Local, I spoke at your strike rally before the Academy when your goal was to exercise some authority over how the Philadelphia Orchestra's performances can be marketed to larger audiences. I remarked then that the "Philadelphia Sound" is not the product of sensitive conductors alone, but rather a tradition passed on by generations, of performing in ways that produce the deepest and richest possible sonorities and that sustain musical line.
        =====
I wish there had been a petition for people to sign directed to the Philadelphia Orchestra administration requesting that the orchestra not perform in Israel. 
Judith Ackerman
        =====
"the world's last settler-colonial state, "  so the US, Canada, Australia et al have suddenly ceased to exist and only Israel remains?  This is nonsensical propaganda and we are being played for fools if we take it seriously.
Stan Nadel
        =====
The last settler colonialist state, you say?
Er, what about China (Tibet, Sinjiang) and Russia (Chechnya, Ossetia, etc)?
Gordon Galland
Posted on Portside's Facebook page
        =====
The appeals to the orchestra not to perform remind me of an appeal I made to the orchestra at Richard Nixon' scheduled to play in January 1972 when it was scheduled to perform in Washington, DC  at Pres. Nixon's inauguration. As the Concertmaster was tuning the Orchestra I stood up and appealed to the Orchestra to urge them not to perform "The 1812 Overture" during a time when the war in Viet Nam raged on taking a heavy toll of american and Vietnamese lives. I said in the name of humanity you who create beautiful music and celebrate human life should  not be associated with Nixon's war. There was applause and booing and then the red-coated Ushers entered the Loge and brusquely removed me. 
Before making my appeal I had spoken with a member of the orchestra in the Green Room telling him what I was planning to do. I had learned that at least 15 members of the Orchestra opposed going to Washington. I was hoping to encourage others. I heard when the Orchestra performed in Washington a number of the musicians did not play a part of the "1812".
I would have expected that after the Israeli action against Palestinian demonstrators in which over a hundred were killed and thousands injured that the Orchestra would have canceled its performances.
Sincerely in peace,
Robert Z. Alpern
        =====
Agree. Except I think the US is also a settler-colonial state. Witness what it is doing to Puerto Rico.
Albamar Sanchez
Posted on Portside's Facebook page
Trump and the Evangelical - Gary Huck cartoon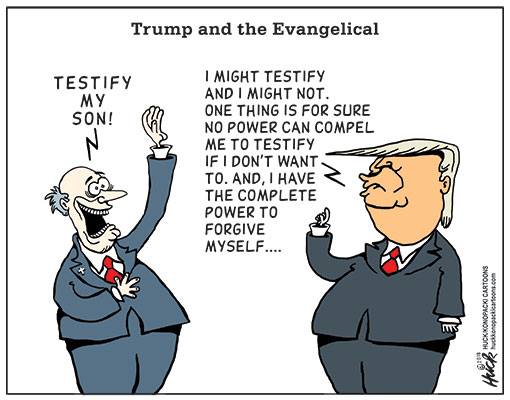 Gary Huck
June 3, 2018
Huck/Konopacki Cartoons
The Only Wall America Needs - Matt Wuerker cartoon
Matt Wuerker
Politico
Re: How the "Progressives" in the Black Caucus Have Shrunk to Almost Nothing
 
I was horrified by the article by Glen Ford from the Black Agenda Report, terribly titled, "How the 'Progressives' in the Black Caucus Have Shrunk to Almost Nothing." I say "terribly titled" because the article, while it did take a swipe at the Congressional Black Caucus, was mainly a blast against the Democratic Party.
Ford called the Dems "the greatest institutional impediment to creation of mass 'Resistance' to onrushing war and never-ending austerity under late-stage capitalism."
This while facing what is actually the greatest Constitutional, political, social and national security threat at least in my lifetime: the Trump administration.
In contrast to Ford, Tom Friedman of The New York Times hit the nail on the head in his column titled "Sounding Code Red." Friedman contended that the overriding issue in the upcoming elections is to vote against Donald Trump. Turning the House and/or Senate back to the Democrats, he said, was the greatest priority. "I have only one thought for this election," he said. "Get power. Get the lever of power that can curb Trump... nothing else matters now."
While we can all agree that no angels have ever been elected to Congress, Ford's column is disarming and defeatist at a time when it is essential to mobilize the greatest fightback against our greatest danger: Donald Trump.
Seymour Joseph
Re: 50 Years After 1968, Can the Young Change Politics? A Striking New Poll Says Yes
 
We did a pretty good job in the past generation of criticizing the political system and its links to wealth but fell short on the need to broaden the focus to include the basic anti-democratic nature and influence of the corporations and their system, as well as the failure -- the inability -- of that system to work for the general good. We need to rectify that situation, which still persists.
James Young
        =====
Better check the date of the Kent State shooting, if that is what you are referring to.
Sophie Quinn-Judge
Re: There Has to be More to It than Guns
 
What a pleasure to read Carl Davidson's eminently sensible analysis of where we are today and where we need to go.   I remember reading him i (as an SDSer in the Sixties) and he was an inspiring voice of reason and commitment then too.  I guess some good things don't change.  Go well Carl.
Noel Kent
Re: Can Jeremy Corbyn Restore Labour's Working Class Vote?
(posting on Portside Labor)
Lots of parallels here with the election of Trump and the growing rejection of the Dems by blue collar Americans .
John Samuelsen
International President
Transport Workers Union
        =====
Why do you perpetuate this right wing propaganda. For the real story - including the story about the hysterical anti Corbyn bias of the establishment press read, "The Candidate" by Alex Nunnes
Gary Bono
Re: The Best Way to Honor Our Vets and Protect Americans? End the Wars
 
But Americans don't have to be a player in every war that pops up. Stop making enemies with your bombs and drones and let countries settle their own difficulties. Those aircraft carriers you are constantly building are impressive and a very bad omen for the future. Bringing freedom, prosperity and democracy? The United States military is the most feared organization on the face of the earth, especially in "The Third World"
Ken P Marx
Posted on Portside's Facebook page
        =====
While there's no lack of proclamations, events, official holidays, discounts and more related to those who served in the armed forces, there is absolutely nothing which recognizes the service of Veterans for Foreign Peace. By this I mean the Peace Corps, in which more than 240,00 Americans have served in conditions often much more difficult than those who spent their time on or near army bases. Worth a story. No?
Jay Levy
Re: How About a Holiday to Honor Those Who Try to Stop Wars
 
Yes, we need peace and not war.
Tony Cruz Rosa
Posted on Portside's Facebook page
        =====
A good one but too much to ask in a money geared society with no human values!
Albert Corliss
Posted on Portside's Facebook page
Re: Rare Union Win in South Carolina
(posting on Portside Labor)
It's truly a pleasure to see Boeing bit in the butt by an aspect of the Taft-Hartley Act -- allowing skilled workers to organize separately from other workers -- that was meant to weaken unions in the work force. Solidarity!
James Young
Harrisburg, PA
Let me recommend the attached article from Portside that you can access by clicking here. It tells the largely unknown story of the largely successful organizing efforts during the 1940s in Winston-Salem North Carolina of the Food, Tobacco, and Agricultural Workers Union (FTA). 
Let me add to this highly informative article three points: the great anthem of the Civil Rights Movement, "We Shall Overcome" first arrived from the Black churches to the streets during the successful strikes at the Reynolds Tobacco factories in 1940; the FTU, along with nine other unions, the FTU was expelled from the CIO for being "Communist led"; and that the CP's North Carolina leader, Junius Scales, who was convicted under the Smith Ac, was not released from jail until 1962 when his sentence was commuted by JFK.
Gerald Meyer
        =====
This is poignant to me. My dad, Morris Pearl, was a tool and die maker and the steward of his plant's Union (Lockheed?).  As a child, I was particularly close to him (5 kids) and he took me to Helen Gahagen Douglas's rally when she ran against Richard Nixon, and others.  I remember thinking Henry Wallace would win the Presidency.  Eleanor Roosevelt had nominated him to be the Democrats candidate, not Harry Truman, who unleashed Atomic and Hydrogen Bombs on Hiroshima and Nagasaki civilians;  initiating the horror the world is facing today. B.T.W, the Steward is chosen by the union plant workers, not the pie-cards, so often careerists, and bought off by the bosses.  I think of Dad when I see articles, such as this. 
Ed Pearl
Re: Inaccuracies and Bias in Draft MEDICARE & YOU Handbook
 
Universal healthcare!
Howie Leveton
Posted on Portside's Facebook page
Re: Re: Burgerville fight revives the Wobblies, a radical union from Oregon's industrial past
(posting on Portside Culture)
In Australia too, low paid workers are feeling the lSh of what we call wages theft.  If an employee steals from an employer, he/she goes to jail. If an employer steals from an employee by paying wages below the minimum wage (as set by government) employers do not face court. 
Joyce Parkes
NFL...and the Tradition of Protest
 
From the Rosenberg Fund for Children
#StrangeFruit Mention of the Day: In reference to the NFL's bogus new rule about player protest.
"There's a famous song sung by Billie Holiday called "Strange Fruit" which is an early protest song that addresses lynchings of people color while highlighting the overall lack of accountability of these events. NFL players are using their platform in a similar manner to bring attention to the systemic issue of police shootings of unarmed black men. Using song or silent imagery to address social injustices is not anti-American or anti-police."
The Register-Mail (Galesburg, IL)
June 1, 2018
#StrangeFruitMOTD #athletesasactivists #artistsasactivists
Re: NFL Owners Seek to Outlaw Protest - Shortsighted Anthem Policy Spits in the Face of American Ideals
 
I think the NFL owners' policy to ban players' public dissent by moving it into the dressing room is a gift. If individual players disobey the new rule, they will be fined, but will draw more attention to the issue. If they protest collectively, then the NFL will have a major problem on their hands. Players should continue to use their wealth and the power of the media to spotlight the unacceptable problem of civic inequality.
Jeffrey R. Kerr-Ritchie
Re: Leslie Cagan's Half-Century of Activism
 
When I read the headline I got so scared that Leslie had died.
What a relief - I hope she lives another 50 years
Paul Leavin
        =====
Always glad when we can celebrate our leader/organizers alive and kicking!
So glad to see sister Cagan's insights and inspiring work continue to spread widely! A true working class hero!
Leanna Noble
(posting on Portside Culture)
In Germany the government would have been re-training them for jobs in the green energy industry for some time now.
Jenny Kastner
Posted on Portside's Facebook page
Wrestling with Zionism - film trailer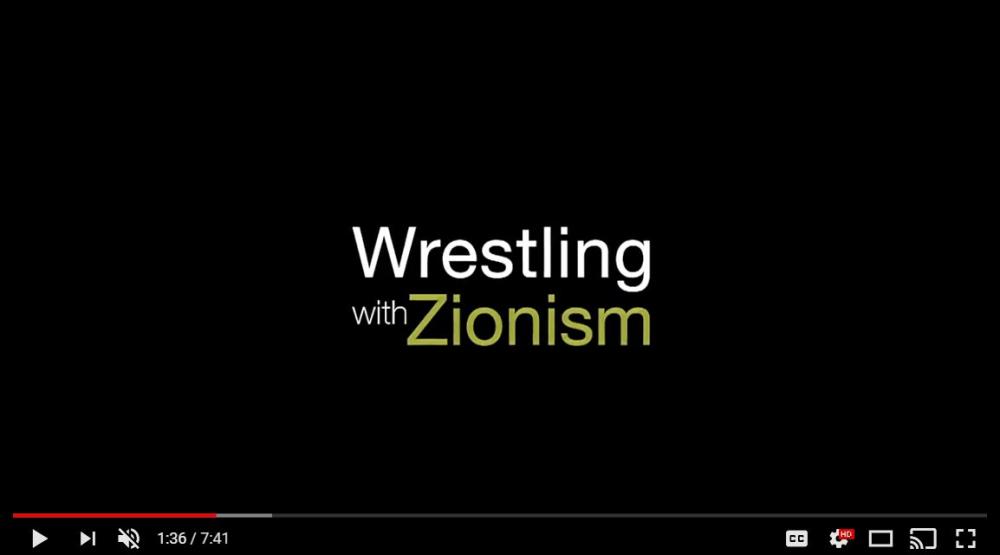 Listen here.
Filmmaker: Tami Gold; Editors: Tami Gold and Tammy Kremer
Conversations about Israel/Palestine are often charged and challenging. Many families and friends avoid the subject to keep the peace and worry that even a slight criticism of Israel can result in being labeled anti-Semitic. At JVP-NYC we want to create a space where we can discuss this subject, with respect and active listening, with the aim to build relationships and understanding. Wresting With Zionism is a collection of stories from people from range of backgrounds who share their evolving relationships to Zionism.
Jewish Voice for Peace
Published on May 31, 2018
Learn more: https://www.jvpnyc.org/
Radical Perspectives Reception and Author Talk - Madison, Wisc - June 15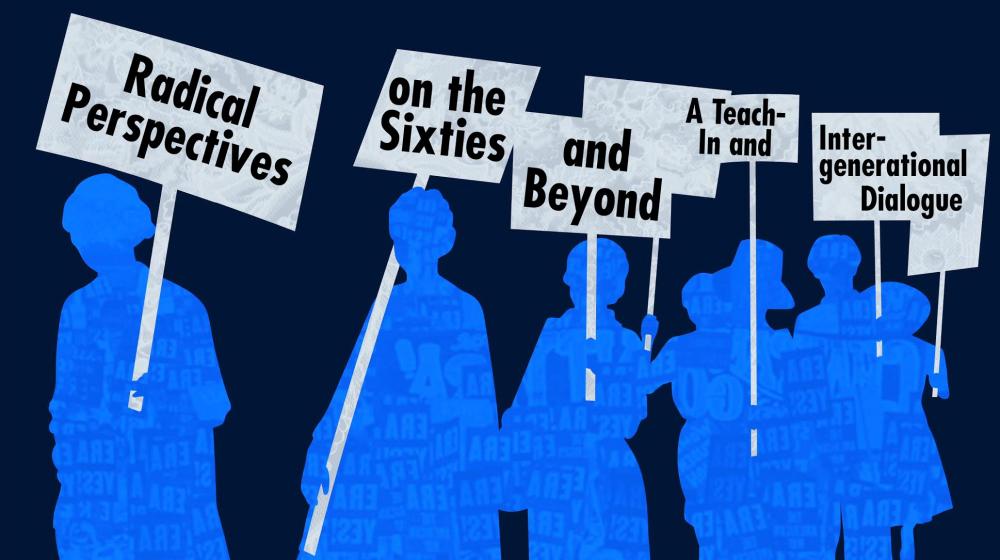 Friday, June 15, 2018 - 6:00pm
A Room of One's Own
315 W. Gorham St.
Madison, WI 53703-2218
A Room Of One's Own Bookstore will host an Authors Talk featuring the following authors. This event is the kick-off for "Radical Perspectives on the '60s & Beyond: A Teach-In and Intergenerational Dialogue", which will be held at Union South on Saturday, June 16th. For more information about the Teach-In, please see the Facebook page about the event, or contact the organizers at radicalperspectivescoalition@gmail.com, 608-284-9082.
Featured authors:
Max Elbaum, reading from the just-released third edition of Revolution in the Air: Sixties Radicals Turn to Lenin, Mao and Che, with a new foreword by Black Lives Matter co-founder Alicia Garza. A study of movements that embraced twentieth-century Marxism, and what movements of dissent today might learn from that experience.
Gerald Lenoir, reading from Amandla: Poems of Love and Struggle, verses that reflect the universal experiences of racial injustice, class exploitation and imperial domination reflecting his 40+ years as a social justice activist.
Kendall Hale, reading from Radical Passions: A Memoir of Revolution and Healing, a personal yet universal memoir tracing her adolescence during the turbulent '60s and the Vietnam war, young adulthood struggles in Boston with the new communist, feminist and labor movements, marriage, family and the birth and maturation of her spiritual quest.
Melinda Paras, reading from 'A Time To Rise': Filipino American Memoirs Of Revolution, containing more than 40 essays that comprise the "collective memoirs" of former KDP (Union of Democratic Filipinos) members, of which Melinda was a founder.
Sue Blaustein, reading from In the Field, Autobiography of an Inspector, a book of poetry reflecting her life path through UW-Madison in the '70s, trade unionism and left-wing politics, work in the printing trade and public service.
Billy Drew, reading from Fortunate Son--Redemption of a '70s Radical, his father's memoir of life in Madison in the late '60s, reflecting on the nature of legacy and the contributions which his generation has made and can still make.
Susan Simensky Bietila, reading her illustrated story about the Act 10 Occupation of the Capital from Wisconsin - Walk Like an Egyptian. Susan got her start in comix with the women's takeover of the RAT underground newspaper, a famed 2nd wave feminist event.
A welcome reception will follow the readings, with announcements about the Teach-in at Union South Saturday June 16, 9am-8pm.
LR9 - Multimedia Show Honoring the Little Rock Nine - New York - June 8 - August 5
 

Celebrate the opening of LR9:1957, a multimedia show by nine artists each offering works to honor the Little Rock Nine, who integrated Little Rock Central High School in 1957.  The students were initially prevented from entering the racially segregated school until President Dwight D. Eisenhower ordered the 101st Airborne Division of the United States Army to serve as guards for the Nine.
Sheen Center
18 Bleecker Street
New York  -  Manhattan