Timuel Black — Historian, Civil Rights Activist, Griot — Reflects at Age 100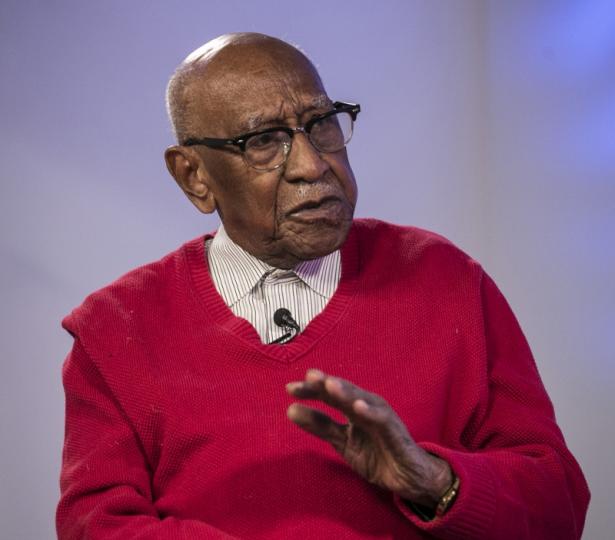 "My mother and father were children of former slaves, my great-grandparents, products of the Emancipation Proclamation," Timuel Black said. He turned 100 on December 7., credit: Rich Hein/Sun-Times
He walks a little slower, but on his 100th birthday, Timuel Black — historian, author and political and civil rights activist — is still independent, arriving unescorted.
Delivered by his driver, the elder statesman and griot of Chicago's black community settles comfortably into his chair Friday and looks back on a life that started in Birmingham, Alabama a century ago.
"I consider Dec. 7, 1918 a famous day in history," quips Black, the son of sharecroppers and grandson of slaves, who still wields the sharp lecturing tone of a lifelong educator.

"My mother and father were children of former slaves, my great-grandparents, products of the Emancipation Proclamation," Black begins.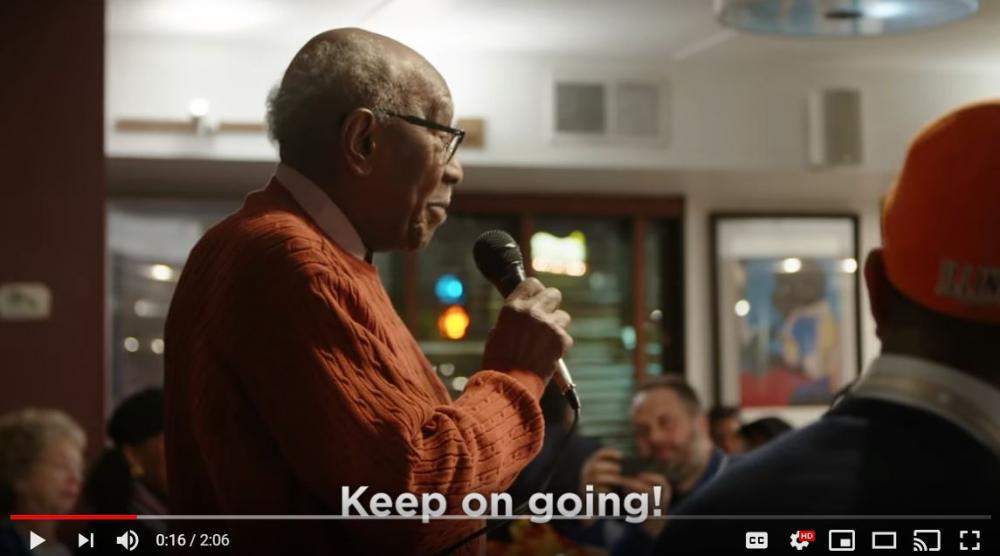 Watch here.
"I came up in a time when African-American men — women too — were being lynched, the racial segregation so terrible, people were fleeing to escape the terrorism. There were two waves of Great Migrations," said Black, a noted expert on the subject.
"My parents were part of the first wave around World War I, when industrialists enticed African-Americans north for cheap labor. The second wave occurred around World War II, when people were pushed off the land by agricultural technology," said the prolific author, an organizer in just about every labor, civil rights and political justice movement since 1940.
On Saturday, the University of Chicago will sponsor "A Symposium on the Life and Times of Tim Black," 1-4 p.m. at the Logan Center. Lonnie Bunch, founding director of the Smithsonian's National Museum of African American History and Culture in Washington, D.C., and former president of the Chicago Historical Society, was to headline the event but canceled after falling ill on Thursday.
"Clearly, the most important thing that has happened in this country has been the migration of African-Americans from the South into places like Chicago," Bunch said by phone Friday.
"Timuel Black's life was shaped by those stories. Here is someone who has lived his whole life trying to make Chicago better, working in labor, in education, in civil rights. He has dedicated his life to fighting for fairness for the African-American community," said Bunch.
"What is really important to me, is that Tim is also the keeper of the flame. He keeps the history of black Chicago alive, reminding us that civil rights is an ongoing struggle," he said.
On Sunday, the Vivian G. Harsh Society will sponsor "100 Years: Music and Memories, Tim Black's Bestest Birthday Party," from 3-7 p.m. at South Shore Cultural Center, where the World War II veteran — who earned four Battle Stars and the French Croix de Guerre medal — will receive the French Legion of Honor from the Consul General of France.
"I suppose when you live to 100, it's worth celebrating," said Black, who helped establish the Congress of Racial Equality and the United Packinghouse Workers of America — only two of more than 100 organizations he was active in for seven decades.
Black taught for many years in the Chicago Public Schools, followed by 30 years at City Colleges of Chicago, before retiring in 1989. Propelling the celebration of this Chicago treasure is the Tim Black 100 Committee, with members such as U.S. Sen. Dick Durbin, D-Ill., Rev. Jesse Jackson, Rev. Michael Pfleger, U. of C. President Robert Zimmer and civil rights attorney James Montgomery.
Raised in what was then Chicago's segregated "Black Belt," Black graduated in 1935 from DuSable High School. Classmates included Johnson Publishing Co. founder John H. Johnson, jazz musician Nat King Cole, and Archibald Carey, Jr., first African-American delegate to the United Nations.
"In white communities, the population was 22,000 per square mile; in the ghetto, it was 80,000 per square mile," recounts Black. "It wasn't until 1940, when Carl Hansberry, father of Lorraine Hansberry, fought the restrictive covenants with Hansberry versus Lee, taking it all the way to the Supreme Court, that the barriers of segregation were broken in Woodlawn. Shelley versus Kraemer in 1948 then cleared the way for people to leave the ghetto."
Black was drafted into a segregated Army in 1943, fighting in two decisive battles. "We went all the way from Normandy up onto the front line of the extermination camps. At Buchenwald concentration camp, I saw human beings systematically being cremated," he recalled.
Black would work with activists Paul Robeson and W.E.B. DuBois in the '40s and '50s; then alongside Dr. Martin Luther King in the '60s. He was heavily involved in King's Chicago Freedom Movement, and as president of the Chicago chapter of the Negro American Labor Council founded by activist A. Phillip Randolph, Black helped organize Chicagoans' participation in the 1963 March on Washington.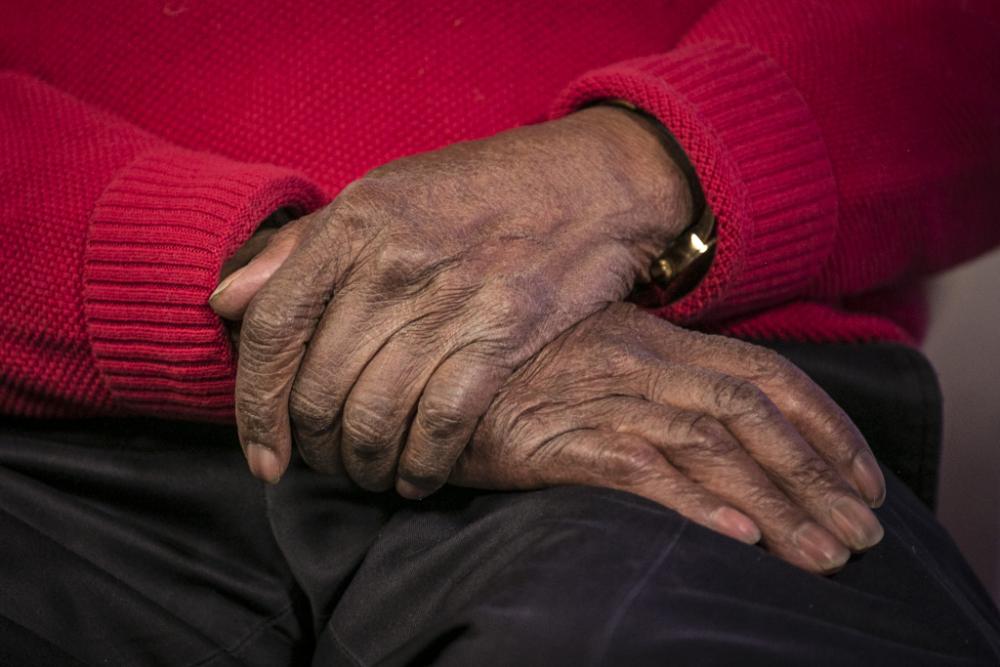 "Working with Dr. King was a magnificent experience. It's hard to describe. This brilliant, articulate young man didn't have to do this. But he was determined and dedicated to bring change, in a way that frustrated the opposition. They didn't know exactly how to handle it when they beat you up, and you said, 'God bless you.'"
Black was also instrumental in the election of Chicago's first black mayor, Harold Washington, in 1983, aided by an independent, progressive black political movement pioneered by Black, who coined the popular term "plantation politics."
"We needed a candidate that could unify. As a congressman, Harold was well-respected and liked across racial and political lines. But he wasn't interested in running. He told us if we registered 200,000 new voters and raised $1 million, he'd consider it. So we did.  I called him and said, 'What are you gonna do now?' He said, 'I guess I'm running.' "
Black was similarly involved in the election of the nation's first African-American president. He'd become trusted counsel to the young Chicago community organizer Barack Obama in the early '80s, advising him over the course of two decades as Obama worked his way up in politics.
"I met Tim just after I moved to Chicago. We sat across from each other at Medici on 57th — the rookie South Side organizer on one side …  and the veteran South Side historian on the other. And it was during that first conversation that I learned of Tim's deep well of empathy … And I was inspired by that," Obama writes in a birthday tribute in the program for the Sunday party.
"Because he wanted to talk about how to make life better for people all across the city, how to bring about greater equality," Obama wrote. "And, perhaps the most important part, after talking about it, he gets out there and does something about it, rolls up his sleeves and gets to work."