The Greensboro Sit-In Protests, Explained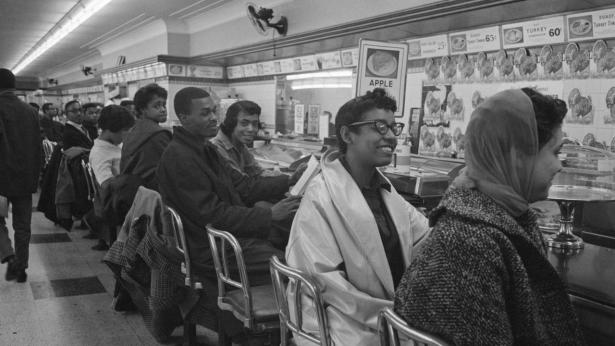 credit: Bettmann/Getty Images // Teen Vogue,
The first day of Black History Month is also the anniversary of a historic civil rights protest and the birth of a student-led movement. February 1 marks the 59th anniversary of the start of the Greensboro sit-ins, a protest started in 1960 by four college students against racial segregation in Greensboro, North Carolina. Their actions quickly spurred a nationwide movement that sparked a fresh wave of the civil rights era.
Before the sit-ins began in Greensboro, people in the city were already fighting to tear down white supremacist laws and practices in the Southern state. In the mid-1950s, George Simkins Jr., president of the local NAACP, led a successful fight to desegregate one of the city's golf courses. In 1957, Josephine Boyd bravely became the first black student at Greensboro Senior High School (now called Grimsley High). Despite strong resistance from the public school system, other black students followed her lead, fighting to attend white schools throughout the city. Not that long after the successful Montgomery Bus Boycott took place in Alabama (from December 5, 1955, to December 20, 1956), activist and leader Martin Luther King Jr. came to speak in Greensboro, in 1958.
Greensboro made the history books once again, on February 1, 1960, when four first-year students at North Carolina Agricultural and Technical State University — a historically black public institution — walked into the Woolworth's department store downtown and asked to be served at the all-white lunch counter.

David Richmond, Franklin McCain, Ezell Blair Jr., and Joseph McNeil were new students at A&T, but most of them weren't new to Greensboro. Three of them had grown up, at least partially, in the city, according to the book Civilities and Civil Rights: Greensboro, North Carolina, and the Black Struggle for Freedom, by William Chafe. Blair, whose father was active in the local civil rights movement, remembered that Dr. King's speech in Greensboro had "brought tears to my eyes," and all of the "Greensboro Four" or "the A&T Four," as they became alternately known, were inspired by adults in their lives who were committed to the freedom struggle, according to the book.
The students, who were friends, carefully planned their sit-in protest from a room in A&T's Scott Hall. By coordinating with a supportive white business owner, they contacted local media and made their way to Woolworth's. After buying a few items, they held onto their receipts and sat down at the Woolworth's lunch counter. The store's employees refused to serve them. The A&T Four came back the next day, this time with more than 20 other students in tow. The protest kept growing, and soon after, students from nearby Bennett College — a historically black women's college in Greensboro — had joined in. So had students from Dudley High School. More students from local colleges started coming in to support the protest, including white students from Greensboro College and what is now the University of North Carolina at Greensboro, but the majority of participants were black students from A&T and Bennett. They regularly brought school work, taking shifts sitting-in at the lunch counter and demanding service. They sat quietly at the counter from 11 a.m. to 3 p.m., with not one protester served.
Angry white men showed up to harass protesters. Eventually, more than 1,000 students showed up to participate, including A&T's football team. According to a book about Greensboro's civil rights struggles, "They were met by members of white gangs who waved Confederate flags and heckled blacks sitting-in at the L-shaped lunch counter." Food was thrown at them. Eventually, someone called in a bomb threat to Woolworth's, and the store closed.
Despite harassment and opposition, the movement kept growing. It quickly spread across the state, and then across the South. By the end of March, 55 cities in 13 states were participating. Around the country, the sit-ins were overwhelmingly carried out by black high school and college students, often from historically black colleges and universities. In Greensboro, high school students took over leadership of the sit-ins when the college semester ended and many students went home for the summer. By July 25, 1960, they'd won, after a tireless campaign, with Woolworth's and Kress both integrating their Greensboro lunch counters. By then, the movement had caught on around the country, inspiring a wide range of different protests that would adopt similar tactics at motels, pools, movie theaters, and countless other venues.
The Greensboro sit-ins marked the beginning of the student-led phase of the civil rights movement. By the end of the summer in 1961, over 70,000 had attended sit-ins, with more than 3,000 arrests.
Two months after the sit-ins began, students from around the country who had been energized by the movement met at Shaw University in Raleigh and formed the Student Nonviolent Coordinating Committee, or SNCC, to continue the struggle. SNCC helped lead the 1961 Freedom Rides and other important civil rights battles, mobilizing youth across the country, especially on campuses.
Around the same time, black leaders in Greensboro pushed to desegregate the city's two white hospitals. Their lawsuit would result in a legal victory in 1963, leading to the desegregation of hospitals throughout the country with the 1964 Civil Rights Act.
Jesse Jackson — who would later become a prominent civil rights figure — helped lead subsequent desegregation efforts in Greensboro as a student at A&T. In 1963, he emerged as a leader in the fight to end segregation at various theaters and cafeterias in the city.
Four years after Greensboro students successfully pressured Woolworth's to desegregate and ignited a nationwide revolt against white supremacy, President Lyndon B. Johnson signed the 1964 Civil Rights Act. In many ways, it marked a pivotal moment in the black freedom struggle. In 2010, the International Civil Rights Center & Museum opened in Greensboro on the site of the Woolworth's sit-ins, commemorating the A&T Four and the larger freedom movement. At the museum's opening event, Franklin McCain told attendees, "Don't wait for the masses when you want change. Don't ever ask permission to start a revolution, because people don't like change."
The story of the sit-ins and the A&T Four continues to serve as an example not only to people around the world but also to people in Greensboro. As recently as January 29, activists in Greensboro were invoking the sit-ins as inspiration for continued demonstrations around racial justice. And they likely will be for many years to come.
Related: The Greensboro Massacre of 1979, Explained
OG History is a Teen Vogue series where we unearth history not told through a white, cisheteropatriarchal lens.
[Eric Ginsburg is an independent journalist who's driven to tell stories that matter, and to equip people with information they want and need. I'm full of ideas, thrive on interviewing and listening to people, and seek creative ways to engage audiences.
He specializes in covering food & justice, and have considerable investigative and freelance experience. I recently served as the managing editor and food writer at Triad City Beat, a weekly newspaper I co-founded in February 2014. I'd previously been the associate editor and staff writer at independent newspaper YES! Weekly for three years. As a freelancer, he's tackled a wide array of styles and roles, including working as a researcher for this front-page New York Times article about racial bias in police traffic stops and searches. I've written for VICE, Teen Vogue, Healthyish (Bon Appétit), Newsday, Edible Brooklyn, Splinter News, Munchies, AM New York, October, Creative Loafing Atlanta, and Scalawagmagazine, among others.  He is also the digital & social content developer for the Center for Creative Leadership, a global nonprofit with 12 locations worldwide.]