The Untapped Power of Rural Voters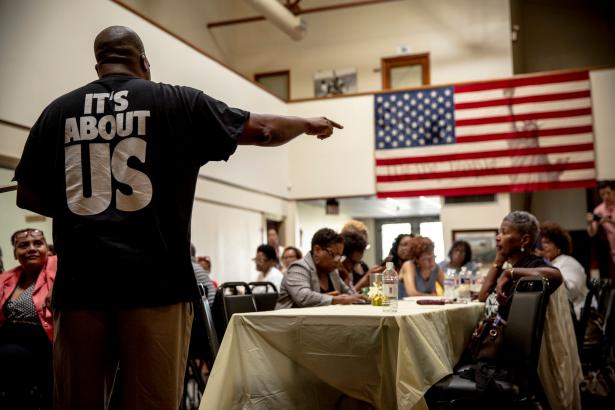 Cliff Albright, a founder of the Black Voters Matter Fund, speaking to community leaders in Mississippi as part of a campaign to mobilize black voters in 2018.,Credit: Andrea Morales for The New York Times
I have spent the past 25 years driving through back roads in the rural South to register voters, stop school and hospital closings and listen to families whose children are moving away because they can't find jobs. The drive can be lonely because there's often no cellphone coverage or streetlights at night.
By the time Donald Trump came around in 2016, many rural voters were desperate. He promised to bring back factory jobs. He promised to bring back coal-mining jobs. Sure, these were lies. But they were lies tailored to citizens in small towns that were getting smaller.
Republicans have long courted rural voters. Democrats need to do a better job at that. To win in 2020, the eventual Democratic nominee needs to increase the Democrats' share of rural votes and not cede them to Republicans.

This is within reach. From 2012 to 2016, Democrats lost 11 percentage points in rural areas overall. But those same rural areas trended in a Democratic direction from 2016 to 2018 and ended up about six points more Democratic. There's room for growth in rural America for Democrats.
First of all, "rural" means the least populated parts of the country; it is not code for white. Nor for Trump die-hards. There are about 10 million rural people of color; that's one out of every five rural residents. Immigrants were responsible for 37 percent of the population growth in rural areas from 2000 to 2018. And I know there are many white progressives in rural areas because my organization, the Black Voters Matter Fund, partners with several voting groups who mobilize them. These voters exist.
Because of a fundamental misunderstanding about who lives in rural areas, Democratic presidential campaigns have let outreach slide. Hillary Clinton reportedly did not have a rural council, for example, a group of advisers on rural issues, as Barack Obama did during his campaigns.
But rural voters show up when we pay attention to them. In the 2018 midterms, Democratic support increased in the suburbs, small metropolitan areas and rural communities. A Reuters analysis showed that Democrats made gains in at least 54 congressional districts with large rural areas.
Not all gains resulted in victories, but Democrats flipped rural congressional districts like the 19th Congressional District in the Hudson Valley of upstate New York and Maine's Second Congressional District, which is the second most rural district in the nation.
Rural Alabama voters were also crucial to Doug Jones's special election victory for the Senate in 2017. He got more votes in the cluster of rural counties that make up the state's black belt (69,000) than he did in Mobile (62,000), his second-best performing city after the Birmingham metro area.
In rural areas, small investments can create stunning victories. In 2016 my organization spent about $2,000 on basic needs like food for volunteers and vans to take people to the polls for a race in Americus, Ga. As a result, we helped win back a seat in the state legislature for Democrats. The district was 66 percent African-American, and entirely winnable, but it had been ignored for years. There are easy wins like this all around the country.
The key to winning rural voters is to center their needs with a compelling rural platform — starting with better jobs, higher wages and economic development. When I'm driving through country roads and I see all the land, I know one advantage rural communities have over urban centers is space for wind, solar and other renewable energy technologies.
Benton County, Ind., has transformed itself with wind farms, for example. Wind developers have paid the county (pop. 8,650) $17 million and spent $33 million on roads and infrastructure. They brought hundreds of jobs for construction workers and about 110 permanent jobs for wind technicians and others.
Just as Mr. Trump's broken promises to rural America on economic revitalization make him vulnerable, so too do his broken promises on health care. The Trump administration's proposed 2020 budget would repeal Medicaid expansion and cap Medicaid spending.
This would spell disaster for the one in four rural Americans who rely on Medicaid for insurance. It would also put rural hospitals, which rely on Medicaid for more than 10 percent of their net revenue, at increased risk of closing, taking the care and jobs that they provide.
Unfortunately, by ignoring rural voters until now, progressives have relinquished large swaths of our country to reactionary politicians who are putting extremist policies into place. Consider Alabama's abortion ban, which forces rape survivors to carry their pregnancies to term. Left unchecked, these politicians will only amass more power.
But it's not too late. Rural voters share the same values as people in the suburbs and the cities, but they are more likely to articulate them as conservative values. In the South, the language of faith and family resonates with everyone — black and white, rich and poor, young and old.
Rural communities want progress and change. That is why I believe Democrats and progressives can easily increase their share of rural votes by engaging and organizing in rural communities. The ground is fertile; we just have to till the soil.
The path to the White House includes aggressive outreach to rural America, a sincere promise to never give up on us — no matter where we live — and traversing more than a few dirt roads.
[LaTosha Brown (@MsLaToshaBrown) is a political strategist and a founder of the Black Voters Matter Fund. Ms. Brown has registered voters across the rural South for 25 years.]