Global Left Midweek - Storm Centers!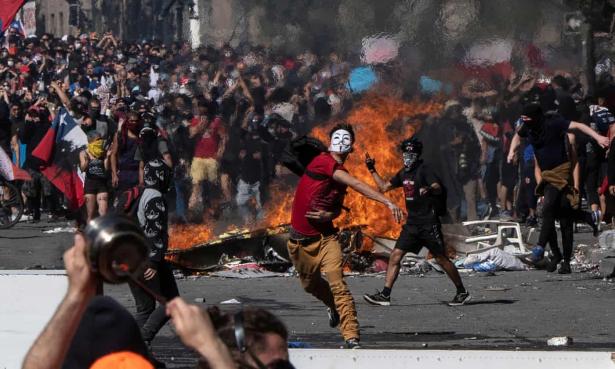 Protesters throw projectiles at police during the fifth night of unrest in Santiago, Chile's capital,Photograph: Pedro Ugarte/AFP/Getty Images
__________
Haiti: Pro-Democracy Movement Swells
Frances Madeson / Truthout (Sacramento)

A movement birthed in the shantytowns of Port-au-Prince has now swelled to broad swaths of the populace in all 10 of Haiti's geographical departments. 
__________
Video: Lebanon Uprising
Peoples Dispatch (New Delhi)
Jana Nakhal of the Lebanese Communist Party talks about the resilience and steadfastness of the people of Lebanon, the history of organizing that led to the current protests, and the way forward.
__________
Chile: From the Streets to the Workplaces
AFP (Paris)
The protest violence -- widespread looting, arson and clashes with the 20,000 security forces deployed on the streets -- is the worst to hit Chile since the country's return to democracy after the 1973-1990 rightwing dictatorship led by General Augusto Pinochet. (NOTE: More details on strikes and protests in Chile are here and here.)
__________
Guinea: Protests and Repression
Karim Kamara / Deutsche Welle (Berlin)
Police opened fire on demonstrators opposing a new constitution that could allow President Alpha Conde to run for a third term.
__________
Rojava Defends Its Project
Direnc Balik and Heba Nasser / Middle East Eye (London)
The Kurdish YPG's battle with Islamic State, with men and women from a multitude of different religious and ethnic groups fighting side by side, made them highly popular around the world.
(NOTE: Russia and Turkey have announced an agreement whereby the Syrian border guard will remove and replace YPG forces on Syria's northeast border. See more details here. November 2 is World Resistance Day for Rojava.)
__________
Ecuador's Unlikely Revolution
Stephen K. Hirst / Slate (New York)
Indigenous communities and social movements stood up to the president and the IMF—and won.
__________
Catalonia: Tsunami of Protest
Dick Nichols / Green Left Weekly (Sydney)
They occupied Barcelona airport, imposed road blocks on major highways, demonstrated in huge numbers outside Spanish government offices and began "Marches for Freedom" on Barcelona from five provincial cities.
__________
Sudan: Tens of Thousands Rally
Khalid Abdelaziz / Reuters (London)
Demonstrators in Khartoum and other cities called for the former ruling party to be dissolved and for ex-officials to be put on trial.
__________
Election News
Bolivia  NewsClick (New Delhi)
Quebec  Daniel LeBlanc / The Globe and Mail (Toronto)
Canada  Graham Slaughter / CTV News (Toronto)
Argentina  Dacil Lanza / Il Manifesto Global (Rome)
Uruguay / teleSUR (Caracas)
__________
Welcome Two New Left Journals in Africa
A Radical Journal and Institute for Swaziland  Manqoba Nxumalo / Review of African Political Economy (London)
Introducing The Kenya Socialist  / Rosa Luxemburg Stiftung East Africa Office (Dar es Salaam)