Dispatches From the Culture Wars - November 12, 2019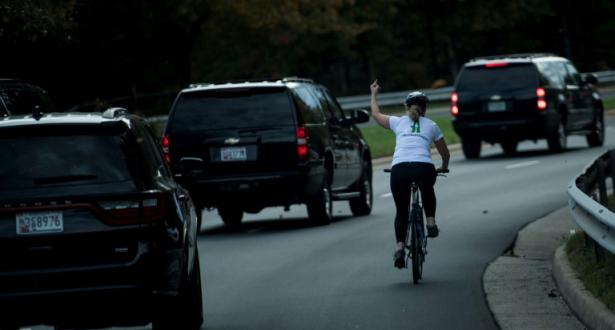 Juli Briskman sends a message to Trump - and winds up getting herself elected, Photo: AFP
A Few Tips on How to Understand Latin American Coups
By Greg Grandin
November 11, 2019
Jacobin

No coup is uncomplicated. That doesn't mean you can't take a stand.
By Alexander Hurst
November 6, 2019
The New Republic
As impeachment and the 2020 election loom, Trump's hard-core supporters are poised to unleash a wave of violence against their enemies.
By Nathaniel Rakich
November 8, 2019
FiveThirtyEight
What the Virginia, Mississippi and Kentucky elections can tell us about 2020.
Left Strategy as 2020 Looms: A Discussion Guide
Organizing Upgrade
It's no surprise that there are knotty debates on the left over both electoral and non-electoral strategy for 2020 and beyond. These six articles posted on Organizing Upgrade in the last several weeks bring a range of grassroots organizer-based strategic perspectives.
The GOP's Pitch to African Americans
By Seung Min Kim and David Nakamura 
November 8, 2019
Washington Post
In Atlanta, Trump rallies black supporters ahead of 2020 despite polls showing anemic support among African Americans.
By Marissa Brostoff
November 7, 2019 
Jewish Currents
As leftist Jews living in a period of planetary devastation, we've often thought of Walter Benjamin; the best-known Jewish sage to dwell on such questions in the modern era, he imagined history from the perspective of an angel caught in a storm called progress, flying with his back to the future as trash piles up endlessly in his line of sight.
By Claire Fallon
November 7, 2019
Huffpost
Amid the rise of a new labor movement, the classic insult is going mainstream.
By Andy Kroll
November 8, 2029
Rolling Stone
Trump has now appointed one out of every four appeals-court judges — more than Obama did in eight years in office.
Her Road to Office Was a Finger in the Air
By Jack Arnholz
November 6, 2019
ABC News
A cyclist who famously flipped off Trump's motorcade wins election in Virginia.