Global Left Midweek - November 13, 2019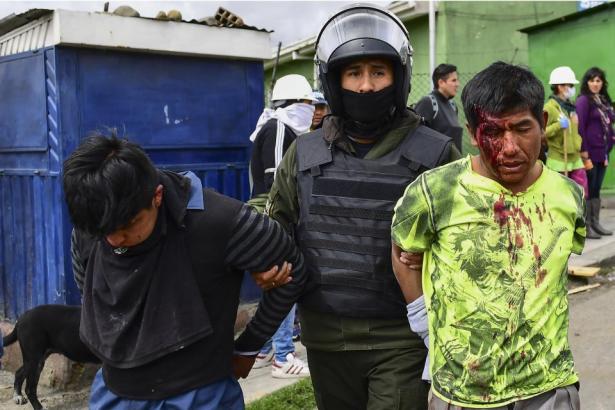 Resistance and repression in the streets of Bolivia, Photo: Página 12
__________
The Coup in Bolivia
Terror and Resistance / Radio La Prismisma (Managua)
[excerpted; translation by Portside; original here]

Very well armed terrorist groups, hired by the extreme right-wing Bolivian racists, have taken nerve centers in La Paz and threaten to assault the main government buildings.
"The state television and radio media BTV and RPN have been intervened by organized groups that after threatening and intimidating journalists forced them to abandon their sources of work. They say they defend democracy, but act like a dictatorship," said President Evo Morales.
"We condemn the attitude of former defenders of the people who, instead of protecting human rights, violate freedom of expression and join racist coup plotters to attack state media as military dictatorships did," he wrote in his Twitter account.
Terrorists occupy downtown La Paz
The headquarters of the Tactical Unit of Police Operations in the center of La Paz, on the corner of Plaza Murillo, is occupied by mutinous officers since Saturday morning.
The paramilitary gangs have taken each of the streets of access to the Plaza where the main institutions of the national government are. They have set up barricades, have prevented all entry, and have stationed shock troops brought from other parts of the country, in particular from Cochabamba and Santa Cruz.
On Friday night there were several interlinked police riots in at least 4 major cities in Bolivia, some openly pro-coup.
Popular counteroffensive
The announcement of a counteroffensive by social organizations was given by the Federation of Neighborhood Councils of El Alto (Fejuve) and the Unified Farmworkers Confederation of Peasant Workers of Bolivia (CSUTCB), calling for mobilization, encirclement and pressure.
The Executive Committee of the CSUTCB ruled on the conflict in the country and determined to encircle the seat of Government and give 48 hours to the president of the Pro Santa Cruz Committee, Fernando Camacho, to leave the city of La Paz.
Earlier, the Fejuve de El Alto also gave coup leaders Camacho, Marco Antonio Pumari and Waldo Albarracín a 48-hour period to leave La Paz. They also announced that they will install blockages in all the entrances and exits of La Paz, the capital.
Evo Driven Out By Military / BBC News (London)
International Solidarity  Zoe PC / NewsClick (New Delhi)
Statement of MAS / No Borders (Portland ME)
Mass Repudiation of Bolivian Coup in Buenos Aires / teleSUR (Caracas)
__________
Chile: General Strike to Demand a Constituent Assembly
Sandra Cuffe / Al Jazeera (Doha, Qatar)
Unions present demands related to wages, pensions and union organising but their primary demand is a new constitution.
__________
Arab Summer, Arab Winter
Gilbert Achcar interviewed by Joris Leverink / Roar (London)
Massive protest movements have taken shape in Sudan, Algeria, Egypt, Lebanon and Iraq, each with their own specific triggers and dynamics, and with different degrees of success.
__________
Lula is Free
Brasil de Fato (São Paulo)
The ex-president of Brazil Luiz Inácio Lula da Silva delivered a poignant speech the day after he was freed from prison, championing the income distribution policies implemented during his administration and attacking the neoliberal policies pursued by the current far-right government.
__________
Spain: PSOE-Podemos Bloc Formed
Daniel Dombey / Financial Times (London)
Spain's ruling Socialist party has struck a deal with the radical leftwing Podemos that opens the door to the country's first coalition government in modern times.
__________
Anger on Indonesian Campuses
Stanley Widianto and Gayatri Suroyo / Reuters (London)
Student protests are sweeping Jakarta and other cities in recent months in some of the worst civil unrest to hit Indonesia in decades.
__________
Labor Flashpoints
Italian Metalworkers Fight   Gianmario Leone / Il Manifesto Global (Rome)
Australian Unions Merge   Ben Schneiders / Sydney Morning Herald
Zimbabwe Unions Under Siege  Christopher Mahove / Equal Times (Brussels)
Quebec Workers Strike to End Climate Destruction  Alain Savard / Socialist Project (Toronto)
__________
Socialists in Egypt
Patrick Harrison interviews Mamdouh Habashi and Dr Muhammad Hesham / The Terminator Line (Sydney)
When the counter-revolutionary forces have succeeded in making a gap between the revolutionary peak and the masses, we have to confess that and face that – we cannot be misled by our wishful thinking. It's not good for achieving revolutionary advances that you play the hero without looking to the results.
__________
Gurudas Dasgupta (1936-2019)
Suhrid Sankar Chattopadhyay / Frontline (Mumbai)
Not only was Gurudas Dasgupta one of the most eminent parliamentarians of his time, he was also a doyen of the trade union movement in India and a pioneer in bringing together different trade unions on a single platform to put up a united front against a common enemy.