Global Left Midweek - December 4, 2019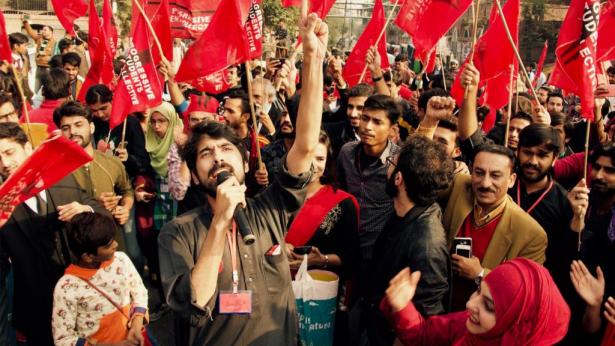 Students solidarity march in Lahore, Photo: Khalid Mahmood/Peoples Dispatch
__________
Pakistan: Student Movement Busts Loose
An Answer to Fred's Question  Raza Gilani / Asian Marxist Review (Lahore)

Students: "The Desire for Revolution"  V. Arun Kumar / Peoples Dispatch (New Delhi)
__________
Another World Is Still Turning
Pierre Beaudet / Canadian Dimension (Winnipeg)
Today's power struggles are complex, not predetermined, allowing creative movements to regroup, transcend their past experiences and invent new forms of political and social mobilization.
__________
The Hong Kong Vote
Election Results  Kris Cheng / Hong Kong Free Press
What's Next  Phila Su and Kinling Lo / South China Morning Post (Hong Kong)
A Pro-Beijing View  Regina Ip / South China Morning Post
__________
Party Politics Shift in Germany and Québec
German Social Democrats  Loren Balhorn / Jacobin (New York)
Québec Solidaire  Richard Fidler / Socialist Project (Toronto)
__________
Mideast Mass Protests
Iran Crackdowns  Michael Safi / The Guardian (London)
Iraq Triumph  Tom Westcott / Middle East Eye (London)
The Lebanese Street  Ursula Lindsey / New York Review of Books
__________
Attacks on Kurdish Militants
Syria   Adnan R. Khan / Maclean's (Toronto)
Turkey  Hamit Bozarslan / Ahval (London)
__________
Italy: Meet the Sardines
Daniela Preziosi and Giovanni Stinco / Il Manifesto Global (Rome)
"The sardine events are full of people who hate inequality. And a great component is the LGBT sphere, feminists, immigrants. There's a reason behind that. They are people who have suffered under the aggressive attacks from right-wing populist language and the Lega."
__________
France: National Strike
Richard Greeman / CounterPunch (Petrolia CA)
On the eve of an "unlimited" (open-ended) General Strike called for Dec. 5, more and more unions and protest groups are pledging join it. The Yellow Vests have decided to converge with the strike, and the CGT union's leader, who had originally spurned the Yellow Vests, immediately welcomed them. 
__________
Haiti: Demanding Answers in the Death of Charlot Jeudy
CBC (Ottawa)
Haiti's most prominent LGBTQ rights organization, Kouraj, or Courage, is mourning the suspicious death of their president Charlot Jeudy in the Capital of Port-au-Prince on November 25.