Tidbits - Jan. 9, 2020 - Soleimani Assassination; Threats to Iranian Cultural Sites; Jewish Life in Iran; Marx's Concept of Socialism; Austria's New Government; Mideast Resources; Puerto Rico fundraiser; Global Day of Protest No War On Iran;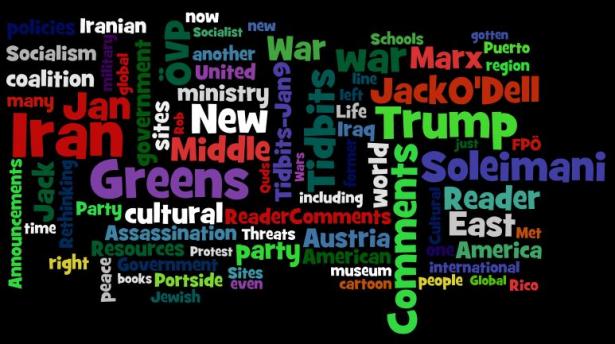 Tidbits - Reader Comments, Resources, Announcements, Shorts, AND cartoons - Jan. 9, 2020,Portside
Resources:
Announcements:
Re: Justification for Soleimani Assassination 'Razor Thin'
 
I must admit, have become somewhat immune to Trump's gangster-talk. But when But I was shocked, on the day of the event to hear and watch two men (authorities) plus PBS's interviewer, talking the same gangster-talk. It brought a new insight for me. . It is normal, it seems, to talk about the death of a human being as 'taken out" "erased" 'taken down" "removed". They were talking as if this wasn't a murder of a fellow human being.
"Murder/killing/assassination" are fairly descriptive. But what else is it saying when these words are replaced by "taken down". The decision and act to kill a human being is no different than the decision and act to move furniture. To some all this may seem like a trivial thing. And maybe, in the scheme of things it is.

But the change in how we explain the life around us is another example of how our world and our thinking are being shaped and controlled. Imagine, taking a life means no more than shuffling the furniture. Though the comparisons they used were to 'terrorists' who were 'taken-down' in the past.
From Wikipedia here is Soleimani as a real person.
Someone making contributions to individuals and society. He has children: two sons and two daughters.[86] He was described as having "a calm presence",[87] and as carrying himself "inconspicuously and rarely rais[ing] his voice", exhibiting "understated charisma".[28] In Western sources, Soleimani's personality was compared to the fictional characters Karla, Keyser Söze,[28] and The Scarlet Pimpernel.[88] Unlike other IRGC commanders, he usually did not appear in his official military clothing, even in the battlefield.[89][90] In January 2015, Hadi Al-Ameri the head of the Badr Organization in Iraq said of him: "If Qasem Soleimani was not present in Iraq, Haider al-Abadi would not be able to form his cabinet within Iraq".
Claire O'Connor
     =====
"the evidence suggesting there was to be an imminent attack on American targets is 'razor thin," America has a long history of killing people who were never guilty of anything. The plus 2 million in South Asia, Vietnam come to mind. Even if the evidence is sound a person has the right to arrest and trial but not in today's America. Killing a suspect along with innocent others is the way America does business. It doesn't matter if it is a large wedding party, 500,000 kids starved to death, a country that never threatened or attacked the US or an American citizen. Killing is the method of choice
B Fearn
     =====
Why does this come down to one person's decision/whim....why wasn't congress involved. How do we know if his reasons for the attack are even true? trump's not defending anybody...he's positioning for re-election by starting a war just like Reagan did with Grenada, Bush1 and his war in Iraq, Bush2 started His war in Iraq, now trump uses the same play-book to get to the 'don't change a commander in the middle of a war', people.....WAKE UP…..He's doing this in your good name.
Neil Alan Bufler
Posted on Portside's Facebook page
Re: The Reality TV Star President May Have Just Kicked Off WWIII
 
IN SEPTEMBER 2015, then-Republican presidential candidate Donald J. Trump appeared on the syndicated radio show of conservative media star, Hugh Hewitt, to talk foreign policy.
"Are you familiar with General Soleimani?" Hewitt asked the real estate mogul from Queens.
"Yes," said Trump, before hesitating. "Go ahead, give me a little … tell me."
When Hewitt told Trump that Soleimani "runs the Quds Forces," Trump responded: "I think the Kurds, by the way, have been horribly mistreated by us."
"No, not the Kurds, the Quds Forces," Hewitt interjected. "The Iranian Revolutionary Guards, Quds Forces. The bad guys."
"I thought you said Kurds," a sheepish Trump replied.
Got that? Candidate Trump confused the Quds Force, an elite Iranian military unit then led by high-profile Maj. Gen. Qassim Soleimani, with the Kurds, a high-profile ethnic group in the Middle East.
Dave Lott
Posted on Portside's Facebook page
     =====
 He is lashing out in fury, due to his impeachment, he is unstable and vindictive. We are in deep trouble
Michele Sànchez
Posted on Portside's Facebook page
     =====
That is why he killed Soleimani so that the conversation changed from impeachment to Iran And if their is a war he will be even happier for Americans tend to rally around the Commandeering Chief in times of war Machiavelli wound be very proud of him
Lennis Longo
Posted on Portside's Facebook page
Patriotic Duty  --  cartoon by Mike Luckovich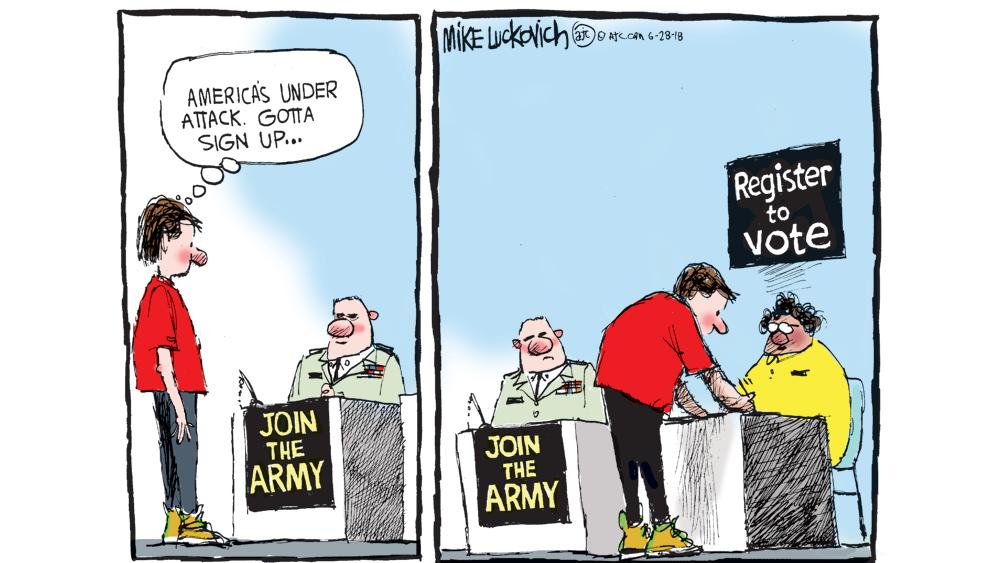 Mike Luckovich
June 28, 2018
Atlanta Journal-Constitution
Make America at War Again  --  cartoon by David G. Brown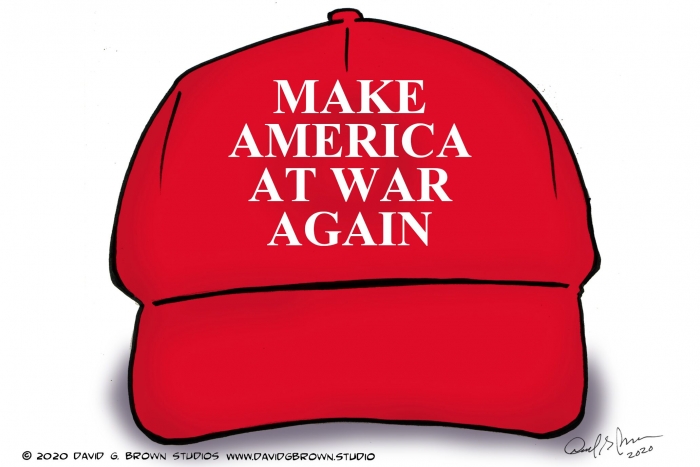 David G. Brown
January 9, 2020
Los Angeles Sentinel
Re: A New Year and a New Trump Foreign Policy Blunder in Iraq
 
Excellent! A must read to understand what is going on in Iraq and this latest attack.
Jose Rinaldi Jovet
Posted on Portside's Facebook page
     =====
If we just stop fighting and hurting each other in other to arguing for acceptances on each other beliefs but tolerance to intolerance; and then coordinate the cleaning of the oceans, stopping the fires in The Amazon and Australia; and doing the transition to clean energies sources, it would be great .
Julio Nunez
Posted on Portside's Facebook page
     =====
This will cost American lives.
Roberto Rosario
Posted on Portside's Facebook page
     =====
What was the reason for it? Iran had no war declaration against us nor did they invade America, so that made this assassination and murder! Heat Miser should be handed over to Iran and let them perform justice on him
JD Scot
Posted on Portside's Facebook page
Re: Qassem Soleimani Assassination: Trump's New Year Fireworks will Backfire
 
Trump has fulfilled his aim of getting attention away from his impeachment. He is a reckless, totally self interested person and the worst kind of person to be President!
Laurel MacDowell
Australia  --  cartoon by Rob Rogers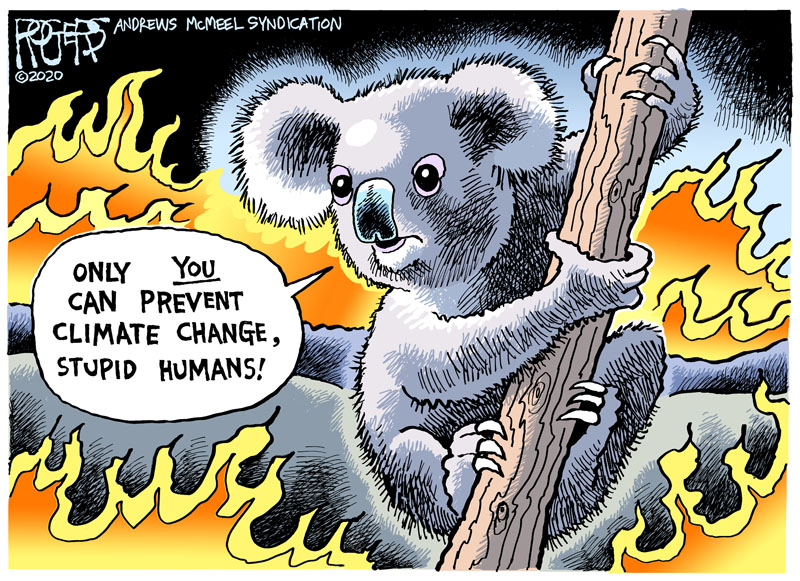 Rob Rogers
January 8, 2020
robrogers.com
Re: 39 GOP Senators Sign Brief Asking Supreme Court to Revisit Roe v. Wade
 
Very dangerous to all of us!!
Susan Ackoff-Ortega
Posted on Portside's Facebook page
Re: The Fascinating History and Politics of Jewish Life in Iran
 
Written by Ariel Gold, Director of CODEPINK
Jim Price
Posted on Portside's Facebook page
     =====
"The first thing we noticed was the lack of security at synagogues. The door was unlocked, and we walked right in. The lack of security, we learned, was because synagogues in Iran are safe places."
Philip Specht
Posted on Portside's Facebook page
     =====
Important read, especially so given Trump's escalation of war, and the attempt to rally the Jewish community against Iran.
Jay Schaffner
Posted on Portside's Facebook page
Re: The Citizens United Ruling Broke American Democracy at the Start of the Decade. It Never Recovered
 
It certainly allowed the power brokers more flexibility in their efforts to control more of our government. More money in, more power to wealthy elites..this is not how our republic was designed.
Mark Zielinski
Posted on Portside's Facebook page
     =====
Talk about activist courts the Supreme Court is the worst. We the people have been thrown to the side.
Rayray Confair
Posted on Portside's Facebook page
Re: The Americans Dying Because They Can't Afford Medical Care
 
A December 2019 poll conducted by Gallup found 25% of Americans say they or a family member have delayed medical treatment for a serious illness due to the costs of care, and an additional 8% report delaying medical treatment for less serious illnesses. A study conducted by the American Cancer Society in May 2019 found 56% of adults in America report having at least one medical financial hardship, and researchers warned the problem is likely to worsen unless action is taken.
Dave
Posted on Portside's Facebook page
Re: Marx's Concept of Socialism
 
Thank you for publishing work on Marx. Good interpretations of him are much needed in these troubled times.
I think Hudis is very good on Marx. My Palgrave (2019) book: Marx on Emancipation and Socialist Goals: Retrieving Marx for the Future, is part of the series on Marx, Engels, and Marxisms with a lot of good books. I would be particularly interested in furthering the discussion on Marx on the Gotha Program.
Thank you for continuing to publish thoughtful pieces on understanding the world to change it.
In struggle for  better future,
Bob Ware
Robert Ware, Prof. Emeritus in Philosophy, Univ. of Calgary
It has been my experience that people love solving problems and coming up with new ways of doing things. A sailor, with time and line one their hands, will experiment... Knots not only need to hold, they also need to not to overly weaken the line they secure, a mix every sailor "worth their salt" knows. In the 52,000 miles we've been at sea the most successful knot  we have found is our marriage, like any knot it works with twists and strain, and after 44 years hasn't snapped the line! Thanks Portside for throwing this in the mix.
Capn' Steve Krug
(posting on Portside Culture)
 
Or it is only 42 minute chunks of time, so advance the plot? I mean, how often do you see TV characters use the bathroom, with or without diapers?
Nerevar Rob Indoril
Posted on Portside's Facebook page
     =====
I'll complain when they show ScarJo or Iron Man rip a giant fart and run to the bathroom with the runs while in their superhero suits. It's all a fantasy. Diaper changes etc are shown Only to advance some plot point like showing baby peeing when it's a movie specifically about baby raising or something. Its called fantasy
Alexandra Del Coro Amengual
Posted on Portside's Facebook page
In a Rare Political Gesture, the Met Speaks Out Against Trump's Threats to Iranian Cultural Sites, Calling Such Targeting 'Abhorrent'
 
Met Speaks Against Trump Threats to Iranian Cultural Sites
The Met joins other museum leaders as well as top museum organizations in condemning the US President's comments.
By Taylor Dafoe
January 6, 2020
ArtNet News
This weekend, President Trump shocked the world when he announced on Twitter his plan to attack cultural sites in Iran should the country retaliate for the death of military commander Qasem Soleimani. Since then, cultural authorities the world over have spoken out against the president's controversial threat, with some—including Britain's foreign secretary—pointing out that it would violate international conventions, amounting to a war crime.  
Now, the Metropolitan Museum of Art is joining the chorus of dissent. In a rare wade into politics, the museum's director, Max Hollein, and its CEO, Daniel H. Weiss, released a joint statement today "in response to recent comments about Iran." (Notably, they avoided mentioning Trump directly.) See the full statement below. 
The targeting of sites of global cultural heritage is abhorrent to the collective values of our society. Our world knows precisely what is gained from protecting cultural sites, and, tragically, what is lost when destruction and chaos prevail. At this challenging time, we must remind ourselves of the global importance of protecting cultural sites—the objects and places by which individuals, communities, and nations connect to their history and heritage. Today's leaders and citizens have many profound responsibilities—protecting lives, and also protecting the precious legacy of generations before us, as it is from these shared places of cultural heritage that we gain the wisdom to secure safe and better futures.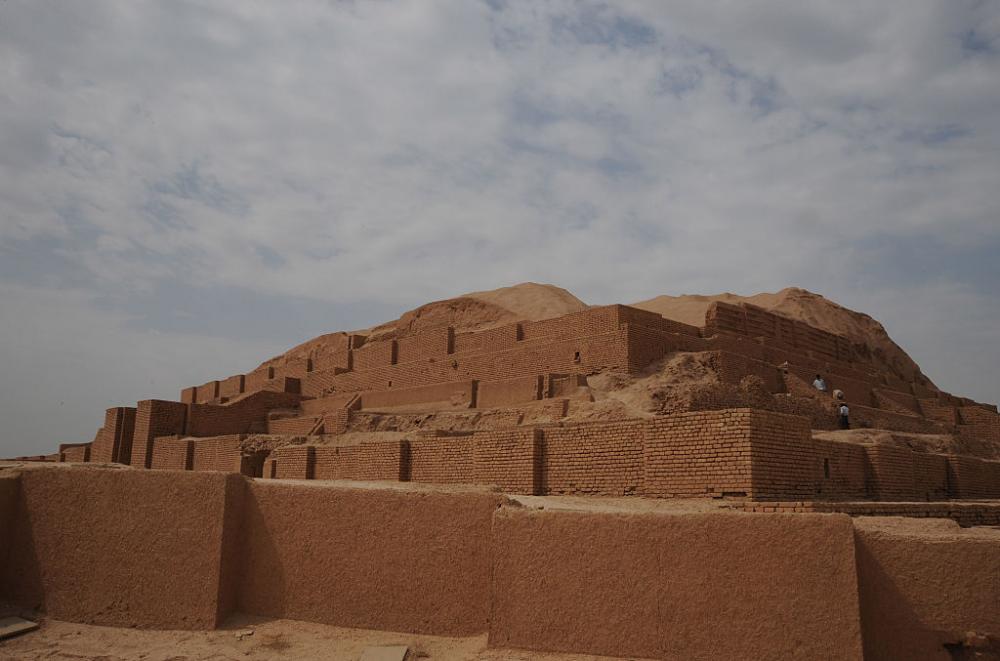 Such an overtly political gesture is rare for any museum, let alone one as prominent at the Met. But Trump's increasingly incendiary actions toward Iran have spurred many in the arts to speak out, including the Met's former director and current head of the Fine Arts Museums of San Francisco, Thomas Campbell, and Tristram Hunt, the former politician and current director of the Victoria & Albert Museum in London.
Professional museum organizations were quick to follow. The Association of Art Museum Directors (AAMD), which represents 225 art museums in North America, also weighed in, saying in a statement that the organization "deplores the tactic of targeting or demolishing cultural sites as part of any war or armed conflict. In this case, the region is home to unique and irreplaceable artifacts and archaeological sites, and AAMD strongly urges international engagement to protect and preserve our shared cultural heritage."
The American Alliance of Museums—another leading museum trade organization that also tends to conspicuously avoid wading into politics—also released a statement "condemn[ing] the targeting of cultural sites for destruction." The group continued: "We expect the United States Government to comply with international law and urge the US Government to reaffirm its commitment to its longstanding practice of not targeting cultural sites during peace or wartime."
Iran is home to 22 cultural sites on the UNESCO World Heritage List, including the ruins of the ancient city of Persepolis and the Chogha Zanbil complex.
Austria has a new governing coalition that will be inaugurated this week. Last year a series of scandals involving the far right wing Austrian Freedom Party (FPÖ) brought down a government coalition with the Freedom Party as junior partner of the center-right Austrian People's Party (ÖVP). In the Fall elections the People's party came in first with 37% of the vote, having picked up the votes of many former Freedom Party voters—something they managed by adopting many of the anti-immigrant and anti-Muslim policies of their far right former partners.  But to set up a government they needed to form a coalition with another party that had gotten at least 13% of the votes.  The 2nd best vote getting Socialist Party (SPÖ) could have been a possibility, but the People's Party leaders hate them and the SPÖ had just gotten its lowest proportion of the vote ever.  The FPÖ was 3rd, but has been in disarray since the scandals and was always an international embarrassment with its neo-Nazi and racist eruptions so it was seen as too unreliable for another partnership (for the moment). That left the 4th place Greens who had just won seats after having fallen out of Parliament in the 2016 election as the only party left with enough seats to form a Parliamentary majority.
Given the very progressive Green platform on ecological, immigration, integration, and social policies the Greens and the ÖVP platforms had less in common than any other party match up, but the ÖVP and Greens both had strong incentives to form a coalition anyway. That would clean the international reputation of the ÖVP of the stain of having been partners with the far right FPÖ and enable the party to present itself as a leader in fighting climate change—an issue which has become prominent in Austrian as well as world politics.  For the Greens it was a chance to become a national government party in Austria for the first time, to promote ecological policies and to claim credit for blocking another government coalition including the far right FPÖ. Negotiations took place with the ÖVP relying on the fact that they had gotten more than twice the votes of the Greens and that they had other options for forming a government to drive a hard bargain with the Greens—who only had the alternative of going into opposition as an option if the negotiations failed to produce an agreement.  But now we have an agreement and a new government.
As expected, the ÖVP took most of the ministerial positions, including the Chancellorship, Finance, Foreign Affairs, Interior (police and internal security), Economy, Defense, Education, Agriculture, and Family-work-youth. The big win for the Greens was the creation of a super ministry for them that includes environment, transportation, energy and innovation—along with the Justice ministry (courts and prosecutors), the vice-Chancellorship, the Social and health ministry, and a state secretary in the vice-Chancellor's office for Arts and culture.
What this would seem to amount to is that the Greens would get to promote their environmental policies and the ÖVP would hold on to the levers of power and promote their neo-liberal economic policies and their hard line anti-immigrant line (enabling them to hold on to their newly won former FPÖ voters). The Greens gave up on a lot of their platform, but wouldn't have been able to promote those things while in opposition anyway—so 93% of the party representative voted for the pact.
As usual, the devil is in the details. The Greens have agreed not to oppose a number of hard line policies left over from the last ÖVP-FPÖ coalition that will be imposed right away—including making asylum harder to get, deportations easier to force, and the introduction of a preventive detention law (all of which had been strongly opposed by the Greens until now). In return the Greens have gotten commitments to an ecological tax reform to reduce CO2  emissions and to make Austria climate neutral by 2040 (albeit dependent plans to be developed only by some time in 2022), a massive expansion of the public transportation & rail network (but conditioned on meeting the ÖVP finance ministry commitment to zero deficit budgets, no expansion of the national debt and a substantial tax cut for businesses).  The Greens got the Social and Health ministry, but the ministry's control over labor and employment policies got transferred to the Economy ministry that is controlled by business. The Greens got their Environment super ministry, but it doesn't include Agriculture (which is important in this regard) and it could be handicapped by the Finance ministry if the ÖVP wants to limit its options.
All in all I would say (along with many commentators) that the Greens have bought a pig in a poke. They have vague promises that could turn out to be empty (or not) and are dependent on the good will of the ÖVP to follow through effectively.  If the ÖVP leaders want to maintain the coalition for the full five years allowed, they will have to make some real compromises with the Greens down the road—which is what the Greens are betting on. Alternatively the ÖVP may play hard ball, forcing the Greens to swallow more unpleasant "compromises" or take the blame for bringing down the government—or even for the ÖVP to simply take advantage of a moment of even more positive support to call another election in hopes of winning a solid majority for a government without the need for a coalition partner or one with even less power than the Greens have now.
In the meantime the Socialist Party and the FPÖ are both in disarray and show little sign of mounting an effective opposition. Weak leadership and internal disputes have more or less sidelined the SPÖ for now and attempts to form an effective left wing party in Austria like some Scandinavian, Spanish, and German leftist parties have so far not really gotten off the ground.
 
The leaders of the Greens are optimistic that they will be able to push through their ecological policies and establish themselves as a realistic governing party and many Austrians hope that their optimism will prove justified. Time will tell.
Stan Nadel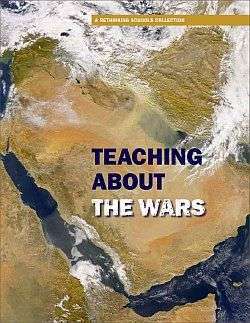 As President Trump pushes the United States toward war with Iran, it is more important than ever to equip students to think deeply and critically about U.S. military interventions around the world.
Teaching About the Wars breaks the curricular silence on the U.S. military engagement in the Middle East and Afghanistan. Even though the United States has been at war continuously since just after 9/11, sometimes it seems that our schools have forgotten. This collection of articles and hands-on lessons shows how teachers prompt their students to think critically about big issues. Here is the best writing from Rethinking Schools magazine on war and peace in the 21st century.
Today, in recognition of how urgent it is to help students come to grips with the history of U.S. military intervention in that region, we offer Rethinking Schools readers a free PDF download of Teaching About the Wars.
Also see our books Rethinking Globalization: Teaching for Justice in an Unjust World and A People's Curriculum for the Earth: Teaching Climate Change and the Environmental Crisis , which offer resources to teach about the colonial and environmental roots of today's global crises.
Teaching About the Wars is divided into five chapters:
Introduction: Breaking the Silence on War
The Road to War
The Human Face of War
Military Recruitment
Anti-War Resistance
Contributing authors include Bill Bigelow, Ann Pelo, Margot Pepper, Bob Peterson, Özlem Sensoy, and Howard Zinn
Rethinking Schools
6737 W. Washington St., Suite 3249
Milwaukee · Wisconsin · 53214
Book Shows What a Crime, Blunder US Middle East Policy Has Been
 
AXIS OF RESISTANCE Towards an Independent Middle East
By Tim Anderson
HOW AND WHY THE US LOST THE WAR ON SYRIA
In the series of 21st century wars initiated by Washington in the name of a 'New Middle East', resistance forces are prevailing. Like all imperial gambits before it the US-led plan has been to subjugate the entire region – whether through the direct application of force, or through coalitions or proxies – to secure privileged access to its tremendous resources and then dictate terms of access to all other players. This book addresses myths about the wars and the resistance, while attempting a partial and provisional history of the conflicts.
"Western policy has been worse than a crime it's been a blunder.Tim Anderson's epic study shows what a crime, what a blunder it has been.And how ugly the monster which now stalks the land. My land, your land, the whole of humanity. It is a must read." GEORGE GALLOWAY, British politician
"Axis of Resistance will take its place alongside the few books worth reading on how and by whom the flickering lights of the imperial twilight of 'the West' in the Middle East were finally extinguished."  DR. JEREMY SALT, Middle East historian, former professor Melbourne University and Birkeit University
"An excellent book by an exceptional author and activist who understands well the shakers and makers of the region within the new world order shaped by rising global forces." AMAL WAHDAN, Veteran Palestinian activist, Al Quds / Jerusalem, Occupied Palestine
Dr Tim Anderson is Director of the Centre for Counter Hegemonic Studies. He was for 20 years an academic in Political Economy at the University of Sydney and before that taught at other Australian universities. He researches and writes on development, rights and self-determination in Latin America, the Asia-Pacific and the Middle East. He has published dozens of articles in a range of academic books and journals. His most recent books are: Land and Livelihoods in Papua New Guinea (2015), and The Dirty War on Syria (2016, in ten languages).
Clarity Press, Inc.
2625 Piedmont Rd. NE, Suite 56
Atlanta, GA. 30305
Tel: 404-647-6501
Editorial:  claritypress@usa.net
Business:  businessmanager@claritypress.com
Student Activist Applications Available for 2020/21 - Davis-Putter Scholarship Fund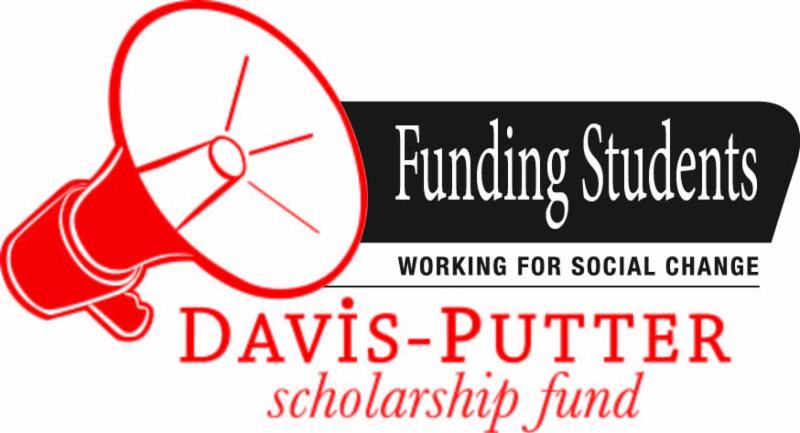 Davis-Putter Scholarship Fund - Student Activist Applications Available for 2020/21
Our online application for academic scholarships up to $15,000 is available for student activists who are organizing for social change and building progressive movements on campus and in community. Please direct students working for peace and justice to: www.davisputter.org
Deadline is April 1, 2020
Davis-Putter Scholarship Fund  
P.O. Box 7307
New York, NY 10116
Medical Mission Fundraiser for Utuado, Puerto Rico - New York - January 17
 
Global Day of Protest No War On Iran! - Saturday, January 25th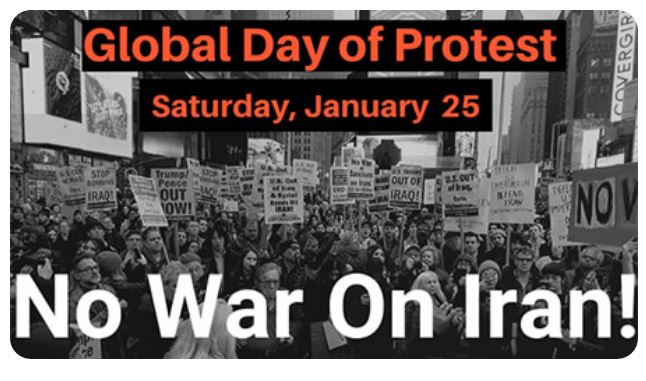 The Trump administration is dragging the United States into a war with Iran that could engulf the whole region and could quickly turn into a global conflict of unpredictable scope and the gravest consequences. that could engulf the whole region and could quickly turn into a global conflict of unpredictable scope and the gravest consequences. The people of the world need to rise up and stop it. For all who believe in peace, for all who are opposed to yet another catastrophic war, now is the time to take action.
On Saturday, January 25 in cities across the globe, there will be protests against a new war in the Middle East. Please join us. List of events and more info at https://www.codepink.org/01252020
Webinar to Commemorate the Life of Jack O'Dell - February 24

Dear activist for peace, justice, democracy and freedom,
We invite you to celebrate and learn about the life of Jack O'Dell, one of the great radical strategists and thinkers of the last seventy-five years. Jack recently passed away at the age of 96 and has left a legacy of activism that few can match.
Monday, February 24, 2020 - The webinar will begin at 6 pm Pacific Time
Webinar to commemorate the life and work of Jack O'Dell
    Bill Fletcher, Jr. will lead a round table conversation with people who worked with Jack: Jane Power, Nikhil Singh, James Campbell, Leslie Cagan, Sharon Maeda, Gene Bruskin and Michael Zweig.
    The webinar will begin at 6 pm Pacific Time and run for 90 minutes. (Be sure to adjust time to where you live.)
Register here for the Webinar through Zoom. You will receive a confirmation email containing information about joining the webinar.
Jack was rarely in the public eye, yet his work changed the world. He embodied the class, race and gender intersectional approach to theory and organizing that we so urgently need today. Among his many roles were lead organizer of the voter registration campaigns in the South led by the Rev. Martin Luther King, Jr.; chair of the Board of Pacifica Radio for twenty years, leading what was the most important left voice on radio in the US;  served as a shop steward of the National Maritime Union in the 1940's, a position that ignited his lifelong commitment to the labor movement; and editor and contributor to Freedomways, the leading theoretical journal of the civil rights movement, from 1961 – 1986.
In the peace movement, Jack held positions in SANE-Freeze and the peace activities of the American Friends Service Committee, was a leader of the anti-war movement's opposition to the first Gulf War in 1990-91, and was a lead organizer of the 1982 march against nuclear weapons that brought one million people to New York City's Central Park. He was a close advisor, particularly on international issues, to Rev. Jesse Jackson during his presidential campaigns and the Rainbow-PUSH coalition. Jack was the driving force in imagining and drafting the Democracy Charter (www.asej.net) to serve as a vehicle in building a multi-issue, interconnected movement for substantive democracy in the United States.
The webinar is open to all. You can submit comments or questions by email to national@cc-ds.org beforehand or by using the chat function during the webinar.
The webinar is sponsored by the Socialist Education Project of the Committees of Correspondence for Democracy and Socialism of which Jack was an advisory board member.