Global Left Midweek - January 29, 2020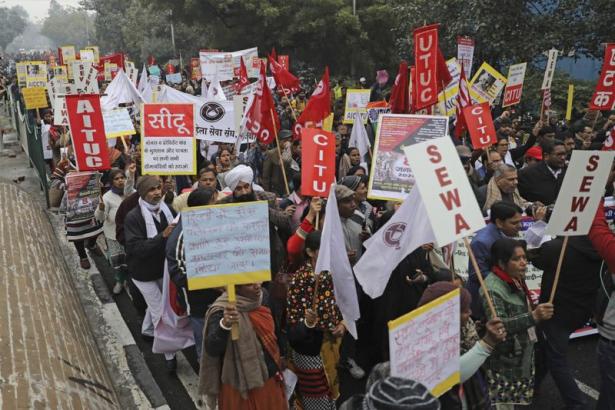 Trade union members march during a general strike called by various trade unions, in New Delhi, Image Credit: AP
__________
India: Post-Democratic State
Aijaz Ahmad / Frontline (Mumbai)
The following is excerpted from a longer article on the current situation in India:

[...] India is too diverse—regionally, linguistically, in matters of ritual, custom and political conviction—to submit itself to a singular will. And, with a population of 1.3 billion people speaking dozens of languages and dialects, India is too large. By comparison, Germany of the Nazis was a monolingual country of barely 50 million or so. Even the idea of an integrated Hindu society is largely fictitious; good bit is not Hindu [...]. And much of the educated urban India has been brought up on left-liberal and leftist ideas, and those ideas have gone very deep. Even a plan to verify everyone's citizenship touched such a nerve that something like a spontaneous national uprising began spreading from city to city precisely because there is an instinctive revulsion against regimentation and intrusion in personal lives.
The last sentence of the previous paragraph points toward a phenomenon that has also arisen at the very beginning of Modi's second innings but is unlike anything discussed in much of this essay—the popular rebellion of many shades that has erupted in all sorts of places in the country, ranging from sprawling university campuses to ghetto-like neighbourhoods of poor and lower middle class Muslims, ostensibly on the question of verification of citizenship and even the use of religion as the criterion for bestowing citizenship on some and denying it to others. All sorts of other grievances are woven into these most obvious ones. This rebellion is spearheaded by no political party, and only the Left seems to be active in its protests and mobilisations. Instead a whole new generation has taken charge of most things related to this rebellion, not only on campuses but also in all sorts of public places across the land. And, there has also been within the last couple of days an all-India strike involving, according to the organisers, some 250 million workers, which would make it the largest strike in human history. A popular rebellion and a workers' strike of that magnitude. Can the two overlap and intersect? Potentials are immense.
__________
Transnational Social Strike
Transnational Social Strike Platform / TSS Journal
Amazon's warehouses have been struck by strikes and protests almost everywhere. Something new is being attempted: there is not an already established model to be followed, no ready-made solutions. Transnational organization needs to be invented.
[Portside note: More on the struggle of Amazon workers]
__________
Italy: Sardines Stick it to Salvini
Far Right Thwarted  Miles Johnson / Financial Times (London)
How the Sardines Did It  Martin Gak / Deutsche Welle (Berlin)
__________
Iraq: Protests Continue
Another Protester Killed  The New Arab (London)
Iraqi CP Speaks  Steve Sweeney / Morning Star (London) 
__________
Brazil: MST School Turns 15
Lu Sudré / Brasil de Fato (São Paulo)
The school was built by the hands of more than one thousand landless workers and is maintained by the Landless Rural Workers' Movement (MST) with support from other movements. 
__________
France on Strike: CGT's 'Asterix' Won't Back Down
Kim Willsher / The Guardian (London)
Philippe Martinez, head of the powerful CGT, defended electricity workers who pulled the plug on homes and businesses last week, warning that forcing pension reforms through against public opposition could boost the far right. 
__________
VIDEO: Lina Boubess, Lebanon's "Mother of the Revolution"
Leila Molana-Allen / France 24 (Paris)
Saturday marked the 100th day of anti-government protests since Lebanese citizens across sectarian, class and geographic divides took to the streets to demand a change of government. Boubess has joined the protests every single day and she's seen a lot of changes during this period.
__________
Why Ukraine's New Left Failed
Volodymyr Ishchenko / LeftEast (Bucharest)
Ukraine's new left movement was largely unprepared to deal with the Maidan uprising of 2014 and the following war in Donbass. Failing to provide their own analysis of the exacerbated Ukraine's contradictions, they accepted right-wing answers. 
__________
Canada's National Farmers Union Speaks Out on Climate Change
Peter Epp / West Elgin (Ontario) Chronicle
Discussion of climate change and climate variability were among the top issues discussed at the NFU's annual convention in Winnipeg in November.