As Droughts Ebb, California's Water Issues Remain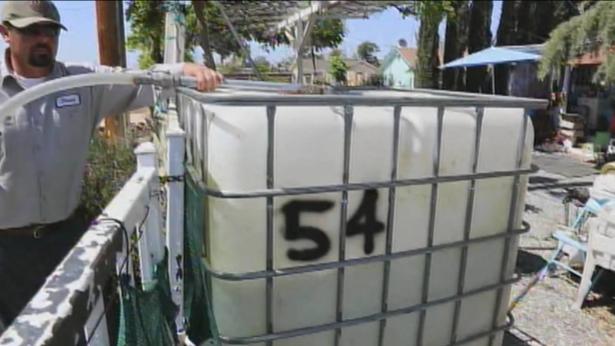 Some residents in Central California are getting their water needs met solely by deliveries.,KGO/ABC-7
Last July 27 was a big day for Cristobal Chavez. That's when the 62-year-old, who lives on a small farm outside Porterville in Tulare County, met California Governor Gavin Newsom. The governor was in the impoverished, drought-struck area to talk with local residents and sign into law state Senate Bill 200, which established the Safe and Affordable Drinking Water Fund. Chavez resides in the Sierra foothills with his wife, their two grown daughters and six foster children, and talked about his land with the governor, who wore jeans and a blue shirt for the occasion.
The one-time trucker had moved into his foothills home from Los Angeles in the early 2000s after injuring his back in a workplace accident. Unable to work as a trucker, he hoped that this rural retreat would come with a lower cost of living. It wasn't, however, all clear sailing; he told Newsom how his farm had been hit by water shortages a few years ago and, when he borrowed more than $15,000 from friends to drill a deeper well, discovered his water was so contaminated with nitrates that it was undrinkable.
Chavez's story wasn't anomalous. At the height of the last drought, which lasted from 2011 until early 2019, entire tracts of East Porterville ran dry as hundreds of wells ceased to pump any water. Throughout the Central Valley and around the state, thousands of families had similar tales to tell. For the thousands of Californians who were living on land that had run dry,  survival meant bottled water, or water trucked in by nonprofit organizations.

They took showers in portable facilities parked outside of churches and public buildings, or in school gyms in the dawn hours before students began arriving. Hundreds of thousands more found that, as water tables fell and the land above them subsided, so levels of pollutants such as arsenic, nitrates, trichloropropane (TCP) – a particularly carcinogenic chemical once used to prepare pesticides — and other toxins in their water rose.
These stories got the attention of state officials, and, in the years since, there has been a concerted legislative effort to address long-term water access and equity problems. Yet, there are no quick fixes to California's water woes – and, as a result, many of the state's impoverished residents remain exposed to unsafe water, or vulnerable to sudden shut-off in supply.
"A lot of our families [have] a fear of water – even showering in it," says Susana de Anda, a leading Central Valley water activist. "It's a valid fear. They should be afraid of exposure if they have TCP in their water."
In 2014, with many localities facing emergency water rationing, then-Governor Jerry Brown, concerned that, in an era of climate change, droughts would become the new normal, signed the Sustainable Groundwater Management Act (SGMA). It established a network of several hundred local agencies throughout California to manage groundwater systems and reach sustainability by 2040. The act represented the first time that the state, which had always had a free-wheeling, Wild West approach to water usage, had made a serious effort to rationalize and prioritize water access for different groups, to do so with genuine concern for local input and in a way that protected the state's increasingly precarious reservoirs of aquifer water.
SGMA mandated that by June of 2017 local agencies would be established to manage their water basins; and that, by the end of January 2020 they would devise plans, which they would submit to the Department of Water Resources (DWR) for review, to get their regions moving toward better balance in their water usage over the coming years. Natalie Stork, a senior engineering geologist at the state Water Board, tells Capital & Main that the effort was intended to encourage locals "to decide what's sustainable for them at the local level."
If DWR approved the plans, the agencies would then start implementing them, subject to review every five years to ensure they stayed on track toward sustainability. But if the department's engineers and other experts disapproved the plans, the state water board could then step in and temporarily manage the local system directly from Sacramento until locals came up with a plan that could pass muster. Either way, whether through locally generated solutions or top-down interventions from the state, California's water basins would have to be put on a path toward water solvency. It was, quite simply, a matter of survival.
SGMA was a good start, but for groups such as the Community Water Center (CWC) – which organizes residents of the polluted Central and San Joaquin Valleys to fight for access to safe water — it left out a key piece of the puzzle. That's because the new agency's formation didn't necessarily ensure that the poorest, most vulnerable residents in any one region would have their needs adequately taken into account. So the community organizations pushed for additional changes – in particular for the creation of a funding stream to help Californians, such as the Chavez family, who live in areas with unsafe or hard-to-access water.
The result was SB 200, which passed last summer after years of struggle by these water activists. The law was, in many ways, a game-changer. It allocated a huge sum of money, $1.5 billion over 10 years, to California's Water Board. The dollars are to come in large part from the greenhouse gas fund raised by the state's cap and trade system for CO₂ emissions, as well as from the state's clean water revolving fund and a series of bond sales. The board would then use that money to help off-the-grid areas link their water systems into those of larger, safer, systems, with more durable water sources, run by nearby cities. In 2019, more than one hundred systems, in Lake and Kern counties, the city of Santa Rosa and elsewhere, consolidated into larger entities. More will follow over the coming years.
It also provided for grants and loans to help rural residents upgrade their wells and filtration systems. And it gave money to assist schools and other public institutions in regions with polluted water to install better filtration mechanisms so that their water would be safe to drink. Since more than 1 million Californians, predominantly poor, rural and non-white, live in locales with unsafe drinking water, this was a huge step toward remediating one of the state's most pressing social justice crises.
"The important thing now is urgency," says Susana de Anda, CWC's co-founder and executive director, sitting at a desk at CWC's Visalia office, on which she keeps as props bottles of dirty, contaminated, local water, and a rusted-out piece of metal piping that was part of a petroleum line before it was haphazardly converted over to use as a water pipeline, contaminating with petrochemicals the water that it then delivered to homes. "We need to ensure the solutions are the right solutions to fund. It's not just Band-Aids and giving bottled water to residents."
Organizers such as Daniel Peñaloza, who successfully ran for city council in Porterville on a water-reform platform, recalls visiting the homes of constituents and seeing bathtubs stained orange by the water that was coming out of their taps. "One of the biggest things I learned was the intersectionality of these issues: immigration, poverty, education, water access, lack of health care access. They're all connected."
Six months after he met the governor, Cristobal Chavez, a large man with a brush mustache, explains his family's situation. He is sitting in the Visalia offices of CWC, wearing a short-sleeved black windbreaker, his eyes slightly bloodshot on this day. "They say they cause cancer, nitrates," he says, having just come from a doctor's visit with his wife, who was recently diagnosed with the disease. "For old people and kids, it's not good. We feel bad. The big problem is nobody tells you what's going on with your water."
The Chavez family drinks and cooks with bottled water; but they can't avoid coming in contact with nitrates and other pollutants when they shower or wash their clothes.
For Laurel Firestone, a board member of the State Water Resources Control Board, the new state fund offers an opportunity to get small, rural systems "out of chronic non-compliance" with pollution standards. "It's a huge new tool."
Ryan Jensen, a community water solutions manager at CWC, agrees. "Small systems are inherently vulnerable and at risk," he argues. It is far better, he believes, to tap into economies of scale by linking smaller systems into larger, more stable, ones. But Jensen is under no illusion about the size of the challenge ahead. The twinned efforts of SGMA and the Safe and Affordable Drinking Water Fund will take decades to fully implement and, in the meanwhile, despite the fact that access to safe drinking water is now considered a legally enforceable human right in the state, many Californians, especially in the agribusiness hub of the Central Valley, remain in limbo.
Their water sources have run dry either as a result of the prolonged drought (the Central Valley was technically in a drought emergency all the way up until 2018) or of overuse from nearby agriculture, or their water is unsafe because of the presence of fertilizer runoff and other contaminants. Their property is unsellable –no one wants to buy land without access to safe water – and their health compromised. Cristobal Chavez himself was hospitalized with pancreatitis in 2008, and other, younger, family members have had a series of health crises over the past few years.
Moreover, even after both efforts are fully underway, CWC worries that the Groundwater Sustainability Agencies could end up simply pushing macro solutions that meet the interests of local businesses while leaving the needs of residents such as the Chavezes short-changed. "We may have funding and resources for this," argues de Anda. "But it's all going to come down to decision-makers and equitable incentives."
Fearing that SGMA could quickly fail if it prioritizes the needs of big business at the expense of financially vulnerable residents, dozens of community groups signed onto a letter that CWC generated earlier this year warning the state agencies that such a development could weaken the mandate of the Safe and Affordable Drinking Water Fund.
Amidst all of the politicking, however, Cristobal Chavez remains guardedly optimistic that the state will finally hear his voice. "We hope," he says, "but who knows." He is continuing to work with CWC to make sure that stories like his are heard in the debates that will shape California water policy over the coming decades, as it tries to reinvent its water-usage and distribution systems in an era of increasingly extreme climate change-related events.
"Our communities are the canary in the coal mine," says Susana de Anda. "We get hit first and hardest. We have to ensure that at-risk stakeholders are part of the planning process."
---
Copyright Capital & Main  Reprinted with permission.
Sasha Abramsky was born in England, grew up in London, and attended Balliol College, Oxford, where he studied politics, philosophy, and economics. Abramsky is a journalist and author whose work has appeared in "The Nation," "The American Prospect," "The New Yorker" online, and many other publications. His most recent book, "The American Way of Poverty: How the Other Half Still Lives," was listed by "The New York Times" as among the one hundred notable books of 2013. He is a Senior Fellow at Demos think tank, and teaches writing at University of California, Davis. Abramsky lives in Sacramento, California, with his wife and their two children.