Tidbits - May 14, 2020 - Reader Comments: Justice for Ahmaud Arbery; Supreme Court to Decide if Trump Above Law; Re-Open without Testing & Tracing IS Murder; Catholic Church Supports Trump; COVID and China; Federal Works Program; On-Line Events; more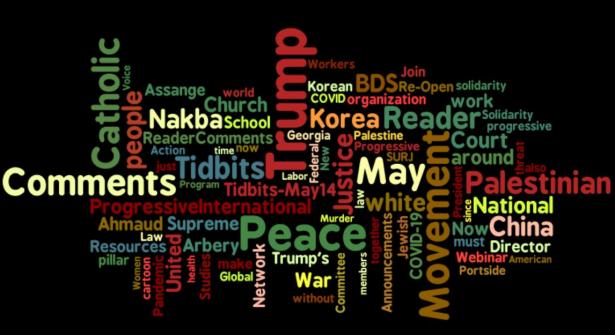 Tidbits - Reader Comments, Resources, Announcements, AND cartoons - May 14, 2020,Portside
Resources:
Announcements:
Re: Ahmaud Arbery: Anger Mounts Over Killing of Black Jogger Caught on Video
What in dear God is wrong with some white people?
Jocelyn Harmon
Posted on Portside's Facebook page

     =====
It is an outrage and a disgrace that it took the leaking of the video for them to finally be arrested.
Jane Tuttle
Posted on Portside's Facebook page
     =====
make no mistake...they did not arrest those white men because they saw the video. They arrested them because WE saw the video. Makes me question what year it is.
Heather Chase Kilgore
Posted on Portside's Facebook page
     =====
The Land Of The Free....Give me a break....JUSTICE !
Ozkar Cedeño
Posted on Portside's Facebook page
     =====
He died because he was "jogging while black." How depraved those father and son team are!
Carol Driscoll
Posted on Portside's Facebook page
     =====
A lynching in 2020. Correct me if I am wrong but isn't this a federal crime now or was that just for show?
Tristan Tully
Posted on Portside's Facebook page
Back to Normal  --  cartoon by Clay Jones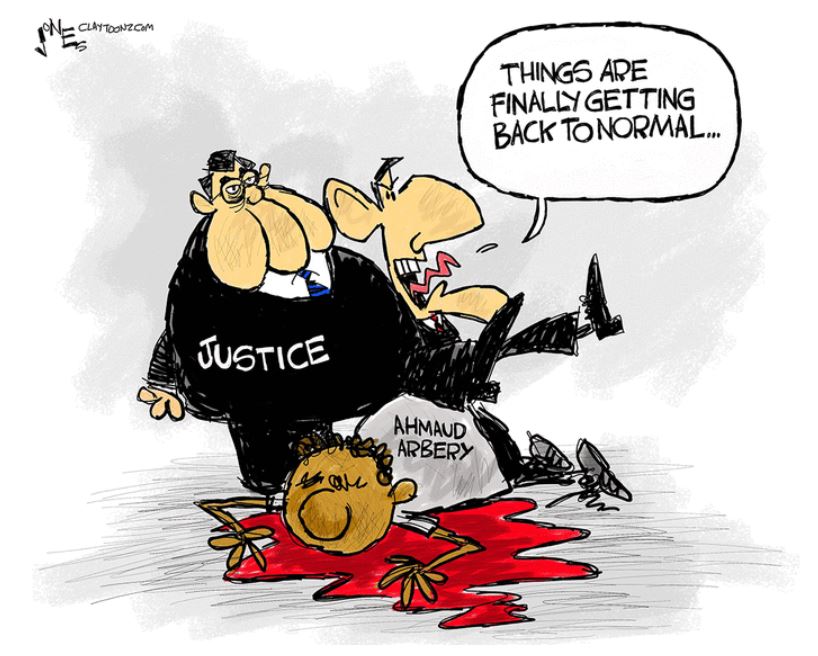 Clay Jones
May 9, 2020
claytoonz.com
Re: Historic Power Struggle Between Trump and Congress to Be Reviewed by Supreme Court
 
The Executive Branch is not above the law! What happened to the Republicans belief in upholding the Constitution?
Richard Chauvin
Posted on Portside's Facebook page
     =====
He is not above the law. He must be made to comply or suffer consequences.
Amparo Ocasio
Posted on Portside's Facebook page
     =====
If the Supreme Court says Trump is above the law, he is above the law. The law is what the Supreme Court says it is.
This is the result of a Constitution that is effectively immune to change -- the Court is used to make changes and adjustments that should be made through Amendment. But the Amendment process is so difficult that it is useless, so the Court does the amending (excuse me, "interpreting" ).
Lee Zaslofsky
Posted on Portside's Facebook page
     =====
And that's one reason that I can't believe that 9 persons can make a decision for around 330 million citizens. Something wrong with this branch of government. They should be approve by 2/3 of both chambers of Congress.
Bob Feb
Posted on Portside's Facebook page
     =====
no one is above the law!
Roseanna Bickley Henrichsen
Posted on Portside's Facebook page
Task Force  --  cartoon by Rob Rogers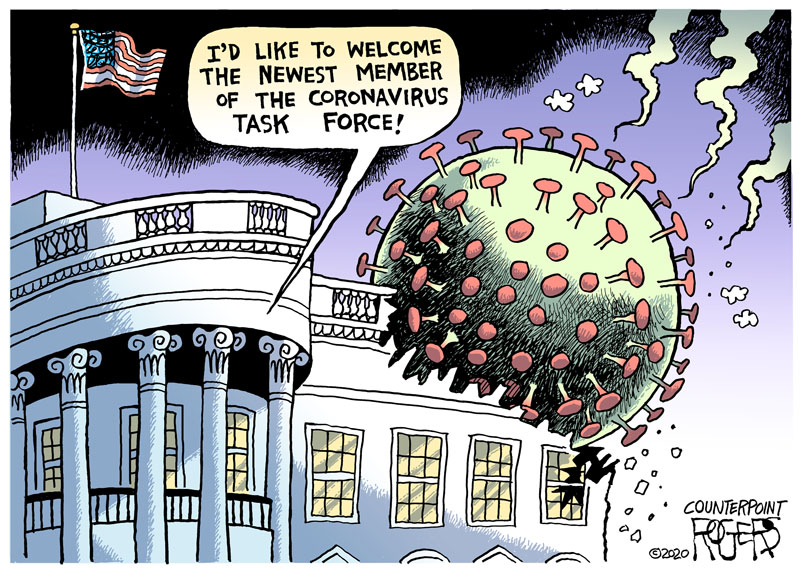 Rob Rogers
May 13, 2020
robrogers.com
Re: In Times of Emergency: No Sacrifices of the Public Interest
 
Why look to the future and what we will leave the next generation when you can destroy it now .
Don Washler
Posted on Portside's Facebook page
Re: To Re-Open Safely We Need a "Health Force" of Disease Detectives
 
"Studies of past emerging disease epidemics have taught us that testing alone will not prevent new outbreaks. To re-open the economy we must undertake the most massive effort to trace and isolate new infections in history".
"Los estudios de previas epidemias a causa de enfermedades emergentes nos han enseñado que las pruebas por sí solas no evitarán nuevos brotes. Para reabrir la economía debemos emprender el más masivo esfuerzo por rastrear y aislar nuevas infecciones en la historia".
Jorge David Capiello-Ortiz
Posted on Portside's Facebook page
     =====
Unfortunately that is never going to happen under this administration. And neither is a vaccine. Our only hope is to get him out of office.
Patricia Dranginis Shulman
Posted on Portside's Facebook page
Grand Reopening  -- cartoon by Drew Sheneman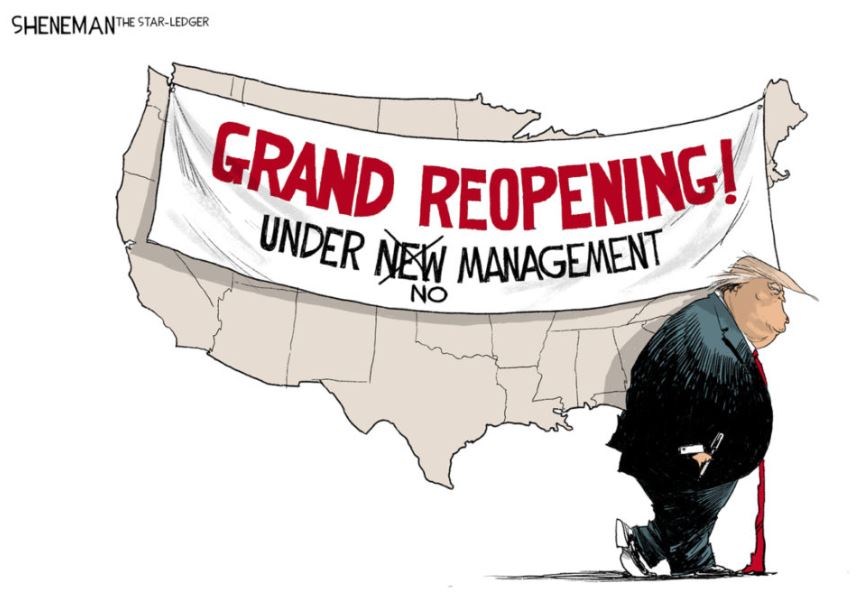 Drew Sheneman
May 13, 2020
The Star-Ledger (Newark)
Re: Coronavirus Blood-clot Mystery Intensifies
 
It's not just the lungs anymore. This virus is like a transformer.
Ivan Laracuente
Posted on Portside's Facebook page
     =====
A very good article. But the word "mystery" in the headline is misleading, if not deliberately sensationalizing. This phenomenon is a well known feature of infections, as are the methods of treating it with anti-coagulents and thrombolytics. A better word might be "surprising". But even that makes too much of the fact that the learning curve for Covid infections is steep. A better way to put it would be "not initially reported."
Jim Young
Posted on Portside's Facebook page
     =====
this is important new info! coronavirus blood-clot...
Iara Lee
Posted on Portside's Facebook page
Re: Should America Consider Restarting the Civilian Conservation Corps in Response to the Economic Crash?
 
The CCC should have been resumed after WWII and should have remained in operation ever since.
Eleanor Roosevelt
Posted on Portside's Facebook page
     =====
Yes! It should have never gone!
Alan Atwood
Posted on Portside's Facebook page
     =====
Yes, I've said this since I was a C.O. in 1968. I would have done my national duty in the CCC instead of going to war in Vietnam.
Alan Gregory Wonderwheel
Posted on Portside's Facebook page
     =====
It worked before.
James Ruzicka
Posted on Portside's Facebook page
     =====
There are projects that don't involve close proximity contact that could be done by people out of work.
William Leffingwell
Posted on Portside's Facebook page
Re: Dolan Delivers Catholic Church to Trump and the GOP
 
I find Dolan insufferable and stultifying.  And I'm Catholic.
Peggy Roney
     =====
So glad I'm one of faith and not of religion.
Jeanne Caciopski
Posted on Portside's Facebook page
     =====
While his supporters are supporting which three letter group??? I think they forgot with whom they're in bed. Good luck with that. It's not just blacks and Jews..
Cliff Gulliver
Posted on Portside's Facebook page
     =====
The capitulation is complete. Without a whimper from any of his fellow bishops, the cardinal archbishop of New York has inextricably linked the Catholic Church in the United States to the Republican Party and, particularly, President Donald Trump.
The whole cringe-worthy exchange (yes, Trump did self-describe as "the best" president "in the history of the Catholic church") was made worse the next day when Dolan provided more campaign footage from inside St. Patrick's Cathedral in announcing that the president was "worshiping with us," purportedly livestreaming the Mass at the White House.
Jay Schaffner
Posted on Portside's Facebook page
     =====
Old greasy pale larval men run things. They stress obedience, secrecy and subjugation of women. They like pomp, wealth, ritual and their hats and costumes. Too bad. There are many kind and lively Catholic priests and nuns.
Sonia Collins
Posted on Portside's Facebook page
     =====
Three Notre Dame-style cheers to the editorial authors of "Dolan Delivers Church to Trump." Their scathing denunciation of the disgusting behavior of the bishops reveals again their total lack of moral authority in our time.
James Young
Harrisburg, PA
     =====
Time for them to pay taxes or stay out of politics--they can't have it both ways. Tax lien on St Patrick's?
Neal Charness
Posted on Portside's Facebook page
     =====
The Catholic Church (specially the high hierarchy) has always sided with the right and lets not talk about latinamerica 
Enrique Collazo
Posted on Portside's Facebook page
     =====
Francis is working for progressive reforms. Although the history in Latin America is mostly dire, there have been progressive currents for a long time. Francis is Argentinean, the first LA pope.
Dan
Posted on Portside's Facebook page
     =====
I have a nagging feeling I'm not the only fed-up ex-Catholic to walk away.
Kathleen Ruggiero
Posted on Portside's Facebook page
     =====
I wondered why I got a message from the Trump campaign saying that as I was a Catholic and a Trump supporter I should donate to his campaign. Not happening! If the Cardinal Archbishop wants to, he can.
Christine Ziuraitis-Mathis
Posted on Portside's Facebook page
Re: Ten Tips on Talking about China, Chinese People and COVID-19
 
". A quick read for organizers on how to talk about China, Chinese people and COVID19. The rise of xenophobia and the onslaught of China bashing is just another right wing political and narrative strategy to deflect responsibility of COVID-19 by Trump.."
George Lessard
Posted on Portside's Facebook page
     =====
I think a much more concrete message will be needed to counter Trump's big idea for his re-election. There are undisputed facts about how China dealt with the virus, such as: Wuhan health officials notified the World Health Organization office in China on Dec. 31, 2019, only a few days after the Wuhan Center for Disease Control and Prevention in central China's Hubei Province detected cases of pneumonia of unknown cause. The China health agency called the U.S. on Jan. 3, 2020. The genome was fully sequenced and published online on Jan. 12, and Wuhan was put under a lockdown on Jan. 23. This is from an interview with Jeffery D Sachs. He goes on to say: ""Given the inevitable early confusion about a new disease that had never before been seen, that is a rapid timeline," he said, adding "The right-wing charges against China made no sense."
"The bottom line on the epidemic and Trump's dismal failure," according to the professor, is that as of Jan. 30, when the WHO declared a global public health emergency, there was no COVID-19 death in the United States.
"Now there are more than 71,000 U.S. deaths," he said. "There was plenty of warning."
Dan Morgan
Posted on Portside's Facebook page
Re: The Pandemic Proves We Need Single Payer, Medicare For All
 
For those of us who live in Europe this is self evident.
Stan Nadel
Re: 'A Dangerous Idea': Public School Advocates Denounce Cuomo-Gates Plan Seizing on Pandemic to 'Reimagine' New York's Education System
 
Yep. Privatizing things is a road to nowhere for US society. It aims to socialize costs while increasing private profit.
Ron Nelson
Posted on Portside's Facebook page
     =====
They already ushered Gates in the school door when he conspired with them to mandate Common Core Federal Standards and dictate curriculum.
Leland Wykoff
Posted on Portside's Facebook page
Re: The Agonizing Story of Tara Reade
 
This is the most comprehensive article I've read so far about Tara Reade.
Bernie DiNardo
Posted on Portside's Facebook page
     =====
This is a good article. Like ive said before i hate to question a victims story but she keeps giving us reasons to do exactly that.
Sandy Grubb
Posted on Portside's Facebook page
Re: Some Progressives Are in Denial About Trump's Fascist Momentum
 
I wish to add to my recent post regarding the threat posed by the armed right wing groups that have sprung up around the country.  I think it a mistake to regard them as the entering wedge of a fascist threat to the country.
First, defining fascism is a remarkably slippery business. Andrew Cockburn said it was "authoritarian capitalism." Palmiro Togliatti said it was the dictatorship of the most rightward wing of the capitalist class.  I agree with both.  But it is hard to concretely identify the programmatic content of fascism or to identify the elements of Trump's program that are clearly fascist - aside from the desire to control and discipline the working class which, it must be said, is also standard in bourgeois democracies.
Second, classical fascism was to a surprising degree a Catholic phenomenon.  It found its greatest success in predominately Catholic countries; nearly all of the top leaders of Nazi Germany were raised in the Catholic tradition, including Hitler himself.  Conversely it failed to take root in predominately Protestant countries such as Britain and the U.S.  The reason has to do with the correspondence between the fascist "corporatist" view and the Catholic teaching that there are no truly deep divisions in society since we are all contained within the body of Christ.  Both fascism and Catholicism claimed that society constituted an organic unity.  (Bear in mind that there were only 500,000 Jews in Germany in 1933 and only 250,000 by 1939 mainly due to forced immigration.)  Trump's enthusiastic sowing of social division runs counter to this, evidence of his general ignorance of politics and history. His support by the Catholic hierarchy here is largely the product of one issue - abortion - for which they are quite willing to put lipstick on the pig.
Third, I suggest we ask a different question regarding the threat of fascism.  What are respectable people willing to accept?  By "respectable" I mean those living in the nation's wealthiest suburbs and small businessmen, a core element of Trump's base usually ignored by the media.   Do they find acceptable putting children in cages, denial of climate change as a myth, police murders of people of color, Trump's obvious belief that he is a monarch, the attack on protecting the environment, the bungling of the coronavirus pandemic?  Do they find acceptable Trump and McConnell's shredding of the United States Constitution?  On each of these issues (and others) they appear to be largely mute, as are their "respectable" Republican politicians.  Indeed, it appears many of them are quite willing to reward Trump with large amounts of cold cash.  That, I suggest, is the real fascist threat and not fringe groups armed with AR-15s.
Robert Supansic
Re: How Amazon Workers Are Organizing for the Long Haul
 
"As the dust now settles and the company seeks to revoke temporary gains such as a $2 wage increase and unlimited unpaid time off, it is important to work out a long-term strategy for building power."
Shays: A road map for resistance
Posted on Portside's Facebook page
Meet the `Spanish Flu' Super Spreaders: The Allied Powers of WWI  --  carton Eric J. Garcia
 
i
Eric J. Garcia
May 13, 2020
Pocho News Service
[Editor's Note: While it is true the flu was spread by American soldiers, British and Russian and Italian and other Allied troops were also infected.]
Re: Trump Must Choose Between a Global Ceasefire and America's Long Lost Wars
 
Thought-provoking, but it's too fantastic to imagine Trump doing anything quite that courageous. No way.
Pat Brophy
Posted on Portside's Facebook page
Re: Netflix's `Hollywood': Ambitious Love Letter to A Tainted Industry
(Posting in Portside Culture)
 
I wish there was a way to see these things without having to deal with the "subscription" based business model.
Ken Roseman
Posted on Portside's Facebook page
     =====
I thought it was pure porn and I never thought of myself as a prude. I watched for about 10 minutes and couldn't believe what eyes.
Rose Ann Laide
Posted on Portside's Facebook page
Re: COVID-19, Capitalism, and Socialism
 
The article refers to "the capitalist practice of treating health care as a commodity."
It is not only health care that is treated as a commodity in currently dominant belief and practice.
Also, and more basically, PEOPLE are treated as commodities, or as only figures to be manipulated in the dramatic play scenes directed by those addicted to seeking domination.
Joseph Maizlish, Los Angeles
Welcome to the Progressive International - Invitation to Join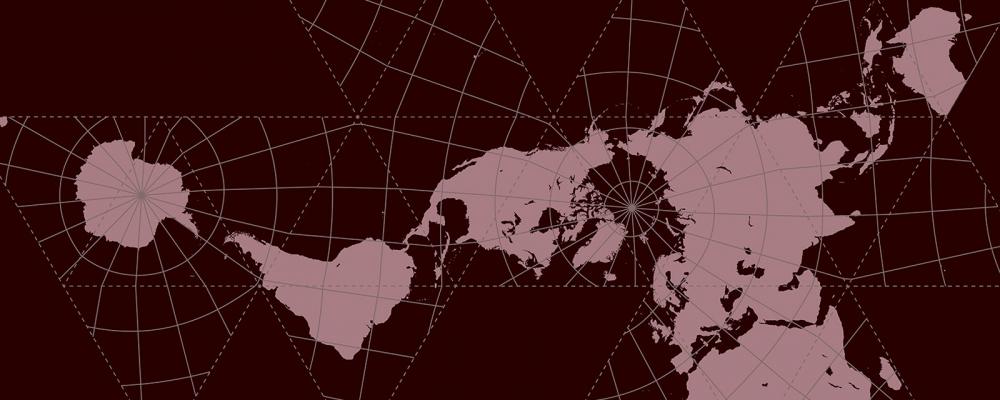 Welcome to the Progressive International.
We are at the beginning of a long journey. Over the coming weeks and months, we will build this progressive front together: brick by brick, member by member, action by action.
Welcome to the Movement pillar of Progressive International.
The Movement is where activists and organizers from around the world come together to share resources, exchange tools, and organize actions that transcend borders.
Our mission is simple: to make solidarity more than a slogan.
Why Do We Need an Internationalist Movement?
From ecological collapse to economic inequality, the great challenges of our time are international.
Yet right-wing nationalists and their corporate allies have been the first to build an international infrastructure to advance an agenda of exclusion and exploitation.
Progressives forces are rising up against them. But despite shared aims and experiences, they lack an infrastructure to bind them together.
The Movement pillar aims to provide the connective tissue between progressive forces around the world.
Who We Are
We strive to be a movement of movements, bringing together progressive organizations of all kinds to advance a common vision.
Trade unions, indigenous liberation organizations, campaigns, alliances, parties, worker centers, anti-racist organizations, councils, coalitions, confederations, networks, feminist collectives, peasant or tenant unions, LGBT+ associations, affinity groups, institutes, cooperatives, pressure groups, communes, popular assemblies, or any other forms of progressive political organization — we welcome all in the Movement pillar of the Progressive International.
What We Do
The work of the Movement pillar is to support members of the Progressive International to amplify their messages, connect and build relationships, and coordinate their campaigns and actions.
Amplify
The Movement provides a platform for activists and organizers around the world. This includes hosting live Forums, publishing statements, and promoting specific campaigns and actions — all translated across a range of languages.
Connect
The Movement facilitates connections between members, allowing them to share experiences, resources, tools, and tactics. By bringing together these disparate forces, the Movement pillar aims not only to strengthen solidarity, but also provide an opportunity to develop internationalist strategy.
Build
The Movement is dedicated to actively expanding the membership of the Progressive International. As members share, exchange, learn, and coordinate, they not only advance their own objectives, but also open possibilities for collective action around a common agenda for change.
Join us!
All individuals are welcome to become members of the Progressive International and participate in activities of the Movement pillar.
If you are a member of a social movement, trade union, or other progressive organization, we also invite you to submit an application to join the Progressive International here.
If you have questions or are interested in learning more about the Progressive International, please reach out to Movement Coordinators based around the world at: movement@progressive.international.
If you are a member of a union, movement, party, or other non-profit, we invite you to enlist your organization. Our mission is to unite all progressive forces in a common front.
If you want to stay up to date on all our activities, you can follow us on Twitter, Facebook, Instagram and Youtube.
4 Actions You Can Take Following Arrests of McMichaels (Showing Up for Racial Justice - SURJ)
 

We are heartbroken by the brutal murder of Ahmaud Arbery. In response, we must act boldly against white supremacy in all its forms.
The murder of Ahmaud Arbery highlights how white supremacist violence is bolstered by people in positions of power and closely tied to police and the courts. One of the assailants, Gregory McMichael, is a former Glynn County police officer and a former investigator with the local district attorney's office.
At SURJ, we know that systems of white supremacy and other oppression rely on keeping white people and communities silent or actively opposed to movements for racial justice. We know our work is to break silence and organize more of our people into movements for racial justice and against white supremacy.
We must show up in solidarity with communities most targeted by white supremacy and do the work of organizing in majority white communities to end racist structures and policies.
Gregory McMichael and Travis McMichael are now in jail and have been charged. Here are 4 ways to take further action:
This is a moment to recommit ourselves to the work of racial justice and to organizing more of our people away from the death culture of white supremacy and into a movement for collective liberation. Are you with me?
In solidarity,
Erin Heaney, SURJ National Director
SURJ is a 501c4 organization, doing political, advocacy and lobbying work, therefore your gifts are not tax deductible. If you prefer to give to a 501c3 nonprofit organization, please visit our sister organization, SURJ Education Fund.
Nakba Day - Global Rally in Solidarity with Palestinian Right of Return - Zoom Rally - May 15 (Palestine Solidarity Committee, BDS Movement, Jewish Voice for Peace, South African BDS Coalition)
 
JVP will be co-hosting a Zoom rally for Nakba Day at 2pm ET on May 15, along with Palestine Solidarity Campaign - UK, BDS Movement, and a new South African BDS Coalition - and I'm honored to join this incredible lineup of speakers, artists and performers.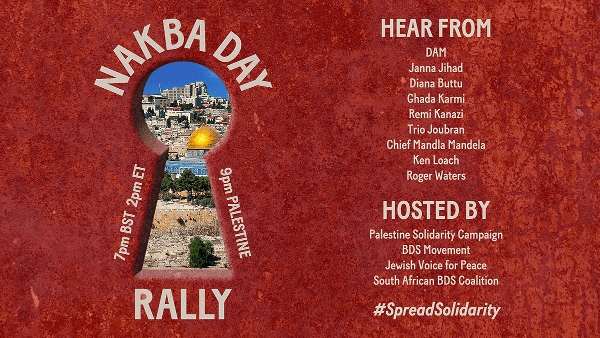 Please sign up and reserve a space in the Zoom room – there's a 1,000 participant limit and we expect space to fill up fast.
At JVP, we understand that justice, equality and dignity in Palestine/Israel must include Palestinians realizing their right to return home. As a Jewish organization, we see it as core to our purpose to peel back layers of myth and falsehood, and to help each other confront the brutal truth of Israel's establishment. Nakba means catastrophe in Arabic, and refers to the destruction of hundreds of Palestinian villages and the violent expulsion of 750,000 Palestinians that began with Israel's founding, and that continues to this day. 
The catastrophes of the Nakba continue through ongoing land theft and expulsion. We are just weeks away from the likely threat of annexation, which would mean even more deeply entrenched apartheid, more home and village demolitions, and the further loss of Palestinian land, livelihoods, and connections. 
We refuse to be a part of this plan. As we organize with our partners to pressure governments, diplomats, and NGOs to use their power to stop annexation, we must also help build a stronger global movement. On Nakba Day, we will take another step toward this.
I look forward to joining you at a meaningful and powerful rally as we lift up Palestinian voices and take action together. 
In solidarity,
Stefanie Fox
Executive Director
Jewish Voice for Peace is a national membership organization inspired by Jewish tradition to work for the justice, equality, and dignity of all the people of Israel/Palestine. Become a JVP Member today.
Jewish Voice for Peace
P.O. Box 589
Berkeley, CA 94701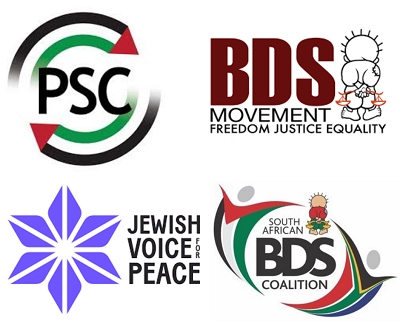 Key to Justice: Ending the ongoing Palestinian Nakba -  - Online Webinar - May 14 and 15 (Palestinian BDS National Committee)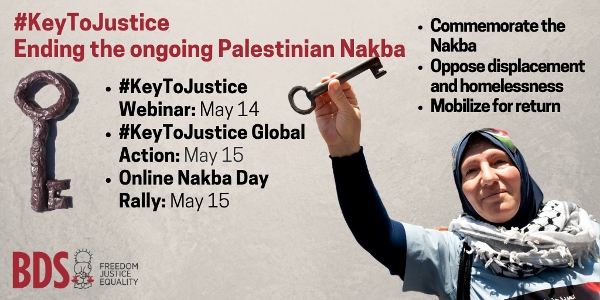 Our May 14 and 15 events will commemorate the Nakba, oppose displacement and homelessness, and mobilize for return as the #KeyToJustice. Join us!
#KeyToJustice Webinar - May 14, 4 PM Palestine time: Rafeef Ziadah, Marta Ill and Rey Perez Asis will discuss the connections between the Palestinian struggle to end the ongoing Nakba and the struggles of millions of refugees, migrants and those struggling for adequate housing worldwide, particularly during the pandemic.
#KeyToJustice Global Action - May 15: Share a photo of yourself on social media holding a key, and tag your post with #KeyToJustice. Learn how to make a key at home with this do-it-yourself video. The key symbolizes not just Palestinian refugees' return, but the connectedness of our struggles for equality, dignity and freedom, for all those without homes, facing brutality and resisting erasure.
Online Nakba Day Rally - May 15, 9 PM Palestine time: With speakers and performers including DAM, Janna Jihad, Diana Buttu, Roger Waters and Ken Loach. Organized by Palestine Solidarity Campaign (UK), Jewish Voice for Peace (US), South African BDS Coalition, and the BDS Movement.
Our collective mobilisations will help turn the #KeyToJustice.
In solidarity,
Palestinian BDS National Committee (BNC)
Freedom of the Press, Julian Assange, & Imprisonment in the Time of the Covid-19 Pandemic: A Learn More/Take Action Webinar - May 17 (ACLU SoCal Pasadena/Foothills Chapter; Courage Foundation; FAIR; Interfaith Communities United for Justice and Peace; LA Progressive; National Lawyers Guild-LA)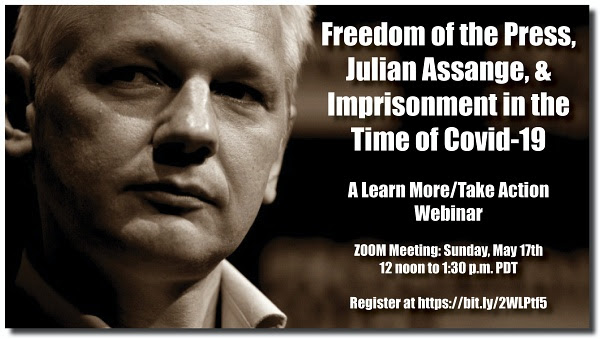 The Trump Administration has declared war on the truth, on freedom of the press, and especially on fearless investigative journalists like jailed Wikileaks founder Julian Assange, who faces 175 years in an American prison for exposing the multitude of war crimes committed by the United States in Iraq and Iran. Currently, as tens of thousands of American prisoners face an increased risk of contracting Covid-19, so does Assange, now locked away in a jail in London as he fights against extradition to the United States.
This webinar explores why Assange is seen as such a threat, how the fact of his prosecution threatens investigative journalists everywhere, and the role that racism plays in the demographics of our prison population and why, as with Assange, they face an increased risk of contracting the Coronavirus and should now be freed from their toxic confinements.
Sunday, May 17th, 12 Noon PDT on Zoom 
Register here
Moderator: Jim Lafferty, Executive Director Emeritus, National Lawyers Guild, L.A.; and host of The Lawyers Guild Show on KPFK.
Prof. Melina Abdullah: Professor, Dept. of Pan-African Studies, Cal. State Univ.; Co-founder of Black Lives Matter/LA
Sharon Kyle: National Board member, American Civil Liberties Union; Publisher of the LA Progressive.
Prof. Marjorie Cohn: professor emerita, Thos. Jefferson School of Law; human rights lawyer and editor/author of Drones & Targeted Killings
Stephen Rohde: Civil liberties activist, writer, and former President of the ACLU of Southern California.
Vincent De Stefano: Human rights activist; recipient of Amnesty International's 2019 Urgent Letter Writer of the Year Award.
Robert Corsini: Writer, producer and documentary filmmaker; owner of Videocratic Media.
Nathan Fuller: Acting Director, The Courage Foundation; Executive Director of the Committee to Defend Julian Assange and Civil Liberties
Also: Video appearances by Noam Chomsky and Daniel Ellsberg
Fighting COVID / Building Power: Workers & Unions on the Frontlines - Online Webinar - May 19 (CUNY School of Labor and Urban Studies)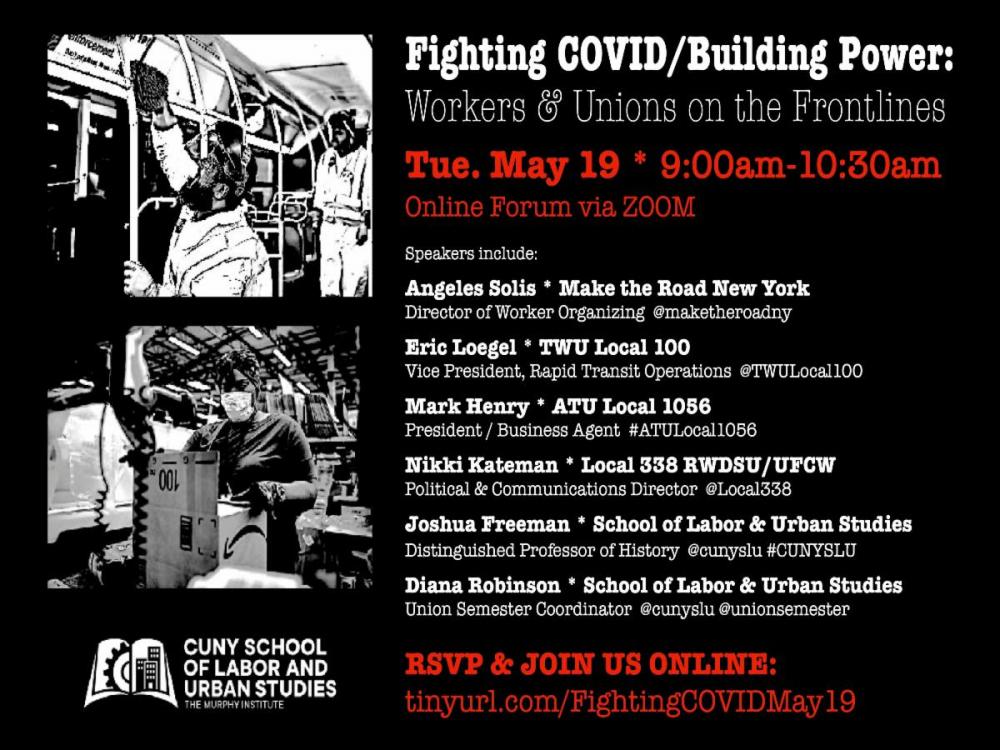 Fighting COVID/Building Power:  Workers & Unions on the Frontlines
Tuesday, May 19  --  9:00am-10:15am
Online Forum via ZOOM - Register here.
Speakers include:
Angeles Solis - Make the Road New York, Director of Worker Organizing
Eric Loegel - TWU Local 100, Vice President, Rapid Transit Operations (RTO)
Mark Henry - ATU Local 1056, President / Business Agent
Nikki Kateman - Local 338 RWDSU/UFCW, Political & Communications Director
Joshua Freeman - School of Labor & Urban Studies, Distinguished Professor of History
Diana Robinson - School of Labor & Urban Studies, Union Semester Coordinator
 
CUNY School of Labor and Urban Studies
25 West 43rd Street, 18th Floor
New York, NY 10036
Take Action to End the Korean War and Divest From the War Machine!  -  May 19; May 21 and June 1 - 5/National Advocacy Week (United for Peace & Justice, Korea Peace Network, Korea Peace Now Grassroots Network, Peace Treaty Now, Re'Generation Movement, Women Cross DMZ, CodePink)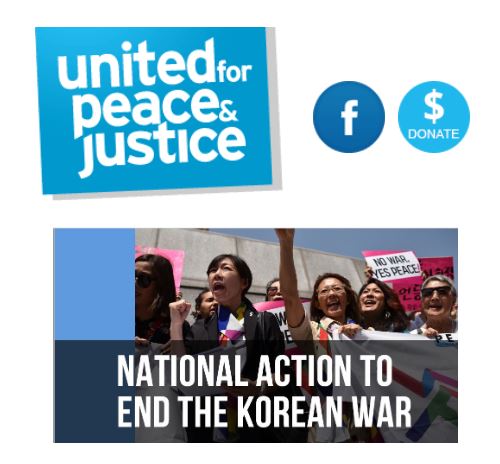 The coronavirus pandemic highlights the urgent need to reprioritize US foreign policy toward global cooperation and peace. Join UFPJ member groups and affiliates for these exciting actions and webinars.
1) National Action to End the Korean War: June 1 – 5, 2020/National Advocacy Week
In the 70th anniversary year of the unended Korean War, join hundreds of people across the country in nationally coordinated virtual advocacy meetings to urge your Member of Congress to support a peace agreement to end the Korean War and the lifting of sanctions for life-saving humanitarian assistance. Register here by May 15.
Organized by Korea Peace Network, Korea Peace Now! Grassroots Network, Peace Treaty Now, and Women Cross DMZ
2) Webinar: Shifting from "Security" to "Peace" in Korea
Thursday, May 21, 2020: 8 pm ET/5 pm PT. Click here to register
Why have the U.S. and North Korea been at war for 70 years? How do we get to peace? What makes us truly secure?
Join this webinar with Dr. Han S. Park on the need for a radical shift toward a peace paradigm in Korea. English to Korean interpretation will be provided
Han S. Park is University Professor Emeritus of International Affairs and Founding Director of the Center for the Study of Global Issues (GLOBIS) at the University of Georgia. Dr. Park has visited North Korea more than 50 times since 1981 to further efforts for diplomacy and peacemaking. He was instrumental in President Jimmy Carter's visit to North Korea in 1994 to avert military confrontation and President Bill Clinton's visit to Pyongyang to free detained American journalists in 2009.
Hosted by Korea Peace Network, Korea Peace Now Grassroots Network, Peace Treaty Now, Re'Generation Movement, Women Cross DMZ
3) Join CODEPINK and World Beyond War for the last two installments of their 5-part Divest from the War Machine webinar series.
Tuesday May 19: Coalition Building Across Movements; 3 - 4 pm PT/6 – 7 pm ET Register here.
4) Did you know the world's largest asset manager, BlackRock, invests billions of dollars in weapons manufacturers? Thursday, May 21, at 7:30 am ET, join CODEPINK and allies for the People's Blackrock Stakeholders' Protest.  Take action online as the BlackRock shareholders meeting will be taking place virtually because of the coronavirus pandemic.
 
United for Peace & Justice - UFPJ
P.O. Box 71523
Oakland, CA 94612
Call or leave a message at:  (917) 410-0119
info.ufpj@]gmail.com