labor
A Vegan Meat Company Purged Its Pro-Union Employees. Workers Say an Anti-Union Drive Prompted The Firings.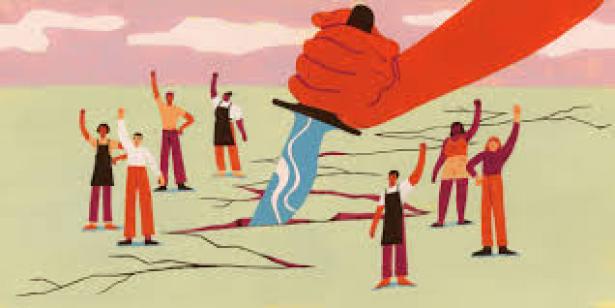 Celia Jacobs
No Evil Foods describes its mission as to "put more good into the world." The North Carolina company started in 2014 when its owners and founders Mike Woliansky and Sadrah Schadel sold plant-based meat products out of a cooler at Asheville farmers markets. Since then, the company sells products with left-wing names like Comrade Cluck (a mock chicken product), the Pardon (a Thanksgiving-season turkey substitute), and El Zapatista, a vegan chorizo whose name is a nod to the revolutionary indigenous movement in southern Mexico.
The venture has been one of the most successful in an increasingly crowded plant-based meat market that features other companies such as Impossible Foods and Beyond Meat, which went public in 2019 and has a $8.41 billion market cap. In March, No Evil Foods celebrated its products being sold by 5,500 retailers. It's backed by multiple venture capital firms, and Schadel told Vegconomist in February that the company's product is now sold in all 50 states and it's the "fastest growing meat alternative brand in conventional stores." 
But earlier this year, the company fought back a drive by employees to unionize its production facility in Weaverville under the United Food and Commercial Workers International union (UFCW).

The union lost handily in a February vote. Over a half dozen current and former employees who spoke with The Appeal described a hostile union-busting campaign, complete with frequent "captive audience" meetings—required meetings billed as "educational" sessions in which management effectively tries to kill organizing drives. Workers who spoke with The Appeal requested anonymity out of fear of retaliation from their bosses.
In late March, workers circulated a petition calling for hazard pay as COVID-19 outbreaks began appearing in food processing plants around the country. Before the petition was presented, however, No Evil offered a temporary hazard pay raise. 
But a month after production worker Cortne Roche posted the petition online, several pro-union workers and others who had signed it were fired in rapid succession, workers say. Roche, who had been pro-union and helped organize the petition, was fired on April 30, the day after she was suspended for a dress code violation. 
Roche and two other workers who've been fired in recent weeks told the Appeal that they believe their terminations were retaliatory. "I was told I was terminated immediately and there was no conversation about that," Roche said. "I'm not stupid." Roche said she's filed a charge with the National Labor Relations Board; the company currently has two open charges against it for alleged violations of the National Labor Relations Act, both of which were filed earlier this month.
No Evil refused to answer specific questions about the firings, including the alleged use of "shadow write-ups"—writing employees up for violations without telling them, and then citing the violations in their firings. 
"To protect the privacy of any former employee, we cannot discuss their numerous and various documented violations of company policy that would lead to dismissal," company spokesperson Charlie Stone said. 
No Evil declined an interview request from The Appeal. The company also would not answer specific questions about the union campaign, safety conditions at the company, or its practices during the pandemic. Instead, Stone pointed to an April 8 statement from the company's founders about providing its workers with hazard pay and that the company has "implemented all recommended CDC and FDA protocols, and more, to ensure team safety and food safety."
"No Evil Foods is a small, young business—we've only been around for 6 years—and everyone on our team is giving every ounce of their energy to keep our​ company alive through this crisis. We will continue to do our best to support our team so they can continue to feed their families while we all work to keep the food supply chain up and running," Schadel and Woliansky said in the statement.
"In addition to a pay increase," they continued, "we have also prioritized paid time off, sick leave and expanded family leave, and flexibility for those who are dealing with childcare challenges. It hasn't been easy for our business, but we believe it's more than the right thing to do it's the only thing to do."
The turmoil at No Evil comes at a time when much larger companies in food production, retail, and other industries have had waves of worker unrest over health and safety conditions and pay. Despite an order from President Trump to reopen meat plants, Tyson Foods said this month that the nation's pork production was down 50 percent due to plant closures over outbreaks. 
On May 4, managers at Amazon's Staten Island, New York, facility—a hotbed of organizing activity where employee Christian Smalls was fired in March—notified employees that a worker at the facility died of COVID-19. On May 6, a group of U.S. senators—including Elizabeth Warren and Bernie Sanders—sent a letter to Amazon CEO Jeff Bezos seeking information about the "company's policies for discipline and termination regarding workers who raise health and safety concerns." 
But although No Evil Foods is a much smaller company than some of the meat-producing behemoths it hopes to turn people away from, workers and former workers whom The Appeal spoke with say it has betrayed its progressive branding in the times where it mattered most. 
"It's not in the interest of a company that exploits workers to give those workers any say in the company," Roche said. "Even a vegan company called No Evil."
---
The union drive at No Evil Foods began last summer, but it quickly hit a roadblock when the company changed its longstanding four-day work schedule to five or six days, causing some turnover. The employees who remained describe a relatively stable work environment, albeit one that became more restrictive as the company grew. 
"We have complaints, but it was more like, 'We want to make sure things are still good here,'" one worker told The Appeal in March. "I don't want to hurt this company [by going public]. That's not my goal here. My goal is to have them do the right thing."
North Carolina has long been known for its staunchly anti-union leanings. It was one of the first right-to-work states. In 2019, its share of unionized workers ranked 49th in the U.S. at 2.3 percent. But there were reasons for No Evil employees to believe that a union could work at the company. In 2008, the UFCW successfully organized the Smithfield pork processing plant about five hours away in Tar Heel. It was the UFCW's third attempt to unionize Smithfield workers, and the decade-plus union drive had seen violence. Smithfield also has recently had deadly working conditions: Coronavirus outbreaks there and at other meat companies have sickened at least 3,300 workers and killed at least 17. 
No Evil Foods was a business and a brand that championed progressive politics, earning a "living wage certification" from the group Just Economics of Western North Carolina in 2017.
In January, the company hired attorneys from the law firm Constangy, Brooks, Smith & Prophete to help fight the union. The firm's founder, the late anti-union labor lawyer Frank Constangy, was a leading figure in the corporate fight against organized labor's Operation Dixie campaign to unionize the South in the 1940s and 1950s. In 2017, the firm represented South Korean tire manufacturer Kumho Tire in a successful campaign against a Kumho Tire-led organizing effort at a plant in Macon, Georgia. Speaking to the labor website Payday Report, one organizer described the campaign as "psychological warfare."
Workers say that over the next few weeks, No Evil's management began pulling them off the production floor for captive audience meetings about unions, with the implication that unionizing could ruin or even kill the company outright. "The word that comes most strongly to mind is 'gaslighting,'" one worker said. Another described the meetings as "an absolute nightmare."
Captive audience meetings have been described by the anti-union consulting firm Labor Relations Institute as "management's most important weapon" against organizing efforts. The meetings are legal under federal law, and the National Labor Relations Board under President Trump has gone so far as to sue Oregon over a state law banning the practice.
Workers who spoke with The Appeal said that in the No Evil meetings, the company relentlessly attacked the UFCW for past issues with corruption; one worker described a PowerPoint presentation on the UFCW's finances as "a mixture between a Fox News presentation and a sixth-grade book report." Management also allegedly targeted the UFCW for its representation of meatpacking workers. "The whole implication was that [meatpacking workers] don't deserve good wages and healthcare and stability in their lives because they work at slaughterhouses," one worker said.
"They pulled people off the floor, stopped production, even the hard [anti-union] people didn't want to go," one worker said. "We were shoved into a really small room and management's comparing union dues to a shitty gym membership, evoking issues of sexual harassment, saying it'll make it harder to fire people who sexually harass. People were calling them out on the nonsense, and every time we were shut down. Pro-union people were being cussed out and talked over by co-workers and management just let it happen."
---
No Evil's pressure campaign worked. Although pro-union workers believed it would be a narrow vote, the union lost 43-15 in a vote taken on Feb. 13, according to National Labor Relations Board records obtained by The Appeal. 
"The employees voted the union down by close to 70 percent in a fair and free election," Stone, the company spokesperson, told the Appeal. "The employees did this because they trust the vegan founders, who provide a progressive culture, verified living wages, excellent benefits and a mission to provide consumers with tasty plant-based options to improve their health and help end corporate cruelty to animals."
"I think they're trying to do the right thing," one worker said. "I think they made a major misstep in busting the union and not being truthful about that, like it was coming from their hearts and not coming from a labor consultant."
The union vote ultimately led to scrutiny over No Evil's progressive branding, particularly its El Zapatista mock chorizo product. No Evil says it donates proceeds from the sale of El Zapatista to Schools for Chiapas, a San Diego-based organization that "provides resources and training for autonomous education centers and schools in the Mexican southeast." But on March 6, Schools for Chiapas tweeted that "we do not condone the exploitation of the Zapatista cause for marketing, and were unaware that we had been listed as allies" on No Evil's website. 
"We were a little unhappy at first because they put our logo on their webpage and we felt like they went a little bit too far without letting us know. So that was a little bit of a misunderstanding we think, and they were quite cooperative," Peter Brown of Schools for Chiapas told The Appeal. "In general, we support unions and I told them that, and they felt like some of their people had valid reasons to not support the union. But we decided that's not the kind of decision we get involved in."
In an email statement to The Appeal sent via their spokesperson, No Evil's Wolianksy said the company makes "monthly and annual donations"—nearly $5,000 in 2019—to Schools for Chiapas from the sales of El Zapatista because "we believe in and are inspired by this movement."  
"As a company, we are using our voice to shine a light on their struggle. We actively seek to better the lives of our employees, and the Zapatista people, too," Woliansky said.
When the COVID-19 pandemic hit the United States in March, No Evil management gave workers the option to remain at the company with the promise of a temporary hazard pay raise, resign voluntarily without severance and with the opportunity to reapply for their job in the future, or take a three weeks' severance and sign a release agreement with a confidentiality clause. Approximately 10 percent of the workforce chose to leave. 
The workers who remained told The Appeal that they didn't receive personal protective equipment (PPE) for weeks, and that the first masks they received were poorly made cloth bandanas with the company's logo. Employees said the low-quality masks have since been replaced. They also said the company required doctors' notes from those who called out sick. 
As for the hazard pay, the company offered it only to those workers who had 90 days of "perfect attendance." Incensed, workers circulated a petition demanding an end to the stipulations on hazard pay and for an immediate $1.50 per hour wage increase. Approximately two dozen people signed the petition.
"For lack of a better word we had solidarity, so that was nice," one worker said. Before the petition was submitted, however, management gave workers a raise of $2.25 per hour. Workers told The Appeal that they believe management caught wind of the petition and, perhaps wary of another budding union drive, instituted the wage increase.
After No Evil gave the increase, Roche—who's involved in socialist organizing in Asheville—posted a photo of the petition online in early April and used the #NoEvilFoods hashtag. In early May, signatories began to lose their jobs. Before she was fired, Roche was accused of violating the company dress code for wearing pants with legs cut three inches above her foot, clothing she says she had worn many times in the past.
Roche had been vocal about her support of and activity on behalf of the union. "I talked to every single co-worker of mine about my position, word gets to management easily there. I challenged their union-busting tactics in their captive audience meetings by questioning the things they were saying. I wore my UFCW shirt to work a few days," she said. "It's just something they found to fire me for."
During the course of reporting this story, several workers complained that No Evil was selectively enforcing social distancing against pro-union workers or workers who signed the petition; one worker complained that it was "on you to social distance in a place where it's almost impossible to actually do it." Shortly after Roche was fired, that worker was fired for allegedly violating social distancing. 
"Management would go around and say 'you have to be six feet apart' and apparently they were writing people up and not telling them," the worker said. "In all the years I've been working, I've never worked at a place where I didn't sign off on being written up."
When the worker asked for a written record of why he was being fired, he said, the company's head of human resources told him that it was being given verbally. "He said I would be paid through that day and that was that," the worker said. "I walked out and that was the end. So completely unprofessional." 
The third worker told the Appeal via email that he was suspended for having a cell phone in his pocket and violating the company's "good manufacturing processes," such as making a mistake on a log for food temperatures, which he said he received no coaching about. The worker alleged that in spite of those practices, he's seen management routinely not wearing masks, people not wearing gloves in the production room, and equipment used on consecutive days without being cleaned, among other health and safety concerns.  
He said he believes his firing was the "final wave" of firings related to union action. Safe manufacturing processes "is only a thing when it's convenient for them," he said. 
"I knew my days were numbered at No Evil and honestly it's the worst job I've ever had," the worker said after his firing. "Not because of labor but because of the childish management we have. I've worked for places like Whole Foods and been a dishwasher and line cook at places like Outback Steakhouse, and No Evil is the worst job I've ever had." 
In April, a sign was posted at the facility reminding employees to sanitize their hands with the message "Let's take care of each other!" Someone crossed out that sentence and added a smiley face: "Let's go home during the unprecedented pandemic outbreak that's happening in our country now, you ghouls."