Media Bits and Bytes - October 6, 2020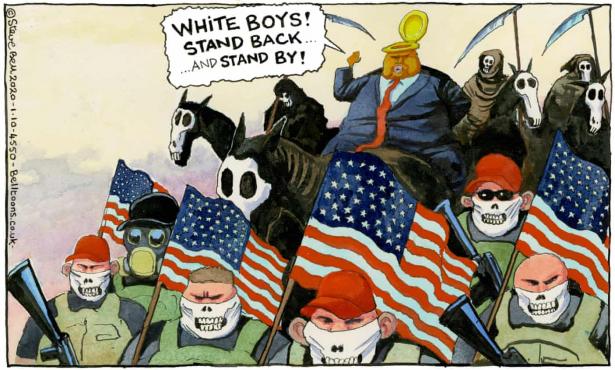 Steve Bell,The Guardian
By Ben Collins and Brandy Zadrozny
NBC News

The change is a significant escalation over its previous actions targeting QAnon and one of the broadest rules the social media giant has put in place in its history.
By Donie O'Sullivan and Alaa Elassar
CNN
"The Squad" expressed surprise when Twitter posted about its policy against wishing harm or death to someone in light of President Trump's Covid-19 diagnosis. They have all received threats on social media and say Twitter isn't doing enough about it.
Did the White House Edit Out a Presidential Cough?
By Oliver O'Connell
The Independent
After watching president Donald Trump's message from Walter Reed Medical Centre on Saturday night, several film editors noticed an odd glitch.
The Media and Vote Suppression
By Yochai Benkler
Columbia Journalism Review
The president and the Republican Party—abetted by major media outlets—executed on their strategy to discredit the voting process for millions of Americans. 
Trump's Shout-out Boosts Neo-Nazis Online
By Jane Lytvynenko and Christopher Miller
Buzzfeed News
Hundreds of new people have flooded the forums the white nationalist Proud Boys uses to organize.
By Emma Graham-Harrison
The Observer
Last week saw the launch of the Real Facebook Oversight Board, an independent body of experts including some of America's most prominent civil rights activists, academics and lawyers.
11 Films and TV Shows That Scare Conservatives
By Inge Snip and Claire Provost
openDemocracy
Christian right critics call the film 'Cuties' their 'worst fears realised'. But they've been spooked – and at war with Hollywood – for years.
Broadband in Red and Blue States
By Tom Wheeler
Brookings
Trump FCC's efforts have focused on Donald Trump's base of rural voters. There are almost three times as many Americans without a broadband subscription in blue urban areas than in red state rural areas.
By Emily Cegielski
Worth
Drue Kataoka's artwork, which spans genres from steel sculpture and painting to virtual reality and EEG brainwaves, is at the forefront of democratizing art and, in the process, creating massive social impact.
By Simone Pieranni
il manifesto global
China is a great political laboratory which will play a more and more important role in our lives, so we might as well take it seriously, or—at the very least—treat it like we would any other country.
By Cory Doctorow
Electronic Frontier Foundation
Who said anything about leaving telecoms or entertainment untouched by antitrust? The companies that make up those industries are in desperate need of tougher antitrust enforcement.