Dispatches From the Culture Wars - Bad News and Good News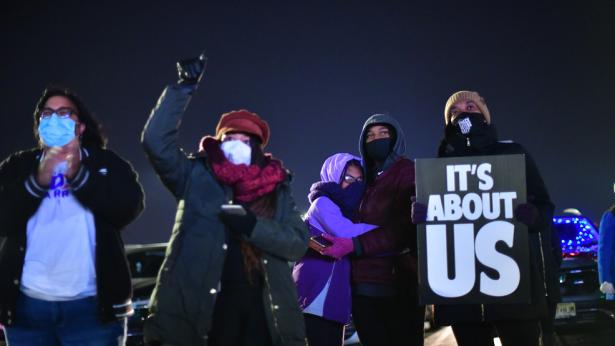 Nevertheless, they persisted! Credit,Mark Makela/Getty Images
Election Assessments
Nina Turner, Washington Post​​​​​​
Walden Bello, Rappler 
Max Elbaum (podcast), Letters and Politics, KPFA 
Juan González, Democracy Now!
Thomas Frank, The Guardian
Michael Roberts, The Next Recession

Authoritarians Find Acceptance
By Zeynep Tufekci
The Atlantic
Trump is just one more example of the many populists on the right who have risen to power around the world.
By Riley Vetterkind
Wisconsin State Journal
Cities propelled Joe Biden to a Wisconsin win as rural areas double down on Donald Trump.
Trump's Unexpected Support
Gains With Black Voters  By Sean Collins, Vox
Gains Among Latino Voters  By Suzanne Gamboa and Carmen Sesin, NBC News
Votes From White Women  By Madeline Hislop, Women's Agenda
By Rachel Hope Cleves
The Tyee
Trump turned to attacking the democratic process as his primary strategy for victory. We have a term for this strategy. It's called Jim Crow.
NC Cops Break Up Peaceful Voters' March
A racist sheriff and a system of voter suppression meet in a cloud of pepper spray.
By Liza Featherstone
Jacobin
Dozens of socialists were elected to legislatures, while minimum-wage hikes, rent controls, and taxes on the rich to fund schools all won voter backing, even in very red places.
Progressive Policy Measures Win
Taken together, these types of measures could go a long way in reducing race and gender discrimination around the country.
By Patrick Sisson
Bloomberg
The "blue wave" didn't materialize at the national level. But in America's cities, younger Democratic leaders and progressive policy ideas scored several big wins.
By Anoa Changa
Scalawag
Statewide organizations like Down Home North Carolina offer an opportunity to challenge and overcome violence from the state in all its forms—including voter suppression and intimidation.
Teen Vogue
People flooded the streets to celebrate Donald Trump's defeat.