Global Left Midweek - January 27, 2021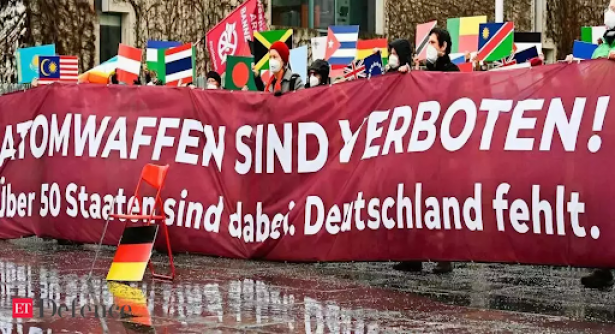 "Nuclear weapons are forbidden! More than 50 states have joined. Not Germany." Credit,AFP
__________
Arab Spring: A Warning to All Tyrants
Khalil al-Anani / Middle East Eye (London)

The experience of the Arab Spring revealed that, despite the power of security and intelligence services - and their use of all means of torture, murder and violation of human rights for the sake of intimidation - the structure of Arab despotism is subject to breakage. 
__________
Tearing Out the Roots of Climate Crisis
Tetet Lauron, Katja Voigt, Nadja Charaby and Nessim Achouche / Rosa Luxemburg Stiftung (Berlin)
Will the goal of net zero emissions usher in much-needed transformation, or is this a foreshadowing of dangerous distractions to come?
__________
Jayati Ghosh on Biden's Global Economy Options
Jayati Ghosh / Project Syndicate (New York)
Note: Indian development economist Ghosh has been appointed to a high-level UN advisory board that will provide recommendations for Secretary-General Antonio Guterres to respond to socio-economic challenges in the post-COVID-19 world.
__________
World Welcomes Nuclear Arms Ban Treaty
Jessica Corbett / Common Dreams (Portland ME)
Disarmament and peace campaigners won ratification of a treaty banning nuclear weapons on January 22. States party to the agreement cannot develop, test, produce, acquire, possess, stockpile, use, or threaten to use nuclear weapons.
__________
Nepal's Ruling Party Expels Prime Minister
Tribune (Chandigarh, India)
A Communist Party faction led a massive anti-government rally, saying the "unconstitutional" dissolution of the Parliament by Prime Minister Oli has posed serious threats to the country's hard-earned federal democratic republic system.
__________
Colombia: FARC Becomes COMUNES
Steven Grattan / Vice (Brooklyn)
The decision to finally change the name and move away from the acronym may allow members of the party to move away from their association with the guerrilla group and be considered as legitimate political actors. 
__________
Palestinian Strikers Win
New Unions (West Bank)
After 19 days of an open-ended strike demanding their human and labor rights, Palestinian workers at Yamit have suspended their strike. The workers' committee has reached this decision following an agreement with the company to meet their demands.
__________
Ugandan Women Up Against Power
Dr. Stella Nyanzi / Africa is a Country (New York)
In recent years, the gender-inclusive politics of the 1990s has appeared to be primarily benefiting the incumbent National Resistance Movement party, rather than effecting any real change amongst the masses.
__________
UK: Lessons from Public Service Union Election
Charlie Macnamara / Novara Media (London)
Unison, the UK's biggest union, announced Christina McAnea had won its general secretary election and will become the union's first woman leader. This was not greeted by those on the left who had hoped to see the union – and perhaps Labour – shift direction.
__________
German Parties, Peace and War
Victor Grossman / MR Online (New York)
In Berlin and Thuringia the SPD, Greens and LINKE stick together in quarrelsome togetherness with a majority of seats, or close to one, and no credible alternatives. On the national level the three together now stand at only 42%.
__________
Legacies
Jonas Gwangwa, South Africa  Martin Johnson / NPR (Washington DC)
Ezra Nawi, Israel/Palestine  Margaret Olin and David Shulman / Mondoweiss (Detroit)
Laura Weinstein, Colombia  Michael K. Lavers / Washington Blade
Christian Krähling, Germany  Florian Wilde and Fanny Zeise / Rosa Luxemburg Stiftung (Berlin)
Mel Corry, Ireland  / Morning Star (London)