Tidbits - Jan. 28, 2021 - Reader Comments: Dems Should Quickly and Boldly Move Fascism Not to be Debated, But Defeated; Mike Pence as Franz von Papen; Nuclear Treaty Ban-letter from Vietnam; Trouble in Kansas - Help Needed; resources, announcements;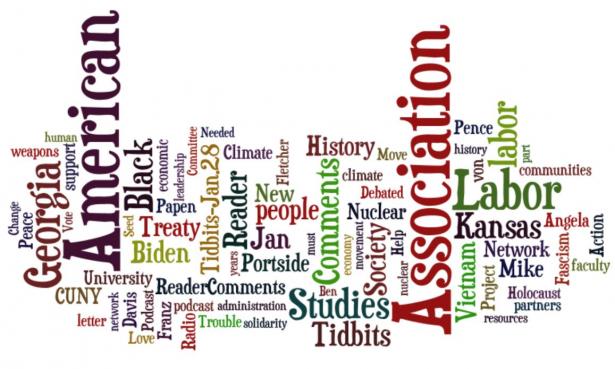 Tidbits - Reader Comments, Resources, Announcements, AND cartoons - Jan. 28, 2021,Portside
Resources:
Your Action Needed:
Announcements:
Re: Progressives Urge Biden to Abandon GOP Outreach, Move Swiftly on Bold Package
 
Obama spent most of his first term reaching out and it never got him any Republican votes, not even on his Romneycare healthcare reform, 99% of which was straight out of conservative think tanks. I would hope Biden took away a lesson or two from that.
Felice Sage
Posted on Portside's Facebook page
     =====
There is too much work to do to spend too time with the cry babies, join in or stay the fuck out, whatever.
Rosalina Rosario Melendez
Posted on Portside's Facebook page
     =====
Medicare for All, a UBI, total student debt forgiveness with FREE post high school education and an end imperialism / wars NOW !
David Johnson
Posted on Portside's Facebook page
Crocodile GOP  --  cartoon by Rob Rogers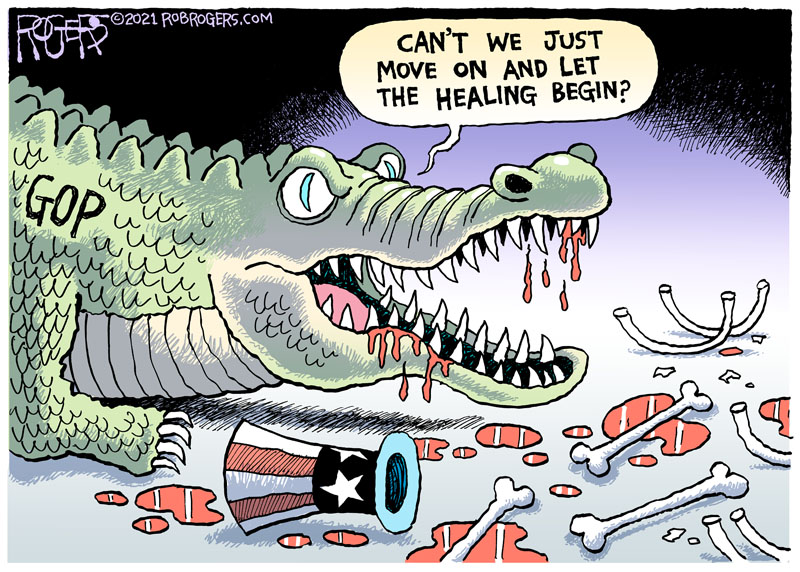 Rob Rogers
January 27, 2020
robrogers.com
Re: A Black Lives Matter Founder on Building Modern Movements
 
I'm struck by the recognition of the need for coalition.  It's the opposite of identity politics, identity as a precondition.
Mark Rudd
Re: Fascism is Not an Idea to Be Debated, It's a Set of Actions to Fight
 
Republicans are not A problem.... They are THE problem 
Love Pop
Posted on Portside's Facebook page
Re: Auf Wiedersehen to Mike Pence, the Franz von Papen of the Trump Administration
 
Congratulations to Bill Mosley - he has an extremely fine understanding for German history.
Bill hit it on the head. Bingo!
Without Franz von Papen there [most likely] would never have been an Adolf Hitler!
German conservatives like to cover up their enabling of Nazism through the Nazi ideology of "Machtergreifung".
In 1933, they were part and parcel of Nazism…
Thomas Klikauer
     =====
I so needed this article
Petra Vandendriessche
Posted on Portside's Facebook page
Re: Who's funding the Senate's Sedition Caucus?
 
The Confederacy rises again? Nope. Not. Gonna. Happen.
Emory Thompson
Posted on Portside's Facebook page
Re: Biden's Executive Order to Boost Food Aid Greeted
 
In terms of food very little is [being] given in Puerto Rico from the part of the conservative authorities
María Lopez
Posted on Portside's Facebook page
Re: The Case for a Vaccine Manhattan Project
 
We need massive KN95 production and distribution too.
Alyssa Bonilla
Posted on Portside's Facebook page
Harriet Tubman on the Twenty  -- cartoon by Lalo Alcaraz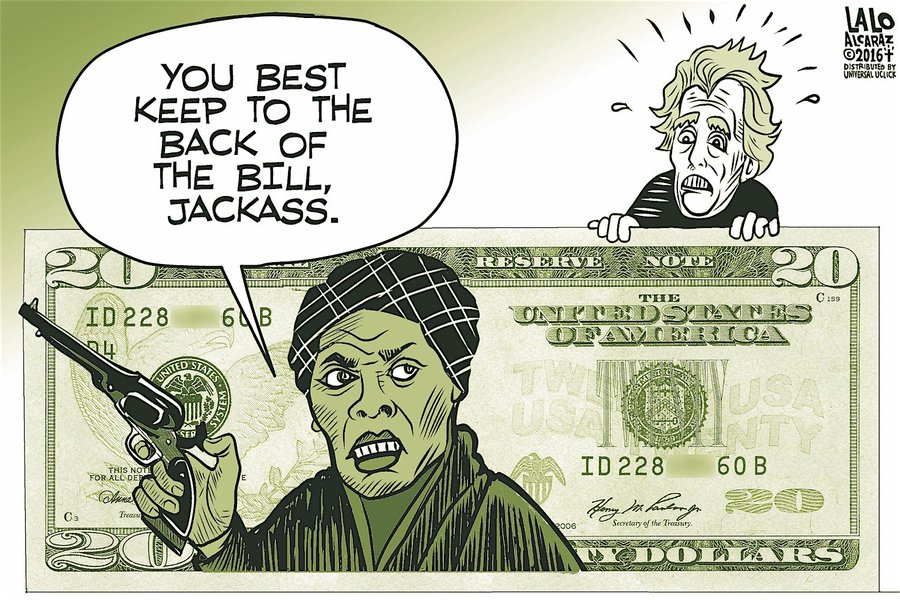 Lalo Alcaraz
January 25, 2021
Re: 'Lord of the Flies,' Revisited
 
What we teach our children about "human nature" matters. Reading books like "Lord of the Flies" without an antidote is dangerous.
"Dutch historian Rutger Bregman documents that Golding had no knowledge of behavioral science and was hardly an impartial judge of children's propensities. Rather, he was an alcoholic prone to depression who beat his kids. "I have always understood the Nazis," Goldman once said, "because I am of that sort by nature." So, he made up the story, and it wasn't about children's dark nature, but his own."
Kipp Dawson
Posted on Portside's Facebook page
     =====
William Golding was educated at the exclusive Marlborough College (where he was a bully) and Oxford University. He was a schoolteacher for upper middle class English boys. That was his background and experience.
Dan Morgan
Posted on Portside's Facebook page
THIS IS A MUST READ! ... GIVES HOPE TO ACTIVISTS now following in the path of activists then ... Portside: FOR HOPE, LOOK SOUTH  by #NelsonPerezOlney 
"Every part of this country, north south east and west, owes its origin and wealth to our "peculiar institution" as well as other less notorious programs of government sanctioned/ignored exploitation and murder of the poor, immigrants, women."
Laura Lynch
Posted on Portside's Facebook page
Re: Selma James Interviewed - Real Theory Is in What You Do and How You Do It
(posting on Portside Culture)
 
Selma James has to be in the top ranks of effective and influential leftists,  impressive, why is it I haven't heard more about her? 
Mike Liston
Re: Media Bits and Bytes - January 26, 2021
 
This has been in the making since Bush lied and lied and lied some more and Faux Spews was allowed to call itself news and this is now the result of shills trying to twist the original anti neocon truth movement into a republican conspiracy theory... Q and Alex Jones and Rush Limbaugh and Faux Spews are fascist propaganda
Love Pop
Posted on Portside's Facebook page
     =====
We are done with this bozo. Stop peddling his tweets
Lizzi Azalia Swane
Posted on Portside's Facebook page
     =====
It was used in connection with the theme of featured articles in Media Bits, not to promote that criminal.
Ethan Young
Posted on Portside's Facebook page
Message on the Entry into force of the Treaty on the Prohibition of Nuclear Weapons
 
Dear Comrades and Friends,
The Vietnam Peace Committee (VPC) expresses its pleasure that the Treaty on the Prohibition of Nuclear Weapons (TPNW) enters into force on 22 January 2021.
This event marks another milestone in the struggle against nuclear weapons following the adoption by the United Nations Conference on 7 July 2017. This victory is not only attributed to the 51 State Parties that have ratified the Treaty, but also to peace movements and peace-loving people from around the world.
We are aware that this is far from the total abolition of nuclear weapons as nuclear weapon states are still not part of the TPNW and many countries are still researching, developing, manufacturing, trading in, and threatening to use nuclear weapons and other weapons of mass destruction.
The VPC calls on governments to join, sign and ratify the TPNW; respect the Treaty, as well as international laws and agreements in general, and stop the use or threats to use force in international relations. All disputes and differences should be solved by peaceful means.
We also call on all peace movements, people's organizations and peace-loving people worldwide to strengthen solidarity and cooperation and make greater efforts in the struggle against nuclear weapons and other weapons of mass destruction, for a world of peace, stability and sustainable development.
The VPC is committed to be part of peace-loving forces in the world to make sure that such tragedies as those in Hiroshima, Nagasaki Vietnam and other countries shall never be repeated.  
May peace prevail on Earth.
Uong Chu Luu,
President of the Vietnam Peace Committee
Vietnam Peace Committee
105A Quan Thanh, Ha Noi
Tel: (84-4) 39454272
Fax:(84-4) 37330201
vietpeacecom@gmail.com
Celebrating 77 Years of Angela Davis -- plus 50% off book offer (Seven Stories Press)
 
On her seventy-seventh birthday, we're excited to share an exclusive excerpt from Abolition Democracy: Beyond Empire, Prisons, and Torture, an extended set of interviews with Dr. Angela Y. Davis
"The civil rights movement demanded access, and access has been granted to some. The challenge of the twenty-first century is not to demand equal opportunity to participate in the machinery of oppression. Rather, it is to identify and dismantle those structures in which racism continues to be embedded. This is the only way the promise of freedom can be extended to masses of people."
 —Angela Davis, Abolition Democracy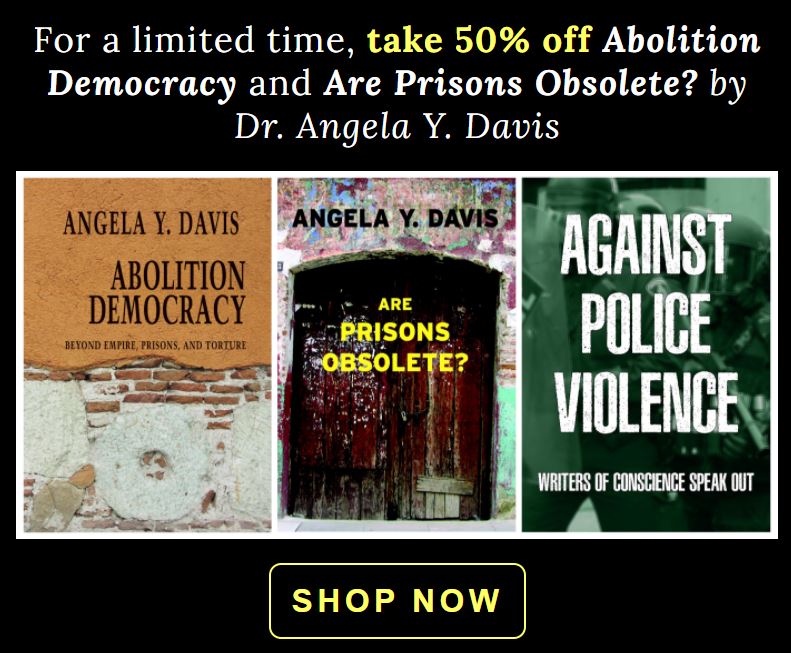 Shop here
Love letter to our Georgia partners! (Seed the Vote)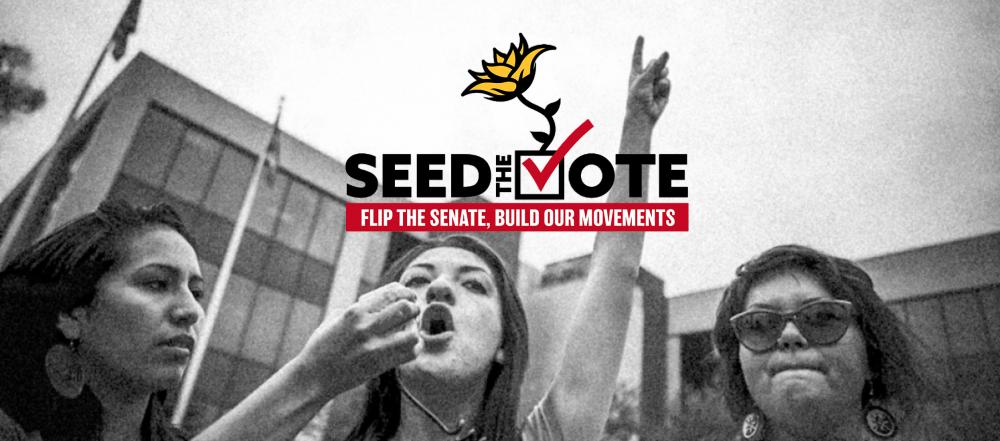 What a whirlwind! Just 20 days ago we won the Georgia Senate races, and 6 days ago Raphael Warnock and Jon Ossoff were sworn in by newly inaugurated Vice President Kamala Harris. These victories are proof that when we follow the leadership of black women and build multiracial community power through long term organizing, we win.
Seed the Vote sent 450 volunteers to support in-person canvas programs with our local partners. One of those volunteers, Eliza, who canvassed with Unite Here, learned from the local organizers and on the doors, "In Georgia, we aren't here to flip voters, we're here to fight voter suppression."
Our partners in Georgia are in it for the long haul. In 2022, Raphael Warnock will need to run again for a full 6 year term. Even more importantly, they'll continue to organize and win local efforts to bring justice and hope to our communities.
Keep reading to learn more about the incredible vision, leadership, and strategy of our partners and how to ensure they continue to be well-resourced and supported to keep building power and winning transformative social change.
New Georgia Project Action Fund is leading the way to a new Georgia by growing a lasting independent and progressive organizing movement. For them, our wins in 2021 are just the beginning. As Nse Ufot, Chief Executive Officer of NGPAF shared, "With these victories, there is no looking back for Georgia. We are finally beginning to undo a history of voter suppression and injustice in Black and Brown communities. We have put complacent leaders on notice: we have the power to vote you out and usher in elected officials who will honor the will of the people and address the needs of our communities.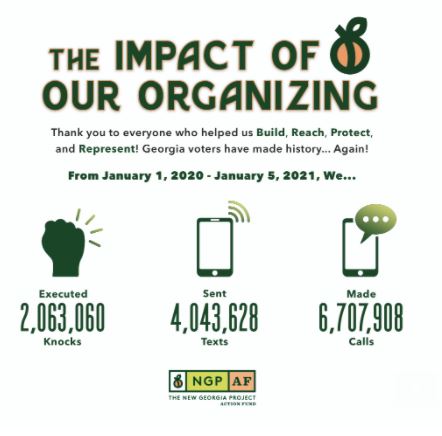 With your support and volunteerism, the New Georgia Project Action Fund (NGPAF) continues to achieve and defend historic and joyful wins for our families and communities."
Please stay connected to the New Georgia Project Action Fund on Facebook, Twitter and Instagram and make a donation.
 
Georgia Latino Alliance for Human Rights Action and Mijente ran the largest political campaign engaging Latino voters in the history of Georgia. In 8 weeks, 200 organizers and volunteers knocked on every Latino voter's door in the state and reached over 1 million voters.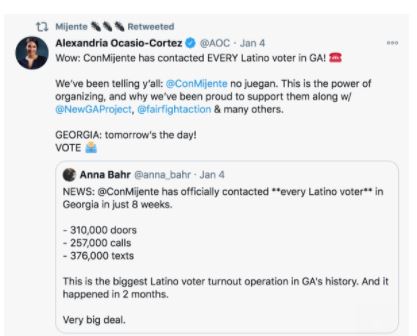 Mijente is a political home for Latinx and Chicanx people who seek racial, economic, gender and climate justice. Seed the Vote was so happy to collaborate and support their efforts in both Arizona and Georgia which led to a record breaking 16.6 million U.S. Latinos voting in the general election — a 31% increase!
For 20 years, Georgia Latino Alliance for Human Rights (GLAHR) Action Network, has developed grassroots leadership in Latino immigrant communities across the state of Georgia to defend and promote their civil and human rights.
Our work with these organizations will have a lasting effect. Tania Unzueta, Political Director with Mijente reflected, "You were critical to these campaigns. You supported us in base building and organizing, allowing us to scale up in the smartest, most relevant way with our gente."
We hope you will stay connected and support these two powerhouse organizations, and if you're Latinx, join Mijente as a member!
Mijente: Become a member, Donate & Connect on Facebook, Instagram, Twitter
GLAHR: Donate & connect on Facebook, Instagram, Twitter
Asian American Advocacy Fund PAC is building a politically-conscious, engaged, and progressive Asian American base in Georgia that can create a state where Asian Americans, Pacific Islanders, and Native Hawaiians voices are represented in elected leadership and progressive policies across the state. During the Senate runoffs, AAAF PAC and their volunteers contacted more than 100K Asian-Americans in 11 different languages helping to nearly double Asian American voter turnout.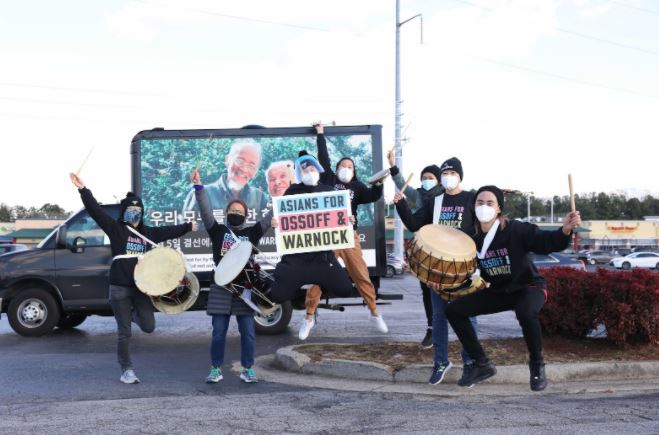 Stay connected with AAAF PAC on Facebook, Instagram, Twitter, and donate to support their ongoing work.
We are so grateful to have had the opportunity to partner on the GA Senate runoff with these organizations, and also SURJ and Unite Here Local 23, whose work we lifted up in previous emails. Together, we are building a multiracial movement that has the power to guide and win transformational elections and policy victories across the country!
With love and deep appreciation to our GA grassroots partners and their years of leadership & organizing,
Seed the Vote team
Charts of the week: Challenges the Biden administration inherits (Economic Policy Institute)
 
Even before President Joe Biden was sworn into office this week, it was clear that he and his administration would face a series of crosscurrents, competing national crises and global challenges that will demand immediate attention.
The economic shock caused by the COVID-19 pandemic—both the damage it caused and the vulnerabilities it revealed in the U.S. economy—must be addressed if we are to build an economy that works for everyone.
 
EPI's Top Charts of 2020 chronicle last year's economic fallout of the pandemic and tell a devastating story—not only about a crisis that has challenged us all, but also about underlying inequalities that have made the crisis so much worse for so many. Take a look at the chart below which gives a snapshot of the economy the Biden administration must confront during their first 100 days in office.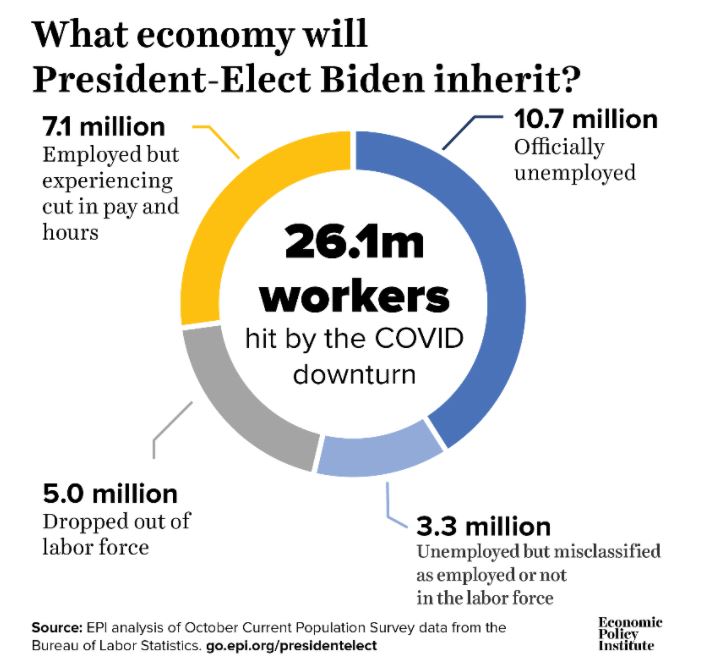 The number of officially unemployed is undercounted, even in normal times (and is probably worse now). The chart above provides an estimate of the number of workers directly harmed in December by the coronavirus downturn. Roughly 26 million people have been struggling to make ends meet during this pandemic recession.
 
Take a look at more of EPI's top charts that reveal the depth of the challenges facing the Biden administration and Congress. EPI's charts shed light on the devastating impact the pandemic has had on people throughout our country, particularly women, Black workers and Latinx families.
1225 Eye St. NW, Suite 600
Washington, DC 20005
Phone: 202-775-8810 • epi@epi.org
Criminalizing Black Protest - When We Resist (Center for Constitutional Rights)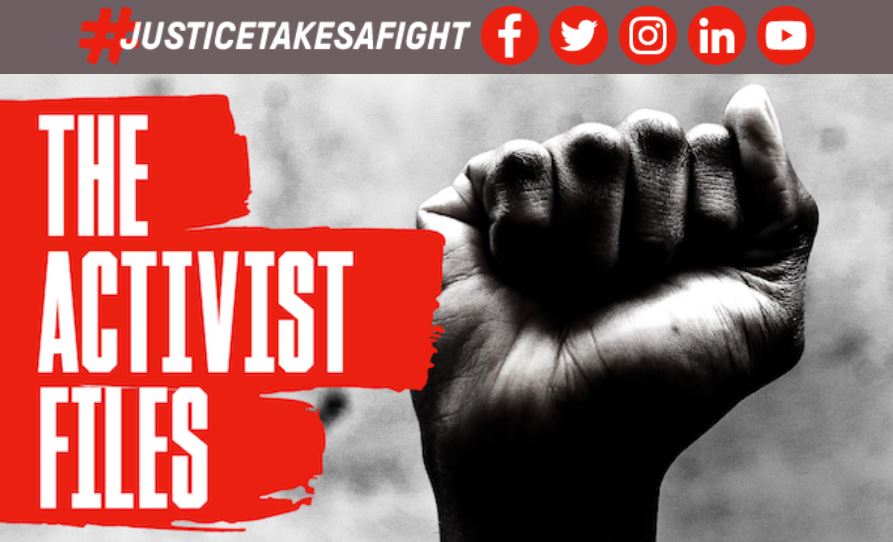 What happens when law enforcement deems Black activism as a national security threat? Throughout its history, law enforcement has continuously used its powers to chill the speech and movements of Black activists and activism that's done on behalf of issues that impact Black communities.
In Criminalizing Black Protest: When We Resist, the 34th episode of "The Activist Files," our Communications Director Chandra Hayslett and Senior Staff Attorney Pam Spees talk with Anne Rolfes, director of the Louisiana Bucket Brigade, and Pastor Gregory Manning head of Broadmoor Community Church. The two activists are working to bring attention to the environmental racism in St. James Parish, Louisiana, which is a historic Black community under threat of destruction by Formosa Plastics. They share their stories of how police criminalized their activism.
LISTEN TO THE ACTIVIST FILES
Click here
Center for Constitutional Rights
666 Broadway
7th Floor
New York, NY 10012
Main: 212-614-6464
Fax: 212-614-6499
Teach Climate Disobedience with a New Lesson (Zinn Education Project)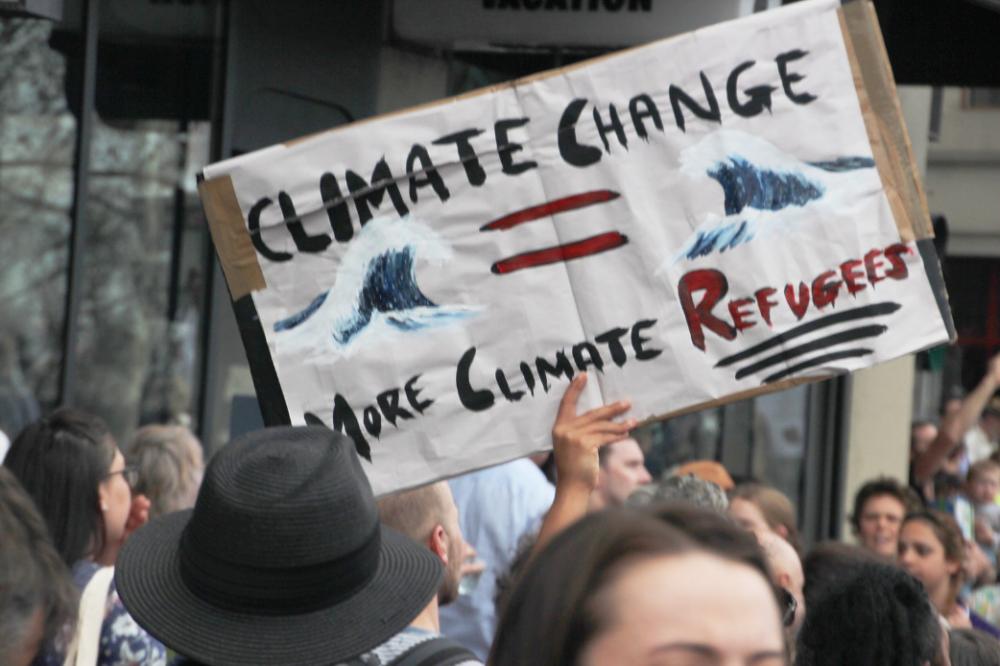 Photo by John Englart via Flickr  //  Zinn Education Project
No Option Except Escape: A Role Play on the Struggles of Climate Refugees
The Zinn Education Project is excited to announce our publication of a lesson about climate refugees, written by high school students.
When WorldOregon's Young Leaders in Action wrote this activity in late 2020, two hurricanes had recently slammed into Central America's Caribbean coast. A Washington Post correspondent wrote about what she saw in San Pedro Sula, Honduras:
Blanca Costa crouched on a wooden cart with her three daughters under a highway bridge. . . . The cart was the one possession Costa was able to save when they clambered out [of their flooded house].
The three horses that pulled it, enabling her to earn money as a trash collector, were gone. It would take years, she said, to save enough to buy another one.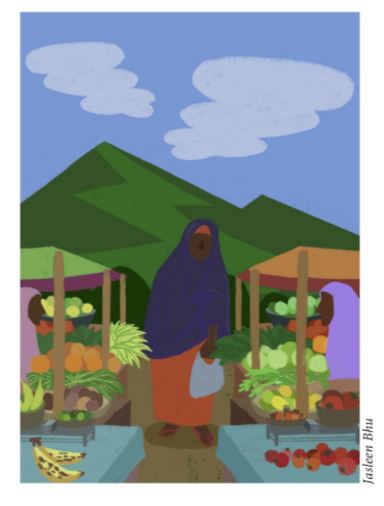 We don't know whether Blanca Costa and her family will become climate refugees, but these are the increasingly frequent kind of events that create more climate migrants daily.
This role-play illuminates climate refugees' struggles and their uphill battle to receive recognition and protection. It is based on the lives of real people.
Through the stories of six young people whose lives have been changed by the climate refugee crisis, students try to imagine what it is like for a person to have "no option except escape."
Learn More and Download Lesson
(coordinated by Rethinking Schools)
PO BOX 73038, WASHINGTON, D.C. 20056 
202-588-7205
The Labor Radio / Podcast Network Weekly Wednesday Livestream interviews labor leaders about current labor issues
 
Listen here
Labor Radio Podcast Network's Weekly Wednesday Livestream interviews labor leaders about current labor issues with rotating hosts made up of network members.
Guests for January 20, 2021 of LRPN Livestream included Joe McCartin (Kalmanovitz Initiative at Georgetown University),  Mark McDermott (Labor Activist), Marc Dann (Former Attorney General Ohio), Kurt Stand (Portside), Danny Schur (Composer/Producer)
LRPN Hosts: Chris Garlock (Union City Radio in Washington, DC); Kris LaGrange, (UCOMM Live); Joe Cadwell, (GRIT podcast); Patrick Dixon, (Labor History Today podcast), Alan Wierdak (Labor History Today podcast), Sound engineer, broadcast producer, and editing by Evan Matthew Papp of Empathy Media Lab.
Additional Guest information:
JOE MCCARTIN, on the firing of Peter Robb from the National Labor Relations Board. Joe is author of Collision Course, Ronald Reagan, the Air Traffic Controllers, and the Strike that Changed America. https://en.wikipedia.org/wiki/Joseph_A._McCartin 
MARK MCDERMOTT, a longtime economic justice and labor educator; he served as Regional Representative for the Pacific NW and northern plains states under U.S. Secretary of Labor Hilda Solis. http://www.markmmcdermott.com/ 
MARC DANN, served as Attorney General of the State of Ohio and now leads DannLaw, which specializes in protecting consumers from various forms of predatory financing. Recent column in Working-Class Perspectives: Time to Deliver: How Biden Should Respond to the Insurrection. https://workingclassstudies.wordpress.com/2021/01/18/time-to-deliver-how-biden-should-respond-to-the-insurrection/
KURT STAND, contributor to Portside, which is celebrating 20 years: Multiracial Democracy or Fascist-Like Autocracy? https://portside.org/2021-01-18/multiracial-democracy-or-fascist-autocracy
DANNY SCHUR, composer/producer of Stand! (both the 2005 hit musical and the new movie), now available for streaming. https://internationalmusician.org/danny-schur-and-stand/
Credits: Produced by Chris Garlock; Executive Producer and engineer and editor is Evan Matthew Papp from Empathy Media Lab. 
About the Labor Radio Podcast Network
The Labor Radio Podcast Network is both a one-stop shop for audiences looking for labor content and a resource for labor broadcasters and podcasters. Resources include a weekly podcast summarizing shows produced by network members, marketing on social media, a website listing network shows and how audiences can find them, a database for contacting expert guests, access to a private listserv for Network members, and a weekly video call to increase solidarity and support amongst members.
Launched in April 2020, the Labor Radio Podcast Network focuses on working class issues that are often overlooked in the corporate-controlled media. The goal of the network is to help raise the voices of working people and strengthen organized labor to demand and achieve better treatment from workplaces and elected officials.
If you are a journalist interested in learning more or if you're a labor radio or podcast producer and want to join the network, contact us at info@laborradionetwork.org.
Follow the conversation on Twitter, Facebook, and Instagram using the hashtag #LaborRadioPod or visit the website.
WEEKLY PODCAST NETWORK SUMMARY
Bernie Mittens  --  meme by Lavender Left Designs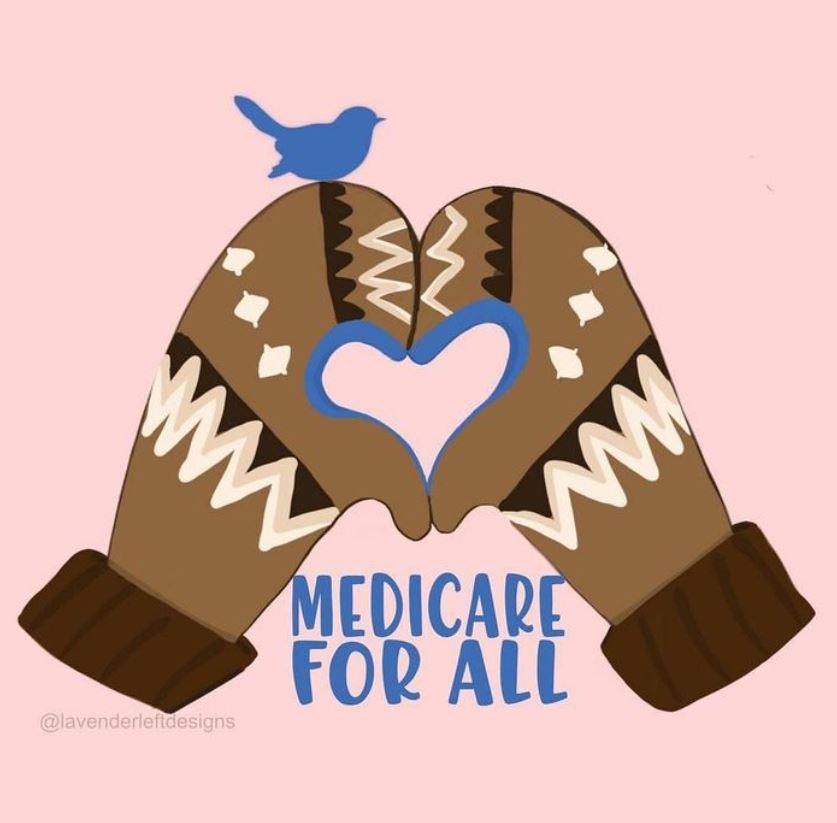 Like the rest of the world I'm smitten with the Bernie mittens, but it's the heart and hands behind the mittens that I really love. I sincerely hope that those who share the amazing Bernie memes take the time to find out about the man behind the mittens, what he fights for, and stand with us to ensure healthcare is recognized a human right
I am overwhelmed with the love and shares of my art today.
Thank you all so much! You can buy the mitten design on a mask in my Etsy shop. If you would like it on other products I sell there, just let me know. I print all of the Etsy items myself in my home. Yay small business! Each is made to order. 20% of Etsy sales this month go to the Nina Turner for Congress campaign.
I also put the image on Redbubble for anyone wanting to buy a tshirt or stickers because I don't currently make tees or waterproof stickers but so many have asked! Thank you for loving my art but more importantly, for supporting Medicare for All!
International Holocaust Remembrance Day — Poster of the Week (Center for the Study of Political Graphics)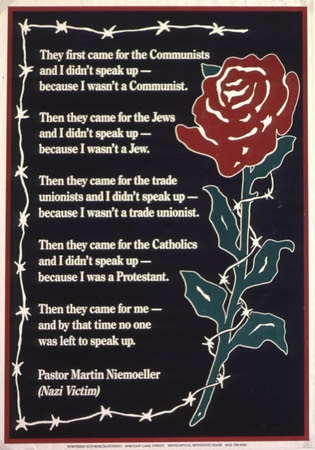 January 27, International Holocaust Remembrance Day, is the 76th anniversary of the liberation of Auschwitz, the largest and most notorious of the Nazi death camps by the Red army. 
The Nazis were defeated 76 years ago by the Soviet Union, United Kingdom, and the United States. Unfortunately, the Nazi's ideology continues to thrive. One participant in the January 6 attempted coup in Washington DC wore a t-shirt that read "Camp Auschwitz." Underneath was "Work Brings Freedom", English translation of "Arbeit macht Frei," the sign above the entrance to Auschwitz and other death and slave labor camps including Dachau and Theresienstadt.
Another home-grown neo-Nazi, wore a shirt with "6MWE." Attributed to the Proud Boys, it means "6 Million Wasn't Enough" – referring to the 6 million Jews killed during the Holocaust. These t-shirts continue to be manufactured and sold.
It is critical to deal with racism and white supremacy whenever they rear their ugly heads. It is just as critical to respond to any injustice. The text on CSPG's Poster of the Week was said by Martin Niemoeller, German theologian and pastor, after surviving Sachsenhausen and Dachau.
"We must take sides. Neutrality helps the oppressor, never the victim. Silence encourages the tormentor, never the tormented. Sometimes we must interfere. When human lives are endangered, when human dignity is in jeopardy, national borders and sensitivities become irrelevant. Wherever men and women are persecuted because of their race, religion, or political views, that place must - at that moment - become the center of the universe."
Elie Wiesel (1928-2016)
Dachau Survivor
Nobel Peace Prize winner
Center for the Study of Political Graphics
3916 Sepulveda Blvd, Suite 103
Culver City, CA 90230
There's Trouble in Kansas - Please sign a solidarity statement with the faculty of the University of Kansas
 
There's trouble in Kansas. The Board of Regents of the University of Kansas is stripping faculty of rights.
So far almost 5,500 faculty have signed a protest letter.
Please sign the solidarity letter
As colleagues, students, alumni, donors and supporters of universities in general, we stand with the faculty and staff of the University of Kansas who object to a new regents policy that suspends the procedures of shared governance, including tenure protection, in order to ease dismissals, suspensions, and terminations. The principles of shared governance and transparency exist to support free inquiry and learning in all universities. We call upon Chancellor Douglas Girod to join the leaders of other Kansas Regents universities by refusing to exercise the policy and respect the long-standing standards of the academic profession.
Add your name here - https://sites.google.com/view/kufacultydemands/solidarity-statement
The following professional organizations support KU faculty and staff in saying NO to the KBOR policy:
American Academy of Religion

 


American Association of Italian Studies

 


American Association of Teachers of Spanish and Portuguese

 


American Conference for Irish Studies

 


American Folklore Society

 


American Institute of Biological Sciences

 


American Organization of Teachers of Portuguese

 


American Philosophical Association

 


American Portuguese Studies Association

 


American Society for Environmental History

 


American Society for Ethnohistory

 


American Studies Association

 


American Theatre and Drama Society

 


Association for Asian Studies

 


Association for Jewish Studies

 


Association for Theatre in Higher Education

 


Brazilian Studies Association

 


College Art Association

 


College Language Association

 


Committee on LGBT History

 


German Studies Association

 


Labor and Working-Class History Association

 


Latin American Studies Association

 


Linguistic Society of America

 


Mid-America American Studies Association

 


Middle East Studies Association

 


Modern Language Association

 


National Communication Association

 


National Council on Public History

 


Organization of American Historians

 


Renaissance Society of America

 


Shakespeare Association of America

 


Society for Ethnomusicology

 


Society for Historians of the Early American Republic

 


Society of Architectural Historians

 


Society of Biblical Literature

 


World History Association
Help Fight Layoffs in the CUNY System - Car Caravan and Demonstration - January 30 (PSC-CUNY)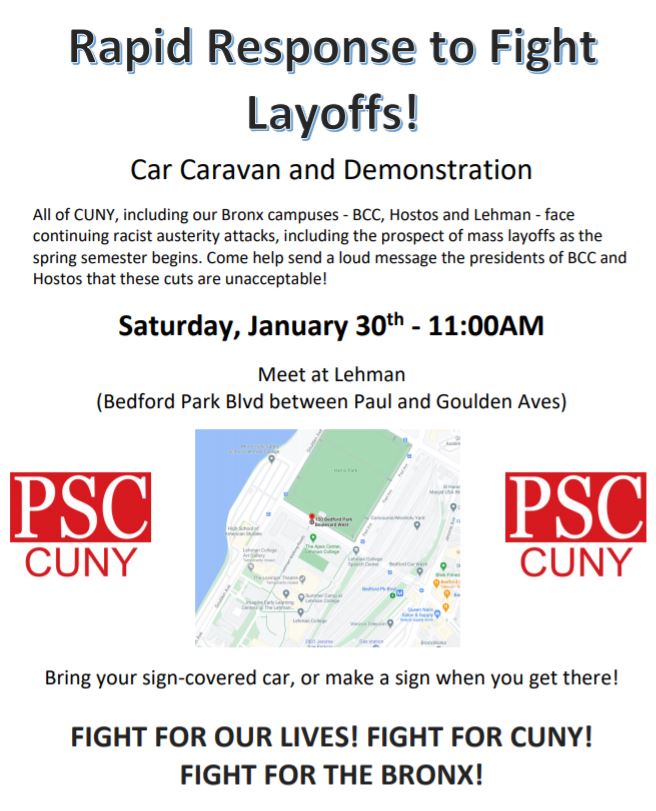 Black-Led Antiracist Unionism: The Legacy of Ben Fletcher & I.W.W. - February 4 (New York Labor History Association and the CUNY School of Labor and Urban Studies)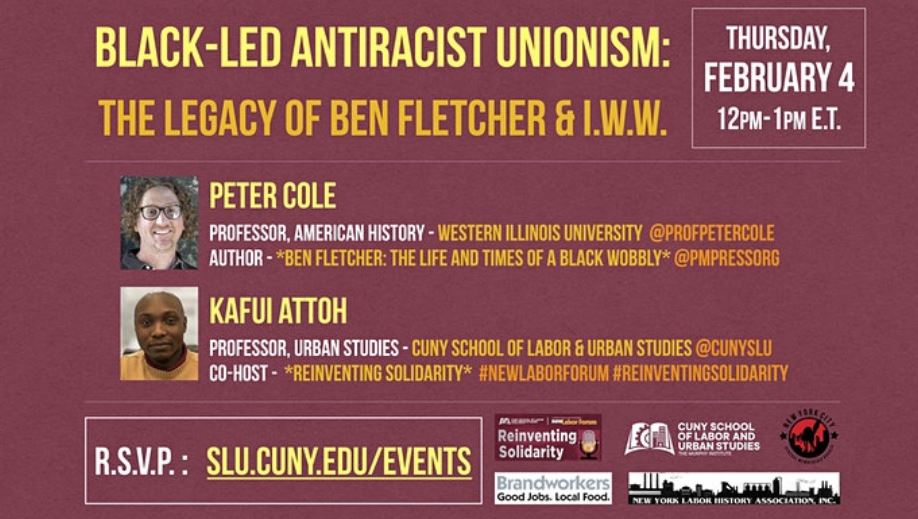 BLACK-LED ANTIRACIST UNIONISM:
The Legacy of Ben Fletcher & I.W.W.
Thursday, February 4, 2021
12pm-2pm (E.T.) * via Zoom
Join us to discuss the important history of the brilliant Black labor leader, Ben Fletcher, who revolutionized anti-racist unionizing in the early 20th century. Peter Cole is joined by Kafui Attoh of CUNY SLU to discuss the legacy of Fletcher and his union, the I.W.W. #BlackHistoryMonth #BLM
Featuring:
SPONSORED BY:
CUNY School of Labor & Urban Studies
Industrial Workers of the World - NYC
New York Labor History Association
"Reinventing Solidarity" podcast / New Labor Forum
* ZOOM link will be shared in registration confirmation email, and on the morning of the event. *
Racism and Policing In the U.S.A. - February 6 (Oakland Greens, Bay Area System Change Not Climate Change, Alameda County Peace and Freedom Party)
Connect by ZOOM with http://bit.ly/SudsSnacksRacismPolicing