Tidbits - Feb. 4, 2021 - Reader Comments: Biden and the Left; Trumpism as Fascism; Andrew Yang; Palestine Denied Vaccine; China; Myanmar; Jim Campbell, Presente; Lila Downs New Song; Reinventing Solidarity Podcasts; Radical Futures of Black History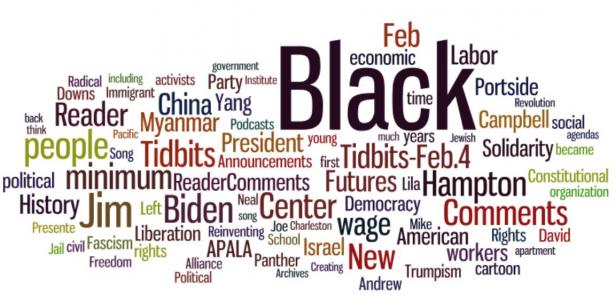 Tidbits - Reader Comments, Resources, Announcements, AND cartoons - Feb. 4, 2021,Portside
Resources:
Announcements:
Re: The Left is Positioned to Win More Under Biden Than Any President in Decades
We are all floating in a sea of distracting news and misinformation, and it's important to keep our bearings. This article - https://portside.org/2021-01-28/left-positioned-win-more-under-biden-an… -highlights the possibilities for realizing an agenda that meets the needs of working families. I hope you find time to read it, and find it helpful and encouraging in navigating this tumultuous period. Peace,
Len Polletta
     =====
Overly optimistic and seems virtually to ignore this country's longterm disastrous bipartisan inclination towards bellicose interventionism, not to mention hybrid wars.   Ignoring US imperialism /hegemonism is a recipe for failure.
Tom Gogan
Support for pro-Trump Republicans remains driven by relatively well-off whites in fast-growing, rapidly diversifying suburbs—not by economic despair in rural America.
Kentucky Alliance Against Racist and Political Repression
Posted on Portside's Facebook page
     =====
The *real* "Deplorables."
Eleanor Roosevelt
Posted on Portside's Facebook page
     =====
So, if I read this right, a great tactic to beat those turkeys with progressive Democrats in 2022 is simply to increase participation in their districts. That is, do it like Georgia!
Ted Cloak
Grand Old Party Gets Brand New Face  --  cartoon by Lalo Alcaraz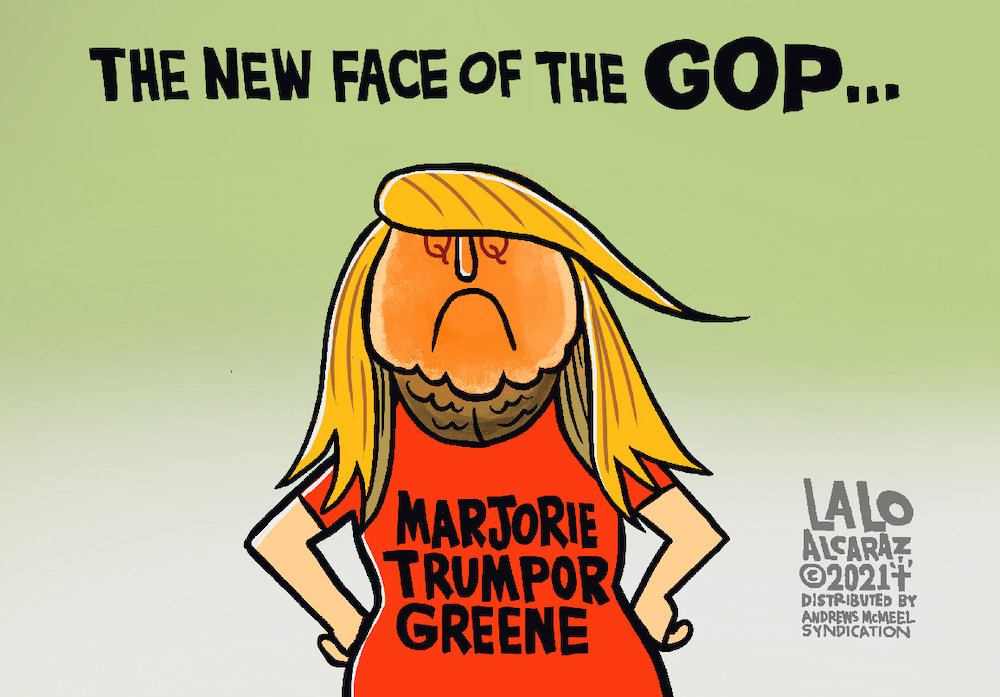 Lalo Alcaraz
February 3, 2021
Pocho.com
Re: The Right Normalizes Fascism. The Best Response: Normalize It Back
Most recently, when right-wing mobs attacked the Capitol on January 6, once again people shouted "fascism!" Then, when the immediate threat died down, they prayed that perhaps this time, now that Joe Biden is president, things will go back to normal.
Normal? Such a reaction misses the major political development of the time: the normalization of fascism. For years now, the political right has been doing everything to make fascism unexceptional, imaginable, and part of everyday life.
Dave Lott
Posted on Portside's Facebook page
     =====
This is so important. People please take note!
Rachel ORourke
Posted on Portside's Facebook page
     =====
I am curious as to how Portside recommends reacting to the 'fringe" element of fascism represented by Q-anon. I watch Taylor-Greene become the new Trump, on whom everyone focuses and reacts to and wonder if you can address the best way to deal with the phenomenon of people who would have been labeled "crazy" as opposed to "fascist" should be dealt with by concerned citizens.
Susan Raycraft,
A grateful reader
Re: Our System Is Rigged So the Minority Can Rule
Somehow the crucial role of money in making a mockery of democracy has not been mentioned.
Joseph Kaye
     =====
The fix is in — and the results are ruinous. Today, Senate Republican leader Mitch McConnell is refusing to agree to rules to govern the Senate unless Democrats agree to sustain the filibuster. The filibuster — the requirement that virtually any legislation receive not a majority of the vote but a supermajority of 60 votes — is the instrument McConnell used to obstruct virtually everything President Obama sought to do, with the stated purpose of making him a one-term president. The result is a Senate that is frozen in the midst of cumulating crises. Even Joe Biden's pandemic emergency rescue package is stalled. America becomes more and more dysfunctional as it becomes less and less democratic.
David
Posted on Portside's Facebook page
Re: 'The Most Basic Form of PPE': 1.6 Million Households Face Water Shutoffs
Water is so important to everyone.
Judith Nicholson
Posted on Portside's Facebook page
Re: NYC Mayoral Candidate Andrew Yang Blasted for Comparing BDS to 'Fascist Boycotts'
Opposing the policies of the Netanyahu government is not anti-Semitic. Most American Jews, in fact, oppose them. Expressing opposition with a boycott is not anti-Semitic either. Anti-Apartheid maybe, not anti-Semitic. BTW... I'm Jewish and proud of it. Not proud at all of the Netanyahu regime and why isn't the despicable crook on trial yet? It's been hanging over him for how long now?
Felice Sage
Posted on Portside's Facebook page
     =====
Deservedly~ He should compare it to lettuce and grape boycotts, boycotts of South African imports, etc. He is misguided.
Georgia Wever
Posted on Portside's Facebook page
     =====
More like guided by politics. It's NYC, after all, with a large contingent of Jewish people, including a significant number of those who staunchly support Israel no matter what, especially the ultra-orthodox. Of course he's not going to get the ultra-orthodox vote in any case. They've gone Trumpist over Israel.
Felice Sage
Posted on Portside's Facebook page
     =====
"It does not target Jewish owned companies, or any company, in the United States or elsewhere that does not have links to Israel"-- but it does target Jewish owned businesses from Israel while exempting non-Jewish owned businesses from Israel. By explicitly distinguishing between Jews and non-Jews for a boycott BDS does sometimes resemble Arab and fascist "don't buy from Jews" boycott campaigns.
Stan Nadel
     =====
Once a neoliberal war mongering libertarian, always a neoliberal war mongering libertarian. Yang is a poser looking for gratification. But hey, isn't that the definition of a politician? Yang couldn't even come up with a viable original proposal for UBI and had to adopt Milton Friedman's capitalist version instead of the people- and worker-friendly versions offered by Thomas Paine, Henry George, Martin Luther King, Jr. or Yanis Varoufakis.
Alan Gregory Wonderwheel
Posted on Portside's Facebook page
Bygones  --  cartoon by Rob Rogers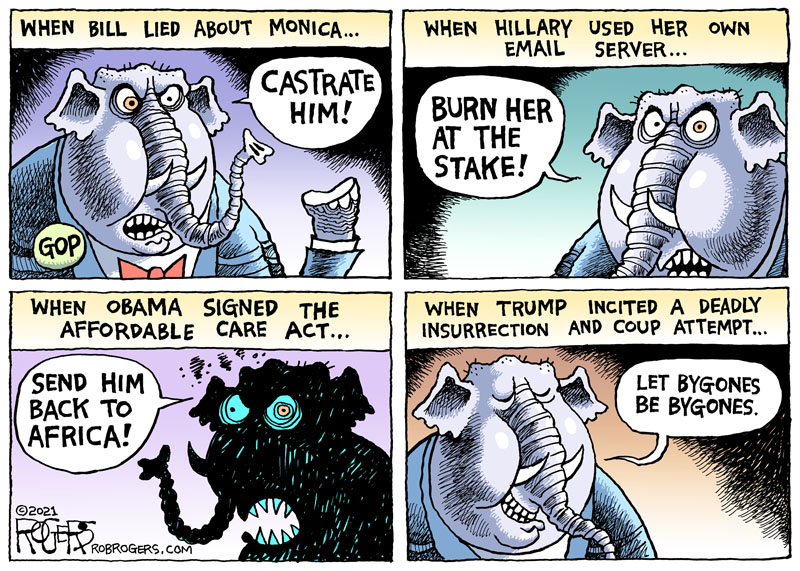 Rob Rogers
February 4, 2021
robrogers.com
Re: Proud Boys Hate Group Leader Enrique Tarrio Was "Prolific" FBI/Police Informant
Eager compliance and equally eager defiance are both features of vulnerability to authoritarianism, a vulnerability likely initially acquired in childhood and supported and further developed in the context of this culture of inequality.
Joe Maizlish, Los Angeles
That's Not All, Folks  --  cartoon by Mike Luckovich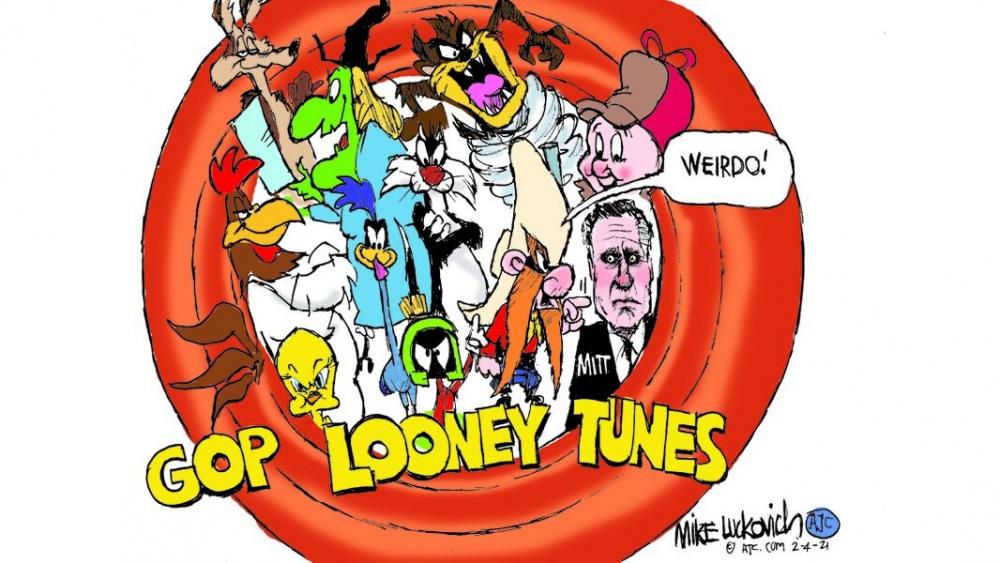 Mike Luckovich
February 4, 2021
Atlanta Journal-Constitution
Re: Fears Grow that Efforts to Combat US Domestic Terrorism Can Hurt Minorities
This is a real fear.
Richard Lee Deaton
Posted on Portside's Facebook page
Re: Rep. Jamaal Bowman Calls On Israel to Vaccinate Occupied Palestinians Against Coronavirus
Thank you, Mr. Wilkins for writing this article.  Rep. Bowman has courage in confronting Palestinian anti-bias. I voted for him once and I'll do it again and again.
Mary Jo Robertiello
Re: Who's Afraid of the Lower Birth Rate?
No babies? Not enough kids to fill classrooms. So, I guess the first answer would be teachers. Or maybe just keep the teachers in smaller classrooms so children can learn without so much disruption.
Timothy Page
Posted on Portside's Facebook page
Re: Fighting the "Immigrant Threat" Narrative; a Review of Immigrant Labor and the New Precariat
'Ruth Milkman's latest book is a strong scholarly response to the "immigrant threat" narrative that has been central to U.S. politics in the last decades.'
- a review of 'Immigrant Labor and the New Precariat' in Portside https://portside.org/2021-01-26/fighting-immigrant-threat-narrative-rev…
Posted on Portside's Facebook page
(posting on Portside Culture)
    "Dean Spade has written an accessible primer with practical tips for people who want to start mutual aid projects or who are already in them and want to see them flourish."
Zvi Baranoff
Posted on Portside's Facebook page
Re: China: An Activist's Ordeal
(posting on Global Left Midweek - February 3, 2021)
I live in Beijing (twenty years plus, speak the language  fairly decently because I'm  married to a local woman who can't be bothered to speak English). I can sympathize with the fear felt by this young lady, Li Qiao Qu.
I was arrested once when I first came to China. It was my own fault, I'd been working illegally without realizing it, but it was scary to be dragged down to some nondescript police station in the downtown area, made to sign a confession and have my passport confiscated. I was angry at the time, but truth is, I was in the wrong. I should have read my contract.  
Yes, the security services in China can be scary, but let me remind you what would have happened to this young lady if she'd lived in China before the Revolution and protested the Guo Min Dang government-she'd have been left tortured to death in a ditch as were thousands, perhaps hundred of thousands of Communists. Also, let me remind you that like many other countries and many much less able to defend themselves as opposed to modern China, Chinese society has also been subject to waves of 'influence' from outside agencies and NGOs, most of which are funded by monies from the US. These funders pretend to have China's best interests in mind, but if you believe that, I have a bridge I can sell you. You know what I mean. 
If I were a Chinese citizen attempting to have positive effect on this society, I'd do it through the Party, which with 80 million members is obviously not monolithic, and if you think otherwise, you don't at all understand the Chinese.
Stay safe,
Mike Liston
     =====
"If you think this is bad, think about before 1949" does not address the dilemma of a woman who was born long after the triumph of the revolution.
The CPC fights for a modernized China with a rising living standard and a strong international economic presence. It is no great revelation to suggest the PRC is lacking in democratic rights, for any number of historical reasons, not least the justified fear of encroachment and subversion by foreign imperialists, mainly the US. Nor is suggesting this, somehow saying the US is some kind of paragon of freedom. 
But the CPC, however non-monolithic, is not in the human rights business. To suggest that Li Qiaochu would find a means to push for human rights via the party would require a mountain of evidence to counter the depiction of China today presented by a broad range of observers.
Global Left Midweek offers news and analysis about the left, defined broadly. It's a great advance for humanity that the CPC replaced the GMD. Does that make Li less a part of the left because she's not in the party? Does that make her a criminal, or a foreign agent? Asking the questions raises many more about the CPC's standards than Li's.
Ethan Young, GLM moderator
APALA Condemns Myanmar's Military for Their Use of Violence to Undermine Democracy (Asian Pacific American Labor Alliance (APALA))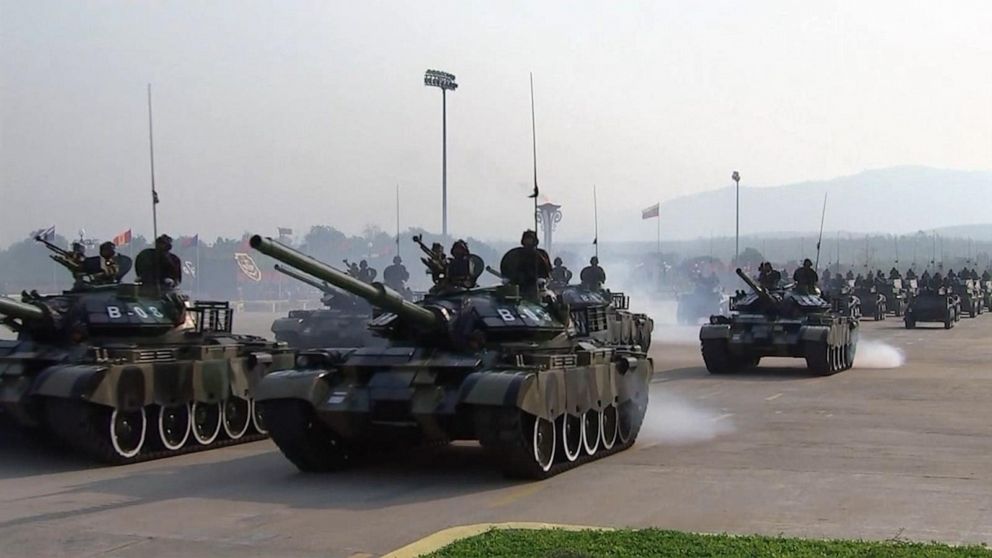 As a labor organization that represents AAPI workers across the nation, including Burmese workers, APALA condemns Myanmar's military for their use of force and violence to undermine democracy and target labor leaders.
On February 1st, the Myanmar military detained elected top government officials, including State Counsellor Aung San Suu Kyi and other leaders of the National League for Democracy (NLD), the party that won the majority of the seats during the November elections. The military then declared a year-long state of emergency, installing Vice-President and former lieutenant-general Myint Swe as the acting President, who immediately handed over power to the commander-in-chief, Senior General Min Aung Hlaing. They are justifying their actions through referencing the 2008 constitution and calling the elections rigged. 
Internet connections and phone lines throughout the country have been disrupted and disconnected altogether, soldiers patrol the streets of Yangon, pro-democracy activists have been arbitrarily arrested, with incoming reports of increased detentions. There is rising fear of lethal violence to come.  
APALA Texas Chapter Leader and SIU Appointee Shwe Aung states, "I am worried about my union siblings in Burma. Here in the US, we feared former President Trump and his supporters would undermine the elections and take over by force, and that is what is happening in Burma right now. We cannot trust the information they are spreading. We must organize to uplift people on the ground. I will be trying my best to stay connected with the people of Myanmar and relay that information." 
APALA Organizing and Civic Engagement Fellow and Michigan Chapter member Dim Mang states, "As a Chin person, I see the military's actions as one in a long line of oppression and blatant overturning of the will of the people of Burma. This is an issue of ethnic solidarity as well, because though the detained NLD members and other activists should be released, we must not forget about the decades of armed conflict and human rights abuses before this coup - a lot of which the NLD abetted as well. As an organizer based in the United States, I think this issue really does fall into a bigger picture of global solidarity against militarization and in advocacy of self-determination."
Follow US Campaign for Burma for more updates on Facebook (@uscampaignforburma), Instagram (us.campaign.for.burma), and Twitter (USCB).
The Asian Pacific American Labor Alliance (APALA), AFL-CIO was founded in 1992 as the first and only national organization for Asian American and Pacific Islander (AAPI) union members to advance worker, immigrant and civil rights. Learn more at www.apalanet.org. Renew or become a member here.
The Post and Courier (Charleston, SC)
By Mark Solomon, Pat Fry, Anne Mitchell
February 3, 2021
Committees of Correspondence for Democracy and Socialism
Jim Campbell – educator, mentor, socialist, activist and intellectual – passed away January 30, 2021 at the age of 95. Members of the Committees of Correspondence for Democracy and Socialism, an organization to which Jim devoted much energy over three decades as a national co-chair and organizer, mourn his loss and celebrate his life.
A son of the South, Jim came from a prominent Charleston, South Carolina family whose ancestors were enslaved Africans. He became a Montford Point Marine during WWII after giving up on the Air Corps due to racial segregation. Jim moved to New York City in 1957 seeking a career in acting. He was active in community theatre, and was the source of his distinctive voice and projection.
He later began work as a teacher and then administrator in the New York City public school system during the period of community control of schools. Later he became Vice Principal of the Bank Street School. He retired in 1991 and moved back to his hometown of Charleston where he soon became a well-known social activist and mentor to young people in labor and civil rights struggles.
Jim's teaching career included 9 years in Tanzania where he taught English and observed the residue of colonialism. He joined in the efforts of the Julius Nyerere government in transforming Tanzania to a socialist society.
As a teacher at the Carl Bloice Institute for Socialist Education over the past few years, Jim held sway over young activists who said they could not get enough of hearing and learning from him during the course of weekend long seminars on social justice theory and practice.
Over a lifetime of activism, Jim worked alongside some of the most prominent political figures of the 20th century which displayed Jim's broad approach to politics and collaboration. They included civil rights strategist Jack O'Dell with whom he shared an apartment in Harlem, Malcolm X with whom he had a close relationship, Bayard Rustin who was an organizer of the 1963 March on Washington, Fannie Lou Hamer whom he housed during the time she testified before the Democratic National Convention's Credentials Committee about the near death beating she received in a Mississippi jail cell for registering Black people to vote, and Bob Moses whom he worked with on the Algebra Project that used math literacy as an organizing tool to guarantee quality public education. He was a contributing editor of Freedomways, the leading political journal of the mid 20th century with writings by African American political and cultural giants such as W.E.B. and Shirley Graham DuBois who were early supporters and founding spirits.
The past 30 years in Charleston since retiring were filled with efforts to support organizing struggles of the longshoreman's union, and as a leader of the local branch of the NAACP. He became deeply involved in bioethics, serving as an outside voice on medical ethics at the University of Virginia Medical School, and was a strong voice in ending discriminatory practices against Black women.
He spearheaded a study circle of CCDS activists and friends on the Democracy Charter, a project of civil rights strategist Jack O'Dell, using as a framework the book, Climbin' Jacob's Ladder: The Black Freedom Movement Writings of Jack O'Dell, edited by Nikhil Pal Singh. The study resulted in an educational booklet published by CCDS, The Struggle for a Substantive Democracy: An Organizing Framework and Study Guide for Activists.  
Jim's papers are archived at the Avery Research Center for African American History and Culture in Charleston. Last year, the Avery Center awarded the James Campbell Student Leadership Scholarship to several young people, a recognition of Jim's strong force and influence with youth, his resolute and unwavering devotion to education and social justice.
The family will hold a memorial July 31, 2021.
Lila Downs, Beautiful New Song To Essential Workers (David Bacon)
Iconic Grammy and Latin Grammy Award winning singer Lila Downs is one of the most singular and powerful voices, whose compelling stage presence and poignant storytelling transcend all language barriers.
Raised in Oaxaca and Minnesota, Lila's exquisite artistry bridges traditions from across the Americas, with influences ranging from the folk and ranchera music of Mexico and South America to North American folk, jazz, blues and hip-hop.
As a passionate human rights activist, Lila's lyrics often highlight issues relating to social justice, sharing stories that too often go untold.
Dark Eyes, a new song, has a powerful and honest message to support the essential workers that have been risking their lives for others.  It is a song that defines courage and humanity above everything, and that seeks for hope in these uncertain times.
The song benefits the Binational Center for the Development of Oaxacan Indigenous Communities (CBDIO), a non-profit organization created by the Indigenous Front of Binational Organizations (FIOB). 
Since their foundation, FIOB and CBDIO have made known the presence and existence of indigenous migrant communities, emphasizing the economic, work and cultural contributions indigenous migrants make to this country.
The lyric video that accompanies the song features photographs of essential workers taken by David Bacon, Martin Escamilla and Jennifer Pochat.
To listen to this song, dedicated to the essential workers who have kept us safe, click here.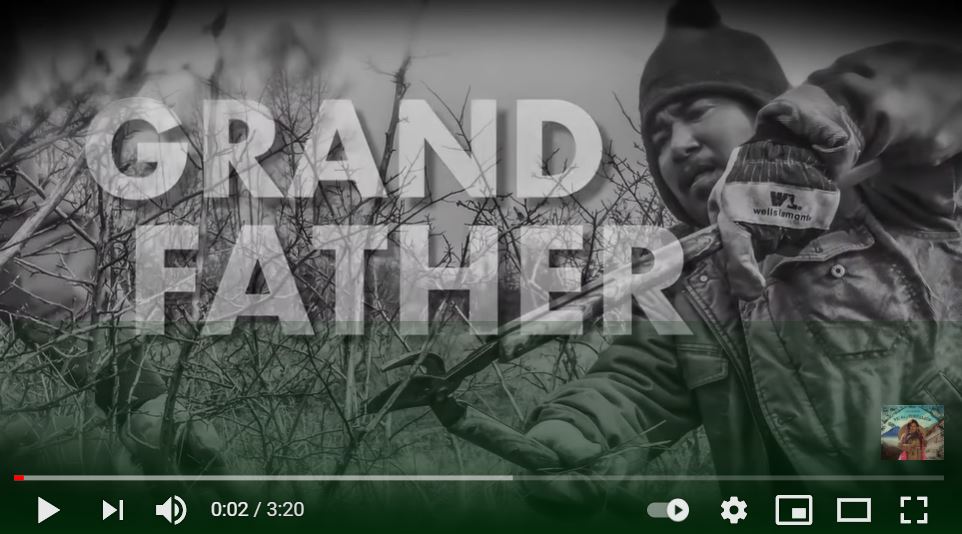 Listen here
David Bacon Photographs and Stories
Reinventing Solidarity Podcasts (CUNY School of Labor and Urban Studies)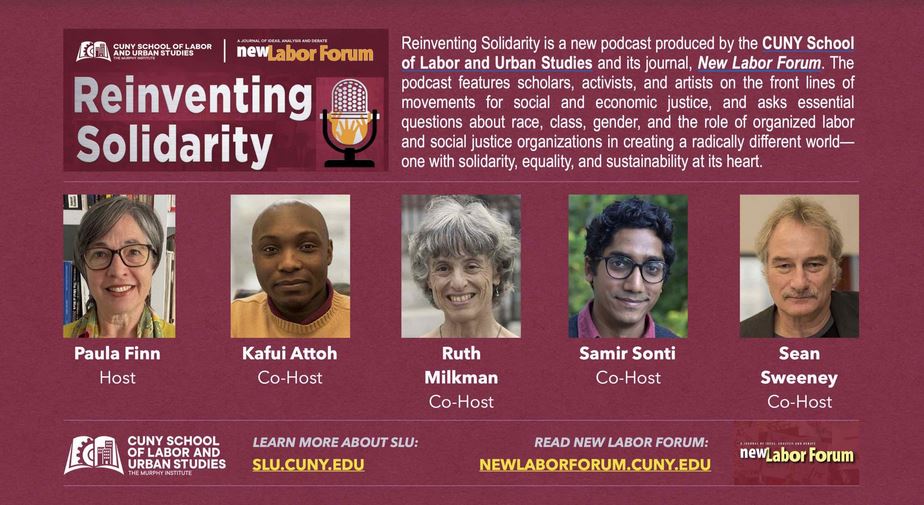 In this latest episode, Professor Deepak Bhargava speaks to Judith Browne Dianis, Executive Director of the Advancement Project, and Dorian Warren, President of Community Change, about progressive priorities for the first 100 days of the Biden administration. They discuss top legislative priorities and movement organizing strategies necessary to achieve consequential legislation and executive action.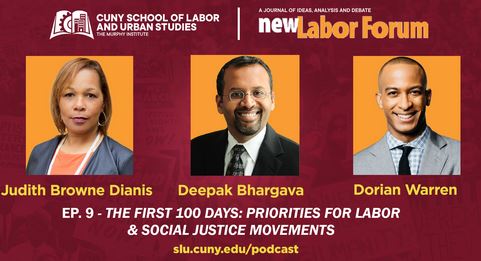 Listen here
CUNY School of Labor and Urban Studies
25 West 43rd Street, 19th Floor
New York, NY 10036
(646) 313-8300
Who benefits from a higher minimum wage? Not who you think (Economic Policy Institute)
President Biden and congressional Democrats want a COVID relief package that addresses the true economic damage done by the pandemic, and that sets us on better economic footing for generations to come—including raising the federal minimum to $15 an hour.
But, on Monday, President Biden met with 10 Republican Senators who are proposing their own, much smaller COVID relief package—just one-third the size of President Biden's proposal—which excludes critical provisions and omits the much-needed boost to the minimum wage.[1]
This is not a time to pull back the reins on economic stimulus and pandemic relief. Let's use the momentum we have to raise the federal minimum wage—which has remained stagnant at $7.25 an hour since 2009.
Too often, people brush aside the importance of a higher minimum wage due in part to the misconception that it's just teens in their first jobs making minimum wage.
Here's the reality: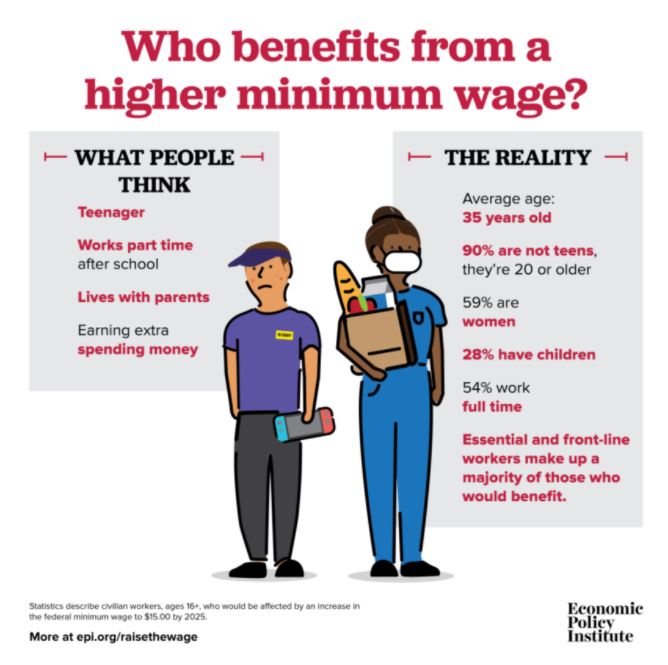 This infographic makes clear that contrary to what some believe, nearly 3 in 10 minimum wage earners have children; minimum wage earners average 35 years old; and more than half are front line and essential workers.
The Raise the Wage Act of 2021, introduced in the U.S. House and Senate last week, would gradually raise the federal minimum wage to $15 an hour by 2025. EPI research shows that raising the minimum wage would lift the pay of nearly 32 million workers across the country—21% of the U.S. workforce!
[1] https://www.cnn.com/2021/02/01/politics/stimulus-plans-biden-gop-comparison/index.html
1225 Eye St. NW, Suite 600
Washington, DC 20005
Phone: 202-775-8810 • epi@epi.org
You Can't Jail the Revolution! — Poster of the Week (Center for the Study of Political Graphics)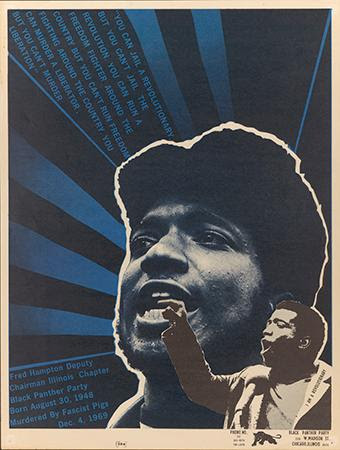 Poster text:
"You Can Jail A Revolutionary But You Can't Jail The Revolution. You Can Run A Freedom Fighter Around The Country But You Can't Run Freedom Fighting Around The Country. You Can Murder A Liberator, But You Can't Murder Liberation" 
— Fred Hampton Deputy Chairman Illinois Chapter Black Panther Party
Born August 30, 1948 Murdered By Fascist Pigs Dec. 4, 1969 
I Am A Revolutionary Black Panther Party
2350 W. Madison St. Chicago, Illinois 60612 
Phone No. 312 243-8276, 738-0778 209
Born in Illinois, Fred Hampton (1948 -1969) was a student leader in high school and an activist with the National Association for the Advancement of Colored People (NAACP). In 1968, he joined the Chicago chapter of the Black Panther Party, and quickly became the Illinois State Chair of the organization. Hampton organized weekly rallies, taught political education classes, attended the Breakfast for Children program daily, and helped establish the Free People's Clinic on Chicago's West Side. 
Fearing Hampton's eloquence and organizational ability to spread the Panther's message, the FBI and Chicago police planned his assassination. They offered a plea deal to William O'Neal if he would infiltrate the BPP, become close to Hampton, and report back. O'Neal provided a floor plan of Hampton's apartment (see below). O'Neal also gave Hampton a drugged hot chocolate before he went to bed on December 3rd to ensure he wouldn't wake up. 
At 4:30 a.m. on December 4, 1969, the FBI raided the apartment, killing Hampton as he slept, and Panther Mark Clark, and wounding four others. Although a coroner's jury ruled in 1970 that the deaths were justifiable homicides, a civil lawsuit was later filed on behalf of the survivors and the relatives of Hampton and Clark. In 1982, a settlement of $1.85 million was reached with the City of Chicago, Cook County, and the federal government, each paying a third to a group of nine plaintiffs.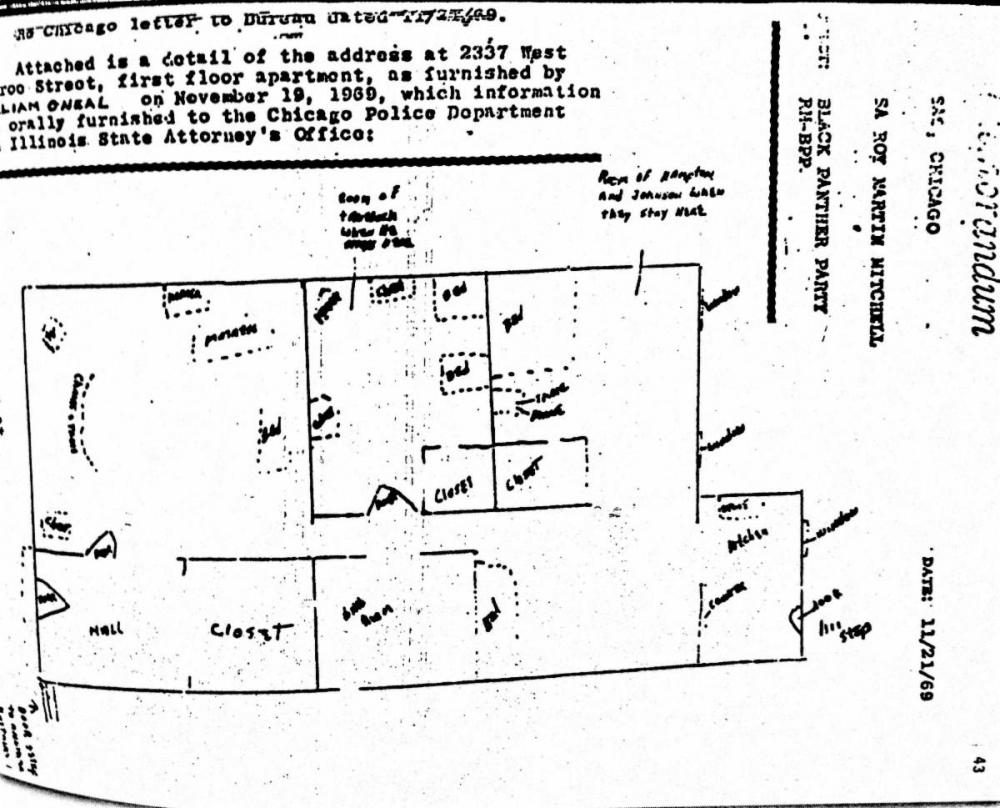 Resources:
"The Murder of Fred Hampton" is a powerful 1971 documentary. Its footage was later used to challenge police testimony about the events. "Judas and the Black Messiah" is a 2021 feature film about Hampton and O'Neal. But be very wary of learning history from feature films. Dramatic license often trumps truth.
Center for the Study of Political Graphics
3916 Sepulveda Blvd, Suite 103
Culver City, CA 90230
cspg@politicalgraphics.org
The Radical Futures of Black History (Center for Constitutional Rights)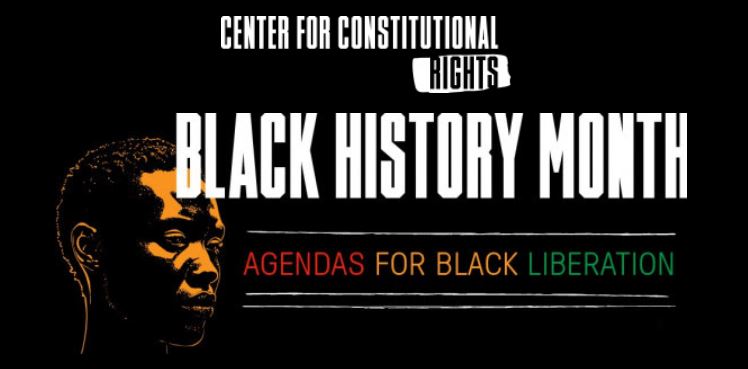 To honor Black history is to celebrate Black futures and the radical imaginings of our ancestors. Generations of Black freedom fighters have put forward liberatory political, social, and economic platforms, and Black artists have charted a future where Black people live abundant, healthy, safe, and joy-filled lives. Recognizing in 2021 an unprecedented opening to advance visionary, affirmative, Black-centered agendas, we recognize Black History Month by revisiting the agendas for Black liberation that have grounded and guided our work.
During Black History Month 2021, we will elevate the powerful history of agendas for Black liberation — domestically and globally. We will also call on you to deepen your engagement and strengthen our collective commitment to realizing Black futures as we build a liberated world. 
Stay tuned and join us all month for discussions with activists and cultural workers, a film screening, and a Black liberation archive that will uplift the stories of those who inspired the Center for Constitutional Rights' work along with our historic movement partners in the Black freedom struggle.
WEEK I
A Legacy of Irresistible Black Futures
A statement from the Center for Constitutional Rights.
Black Liberation Archives
A look at the legacy of generations of Black freedom fighters
Creating Black Futures
A call to action for visionary futures
WEEK II 
The Activist Files Podcast
The Breathe Act: A love letter for policy
Black Liberation Archives
Creating Black Futures
WEEK III
A Freedom Flicks Freedom Flicks Event
Agendas for Black Liberation: Past, Present, Future(s)
Black Liberation Archives
Creating Black Futures
WEEK IV
Art for Black Liberation
A celebration of art, expressions, and creations advancing agendas for Black liberation.
Black Liberation Archives
Creating Black Futures
The Center for Constitutional Rights stands with social justice movements and communities under threat—fusing litigation, advocacy, and narrative shifting to dismantle systems of oppression regardless of the risk.
Center for Constitutional Rights
666 Broadway
7th Floor
New York, NY 10012
Main: 212-614-6464
Fax: 212-614-6499