Tidbits - Mar. 18, 2021 - Reader Comments: Stop Anti-Asian Violence; PRO Act; Filibuster; GOP Pushes More Voter Restrictions; Fukushima; Religion and Anti-Vietnam War Movement; Right-Wing Populism; lots of announcements and Zoom events; more....
Tidbits - Reader Comments, Resources, Announcements, AND cartoons - Mar. 18, 2021,Portside
Resources:
Announcements:
APALA Grieves for the Asian Women Who Were Victims of Targeted Shootings in Georgia, and Condemns Misogyny and White Supremacy that Motivated These Murders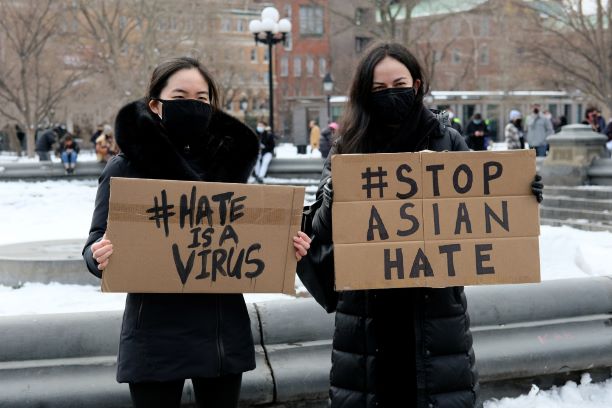 For Immediate Release: March 17, 2021
Contact: Michelle Loo, michelle@apalanet.org 
APALA Grieves for the Asian Women Who Were Victims of Targeted Shootings in Georgia, and Condemns Misogyny and White Supremacy that Motivated These Murders
Washington, DC - Last night, eight people were murdered at three spas in Georgia, many of whom were Asian and immigrant women that were targeted at their workplaces. These killings happened amidst a global pandemic that has revealed the vulnerability most workers face in America and brought to the forefront anti-Asian racism, both of which are critical to maintaining white supremacy. These murders show how both racism and sexism shapes the specific ways that Asian women experience violence; Asian women are fetishized as sex objects and perceived as deserving of violence. Such dehumanization goes back to more than a century ago when the Page Act of 1875 defined all Asian women as sexually deviant and therefore limited their mobility and freedom. These murders were also driven by the demonization of China, where institutions from all sides are blaming a whole nation of people, and thus all people racialized in the same way, for everything from the COVID-19 pandemic to the resulting failing economy. 
Monica Thammarath, President of the Asian Pacific American Alliance, AFL-CIO stated, "We grieve for the eight workers who were killed in Atlanta. We take a moment to acknowledge that many of them were the aunties and immigrant women in our communities who face immense barriers to finding work and supporting their families. We also should not overlook the fact that these were Asian and Asian American women working in industries with few worker protections and oversight. It is misogyny and white supremacy that both empower white nationalists to acts of violence, and policymakers to exclude workers from protections when they are in industries disproportionately represented by women and immigrants. We will hold the women and their coworkers and their grieving loved ones in our hearts as we continue to fight for our communities." 
Building safety starts in our local communities. Check out the #WeKeepUsSafe: APALA's Resource Guide on Anti-Asian Violence to learn more about how we can work together in the face of violence. We can learn so much from our Black and brown siblings on how we can build community safety without calling for more systems that perpetuate violence towards women, immigrants, Black people, disabled people, and others in our communities. 
We echo the calls of our siblings at Advancing Justice Atlanta, "During this time of crisis for our AAPI community, we call on our local and state government to provide robust and responsive crisis intervention resources, including in-language support for mental health, legal, employment, and immigration services. It is time for Georgia to invest in transformative justice that begins with cross racial dialogue and community-building that address the root causes of violence and hate."
The Asian Pacific American Labor Alliance (APALA), AFL-CIO was founded in 1992 as the first and only national organization for Asian American and Pacific Islander (AAPI) union members to advance worker, immigrant and civil rights. Learn more at www.apalanet.org. Renew or become a member here.
'Bad Day' in Georgia  --  cartoon by Lalo Alcaraz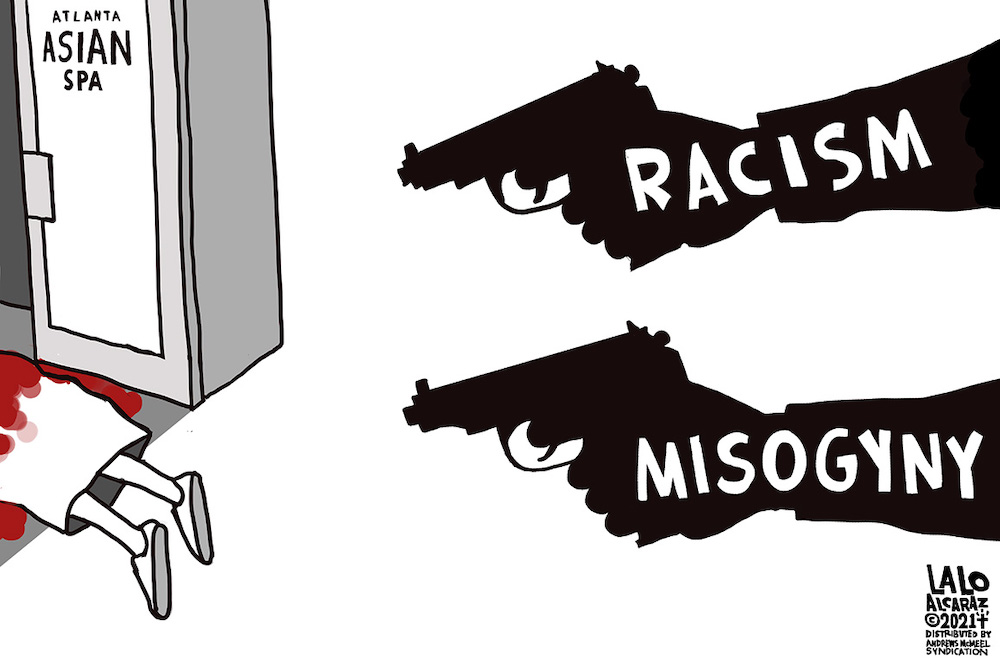 Lalo Alcaraz
March 18, 2021
Pocho.com
(posting on Portside Labor)
 
Olivia Paschal's article, "The PRO Act" is so timely.   The picture included,  of Winston-Salem workers back in the 1940's, shows the militancy and anti-racist cohesion fostered by the FTA union.
The McCarthy period saw the smashing of this union.  What later came about was the merging of the progressive Bakery Workers and right-wing opponents (TWIU)…This history must be told, or it will be repeated…Actually, as a union shop steward and delegate to Greater Louisville Central Labor Council—I saw it repeated.
Ira Grupper, retiree
Local 16T, Bakery, Confectionary, Tobacco and Grainmillers
Louisville KY
Re: Stacey Abrams' Plan to Dismantle the Filibuster and Protect Voting Rights
 
Have you seen this article bout Norm Ornstein's proposal to revise the filibuster, going back to its original intent to require at least two-fifths of the full Senate, or 40 senators, to keep debating instead requiring 60 to end debate.
"The burden would fall to the minority, who'd have to be prepared for several votes, potentially over several days and nights, including weekends and all-night sessions, and if only once they couldn't muster 40 — the equivalent of cloture — debate would end, making way for a vote on final passage of the bill in question."
Democrats can't kill the filibuster. But they can gut it.
Three reforms Manchin and Sinema might consider
By Norman Ornstein
March 2, 2021
Washington Post
Paul Molloy
Posted on Portside's Facebook page
     =====
The House Rules Committee determines the rules under which a piece of legislation is considered on the floor and voted upon.  Why cannot a Senate rules committee make similar determinations, including whether the filibuster applies to any particular piece of legislation?  PL
Paul Lauter
     =====
insurrection supported by many US senators should be more than enough to persuade the rest of them to kill the filibuster which was created to serve the same seditious purpose as their vote to overturn the election was. Both born to support slavery and Jim Crow, both long overdue to be dead and buried,
Judith Halprin
Posted on Portside's Facebook page
GOP Outrage and COVID Relief  --  Bill Bramhall cartoon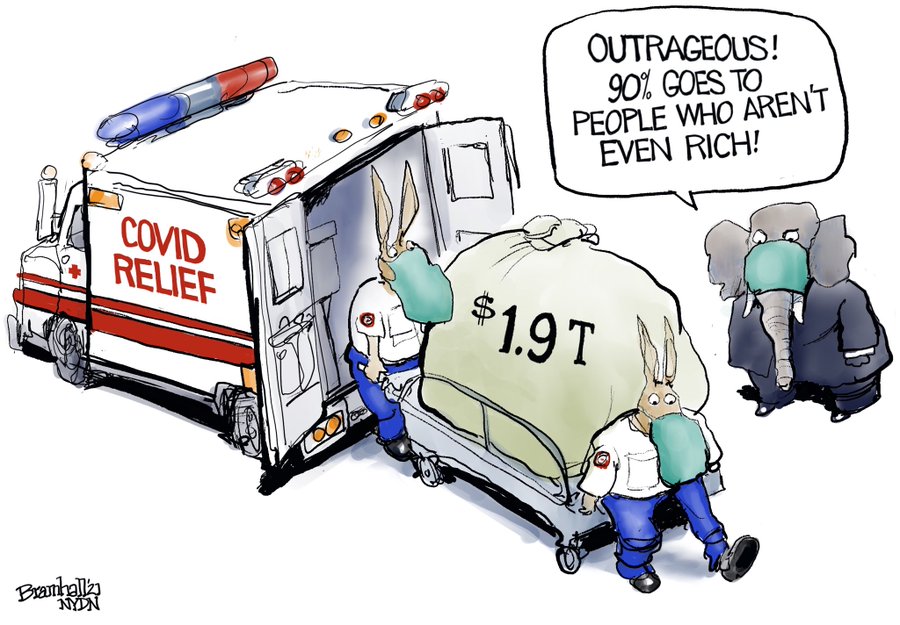 Bill Bramhall
March 10, 2021
New York Daily News
Re: Georgia Republicans Pass the Most Restrictive Voting Laws Since Jim Crow
 
Most republican losers are used to cheating to win. They generally solicit foreign help, but voter suppression has worked for decades.
Gary Robinson
Posted on Portside's Facebook page
Re: Killings by Police Declined after Black Lives Matter Protests
 
An important study - protests make a difference.
Alan H McGowan
Posted on Portside's Facebook page
Re: Building or Unbuilding America?
 
The article just touches on the fact that there has been no real infrastructure plan from not only Trump but Obama.  Why?  It deserves more analysis.  The advantages are obvious and it seems as if industry would jump for joy.  Is the only reason that nothing happens is political gridlock?  Must be something more.
Joe Keffer
Re: Sanders Bill Would Hike Taxes on Big Corporations That Pay CEOs Over 50 Times More Than Median Worker
 
This is so badly needed!
Gina Klein
Posted on Portside's Facebook page
Socialism vs. Capitalism  --  cartoon by Mike Stanfill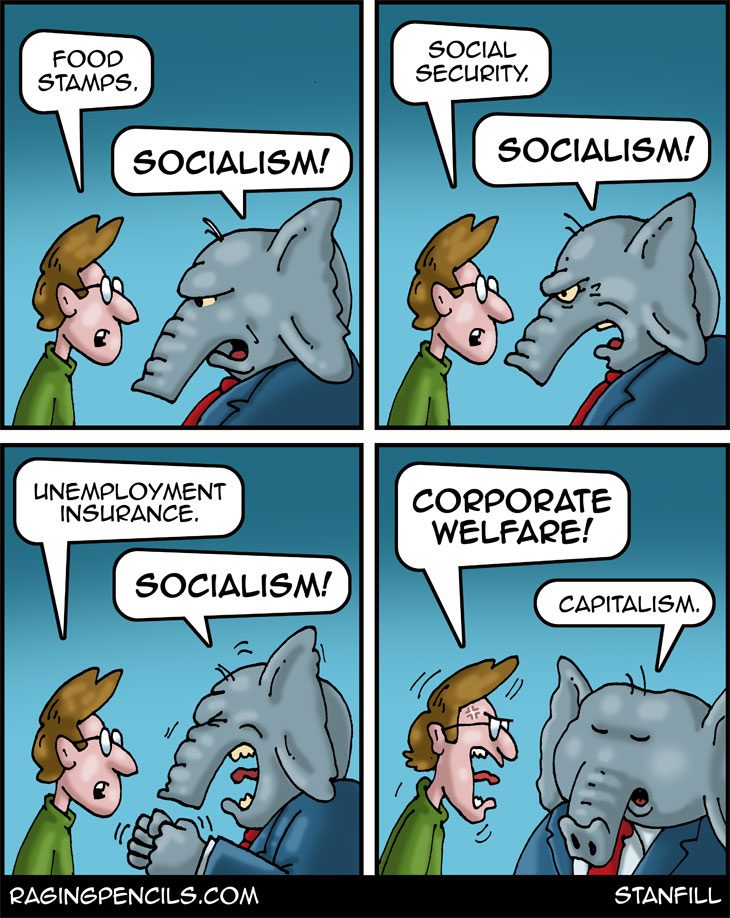 Mike Stanfill
March 8, 2021
Raging Pencils
Re: 'Bloody Sunday': Left Activists, Labor Leaders Executed in Philippines After Duterte Says 'Finish Off' the Communists
 
To bring about change, you must not be afraid to take the first step. We will fail when we fail to try.
—Rosa Parks
Penny Miles
Posted on Portside's Facebook page
Re: Dianna Ortiz, Survivor and Witness of the Guatemalan Genocide (1958-2021)
This information is very important to understand the past history and what is happening in Guatemala today.
Joe Grogan/Bolton/Retired prof., Humber College, 1969 to 2003/Retired member of OPSEU
Re: The Young Uyghurs Mobilizing to Keep Their Culture Alive
So now Portside is on the side of the State/Corporate  'Let's get China' propaganda machine? Wow, shameful, 
Mike Liston
(posted as part of Tidbits - March 11)
In tidbits, you mention Clara Zetkin as the most important German Socialist and, after 1919,Communist leader of the women's movement, who played the major role in establishing Women's Day as an international day of protest. It is also worth recalling that on August 30 1932, at 75, already very ill, almost blind, she opened the last session of the Reichstag, the traditional privilege of the oldest deputy. In her speech she courageously defied the Nazis, urging all-out resistance to their takeover:
"Before this imperative historical necessity, all captivating and divisive political, union, religious and ideological attitudes must step back."
In vain; five months later, in January, they came to power. She died soon afterward, in June, again as an exile in the Soviet Union.
Victor Grossman
Re: G&Ts on the Veranda: An Homage to Franz Boas and a Better Anthropology
(posting on Portside Culture)
I appreciated this tribute to Boas and his students… Do you remember the anthro angst of the 90s? I think all the pomo twists and turns at the time did not entail a full acknowledgment of the colonialist past, but maybe I'm overstating things.
Sinclair S. Thompson
Re: Hillbilly Nationalists and the Making of an Urban Race Alliance
(posting on Portside Culture)
Thank you for the article on Hillbilly Nationalists ....
My husband was the founder of White Lightning
Here is a conversation with him by the editor of that book
Maria Lisella
Queens Poet Laureate
Academy of American Poets Fellow
Who  Owns LA? Beyond Wall Street Landlords (Strategic Actions for a Just Economy)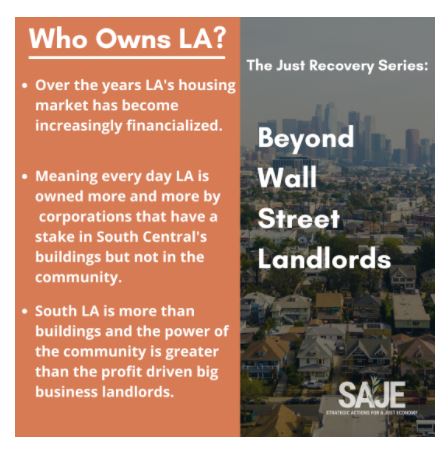 How Private Equity in the Rental Market Makes Housing Unaffordable, Unstable, and Unhealthy
Without an eviction moratorium or debt cancellation policy the most severely affected tenants remain in jeopardy of eviction and a prolonged hardship following COVID19. The Just Recovery Series: Beyond Wall Street Landlords by Strategic Actions for a Just Economy (SAJE) investigates who truly owns Los Angeles' housing property and how the increasing privatization of Los Angeles County's housing market threatens COVID19 recovery and the future of equitable development in the most marginalized neighborhoods. Read part 1 of the Just Recovery Series and Beyond Wall Street to learn more about SAJE's vision to restore equity in LA.
Read full report here
Strategic Actions for a Just Economy
152 W 32nd Street 
Los Angeles, CA, 90007
213-745-9961
info@saje.net
Fukushima Mon Amour — Poster of the Week (Center for the Study of Political Graphics)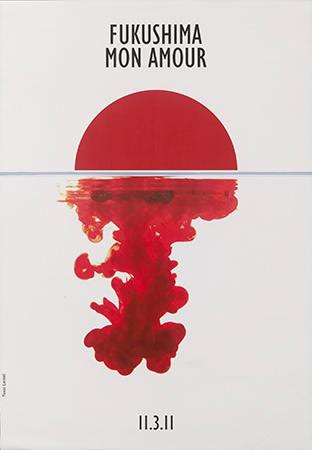 Ten years ago this month, an earthquake and tsunami hit Fukushima, Japan, causing one of the world's worst nuclear disasters.
On March 11, 2011, a 9.0 magnitude earthquake hit Japan, triggering a tsunami that killed almost 19,000 people, shifted Japan's main island over by eight feet, and continues to cause fallout from a nuclear power plant in Fukushima. The plant's emergency power generators were flooded, causing three of six reactors to explode, leaking lethal amounts of radiation into the air and hundreds of tons of radioactive water into the Pacific Ocean. 
Huge storage tanks around the power plant store more contaminated water, but the site is nearing its water storage capacity and many of the tanks are leaking. 
The Tokyo Electric Power Company (TEPCO) and the Japanese government have developed a cleanup plan to reduce the radioactivity, and then dump more than a million tons of still contaminated water into the Pacific Ocean. The estimated timeline is 30-40 years, beginning in 2022. Many nuclear specialists, however, question the plausibility of the proposed time frame and doubt that the technology required to begin cleanup will be developed for another few decades. 
Today, the area surrounding the power has been turned into dumping grounds for millions of black bags containing radioactive waste cleared from nearby communities. The disaster has had negative effects on people all over the world, contaminating fish, water, and even the air we breathe.
CSPG's Poster of the Week connects the 2011 nuclear disaster with the 1945 dropping of the atomic bomb on Hiroshima by the United States. The poster title is based on the 1959 French film Hiroshima Mon Amour, which, among many things, is about war, memory, and forgetfulness. We must not, however, forget this nuclear disaster, as its aftermath continues to harm us today.
Sources:
Japan marks 10 years since triple disaster killed 18,500 people
Fukushima Nuclear Disaster Verdict Leads to Angry Fallout
Fukushima: Japan 'to release contaminated water into sea'
Center for the Study of Political Graphics
3916 Sepulveda Blvd, Suite 103
Culver City, CA 90230
Webinar on Religious Role in the Antiwar Movement - March 22 (Vietnam Peace Commemoration Committee)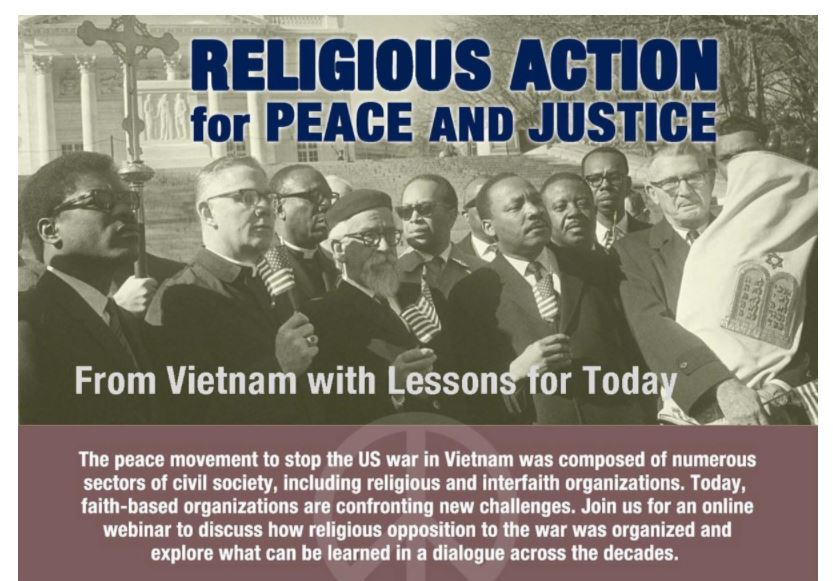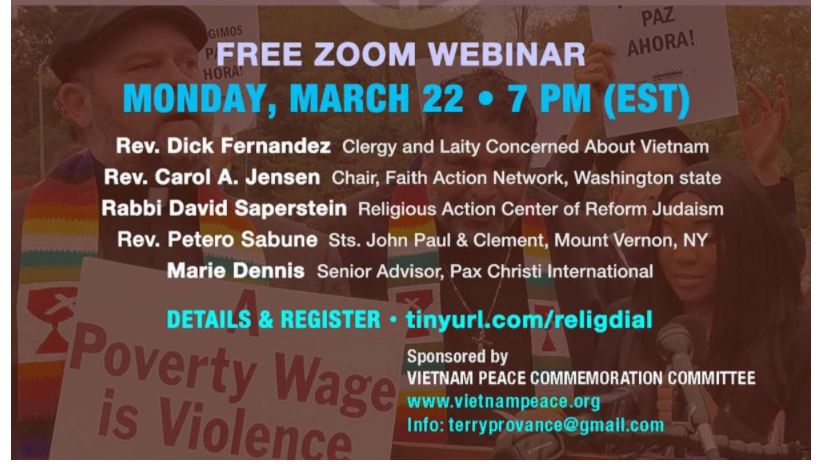 Click here for program, bios and the link to register.
Or click here just to register.
Additional Spring Programs
April 4 Local and national readings for the 54th anniversary of Dr. Martin Luther King's historic and visionary sermon Beyond Vietnam, details here
April 20 Peoples Peace Treaty second webinar session from Vietnam (date to be confirmed)
April 23 Webinar for the 50th anniversary of Operation Dewey Canyon III
April 30 - May 1 "Truth, Dissent, & the Legacy of Daniel Ellsberg: A 50th Anniversary Conference Commemorating the Release of the Pentagon Papers" A virtual event sponsored by the University of Massachusetts, Amherst contact Dr. Christian Appy here
May 1-5 50th anniversary of May Day civil disobedience demonstrations and mass arrests
May 15 Webinar on the rerelease of "Sir, No Sir"
June 13 50th anniversary webinar on the release of the Pentagon Papers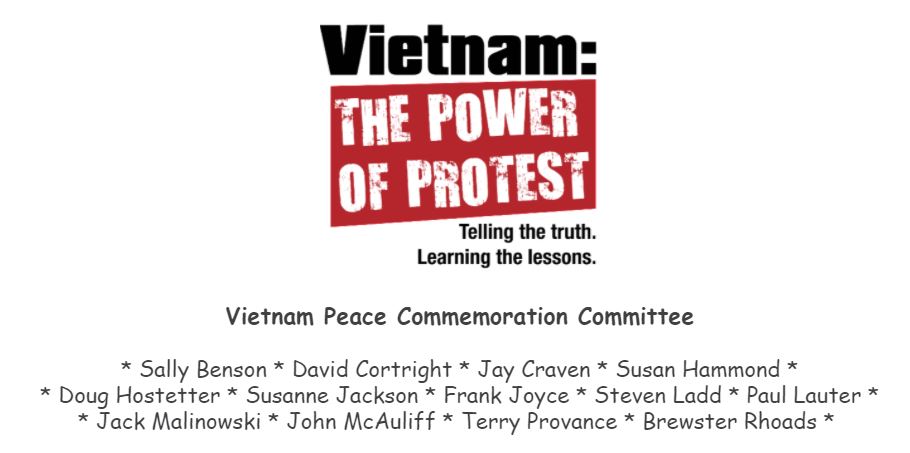 Our webinars and their youtube permanent availability are offered at no charge to maximize access.  However Zoom  and Constant Contact are not free and we have other costs including a part time staff member in Washington to support our volunteer effort.  Keep the Power of Protest alive with a tax deductible donation on line by clicking here or by mail to "Fund for Reconciliation and Development",  64 Jean Court, Riverhead, NY  11901 (memo line "VPCC")
Subscribe here for free Vietnam and Cuba newsletters
Fund for Reconciliation and Development
64 Jean Court
Riverhead, NY 11901
We Were There - Celebration of CLUW's 47th Anniversary - March 24 (AFL-CIO, CLUW and the Labor Heritage Foundation)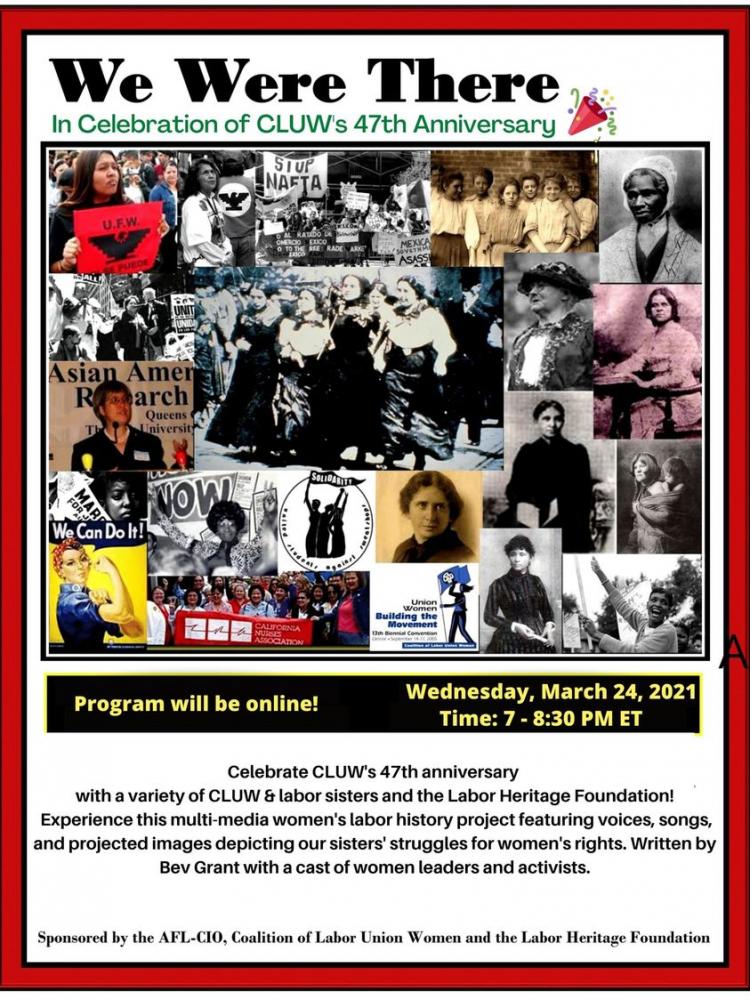 "We Were There" streaming on March 24th for the 47th Anniversary of CLUW (Coalition of Labor Union Women). This is the full show, not just the song.
The celebration starts at 7 pm EDT. The show will probably hit around 7:15 pm EDT. Brought to you by the AFL-CIO, CLUW and the Labor Heritage Foundation. 
Right-Wing Populism as an Anti-Worker Agenda? - Webinar - March 24 (Kalmanovitz Initiative and the Friedrich Ebert Stiftung)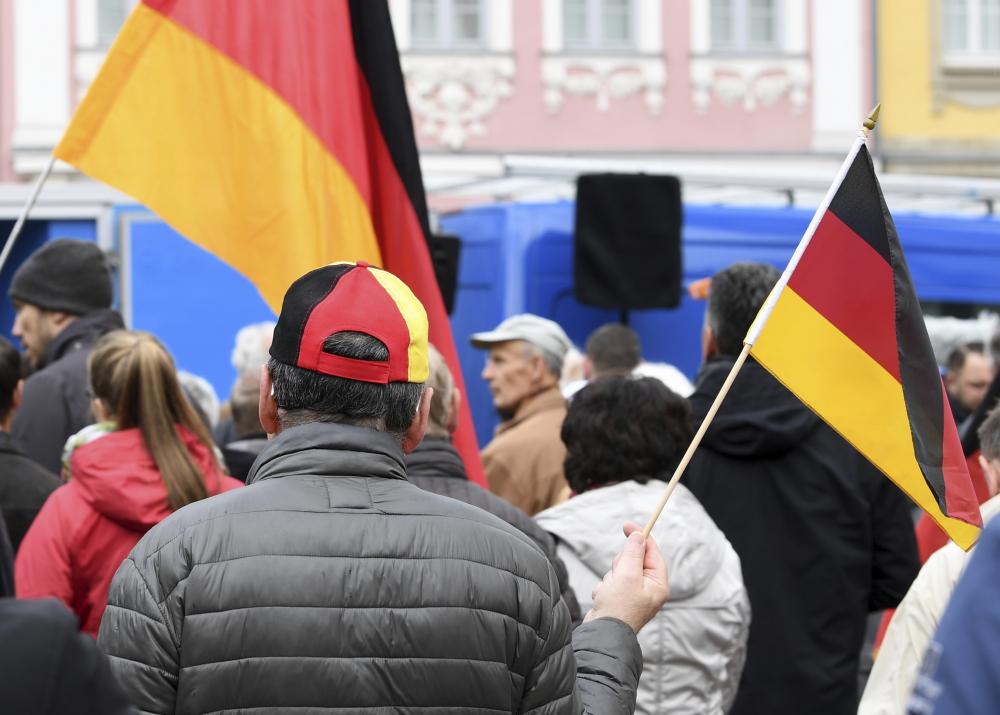 Wednesday, March 24th, 2021
11:00am - 12:30pm EDT / 4:00pm - 5:30pm CET
From Argentina, Brazil and the United States to France, Germany, Italy, and Poland, a resurgence of far-right parties has roiled American and European politics in the past decade, both in opposition and in government.  Forces and ideologies that until recently seemed dated and stigmatized present unique challenges to labor unions and progressives, on the one hand serving as an existential threat, while also holding broad appeal to some traditional unionist communities.
How can the labor movement best understand this present danger and how should union leaders, members, and activists respond?  This webinar will bring together three esteemed international experts in discussion.
Featured Panel:
Federico Finchelstein, Professor of History at the New School for Social Research and Eugene Lang College
Vonda McDaniel, President of the Central Labor Council of Nashville and Middle Tennessee and Vice-President of the national AFL-CIO Executive Council 
Thomas Greven, Associate Professor of Political Science at Freie Universität Berlin and a Senior Research Fellow at the German Institute for International Relations
Discussion moderated by Knut Panknin, Program Officer at the Friedrich Ebert Stiftung.
Kalmanovitz Initiative for Labor and the Working Poor
37th & O Streets, NW Maguire 209
Georgetown University
Washington, District Of Columbia 20057
Commemoration of the Triangle Shirtwaist Factory Fire - March 25 (Workers United, SEIU, ILGWU)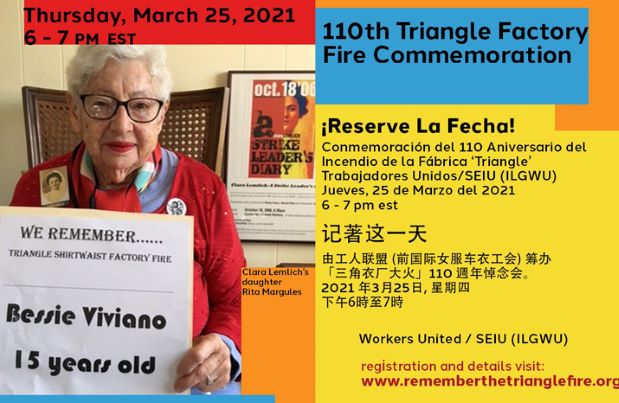 Union Commemoration of the Triangle Shirtwaist Factory Fire (Virtual)
Thursday, March 25, 2021,
6:00 - 7:00 PM ET
Join us!
Essential workers, organizers, teachers, students, and many friends gather to honor the 146 young workers killed
in the 1911 Triangle factory fire and stand with workers fighting for social and economic justice today.
We are America!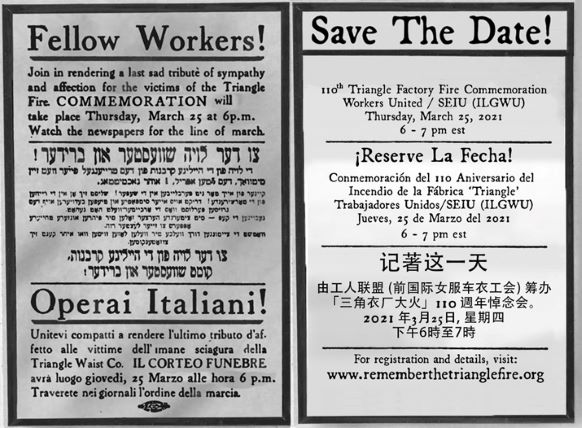 The Remember the Triangle Fire Coalition connects individuals and organizations with the 1911 Triangle Factory Fire — one of the pivotal events in US history and a turning point in labor's struggle to achieve fair wages, dignity at work and safe working conditions. Outrage at the deaths of 146 mostly young, female immigrants inspired the union movement and helped to institute worker protections and fire safety laws. Today, basic rights and benefits in the workplace are not a guarantee in the United States or across the world. We believe it is more vital than ever that these issues are defended.
Bill McKibben, Naomi Klein, Greta Thunberg, and you -  Global Just Recovery Gathering, April 9-11 (350.org)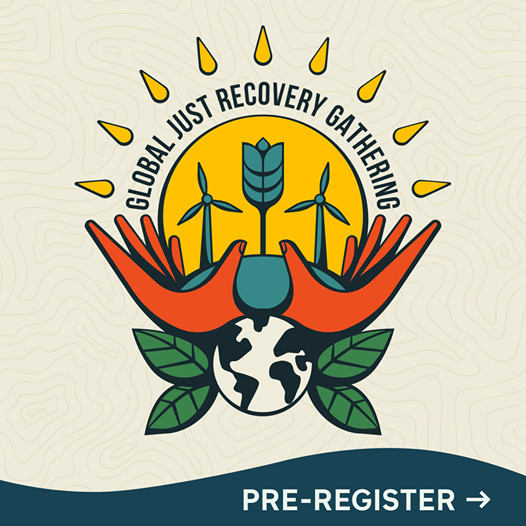 It's time for the climate movement to reconnect. Join leaders including Bill McKibben, Naomi Klein, and Greta Thunberg at the Global Just Recovery Gathering, April 9-11. Build your skills, spend time with amazing activists and artists, and help us imagine a better future for all!
he Global Just Recovery Gathering is a three-day online event featuring interactive workshops, cultural sessions, and hands-on trainings. Build your skills, strengthen relationships, and hear from a powerful line-up of climate leaders, artists, and musicians in every corner of the world.
Join us in designing a new path towards a better future for all and pre-register today.
For more info visit justrecoverygathering.org
The Global Just Recovery Gathering welcomes people around the world. We are committed to building as an accessible experience as we can. This event will be multilingual with all plenary sessions translated and captioning provided. You are welcome whatever your experience or wherever you come from!
This event will feature a powerful line-up of climate leaders from all over the world, include Naomi Klein, Bill McKibben, Vandana Shiva and many, many more.
350.org
PO Box 843004
Boston, MA 02284-3004