Tidbits - Mar. 25, 2021 - Reader Comments: Voter Suppression; Asian Americans; Deb Haaland; Andrew Cuomo; Football; Manufacturing; Private Equity; Postal Workers Strike corrections; Myanmar Solidarity; MLK's Beyond Vietnam speech; more....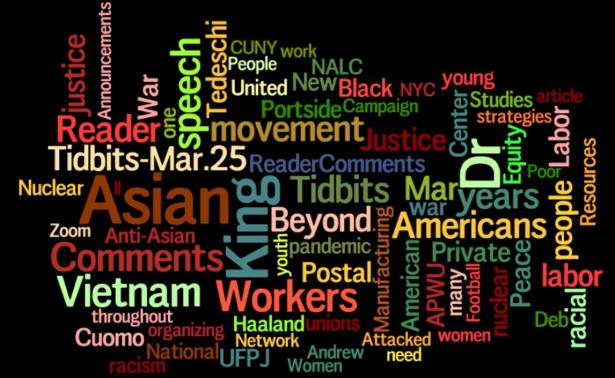 Tidbits - Reader Comments, Resources, Announcements, AND cartoons - Mar. 25, 2021,Portside
Your Help Needed:
Resources:
Announcements:
Re: Raphael Warnock Gives FIRST Speech From the Senate Floor
I think Rev./Senator Warnock's first speech in the US Senate is worth reading carefully. If we are to bend the moral arc toward justice, we need to stop dead in their tracks modern day Ku Kluxers who seek to bar people of color from voting. There will be many fronts in this struggle and one of them is in the US Senate right now. If we can persuade Senators to vote on and vote for HR 1, we can begin to undo the rigged voting rules and Gerrymandered districts that the racist right has conjured up to bolster minority rule. Thanks to Rev. Warnock for the speech and to Portside and The Guardian for circulating it.
Daniel Millstone
Posted on Portside's Facebook page
Rise Against Asian Violence  --  artwork by Pauline C. Cuevas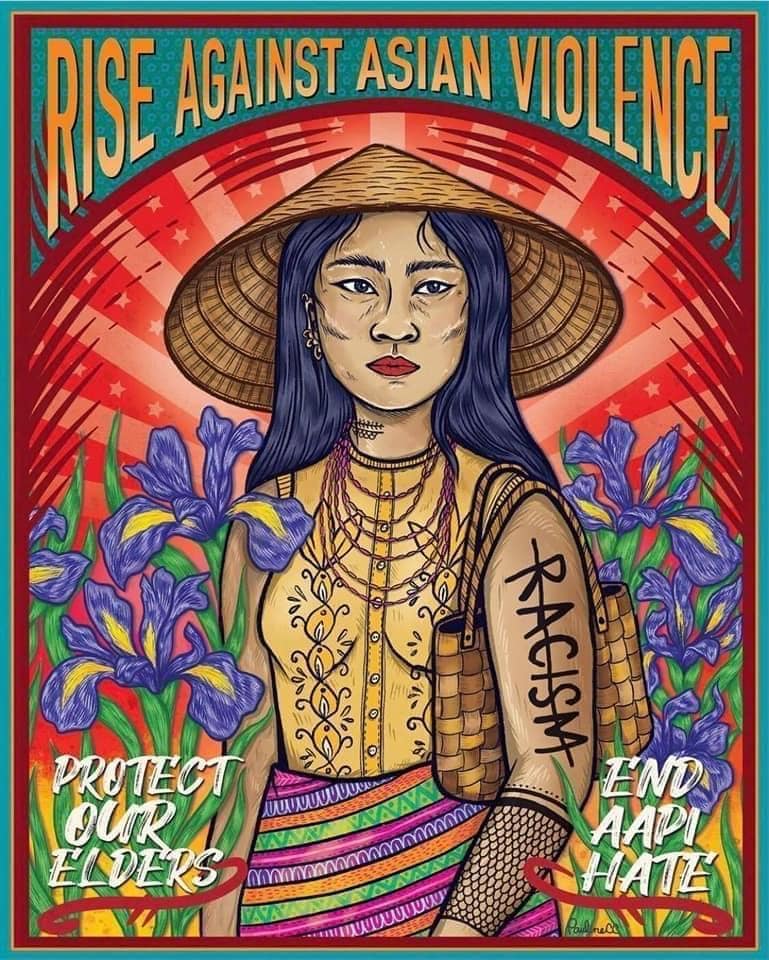 Pauline C. Cuevas
March 17, 2021
commissioned by The California Endowment
Re: Asian Americans Have Been Verbally and Physically Attacked, Shunned During Pandemic, Study Shows
It is really rich reading Portside`s virtuous posting of statements of solidarity with Asian Americans. For months and years I have read articles on the "China debate" that show all the signs of the racism that breeds precisely the kind of de-humanization that leads to overt manifestations of racialized violence.
John
Self inflicted  --  cartoon by Lalo Alcaraz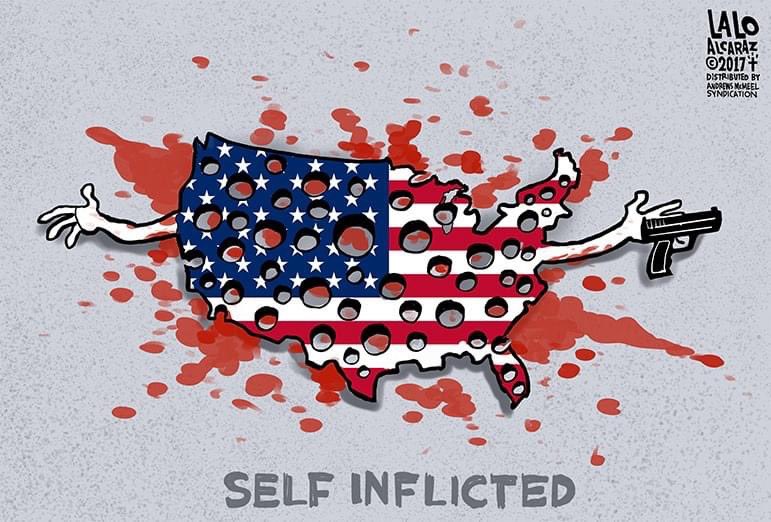 Lalo Alcaraz
2017
Re: Congress Passes Coronavirus Relief Bill with $23 Billion for Farming and Food
Under the provision, Black, Indigenous, Hispanic and other farmers of color can have up to 120 percent of their outstanding federal farm loans forgiven. (The extra 20 percent is to offset the federal tax burden associated with such debt relief.) A related provision includes another $1 billion to help those same farmers with training, education and other forms of assistance acquiring land. Included in that second batch of cash is funding for a newly created commission on racial equity at the US Department of Agriculture.
Dave Lott
Posted on Portside's Facebook page
Re: New Interior Secretary Deb Haaland Is Unprecedented
Not only will a Native American for the first time oversee the government's relationship to Indigenous Americans, but an avowed environmental activist will manage the nation's natural resources.
Kentucky Alliance Against Racist and Political Repression
Posted on Portside's Facebook page
Re: How the Left Made Cuomo Vulnerable
Ridiculous interpretation.  He has brought all this down on himself. 
Tom Gogan
     =====
"Among the state's progressive activists, Cuomo has long been seen as a thuggish reactionary."
Greg Farstrup
Posted on Portside's Facebook page
Re: The Supreme Court Confronts a Union-busting Argument That's too Radical Even for Kavanaugh
(posting on Portside Labor)
To those who would oppose, delay or derail this legislation—do not ask the labor movement for a dollar or a door knock. We won't be coming. No candidate for Congress or the White House should expect the support of the labor movement if they are not prepared to stand with workers in our fight for justice by endorsing, co-sponsoring and voting for labor law reform.
Len Polletta
Posted on Portside's Facebook page
Private Thoughts  --  cartoon by Mike Luckovich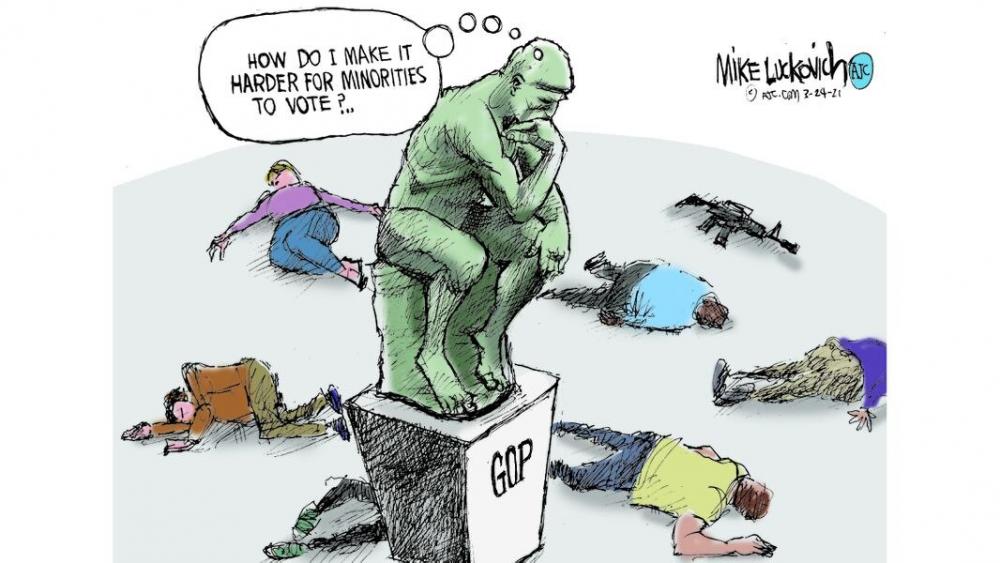 Mike Luckovich
March 24, 2021
Atlanta Journal-Constitution
Re: Will the NFL Survive the New Science of Brain Damage?
CTE is a degenerative disease that worsens with repeated impact and abuse to the brain. If youth, high school, or college football players can be diagnosed with it, it puts the NFL's entire talent pipeline in a great deal of jeopardy—not to mention its future financial prospects. The days of plausible deniability—by the NFL, by players, and by fans—will be coming to a screeching halt in the next several years. The league's plans for dealing with that inevitability remain an unknown. One thing is certain: slogans like "Football is family" and "Moms for football" athletic clinics are no longer going to cut it. We are officially past the point of CTE's being a subject of debate. The new debate will be over football itself.
David
     =====
It isn't just football.
Ralph Stephens
Posted on Portside's Facebook page
     =====
Great article.  They will come for you, like they came to destroy Dr. Amalu.  Put an extra lock on your door.  It means the coaches and the universities and the high schools and the parents are shit.  "Be the next one on the block, to have your boy come home in a box."    Maybe we can get Country Joe and the Fish to sing about football.  "Friday night lights OUT."
Will Smith anyone?
Tim Kearney
Re: After the Insurrection, America's Far-right Groups Get More Extreme
We expect that extremists will come to see the events of Jan. 6 as just the opening skirmish in a modern civil war. These groups will continue to shift more and more to the extreme right, posing risks for acts of violence both large and small.
Judyth Hollub
Posted on Portside's Facebook page
     =====
How many more times can they lose?
Cheryl Gordon Emter
Posted on Portside's Facebook page
Re: The Future of L.A. is Here. Robin D.G. Kelley's Radical Imagination Shows Us the Way
Great - especially the last paragraph on Internationalism
Judy Atkins
Posted on Portside's Facebook page
Re: Joe Biden Should Roll Back the US's Exploitative Guest Worker Policies
Neoliberal privatization is suffering from a legitimacy crisis, an efficiency crisis (concerning prices, quality and access), and a crisis of profitability.
See: Crisis of Privatization - Return of Public Space by Mario Candeias, RLS policy paper 1/2008
Marc Batko
Re: Manufacturing Isn't Coming Back. Let's Improve These Jobs Instead.
(posting on Portside Labor)
It's very important that manufacturing comes back. At present, we still have some due to a military-industrial policy, which is non-productive. If we shift to a green industrial policy, it will need a far more productive manufacturing core. All those wind turbines and solar arrays need to be built here, not to mention the enormous hardware needed for a Smart Grid that can span the globe.
Carl Davidson
Posted on Portside's Facebook page
Re: The 1970 Postal Workers Strike
(posting on Portside Labor)
This article is inaccurate.  The NALC did not merge with the APWU.  Vince Sombrotto was elected president of the NALC, not the APWU
Solidarity,
Jamie Partridge
NALC Branch 82
     =====
Huelga de 1970 del servicio postal
Reinaldo Luis Casellas
Posted on Portside's Facebook page
     =====
Ambitious but inaccurate.   The NALC was not one of the five unions that merged to be the APWU. Sombrotto took on the leadership of the letters carriers union and eventually became president.  Sombrotto was never president of the APWU
Chuck Zlatkin
     =====
There is an error in the otherwise quite good article on the 1970 postal workers strike.  Four unions did indeed merge to form the American Postal Workers Union -- but the National Association of Letter Carriers was not amongst them,  Vince Sombrotto was president of the NALC but contrary to the article the president of the APWU was Mo Biller.  To some extent the inability to complete the merger process and create one big Postal union marked the end of the rank-and-file upsurge.  All this would be of only historical interest, but the fact is that the NACL and APWU remain today as two unions independent of each other.  
Kurt Stand
     =====
Dear Mr Murfin, How in the world can you write that NALC merged with APWU!? Even to this day the two unions are separate and distinct. The first collective bargaining agreement was with APWU, NALC, Mailhandlers, and NRLCA. Four separate unions. Also, the strike lasted one week, not two. In late 1970s Vincent Sombrotto was successful in defeating incumbent President Joseph Vacca. Please, please, please correct these and any other exposed errors in your article. 
Aside from the errors, I found the article very interesting. One missing tidbit is that many big city letter carriers qualified and were dependent on welfare to provide basic income for their families.
Sincerely,
Peter Arsenault
Re: "You're Not Colored": The Story of Two Civil Rights Activists of Japanese Descent
Well worth the read.
Felice Sage
Posted on Portside's Facebook page
Re: The Answer to Anti-Asian Racism Is Not More Policing
And don't forget the wars accompanied by anti-Asian propaganda from the war against the Japanese in World War II, to the Korean War, to the Vietnam War.  And of course there was the so-called Spanish-American War, which was really a war against Filipinos where the US engaged in the barbaric practices later especially made infamous in the Vietnam War.
Joseph Kaye
Blame China  --  cartoon by Rob Rogers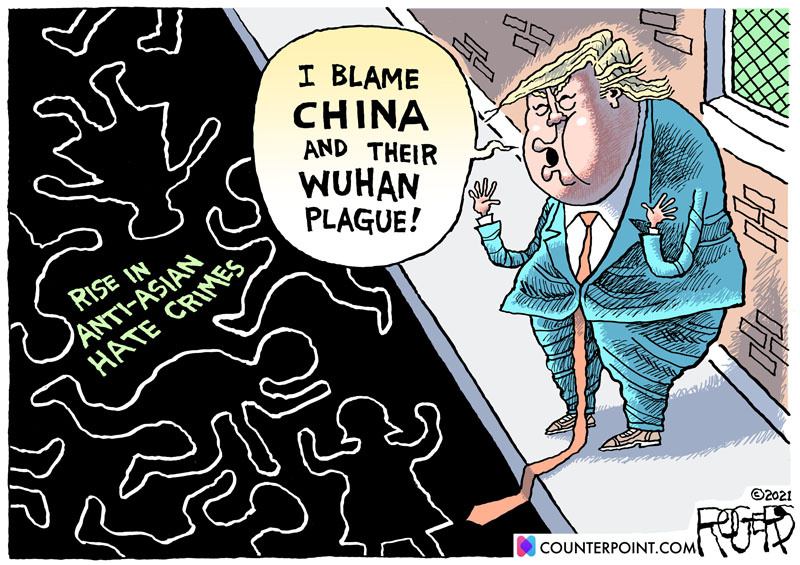 Rob Rogers
March 19, 2021
robrogers.com
Re: I Took Part in the US-South Korean War Drills: They Make All of Us Less Safe
I was in Havana, Cuba years back just a day after the United States put on a big display of naval and air force just outside Cuba's territorial waters. You could cut the anxiety of the Cuban people with a knife. These drills are extremely threatening and provocative and anyone who says differently is either insane or a pathological liar. I'd like to see their reactions if a hostile race of aliens did the same over and around the U.S., 
stay safe, 
Mike Liston
Re: The Young Uyghurs Mobilizing to Keep Their Culture Alive
Visitors to Xinjiang see mosques open, the Uyghur language as the medium for teaching in schools, and Uyghur language TV Channels. That is cultural genocide? Or even genocide, when the population is increasing? These young people are victims of the propaganda war.
Dan Morgan
Posted on Portside's Facebook page
Susan Tedeschi continues to pay salaries of band, road crew throughout pandemic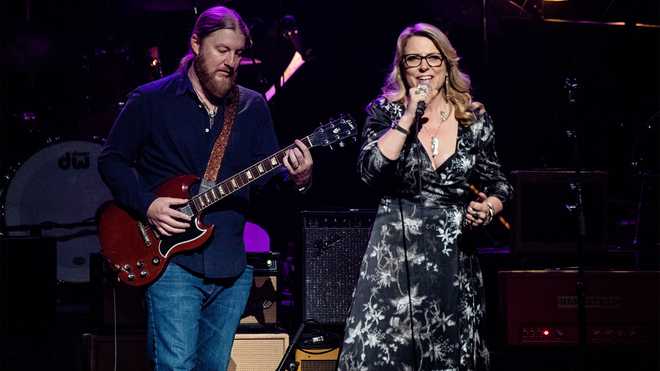 by Ted Wayman
March 20, 2021
WCVB (ABC 5 - Boston)
A Grammy Award-winning musician and Massachusetts native is continuing to help her fellow bandmates and their road crew throughout the COVID-19 pandemic.
Susan Tedeschi, who grew up in Norwell, burst onto the music scene in the mid-'90s with her namesake band after attending the Berklee College of Music.
Tedeschi eventually married guitarist Derek Trucks, who played for the Allman Brother Band in its later years. The pair have since formed the Tedeschi Trucks Band and had been touring around the country until the pandemic hit.
"We did a show (March 12) at the Beacon (Theatre in New York City) for a benefit, but we hadn't toured or anything since then. So, literally, we weren't making any money," Tedeschi said.
The couple quickly decided to dip into their emergency fund to pay the 25 members of their band and road crew, and have continued to do so throughout the past year. They have supplemented the fund by streaming live shows out of Jacksonville, Florida, where the band is based.
Read more here
If you're interested in watching upcoming livestream performances of the Tedeschi Trucks Band, click here.
Burma: Solidarity with CTUM Unions Against Military Coup (DSA International Committee)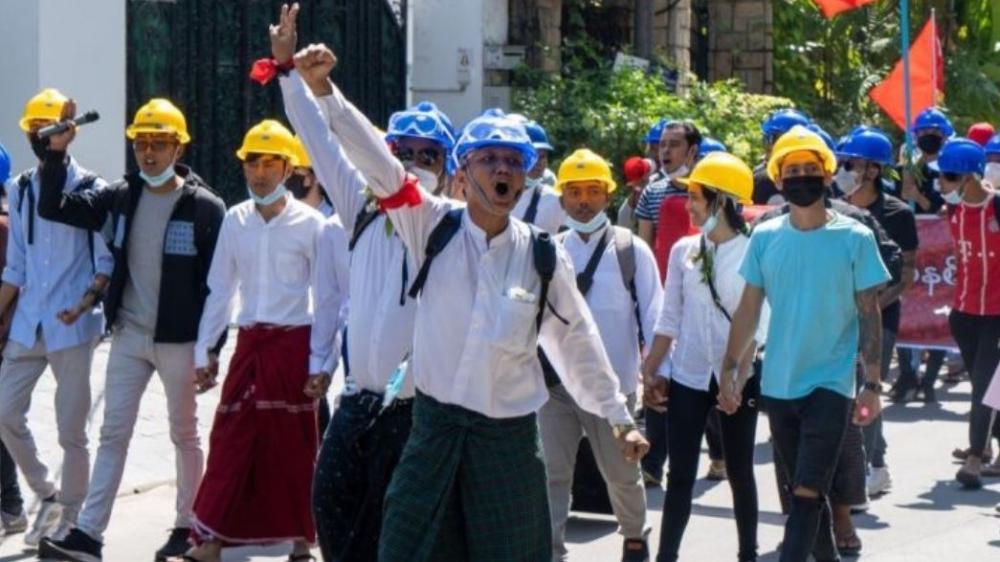 On February 1st 2021, the commanding military officers of Myanmar staged a coup halting the recent democratic transition of the country. The Confederation of Trade Union - Myanmar (CTUM), as the largest union in the country, has been at the forefront of the Civil Disobedience Movement (CBM) against the coup, organizing major industrial strikes, and street protests. Labor leaders and striking workers are now facing growing threats of being detained, despite condemnation from the International Labor Organization (ILO). The military authorities arrested or issued arrest warrants on many CTUM leaders and the police is tracking trade union leaders into their homes.
Our financial support is needed to help the CTUM with the organization of rallies and communications between organizers. The fundraiser will also support fired workers and those that cannot pay for their hostels or food due to strikes and protests participation and allow protestors to stay in contact through mobile and satellite phones. Many leaders and workers have not worked since the beginning of the military coup and are counting on our support.
The International Committee (IC) of the Democratic Socialists of America (DSA) is collaborating with the Italian organization ITALIA-BIRMANIA.INSIEME to provide emergency support to CTUM as it continues to fight against the military regime.
ITALIA-BIRMANIA.INSIEME, founded in 2013, works with Myanmar trade unions and democratic political forces to promote peace, interethnic dialogue, programs on rule of law, quality employment, decent work, industrial relations and responsible investments. After the bloody military coup, ITALIA-BIRMANIA.INSIEME, in agreement with the Burmese trade union confederation CTUM, whose President is among its founding members, is developing initiatives to support the CDM, the CRPH and the trade unions, to overcome the military dictatorship, to change the military constitution and build a democratic, federal Union.
On Anti-Asian Violence, and Collective Life (Diasporic Vietnamese Artists Network)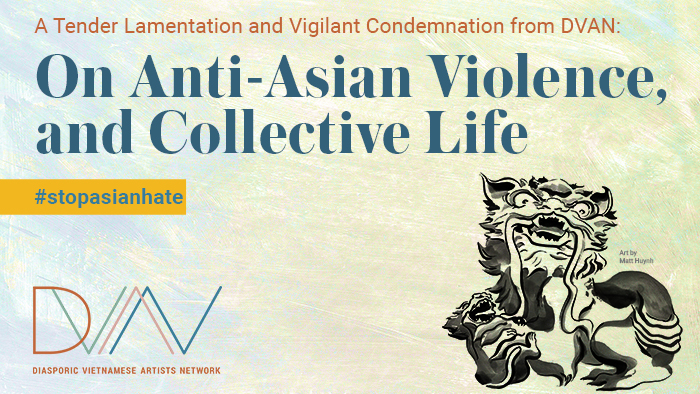 A tender lamentation and vigilant condemnation, this statement is one of many during the recent outpouring of support, solidarity, and sustenance in light of the anti-Asian shootings in Georgia this past week. We underscore the ongoing labor and love of Asian organizers who have been doing, and will continue to do, the intersectional work of grassroots mobilization, mutual aid, and transformative justice to take care of our communities. During times of crisis, a statement can function as a compulsory genre of performative politics, individually taking up too much space and time, and leaving too little room for proper grieving, contemplation, and collective action. In situating this statement in a constellation of community care, prioritizing the desires of the victims and their families, we orient this statement as part of a collective movement not only to end violence against Asian women but also to build life-giving conditions grounded in Ethnic Studies.
The Diasporic Vietnamese Artists Network (DVAN) sends love to the eight victims of the shooting in Georgia as well as their families. On March 16, 2021, a white supremacist targeted and shot six Asian women across three massage parlors and spas. This display of racialized, gendered, and sexualized violence is no anomaly; rather, it is inextricably tied to the 150% uptick in anti-Asian attacks throughout COVID-19 (frequently referred to as the "China virus" or "kung flu" by GOP officials).1 In fact, 68% of the 3800 reported Anti-Asian racial incidents were from women. Furthermore, these physical attacks work in tandem with the so-called "soft" violence that Asian communities have endured throughout the pandemic, as Asian American women have fronted the highest jobless rates during these past six months2 and Asian-owned shops have been forced to shut down.3 Therefore, DVAN deplores current, majority media outlets and police statements which have flattened and depoliticized the murders as an irregular result of a "bad day" of a non-racist man who simply had a "sex addiction." The killing of six Asian American women at their workplaces and the mainstream refusal to recognize its racial motivation, or even spell and pronounce their names properly, is a reflection of an ideology that does not count Asian Americans as people impacted by racism.
Read full statement here
1. "2020-2021 National Report," Stop AAPI Hate, March 2021, stopaapihate.org.
2. Katherine Kam, "Why Asian American women have had highest jobless rates during last 6 months of Covid," NBC News, January 2021.
3. David Shi, "Asian-Owned Small Businesses & COVID-19," Asian American Advocacy Fund.
A Non-Comprehensive List of Resources on Anti-Asian Violence and Protecting Asian Women
FUNDRAISERS
Memorial fundraisers for families of the spa shootings victims
Relief fund by Asian Americans Advancing Justice in Atlanta, GA
The AAPI Community Fund
Family Fund by the Asian American Resource Center in Georgia
#StopAsianHate by GoFundMe
ORGANIZATIONS
Red Canary Song
Butterfly: Asian and Migrant Sex Workers Network
The National Asian Pacific American Women's Forum
Send Chinatown Love in New York
Save Our Chinatowns in Oakland and San Francisco
National Organization of Asians and Pacific Islanders Ending Sexual Violence
Stop AAPI Hate
Pacific Links, program Adapt
READING LISTS
History of Asian Americans
click here
Diasporic Vietnamese Artists Network
College of Ethnic Studies San Francisco State University
1600 Holloway Avenue
San Francisco, CA 94132
Honoring Dr. King's Full Legacy – "Beyond Vietnam: A Time to Break Silence" (United for Peace & Justice - UFPJ)
We still have a choice today: nonviolent coexistence or violent co-annihilation…. If we do not act, we shall surely be dragged down the long, dark, and shameful corridors of time reserved for those who possess power without compassion, might without morality, and strength without sight.
    
Dr. Martin Luther King, Jr.
"Beyond Vietnam: A Time to Break Silence," April 4, 1967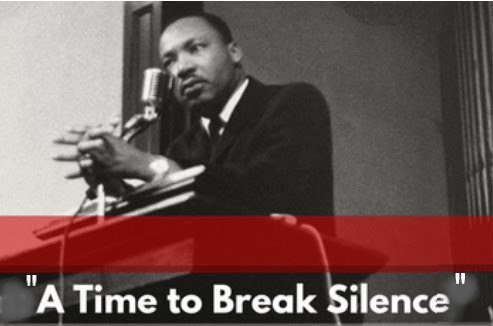 April 4, 2021 will mark the 53rd anniversary of Dr. Martin Luther King, Jr.'s tragic and untimely assassination, and the 54th anniversary of his prophetic speech, "Beyond Vietnam: A Time to Break Silence."
In the years following the September 11, 2001 terrorist attacks, peace and justice groups in Oakland, California started organizing annual April 4 public participatory readings of Dr. King's "Beyond Vietnam" speech in front of the Federal Building. These readings have served as powerful community-building experiences and have since been organized by groups around the country.
This year, as the coronavirus pandemic continues to curtail our public gatherings, we invite you to listen to a recording of Dr. King giving this speech, as you read the text and reflect on its meaning today.
If you're feeling especially ambitious and have the technical skills, you may wish to organize a virtual participatory reading via Zoom, by adapting our how to Organize a Public Reading of Dr. King's "Beyond Vietnam" Speech in your Community "tool kit." You'll need to update the introduction. You will find a useful set of fact sheets from the Poor People's Campaign here.
Click here for additional Martin Luther King, Jr. resources, including speeches and posters.
Hopefully, by April 4, 2022 we'll be able to gather again in public spaces and experience the inspiration of participating in public readings of this powerful speech.
When Dr. King gave the speech, the United States was embroiled in the Vietnam War. The country was in turmoil as peace activists resisted the draft, and anti-war and civil rights protesters took to the streets. King's speech laid bare the relationship between U.S. wars abroad and the racism and poverty being challenged by the civil rights movement at home. And it was controversial in some parts of the civil rights movement.
In his "Beyond Vietnam" speech, Dr. King declared: "A nation that continues year after year to spend more on military defense than on programs of social uplift is approaching spiritual death."
We believe that Dr. King's words were both precautionary and prophetic, providing both a diagnosis and a cure – "a true revolution of values" – for our society's gravest illnesses, "the giant triplets of racism, extreme materialism, and militarism."
At the time he was murdered, Dr. King was organizing a massive Poor People's Campaign. The Poor People's Campaign: A National Call for Moral Revival has picked up Dr. King's unfinished agenda, and on June 20, 2020, held the largest digital and social media gathering of poor and low wealth people, moral and religious leaders, advocates, and people of conscience in this nation's history.  The global pandemic has exposed even more the already existing interlocking injustices of systemic racism, poverty, ecological devastation, the war economy and militarism, and the distorted narrative of religious nationalism. The Poor People's Campaign is a addressing these five interlocking injustices by building a powerful "moral fusion" movement.
United for Peace and Justice is proud to be a national organizing partner with the Poor People's Campaign: A National Call for Moral Revival. Join the Poor People's Campaign!
United for Peace & Justice (UFPJ)
P.O. Box 71523
Oakland, CA 94612
info.ufpj@gmail.com
(917) 410-0119
Resources in the Fight Against Private Equity
I saw the helpful resource in tidbits on Who Owns LA? on private equity.
This was also just released:
"AFT Sounds Alarm over Private Equity, Urges Trustees with $3 Trillion under Management to Examine Investments,"
Full report is here:
Samir Sonti, "Lifting the Curtain on Private Equity: A Guide for Institutional Investors and Policymakers." A report written for the AFT and Americans for Financial Reform
Stephanie Luce
Now Online - Toni Gilpin, Labor Historian, Author, and Activist (The Havens Wright Center for Social Justice)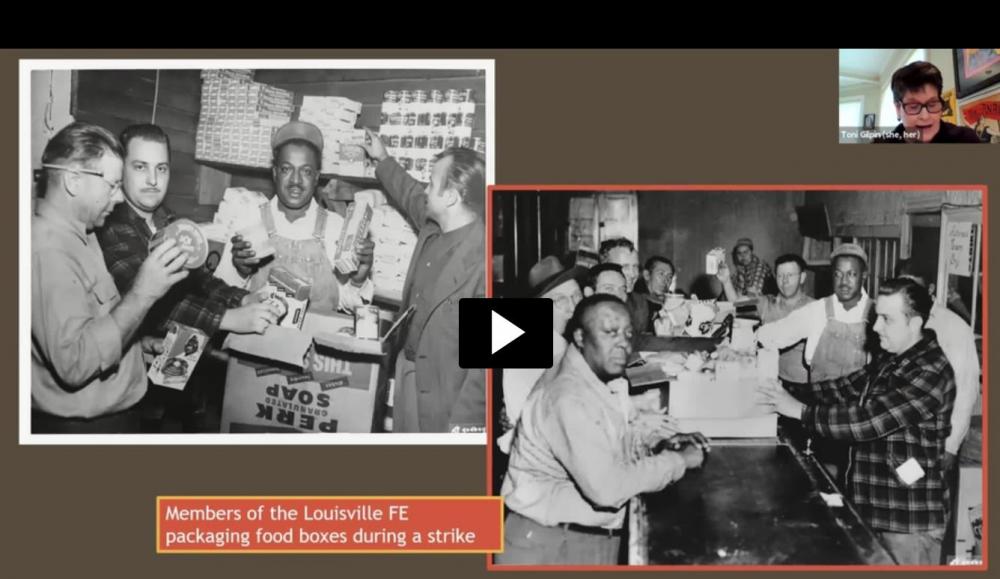 My recent Zoom talks through the Havens Wright Center for Social Justice are now online and can be accessed here: the first is on the bitter ideological conflict between the left-wing Farm Equipment Workers union and the anti-communist UAW; the second is on the FE's model of radical interracial unionism, with a focus on Louisville. Both talks, I hope, will be useful for organizers today. Both talks feature lots of nice slides and some really great contributions from those who joined the calls as well. The Louisville discussion was especially enhanced by the participation of Beverly Neal, a lifelong Louisville resident who is the daughter of the late Sterling Neal, one of the FE's leaders and a key figure in the Southern labor and civil rights movements generally, who I quote extensively in my book. 
"Class Collaboration or Class War? The Battle to Define Profit, Progress, and the Purpose of Unionism in the 20th Century Labor Movement"
"'We're Not Going to Be Second Class Citizens in the South': the Radical, Interracial Organizing Model of the Farm Equipment Workers in Louisville, Kentucky"
Access both lectures here
The Havens Center
Department of Sociology
University of Wisconsin-Madison
Room 8117 Social Science
1180 Observatory Drive
Madison WI 53706
LISTEN: Decriminalize Sex Work - Freedom Dreams of Black Trans Liberation (Center for Constitutional Rights - CCR)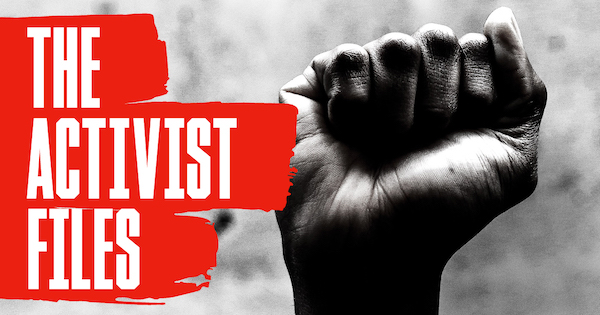 How can we honor the leadership of Black trans sex worker communities in struggles for gender and LGBTQIA+ justice this Women's History Month? In the 36th episode of "The Activist Files," Black Trans Nation executive director and Decrim NY steering committee member TS Candii and Women with a Vision Sex Worker Advisory Committee member Paris Jackson speak with advocacy associate maya finoh and communications assistant Alex Webster about their work to pass legislation ending the criminalization of people in the sex trades and trans people in New York State and Louisiana, as well as their freedom dreams for Black and trans liberation.
NYC Women Workers Rising Against Sexual Harassment + NYC The Surcharge - March 26 (One Fair Wage)
Tomorrow: NYC WOMEN WORKERS RISING
Addressing Sexual Harassment and the NYC Surcharge with Councilmembers Antonio Reynoso and Vanessa L. Gibson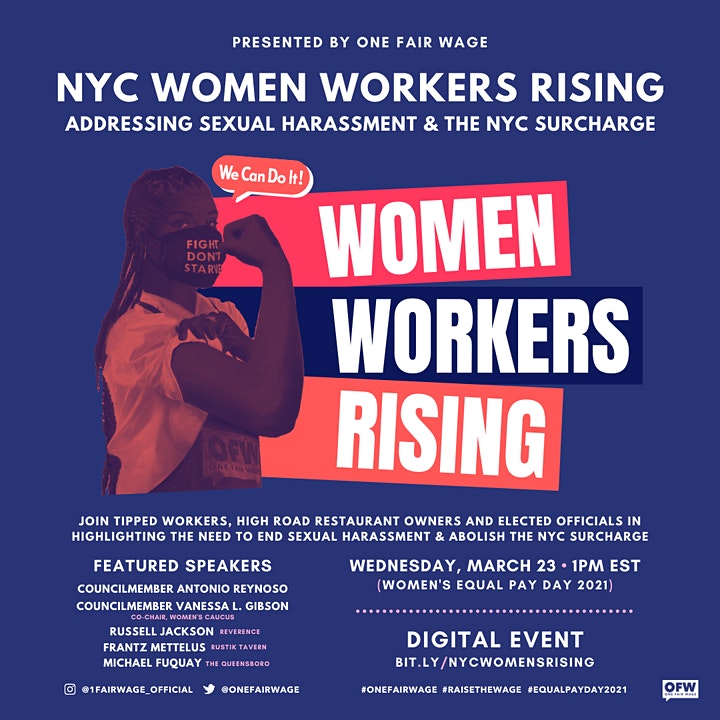 Join Tipped Workers, High Road Restaurant Owners and Councilmembers Antonio Reynoso and Vanessa L. Gibson in highlighting the need to end sexual harassment and abolish the NYC surcharge.
Want to get involved locally? Contact Gemma@onefairwage.org for more info!
One Fair Wage Inc
45 Mt Auburn St
Cambridge, MA 02138
UFPJ webinar: The Enduring Nuclear Threat; A Deeper Look - March 30
Tuesday, March 30, 2021: 8-9:30 pm EDT; 7-8:30 pm CDT;
6-7:30 pm MDT; 5-6:30 pm PDT
Click here to register.
The recent entry into force of the Treaty for the Prohibition of Nuclear Weapons brought a welcome positive moment to a bleak disarmament landscape. But none of the nuclear armed states have joined the Treaty, and all are expanding or modernizing their nuclear arsenals. This webinar, hosted by UFPJ, will provide an update on nuclear weapons policies and programs and an overview of relevant developments in international law. It also will suggest the need to rethink familiar approaches to disarmament, and to shift the focus of disarmament advocacy from recognizing the effects of nuclear weapons to analyzing the causes of nuclear arms racing and of the risks of war among nuclear-armed countries – the same root causes driving many of our other most pressing crises.
UFPJ is pleased to host this webinar featuring three internationally recognized advocates for nuclear abolition. Click here to register.
Jackie Cabasso, Executive Director of the Western States Legal Foundation, based in Oakland, California, since 1984. In 1995 she was a "founding mother" of the Abolition 2000 Global Network to Eliminate Nuclear Weapons, and she continues to serve on its Coordinating Committee. Since 2007 she has served as an Executive Advisor to Mayors for Peace. She is a National Co-convener of UFPJ. Jackie was the 2008 recipient of the International Peace Bureau's Sean MacBride Peace Award.
John Burroughs, Senior Analyst for the New York City-based Lawyers Committee on Nuclear Policy (LCNP). He has represented LCNP in Nuclear Non-Proliferation Treaty meetings and negotiations on the Treaty to Prohibit Nuclear Weapons. His articles and op-eds have appeared in publications including Fordham International Law Journal, Bulletin of the Atomic Scientists, Arms Control Today, Newsweek, and Newsday.
Andrew Lichterman, policy analyst and lawyer with the Oakland, California-based Western States Legal Foundation. He has represented peace and environmental activists in a variety of settings, and also taught at alternative law schools for many years. He is a member of the United for Peace and Justice Coordinating Committee.
Runoff Election in Ecuador: The Fight for Democracy, webinar April 2 (DSA International Committee)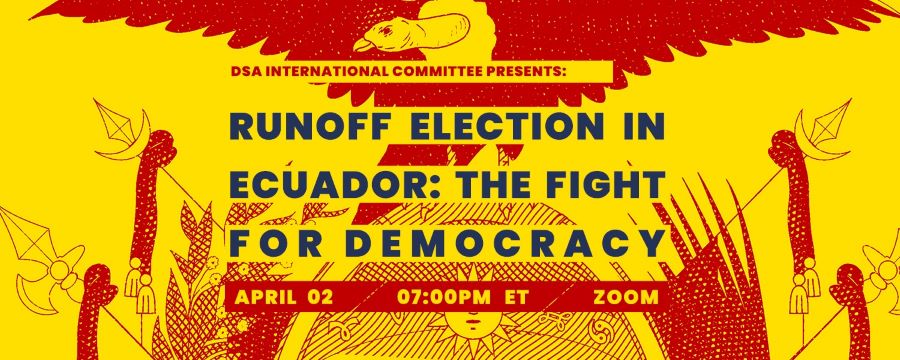 To register for the webinar:  https://act.dsausa.org/survey/runoff-election-in-ecuador-the-fight-for-democracy/
https://act.dsausa.org/survey/runoff-election-in-ecuador-the-fight-for-…
Runoff Election in Ecuador: The Fight for Democracy
Friday, April 2nd at 7 pm ET/6 pm CT/5 pm MT/4 pm PT
Ecuador faces a crucial runoff election on April 11 as the country struggles to free itself from capitalist imposed austerity, economic recession, and pandemic. Socialist candidate Andres Arauz leads a progressive alliance and has an excellent chance to be elected President against right-wing banker Guillermo Lasso. There are efforts by the establishment to eliminate Arauz from the runoff or even cancel the election. Progressive International has warned of threats to democracy in Ecuador. What is U.S. imperialism doing behind the scenes? Hear from members of the Ecuador's Union for Hope (UNES) alliance and an election observer from the Progressive International.
Featuring Monica Palacios (National Assembly Representative, Unión por la Esperanza – Union for Hope), Ramón Mendes Rivas (Acción Revolución Collective Unión por la Esperanza – Union for Hope), David Adler (Progressive International Election Observer Delegation).
Moderated by Vanessa Agudelo (Peekskill, NY City Council, Lower Hudson DSA member).
Sponsored by DSA International Committee. Co-sponsors: Alliance for Global Justice, Chicago ALBA Solidarity, Mid-Hudson Valley DSA Chapter
Celebrating the life of Anne Feeney - April 3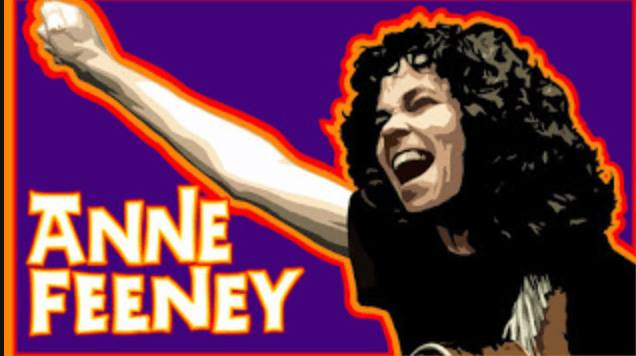 Online: annefeeney.com
Saturday, April 3, 2021 at 3 PM EDT
https://www.facebook.com/events/181487646744414/
This online celebration of the life and legacy of Anne Feeney takes place in two parts:
1. The virtual memorial and music event begins at 3pm EST / 12pm PST on April 3, 2021, and will be livestreamed directly from this Facebook Event Page. (Just click "Join Event" once the even has begun. The livestream will begin no later than 2:45pm EST / 11:45am PST ).
2. Starting at roughly 4:30pm EST / 1:30pm PST, a participatory "reception" with breakout rooms for sharing memories and song to celebrate Anne will begin.
Please visit the website for Anne's Memorial where you can learn more and register to both hear the presentations (Part #1) and participate in Part #2.
https://annefeeney.com/memorial/
Learn more about Anne Feeney's legacy in the New York Times:
Power and Strategy Class Fall 2021 - August 26 - December 16 (CUNY School of Labor and Urban Studies)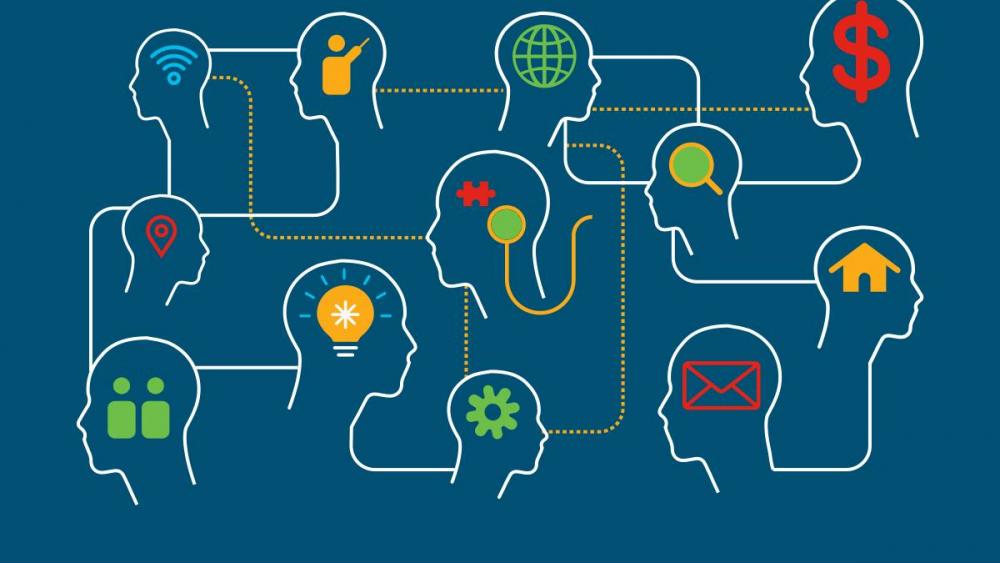 Are you interested in studying power and strategy and what it takes to win? This fall, Deepak Bhargava and I will co-teach a class on Power and Strategy at the The CUNY School of Labor and Urban Studies. The class will meet online on Thursday evenings, 6:15-8:45 pm.
How do groups in society achieve the changes they seek?  This course will explore how elites, labor unions, community organizations, political parties and social movements organize, develop strategies and deploy resources to advance their interests and win major changes in society.  To provide a shared framework, we'll begin with an overview of classical and contemporary theories of power and cause and effect.  We'll look at elite strategies to wield power developed in the military, Silicon Valley, business, and politics.  We'll also consider five "strategies from below," including building mass organization, disruptive movements, efforts to capture governing power, "inside-outside" strategies.
In the eternal battle between David and Goliath, how and why does David sometimes win?  We'll examine a variety of case studies from the right and left, including the orchestrated rise of neoliberalism, and cutting-edge campaigns from contemporary racial justice and labor and other movements.  The class will focus heavily on introducing applied tools for strategy development from a variety of traditions.
More information here
Faculty
Stephanie Luce is Professor of Labor Studies at the CUNY School of Labor and Urban Studies and Professor of Sociology at the CUNY Graduate Center. She is a member of the PSC-CUNY/AFT faculty staff union and has spent many years working with unions and labor community coalitions on living wage campaigns, policy fights and organizing projects.
Deepak Bhargava is Distinguished Lecturer at CUNY's School of Labor and Urban Studies and has been involved in social change movements and organizations for over 30 years, including 16 years leading Community Change.
Who Should Apply
This class is suitable for both current graduate students and for non-matriculated students who are experienced labor, community, environmental or social movement leaders, organizers, or campaigners.  Departmental permission required. 
Meeting Schedule and Requirements
The class will meet on Thursday evenings from 6:15 – 8:45 pm Eastern time.  The class will be held entirely online, so non-NYC students can participate fully in the course.  The first class will be held on 8/26/2021 and the term runs for 15 weeks ending on 12/16/2021.
There will be extensive reading, writing and class engagement as part of this course.  Non-matriculating students who are social change practitioners will be assessed based on their application of tools presented in the course. 
Save The Date: #RaceAnd: Our Present, Our Future (Upcoming Intergenerational Virtual Conference) - September 25 (Race Forward)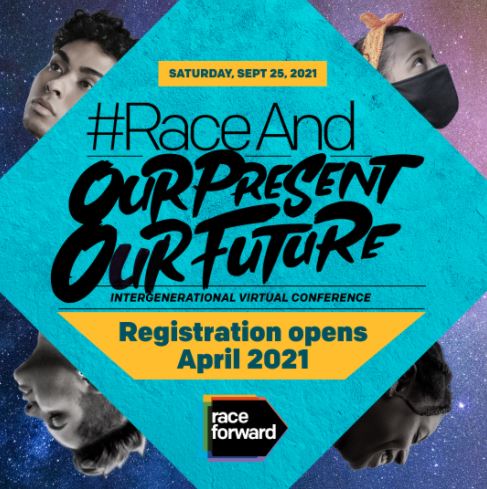 This past summer thousands of young people took to the streets, joining in the protest for racial justice. Race Forward believes young people are a vital part of the movement for racial justice and represent the future for demanding changes to institutions, systems, and structures that have been steeped in racism for hundreds of years. As we celebrate 40 years of working at the intersections of "#RaceAnd", we are inspired to uplift the ideas, strategies, and solutions of youth and young adults who have and continue to lead racial justice work across the country.
Building on our reimagined #RaceAnd programming and 12+ years of Facing Race Conferences, we are excited to present, on Saturday September 25, 2021, an interactive half-day intergenerational event, "#RaceAnd: Our Present, Our Future." This virtual event will center the solutions-driven racial justice movement-making work of Black & Indigenous youth and young adults.
We hope you will join as we: 
Highlight the critical role youth organizing takes in the movement toward racial equity. 
Elevate the ways youth and young adult activists (ages 13-25) are using organizing, art, cultural, narrative, and policy strategies to strike powerful blows to structural racism in the US and continue the global movement to defend Black Lives. 
Strengthen the dialogue between our emerging and seasoned agents of change.
We strongly encourage you to participate in this powerful opportunity to connect, learn and build alongside youth and young adults on the frontlines of the Racial Justice Movement!
We look forward to your participation!
Warmly,
The Race Forward Team