Dispatches From the Culture Wars - April 13, 2021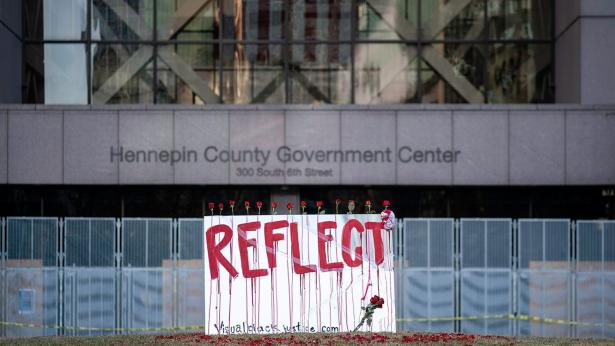 A mirror with the word "reflect" written on it stands outside of the Hennepin County Government Center in Minneapolis, Minnesota, where the Derek Chauvin trial is taking place. Credit,Creative Common
The Derek Chauvin trial has been remarkable for the way the blue wall of silence appears to be crumbling before our eyes.
UK Government Report  By Nandini Archer and Lou Ferreira, openDemocracy
The CDC Says Racism Threatens Public Health  By Mary Pflum, NBC News
By Bryn Stole and Pamela Wood
The Baltimore Sun
Brushing aside vetoes from Gov. Larry Hogan, Maryland legislators on Saturday passed a landmark police reform package into law that supporters hailed as a major step toward transforming policing in the state.
The Republican Position  By Ed Kilgore, New York Magazine
Video Exposes Poll Watching Scandal  By Let Texas Vote
It's anything but glamorous. According to data from the Census Bureau, the percentage of workers in the United States with multiple jobs has been increasing over the past two decades.
By Jessica Bryant
Rewire News Group
Ohio lawmakers want you to think abortion is illegal and, at a minimum, want to make it virtually impossible for you to get one. 
By Dorothy Hastings
PBS 
Volunteers across the country spent the past year delivering groceries to the elderly and immunocompromised, providing food and first-aid to Black Lives Matter protesters, or raising money for the nearly 10 million Americans behind on rent amid the pandemic. 
New York is now one of 16 states that have passed legislation to legalize recreational use, with many aspects of the law taking effect immediately. Smoking cannabis in public is now permitted wherever smoking tobacco is allowed locally.
Asian American Women: Rage and Retribution
By Rafia Zakaria
The Baffler
Just like crimes committed against Black enslaved women were not considered crimes at all, the killings of Asian women pushed to the margins of American society are explained away by the uncontrollable sexual needs of a single white man.