Global Left Midweek - New Think Pieces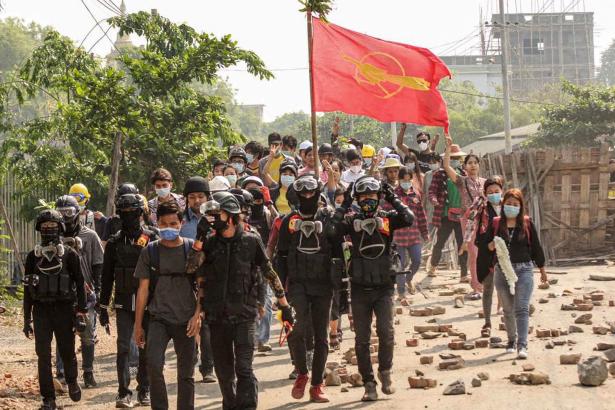 Residents of the Sagaing Region capital Monywa in Myanmar demonstrate against military rule on April 3. Credit,Facebook/AFP
__________
Podcast: Jayati Ghosh on Liberating Care

Equals (London)
Around the world women and girls put in billions of hours of unpaid care work each day – that's the cooking, the cleaning, the caring for children, sick and the elderly. How is this at the heart of the global inequality crisis? Why's it so hidden? And what can be done about it?
__________
The Class Struggle and Geopolitics
John Clarke / Canadian Dimension (Winnipeg)
It is hard to imagine any credible political perspective on the left that isn't hostile to US-led imperialism. However, there is more to be considered than the geopolitical map and the actions of governments. The question that arises is how we should relate to working class resistance in countries with governments the US State Department has in its sights.
__________
Crisis of Euro Social Democracy
Donald Sassoon / Verso (London)
In 1997, social democratic and labour parties had been in power in eleven out of the fifteen states that were then EU members. Just over twenty years later, these parties were barely in power in only a handful of countries. The social crisis has turned into a political crisis: morbid symptoms galore.
__________
Díaz-Canel At Cuba's Eighth Communist Party Congress
Miguel Díaz-Canel Bermúdez / Granma (Havana)
Democracy is more socialist to the extent that it is more participatory, it is up to us to stimulate popular participation, creating spaces and procedures to address, evaluate and implement the demands and proposals that make it effective. This essential connection with the demands and needs of the people through participation is linked to one of the fundamental tasks of the Party in these times: social communication.
__________
Roundtable: Global Green New Deal
Kate Aronoff, Richard Kozul-Wright, Asad Rehman, Thea Riofrancos and Olúfẹ́mi O. Táíwò / Dissent (New York)
It's very easy to be pessimistic given the power asymmetries that have been exposed by this crisis, but there are opportunities to leverage, if the right kind of progressive agenda and alliances can be forged.
__________
A World Without Forced Migration
Asia Pacific Mission for Migrants / The Karibu Foundation (Hong Kong)
There is a need to veer away from a remittance-dependent economy and pursue instead a sustainable economic pathway that is based on human rights and justice, independent from foreign intervention or control, and people-centered. Migrant-sending country governments should set standards for the protection of their nationals working and living overseas, and demand receiving countries to recognize and uphold them.
__________
LeftEast Reflects
Looking back through our archive it is humbling and inspiring how much the movements in the region have achieved with how little resources, and it tells us one thing for sure: we will face whatever comes next better prepared and together. 
__________
Vaccine Imperialism
Jack Gerson / Amandla (Johannesburg)
The rapid development of the Covid-19 vaccines shows what can be done when the research community shares information and works cooperatively. It gives us a glimpse of what could have been done over past decades when Big Pharma, acting as rent-collecting patent holders, blocked development.
__________
Politics, Populism and Platforms
Alan Finlayson / openDemocracy (London)
How can we create a progressive 'popular force' in an era of digital media platforms dominated by the innovations of right-wing populism?
__________
Political and Movement News
Myanmar Protesters Take Up Arms / Frontier Myanmar (Yangon)
Feminist Political Movement in Colombia  Sophie Foggin / NACLA Report (New York)
Unidos Podemos Leaves Spanish Government Isa Ferrero / openDemocracy
Pipeline Fights in British Columbia Braela Kwan / The Tyee (Vancouver)
The South African Left William Shoki / Africa is a Country (New York)