Tidbits - Aug. 26, 2021 - Reader Comments: Afghanistan - What Next?; Organizing Amazon; Stanley Aronowitz; Cuba Today; China; Food Industry and Meat; Ghosts of Amistad; Peru; Global Supply Change; lots of announcements; more....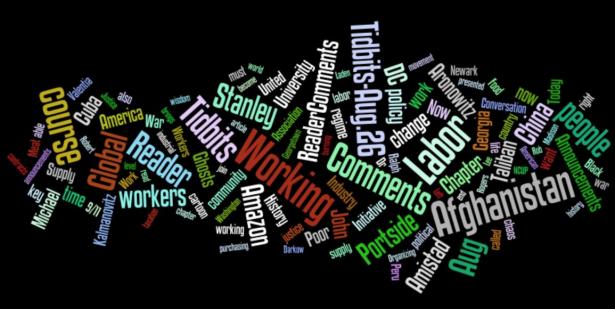 Tidbits - Reader Comments, Resources, Announcements, AND cartoons - Aug. 26, 2021,Portside
Resources:
Announcements:
Re: Not Everyone Wanted War in Afghanistan. We Should Listen to Them Now.
So our country's absurd investment of over half of discretionary federal spending on destructive weapons, and recruiting and training young Americans to use them, does not make us safer. It only encourages our leaders to unleash pointless violence and chaos on our neighbors around the world.
Most of our neighbors have grasped by now that these forces and the dysfunctional U.S. political system that keeps them at its disposal pose a serious threat to peace and to their own aspirations for democracy. Few people in other countries want any part of America's wars, or its revived Cold War against China and Russia, and these trends are most pronounced among America's long-time allies in Europe and in its traditional "backyard" in Canada and Latin America.
Finally reining in America's out-of-control militarism would be a wise and appropriate response to its epic defeat in Afghanistan — before the same corrupt interests drag us into even more dangerous wars against more formidable enemies than the Taliban.
"As we act, let us not become the evil we deplore."
Barbara Lee
Jerry Neal
Posted on Portside's Facebook page
      =====
And it's revealing how the so called liberal media is trying to tear apart Biden for doing the right thing, blaming him for the chaos, not acknowledging the real truth, Iraq, Iran,Vietnam and every other little dirty war,
Craig Gauthier
Posted on Portside's Facebook page
      =====
I've admired Ferencz, but had never seen these comments before, among others. Thank you.
Robert Egelko
      =====
Cambone wrote that Rumsfeld wanted, 
"best info fast. Judge whether good enough to hit S.H. (Saddam Hussein) at same time — not only UBL (Usama Bin Laden)… Go massive. Sweep it all up. Things related and not."
"The only member of Congress who had the wisdom and courage to vote against the 2001 AUMF was Barbara Lee of Oakland. Lee compared it to the 1964 Gulf of Tonkin resolution and warned her colleagues that it would inevitably be used in the same expansive and illegitimate way. The final words of her floor speech echo presciently through the 20-year-long spiral of violence, chaos, and war crimes it unleashed: "As we act, let us not become the evil we deplore.""
Michael Valentia
Posted on Portside's Facebook page
Re: Washington's War in Afghanistan Is Over. What Happens Now?
IMHO China wants the rare Earth minerals. Taliban want total control and that takes money. A whole lotta spendin' money. Projected value of Afghanistan deposits are in the 3.1 trillion dollar range. Maybe more as one auto maker after another closes up shop due to no computer chips. America is hand in glove with the Chinese on this. The Russians want a piece of the action so they are going to play nice, for now.
Ralph Stephens
Posted on Portside's Facebook page
Our Mission  --  cartoon by Rob Rogers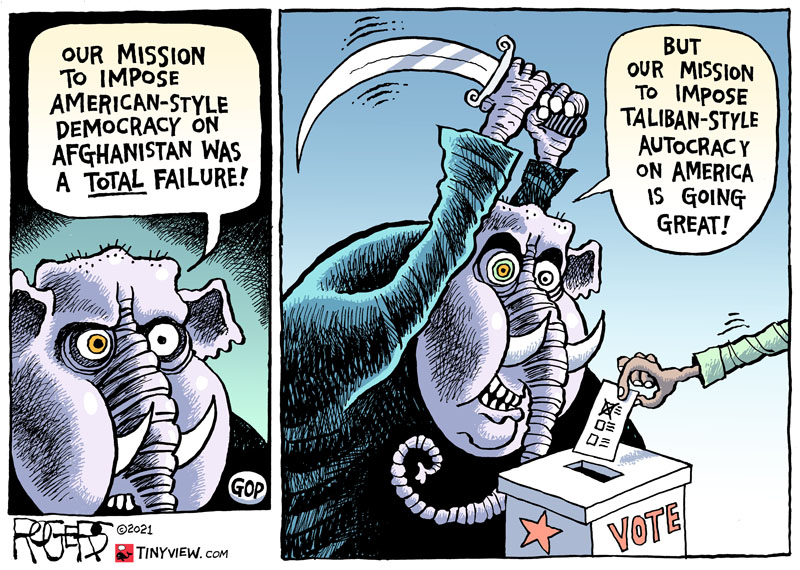 Rob Rogers
August 26, 2021
robrogers.com
This is vulgar leftism at its most typical. . Millions of children went to school. Hundreds of thousands graduated university. So many teachers and schools that will now be closed. Clinics were opened in every district. Women as well as men medical staff. All will be attacked and closed. When will Leftists learn to hold contradictions and recognize that the Liberal bourgeoisie brings some things that we can't do without, like freedom from slavery for women?
How impressive that Ali is a stern critic of the Taliban. Maybe he is a stern critic of the Khmer Rouge too. The Left has to be smarter than this. The only thing worse than the invasion of Afghanistan is invading them and then leaving the millions of people who worked to create civil society in the lurch. Looked at from the point of view of Afghans what does this purist outrage do for them? I think a practical Marxist view is incompatible with such disregard for teachers nurses and social service workers. They are certainly radical leaders here in our country.
Jessica Benjamin
The nonsense of accusing the Taliban for 9/11
The attack on the US on 9/11 was headed by a Saudi Arabian Ben Laden, carried out by young Saudis and none of the Taliban doing.  The Talib (students is what the word means) were encouraged by the US as a counter to Russian educated and supported Afghan government and the invasion of Northern Afghanistan by Russian troops.  The blind ignorance of Americans is appalling.  And the information is readily available if people choose to look beyond.  The Talib offered Ben Laden to US.  But the then president preferred war.  Excellent article that Portside presented.  How can people who lost loved ones or survived 9/11 be so blind.  It was known close to immediately that it was Saudis.
Roz Ashby
Re: Generations of Struggle: Lessons on Defending Democracy
Poor People's Campaign members understand that what's really underway in this country is a struggle between democracy and potential autocracy or, as Martin Luther King once put it, between community and chaos. 
Jose Luis Medina
Posted on Portside's Facebook page
Mask Shootings  --  cartoon by John Darkow
John Darkow
August 22, 2021
Columbia Missourian
Re: Amazon? There Has to be a Better Way
(posting on Portside Labor)
Repeal Taft Hartley and bring back CIO-style sit-down strikes. Let's see if Wal-Mart will roll out tanks and bayonets to clear out a store full of workers who've had about a damn nough.
Eleanor Roosevelt
Posted on Portside's Facebook page
Re: Stanley Aronowitz Knew That Freedom Begins Where Work Ends
I want to thank Jamie for that full-bodied portrayal of Stanley Aronowitz, my dear friend, although I didn't see him for the last 50-55 years. Stanley grew up in Newark, NJ, and was responsible for the SDS chapter there through his invitation to Tom Hayden and others to come to town in 1964, which resulted in a group called the Newark Community Union Project (NCUP), one of the last experiences in building an interracial movement of the poor.
I came to Newark in 1965 to join NCUP, upon Tom's invitation. Stanley was like a big "Old Left" mentor, although he was accepted by the New Left quote readily.  Through the years, I came to appreciate the wit and wisdom you describe, and you are right: he was always the loudest voice in the room (or outdoors).  When I set about writing my memoir, called Unfinished Agenda, Urban Politics in the Era of Black Power, Stanley was the first person I interviewed in 1989, for context about NCUP, for his experiences in community organizing in the Clinton Hill neighborhood in Newark, and about his general thoughts about writing such a book. I had been promising myself to find him and at least talk on the phone, but the thought died, and now, so has he.  One day I will find that tape and go back and listen to his pearls of wisdom and appreciate all that he was.
Junius Williams
Re: Children's Teeth, Collected Decades Ago, Can Show the Damage of Nuclear Testing
Disturbing read.
Bernie DiNardo
Posted on Portside's Facebook page
Re: Cuba Today: Homeland, People, and Sovereignty
Thank you, Portside! I'm quite disgusted with so much of the left's knee jerk defense of the regime. Yes, the embargo must end. AND the regime must stop stifling dissent and silencing diverse voices.
John Magisano
Posted on Portside's Facebook page
      =====
An extremist sector of the Cuban exile community in the United States has called for U.S. intervention. They finance violent acts, deliberately spread fake news, and encourage people to commit arson, loot property, kill police officers, and join the battle from their cell phone trenches. However this situation works out, and whatever the suffering endured by people in Cuba, those extremists will stay where they are.
Marlena Santoyo
Posted on Portside's Facebook page
Re: MSNBC Staff Votes to Unionize With Writers Guild East
(posting on Portside Labor)
Congratulations that's great news.
Alvin Mitchell
Senior Representative
Teamster Local 542
Re: Massachusetts Nurse Strikers Aren't Blinking
(posting on Portside Labor)
YES!!!!
Get what you're worth----FINALLY!!!!!
John Pace
Posted on Portside's Facebook page
In China, outdoor workers in agriculture and construction were usually somewhat protected from the coldest weather as the big Chinese New Year holiday, which can be weeks long for common workers, is often at that time of year which is often the coldest. However, the heat has been an increasing problem. I know in Beijing where I live, the government instituted a policy that forces employers to pay workers more when it's hot, but even more importantly, this encourages outdoor workers in the city including construction, infrastructure maintenance and an army of street cleaners to begin work early in the morning when it's cool, take a long break at the middle of the day when it's at its hottest and then work in the late afternoon until evening.  Of course, it's not perfect, but it's something, 
Mike Liston
      =====
Michael's, a chain craft store, is not air conditionings its stores, apparently. The employees started a petition on FB.  Many of its stores are below street level and enclosed. This is dangerous for Covid spread as well as horribly uncomfortable for working and shopping folks.
Georgia Wever
Re: China, 2049 A Climate Disaster Zone, Not a Military Superpower
Like the burning, flooding, heating United States. And the rest of the world...
Miriam Haiman-González
Posted on Portside's Facebook page
      =====
"By 2049, the Chinese military will be so busy coping with a burning, flooding, churning world of climate change — threatening the country's very survival — that it will possess scant capacity, no less the will, to launch a war with the United States"
Michael Valentia
Posted on Portside's Facebook page
      =====
and a demographic time bomb on top of this. Their one child policy set them up for a massive, massive mind, population decline over this time frame.
Michael Dunn
Posted on Portside's Facebook page
      =====
lol - America will be the same. It's burning right now.
Ralph Kreider
Posted on Portside's Facebook page
Re: No "Fixing This Industry "
This. This is the main reason I do not eat ANY meat.
Alice Chan
Posted on Portside's Facebook page
Re: Deborah Madison is done with cookbooks. Now, she's making corn dogs and fried chicken.
(posting on Portside Culture)
Your headline on the Deborah Madison piece is misleading and inaccurate.
Judy Bertelsen
      =====
Wow! I subscribed to Portside because you are progressive. Because your articles spark change, report on change, and perhaps, motivate change.
This article does the EXACT OPPOSITE! This is disgusting. We all know that eating animals is killing the planet. Okay, so everyone is not ready to be vegetarian or vegan yet... but the slow change is happening and food technology is speeding up the ease with which people can be comfortable giving up meat.
This article is about someone going backwards, someone ditching what is right and finding comfort in not only the slaughter of animals, but the catastrophic effects that animal agriculture is having on the earth: global warming, climate change, ocean destruction, rain forest destruction, slaughter of wild horses.... need I go on?
I am so very disappointed you would highlight this as something people "on the left" want to read.
Shame on you.
Susan Barzallo
Associate Editor, The Animals Voice Magazine
Ghosts of Amistad: In the Footsteps of the Rebels (University of Pittsburgh)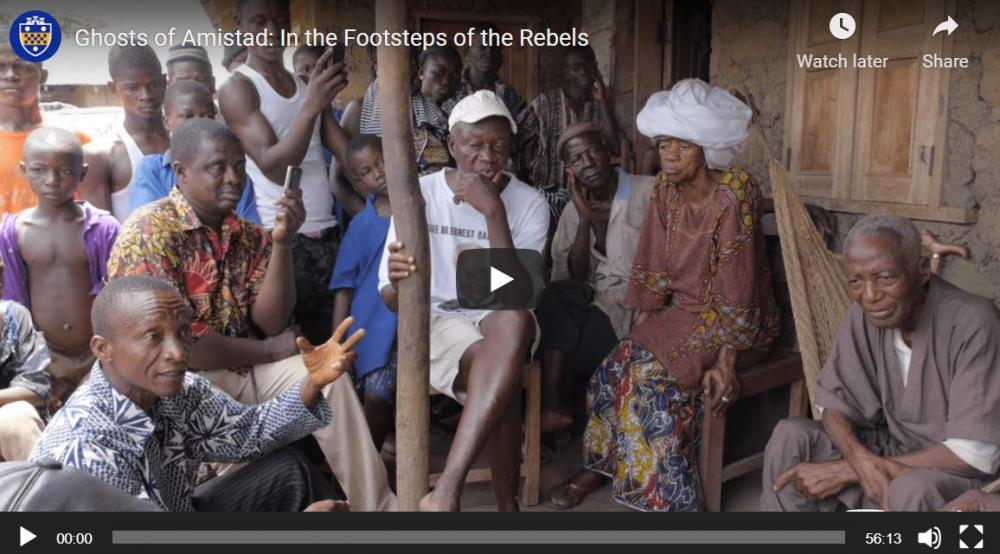 Ghosts of Amistad chronicles a trip to Sierra Leone to visit the home villages of the people who seized the slave schooner Amistad in 1839, to interview elders about local memory of the case, and to search for the long-lost ruins of Lomboko, the slave trading factory where their cruel transatlantic voyage began. The documentary is now available for free full-length viewing in English, with subtitled versions in French, Italian and Spanish on both YouTube and Vimeo.
A Conversation with Héctor Béjar, Peru's former Foreign Minister - August 31 (Alliance for Global Justice, Alberto Lovera Bolivarian Circle of NY)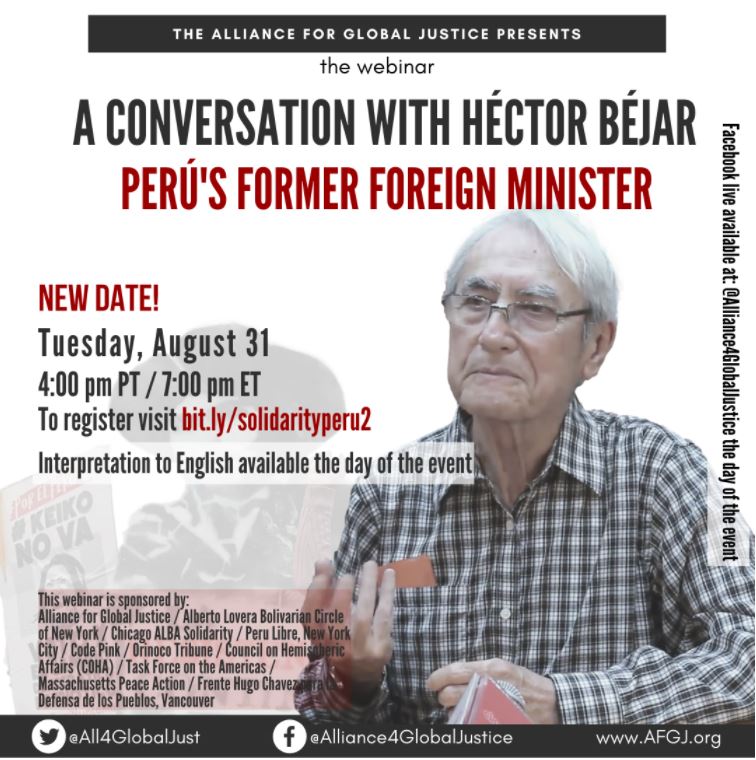 Regulating Global Supply Chains to Empower Workers  - Starts September 1 (Global Labour University)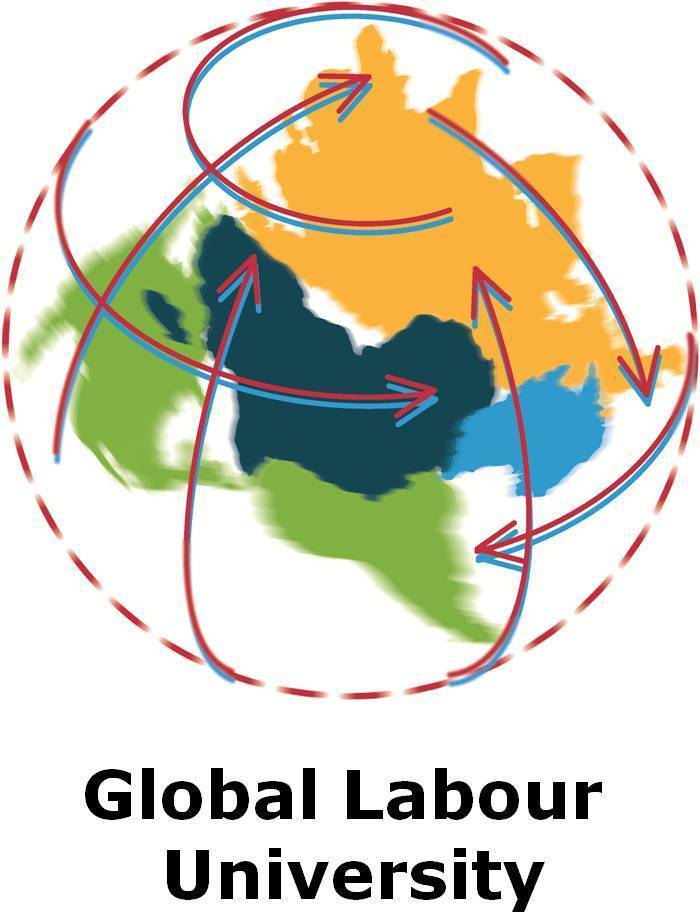 Mark Anner, Dr. Edlira Xhafa, Dr Frank Hoffer, Robert O'Brien, Dr. Jane Kelsey, Peter Rossman, Jason Judd, Christoph Scherrer, Sebastian Herreros, Praveen Jha, Meghna Goyal, Lara Merling, Prof. Dr. Hansjörg Herr, Jason Ward, Malini Chakravarty, Stefanie Lorenzen, and Ms. Marlese von Broembsen
About this course
This FREE online course discusses key policy proposal for regulating global supply chains to empower workers and their organisations. The course offers a combination of lectures, reading materials and zoom workshops with top experts from academia and the labour sector.
Course starts September 1
Course structure
The course has six content chapters. Starting from 1 September 2021, a new content chapter will be posted each week. After becoming fully accessible, the course will remain open for studying the course materials at your own pace.
Chapter 1: Introduction to the course
Chapter 2: Towards a fair trade regime
Chapter 3: Designing sustainble industrial policies
Chapter 4: Building a fair taxation regime
Chapter 5: Effective Mandatory Due Diligence
Chapter 6: Equitable purchasing contracts and practices
Chapter 7: Worker/trade union - driven social responsibility
Global supply chains; Human rights mandatory due diligence; Fair trade and taxation regime; Sustainable industrial policy; Worker-driven Social Responsibility; Fair purchasing contracts and practices
Learning objectives
At the end of the course, the participants will be able to define the key problems in the main areas affecting global supply chains, such as trade, taxation, due diligence, purchasing contracts and industrial policies.
They will also be able to identify some key proposals for each area, and analyze the merits of various proposals and the policy challenges to their implementation.
They will be able to relate to key concepts used in each policy area. Finally, at the end of the course, the participants will be able to provide arguments about the policy proposals.
What do I need to know?
This is a multi-disciplinary course drawing on the fields of social, political and economic sciences course. It is at the level of a Masters' programme, but the concepts are explained in an accessible and well-illustrated way, so it is also possible to participate in the course using skills and knowledge acquired outside formal education.
The course requires a working level of English.
Course workload
The estimated workload is 6-7 hours per chapter if you read also the key reading for each unit. Certificates
You will be able to obtain either a Certificate of Participation or a Certificate of Accomplishment for this course. The requirements for each certificate as well as scholarship possibilities are detailed in Chapter 1 of the course as well as in the last unit of the course.
Working in DC - September 2 (Kalmanovitz Initiative for Labor and the Working Poor)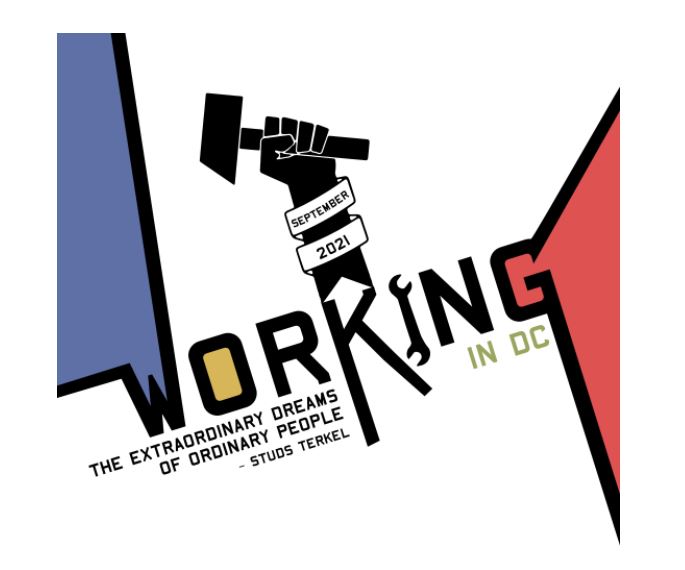 Whatever your history, work has probably been – or will become -- a central part of your life. We work to earn a living, but it isn't just about a paycheck. A job can be a source of pride and a source of struggle, a place where we connect with each other or where we feel invisible or mistreated.

When you tell the story of your work life, what do you point to? Join Working in DC and the Kalmanovitz Initiative for Labor and the Working Poor for a conversation about work.
Working in DC
Thursday, September 2 | 5-6:30 pm
Arrupe Multipurpose Room | Georgetown University
RSVP here
~~~
Please note: this event is planned as a on-campus conversation. Attendees from the Georgetown community must abide by campus vaccination and testing requirements. All attendees must wear a mask for the duration of the event. All health and safety protocols will be strictly enforced. 
With a celebratory performance at BLM Plaza on the streets of DC and by sharing "the extraordinary dreams of ordinary people" through the lens of history, justice, activism, and the arts, Working In DC brings the spirit of the legendary Studs Terkel to life for the Washington, DC community. Proudly presented in collaboration with Labor Heritage Foundation, this project uplifts the working class during our pivotal time of racial justice reckoning, COVID-19, and political unrest.
 
Our site-specific, multidisciplinary, outdoor performance of Working: A Musical is paired with Something To Point To – our civic engagement and education programming. Join labor leaders and local artists in this unique and joyful cross-disciplinary celebration of frontline workers and the American labor movement through the songs of Stephen Schwartz (Godspell, Pippin, Wicked), James Taylor, Micki Grant, and Lin-Manuel Miranda (Hamilton, In The Heights).
Those who attend the discussion are also invited to the September 11 performance of Working, the Musical, outdoors on Black Lives Matter Plaza and to join us afterward to talk with some of the performers and organizers after the show.
The Kalmanovitz Initiative for Labor and the Working Poor at Georgetown University engages questions of workers' rights and the future of the labor movement.
Kalmanovitz Initiative for Labor and the Working Poor
37th & O Streets, NW Maguire 209
Georgetown University
Washington, District Of Columbia 20057
It Didn't Start at Amazon: A Conversation about the History of Organized Labor in the American South - September 9 (Atlanta and North Georgia Labor Council, United Campus Workers of Georgia, Labor and Working Class History Association, Southern Labor Studies Association)