Tidbits - Sept. 9, 2021 - Reader Comments: GOP War on Women, starting in Texas, Going nationwide; Costs of Post 9/11; Afghan War fallout; Climate Crisis; Jobless Crisis; Nina Turner; Teenage Israeli Conscientious Objectors; Ed Asner; Domestic Workers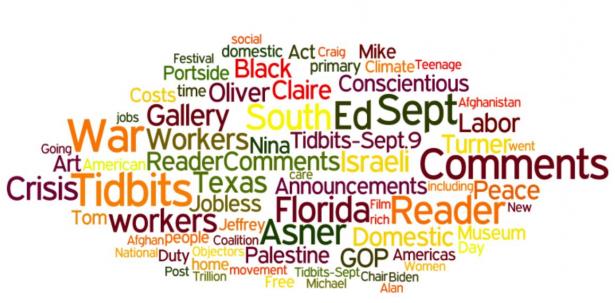 Tidbits - Reader Comments, Resources, Announcements, AND cartoons - Sept. 9, 2021,Portside
Resources:
Announcements: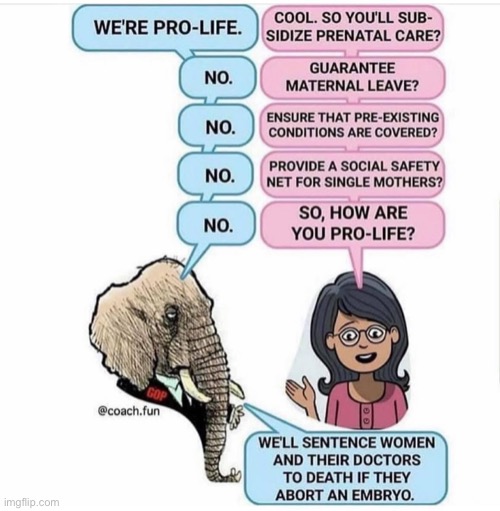 Re: The Deviousness of Texas's New Abortion Law
Give men a vasectomy , a women ovulates once a month, she can only get pregnant once. Men can impregnate every time they have sex, so they are the problem.
Lizzie Segarra
Posted on Portside's Facebook page
Re: We Are Becoming a Nation of Vigilantes
Conceding ground?
Randolph Shannon
Posted on Portside's Facebook page
Real-time documentary  --  cartoon by Mike Luckovich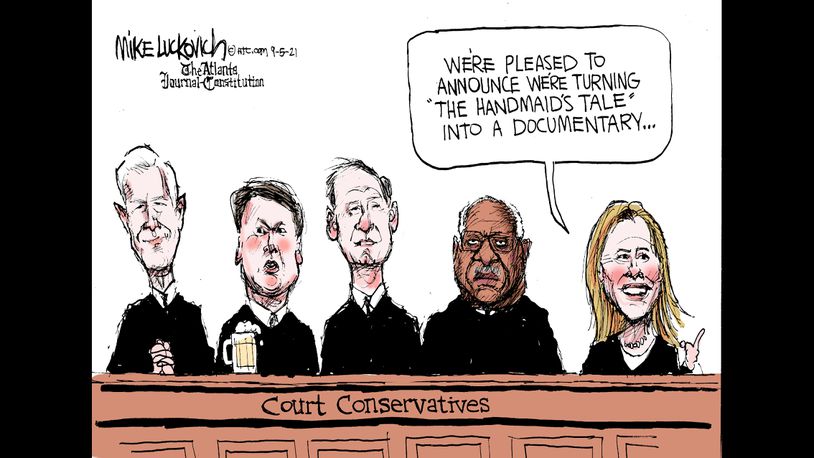 Mike Luckovich
September 5, 2021
Atlanta Journal-Constitution
Re: The Real Origins of the Religious Right
Absolutely right!  It is time that Movement people grasp the centrality of racism in this country's history -- not merely one on a shopping list of social ills but CENTRAL.No significant progress can be achieved in the fight for fundamental social change until the role of African-Americans as subjects and as objects is placed front and center.
Joseph Kaye
Re: How Arctic Warming Can Trigger Extreme Cold Waves
"The Arctic is warming more rapidly than any other region, at a rate more than twice the global average.  Unexpected consequences can be quite severe."
Tom J Thompson
Posted on Portside's Facebook page
Re: 'Catastrophe' Feared as 35 Million People Are Set to Lose Jobless Aid in 3 Days
(posting on Portside Labor)
Terrible.  This in itself is a form of terrorism because of the impact/effects on people and families and especially children.
Joe Grogan
Re: 'Not dealing with Rookies': Companies Brace for Biden's New Labor Cops
(posting on Portside Labor)
Excellent. When American workers win America wins
Michael Dunn
Posted on Portside's Facebook page
Re: The Costs of Post-9/11 Wars Exceed $8 Trillion for U.S.
Assuming Brown University's think-tank estimate of costs of post-9/11 wars exceeding $8T was wrong by 50 percent, it would still  exceed the $3.5T bill facing Congress. Compare the potential good to social welfare from the latter with the destruction, waste, and immorality of the former.
Jeffrey Kerr-Ritchie
Howard University
      =====
Note:  NONE of it has been paid for   as the debt has risen by more trillions than 8 in the 20 years since    But that is a detail that the rich know about and the rest of us will suffer when it all comes down that is except the rich
Peace
Tom Spellman
      =====
8 trillion would have built a lot of sustainable cities and bullet trains.
Tom J Thompson
Posted on Portside's Facebook page
Re: Imagine Spending $8 Trillion to Rebuild a Society Instead of Destroying One
That would be un-American...
Rob Prince
Posted on Portside's Facebook page
Re: Biden Deserves Credit, Not Blame, for Afghanistan
Hundreds of politicians clamed they wanted to and would end his war...Only one had the balls to do it.!
Neil Alan Bufler
Posted on Portside's Facebook page
      =====
21 trillion war.
Started on a lie.
Saudi Arabia went Scott free. millitary lied about outcome for years. wall street.got rich 
Our children pay the bill
The Vietnam War was started on a lie and the fall of Saigon ended in the same sad way.
Anybody tired of listening to the Gregory gardens of the world,Yet.
We learned nothing.
Todd Allen
Posted on Portside's Facebook page
Re: Heeding Steve Bannon, Election Deniers Organize to Control GOP
White supremacists aren't just gonna go away, war mongers like Steve Bannon, want continue the lies and misinformation about elections and immigrants, keep people fighting among themselves,
Craig Gauthier
Posted on Portside's Facebook page
Re: The Biggest Uprising Since the Civil War Happened Here 100 Years Ago
Incredible story of courage and commitment, fighting for the right to unionize and have voice in working conditions, wages and benefits, 
Craig
Posted on Portside's Facebook page
      =====
Today's story to celebrate and contemplate Labor Day...
Scott Pearson
Posted on Portside's Facebook page
Re: The Myth of the Kindly General Lee
The piece on General Lee was very well done.  To the slaughters you could have added the feckless Pickett's Charge, but that may have only complicated the overall picture.
James A Young
Professor of History emeritus
Edinboro University of Pennsylvania
Re: Why Nina Turner, the real 'establishment,' lost Ohio Democratic primary race
This was very enlightening--thanks for publishing it.
Stan Nadel
      =====
If you are a Republican or Independent you can still vote in a  Democratic primary in Ohio. How much money was spent encouraging Republican and Independent voter to vote in the primary.  How much was spent against Turner that she was anti-Israel and [therefore] "anti-Semitic"
Brad Smith
Texas Sexual Assault  --  cartoon by Mike Stanfill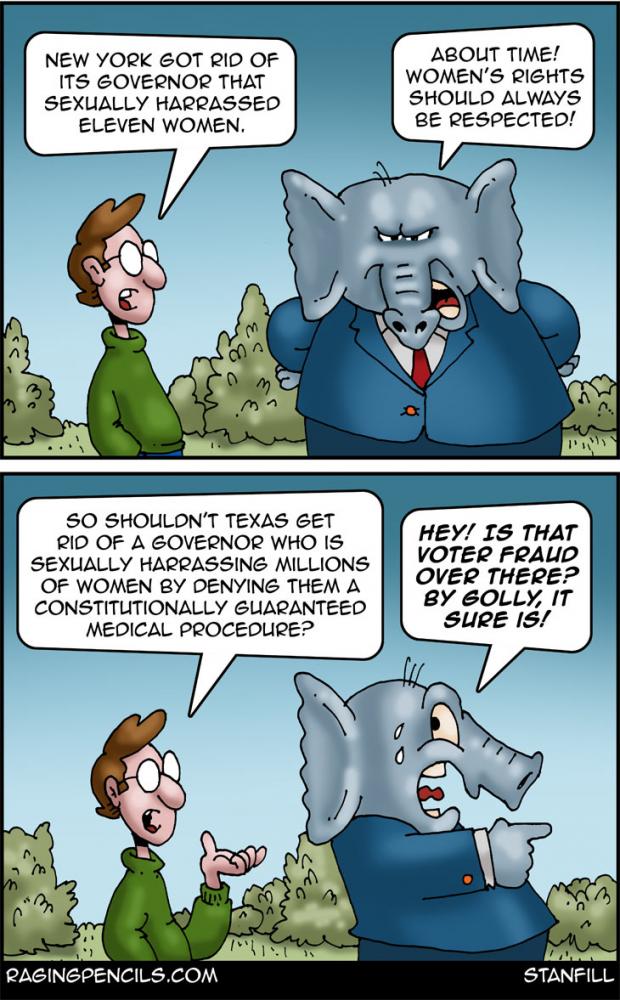 Mike Stanfill
September 8, 2021
Raging Pencils
Re: Conscientious Objector: 'I Don't Want to Wear a Uniform That Symbolizes Violence and Pain'
Shahar Perets, who was sentenced to prison for refusing to join the Israeli army, talks about meeting Palestinians for the first time, her visits to the West Bank, and how Israeli society represses the occupation.
Jose Luis Medina
Posted on Portside's Facebook page
Re: Ed Asner Was a Proud Socialist in Hollywood
Ed was a mensch. In the 1980s, he volunteered to come to Boston to support the antiwar work of the Boston Committee for Health Rights in El Salvador. He was an antiwarrior for social justice who gave himself selflessly to the struggle. Rest in power, Ed...
Alan Meyers
Posted on Portside's Facebook page
      =====
morality over money
Karyne Dunbar
Posted on Portside's Facebook page
Re: Ed Asner Remembered  -- Michael Moore tribute - Tidbits - Sept. 2
Moore's tribute is a bit rich considering his Traverse City Film Festival turned down the chance to honor the great man in 2019 when we offered the doc "Ed Asner: On Stage and Off" to them. It had already played at the American Documentary Film Festival in Palm Springs, The Santa Fe Film Festival and the Sonoma International Film Festival (and many others since). Traverse City seemed like a natural. Moore's gratitude to Asner only went so far. That's show biz, folks.
Kurt Jacobsen
Posted on Portside's Facebook page
Re: All the Clever Books Are of No Help to Me Here
Whatever became of East Germans after the DDR ceased to exist?
Here's a deeply personal, authentic window into their lives...
Mateo Owen
(posting on Portside Culture)
I don't know. Since I'm a middle school teachers and not in academia I think I'll pass before Moby Dick and rap. Very tired of minimizing the importance of new and diverse voices and the same old dead white men as still relevant. Not!! And White professors who teach the same thing and now draw an enrollment of five should retire. And seriously the drink friend who's supposed to be hip I'm passing before in his drunkenness he makes a predatory pass at the underclass man. I'm out. And I'm Asian who does Asian sightings. Two episodes are enough even with Oh
Misa Joo
Posted on Portside's Facebook page
      =====
Seems pretty realistic though I haven't seen ep 1 so I may not know what I'm talking about. 
John Sayer
Left out this Labor Day (National Domestic Workers Alliance)
Labor Day was originally established as a "workingmen's holiday." It was a pivotal point in the fight for labor rights – but *not* for domestic workers.
The vast majority of nannies, housecleaners, and care workers have always been Black and immigrant women. So when historic labor rights legislation was introduced in the 1930s, domestic workers were excluded because conservative white lawmakers feared it could build Black political power.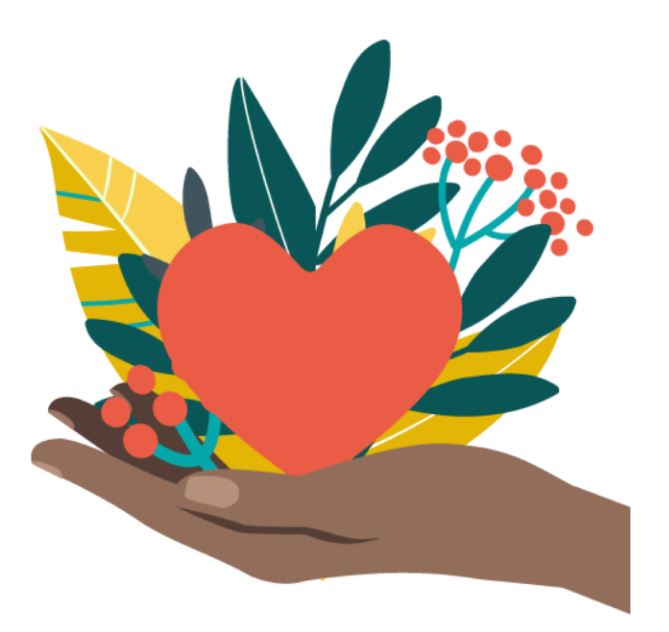 It's a racist and misogynist injustice that's been allowed to fester to this day. But the next few weeks could be a turning point to change all of that for the better.
The House and Senate are preparing to vote on a once-in-a-generation opportunity to ensure home and community-based services jobs are good, family-sustaining jobs. We are dramatically ramping up our congressional advocacy, media, and grassroots campaign, and your support can supercharge this historic moment.
Domestic workers might not be at the center of the history of Labor Day, but domestic workers have always been at the forefront of the labor movement.
In 1866 Black washerwomen came together in Jackson, Mississippi to petition the mayor for a uniform wage – that's just one year after the end of slavery. In 1881 in Atlanta, 3,000 washerwomen, cooks, and maids went on strike for 10 days leading to arrests and fines.
But then when workers finally won laws granting basic labor protections, domestic workers were excluded time and time again. In addition to the Fair Labor Standards Act, lawmakers excluded domestic workers from the Occupational Safety and Health Act, the Civil Rights Act, the Americans with Disabilities Act, the Age Discrimination in Employment Act, and the Family and Medical Leave Act.
It's a pattern of injustice rooted in racism and misogyny that we are determined to end. That's why we're campaigning tooth and nail to win a historic investment in home and community-based services jobs, which calls for:
$400 billion to be invested in Medicaid to create over 1 million new care jobs,
Increased access to critical home care services for people with disabilities and aging adults so they can live with dignity at home, and
To build a durable home care system for workers and consumers.
National Domestic Workers Alliance
Iconic poster: War is Not Healthy for Children and Other Living Things (The Peace Company)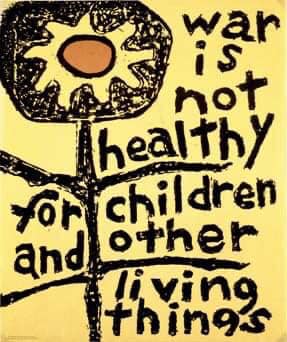 Original poster by Lorraine Schneider, 1966, for Another Mother for Peace
The Peace Company
21 Main Street
Bristol, VT 05443 
888-455-5355 (toll-free) • info@thepeacecompany.com
IN A TIME OF PANTHERS: The Lost Negatives - The Photos of Jeffrey Henson Scales  - Exhibition: September 14 - November 6 (Claire Oliver Gallery)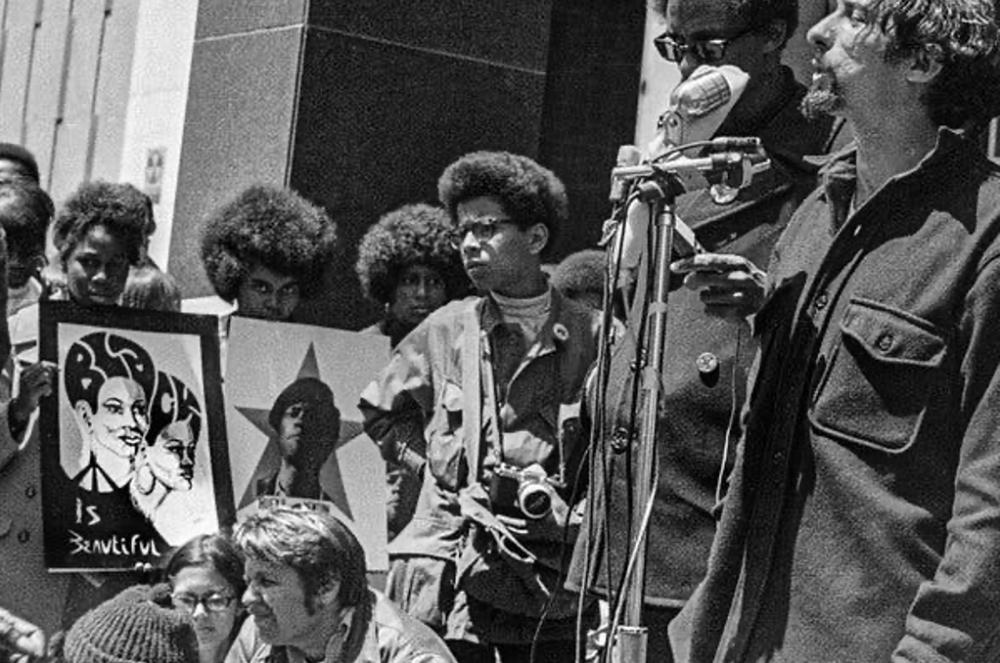 Claire Oliver Gallery is pleased to announce the gallery's debut solo exhibition by photographer Jeffrey Henson Scales, In A Time of Panthers: The Lost Negatives. The exhibition features 20 photographs from the 1960s including Scales' earliest forays as a photographer during the electrifying summer of 1967 when at age 13 with his paternal grandmother he toured the Midwest to see relatives. As a Black teenager, he saw the poverty and oppression of Northern Black communities and when he returned to Oakland, CA became immersed in photographing the milieu of the Black Panther movement in Northern California.  The images chart the emergence of his awakening as a documentary photographer as well as a Black man in a pivotal moment in the 20th century that echoes today's Black Lives Matter movement.
Preview "IN A TIME OF PANTHERS" Exhibition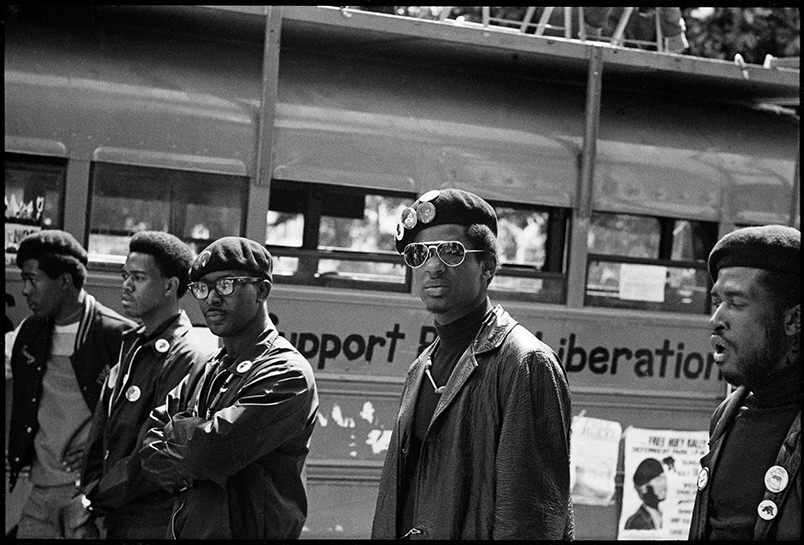 Claire Oliver Gallery is located in Central Harlem in a four-story brownstone. For nearly 30 years, Claire Oliver Gallery has showcased and celebrated artwork, with a focus on work by women and people of color, which transcends and challenges the traditional art historical canon. Our forward-thinking program and exclusive commitment to the primary market allows for an intensive focus that has nurtured and grown the careers of our artists. Many of the gallery's artists have been included in The Venice Biennale, The Whitney Biennial, and biennales in Sydney, Pittsburgh, and Lyon and have exhibited works in major international museums including the Smithsonian American Art Museum, The Art Institute of Chicago, Center Georges Pompidou, The Philadelphia Museum of Art, and The Los Angeles County Museum of Art amongst others. Claire Oliver Gallery artists are included in the permanent collections of many important museums worldwide including The Smithsonian American Art Museum, The Art Institute of Chicago, The Tate Britain, The Metropolitan Museum of Art, The State Hermitage Museum, and MoMA, amongst many others. Claire Oliver Gallery held the first American exhibition for the Russian collaborative AES+F, whose work went on to twice represent Russia in the Russian pavilion of the Venice Biennale. Gallery artists have received prestigious fellowships including Fulbright, Guggenheim, USArtist, and National Endowment for the Arts.
Claire Oliver Gallery
2288 Adam Clayton Powell Jr. Boulevard
New York, NY 10030
212.929.5949
www.claireoliver.com
GO LIVE FOR PALESTINE  A call to boycott Duty Free Americas  - September 12 (South Florida Coalition for Palestine and Jewish Voice for Peace)
Does an innocent-seeming purchase of a bottle of perfume or liquor at a Duty Free Americas store support the dispossession and displacement of Palestinian families?
Sunday, September 12, 2021 4:00 PM -  5:00 PM ET
Register here: https://act.jewishvoiceforpeace.org/a/duty-free-americas-coalition-launch
Join the South Florida Coalition for Palestine as we call for a boycott of Duty Free Americas until they stop funding Israeli apartheid! We will hear from activists on the ground in Palestine and in South Florida about what DFA's owners are truly supporting, and then take action together.
Duty Free Americas, whose headquarters are in South Florida, has shops in airports and border crossings across the U.S., and in Central and South America. The company's owners, the Falic Family, have donated millions of dollars to the expulsion of Palestinians from their homes and land through the Israeli government's illegal settlement project. 
The South Florida Coalition for Palestine includes Dream Defenders, Jewish Voice for Peace South Florida, Al-Awda South Florida, Students for Justice in Palestine South Florida, CAIR Florida, and the South Florida Muslim Federation.