Global Left Midweek - South African Strikes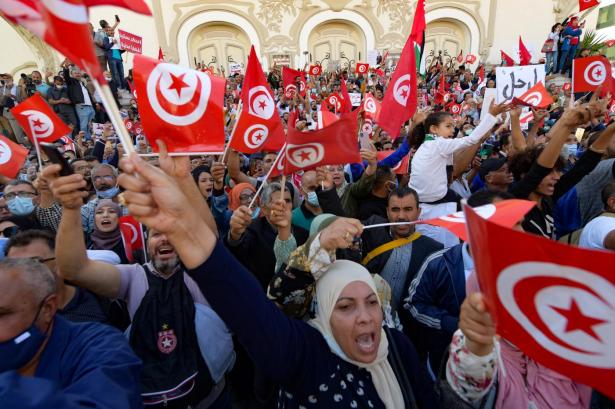 Tunisians raise national flags as thousands join a rally against the president in central Tunis on 10 October 2021. Credit ,AFP
__________
Italians Respond to Fascist Attack on CGIL
Wanted in Rome (Rome)
There are growing calls in Italy for the extreme right group Forza Nuova to be shut down following clashes in Rome on Saturday evening during a protest against the Green Pass — a digital or paper certificate showing covid status. A group of protesters stormed the headquarters of CGIL, the country's largest trade union, trashing offices inside.
__________
South African Strikes
Determined to Get a Living Wage  Anna Majavu, Oupa Nkosi, Rajesh Jantilal and Sibongile Portia Jonas / New Frame (Johannesburg)
COSATU  Marecia Damons, Masego Mafata and Joseph Chirume / GroundUp (Cape Town)
NUMSA  Nica Richards / The Citizen (Johannesburg)
SAFTU  Masego Mafata and Kimberly Mutandiro / GroundUp
United Front in Mining Wage Talks  Ed Stoddard / Daily Maverick (Johannesburg)
__________
More on the Graz Victory
Michael Graber / transform! Europe (Vienna)
The success of the Graz Communists has a long prehistory of a consistent and unerringly pursued social and popular municipal policy, together with the KPÖ leaders' personal engagement and manifest self-imposed restriction in refusing to accept their full salaries (donating most of them to poor Graz residents).
__________
Tunisia: Thousands Against President Saied
Videos posted online showed masses of protesters waving Tunisian flags and chanting slogans, including "the people against the coup d'etat" and "raise your voice, the revolution is not dead". 
__________
Three Views on the Russian Duma Elections
Magic Tricks  Evgeny Belyakov / LeftEast
Outcome and Perspectives  Leonid Krieger / International Viewpoint (Paris)
Democratic Socialists in the Communist Party  Mikhail Lobanov / Jacobin (New York)
__________
What the Climate Movement Can Learn from the Anti-Apartheid Movement
Donna Katzin / Foreign Policy in Focus (Washington)
The real test of success must be to what extent resources are actually removed from fossil-fuel production and reinvested in renewable energy. Taking the fight directly to corporations — many of which are more powerful than governments — can be incredibly effective.
__________
News From the New Pink Tide in Latin America
Peru: Leftists Shown the Door  / Peru Support Group (London)
Bolivia: Defying the Right, Raising the Wiphala  teleSUR (Caracas)
Demanding Abortion Rights in Venezuela  Andreína Chávez Alava / Venezuelanalysis (Caracas)
__________
Niger Delta Mothers Besiege School Principal 
Festus Ahon / Vanguard (Lagos)
How does a revolution get started? Like this.
__________
The Anti-Semitism Question
Commonality of Islamophobia and Anti-Semitism  Rachel Woodlock / RTÉ (Dublin)
The Crisis in UK Labour  Daniel Randall and David Renton / Tempest
Whose Fault?  Peter Oborne, Justin Schlosberg and Richard Sanders / openDemocracy (London)
__________
Happy 90th to Human Rights Giant Desmond Tutu!
Piyushi Kotecha / Daily Maverick
The Arch stands tall among the world's justice seekers and peacemakers. Already an exceptional legacy figure, he starts a new decade this week as a consistent, uncompromised, fiercely independent affirming voice of healing, justice, faith and unconditional love.