More than 100 Actors, Musicians and Authors Sign Statement Against Israel's Attack on Palestinian Organisations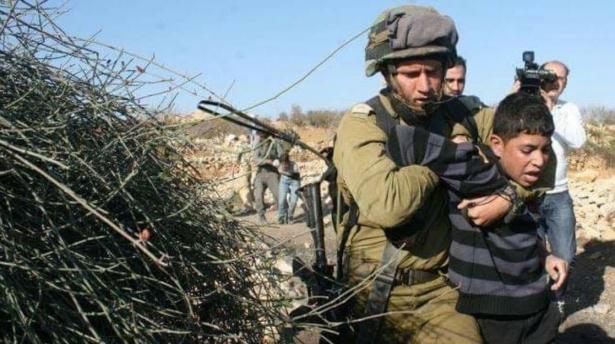 Israeli Defense Forces (IDF) troops arresting a Palestinian child. Between 2017-2019, Israeli security forces in the West Bank and in East Jerusalem arrested 5,000 Palestinian minors between the ages of 12 and 18, following similar detention methods,to those used in the arrest of adult suspects. (Ynet News)
The organisations include: Addameer Prisoner Support and Human Rights Association, Al-Haq Law in the Service of Man (Al-Haq), Bisan Center for Research and Development, Defense for Children International-Palestine (DCI-P), the Union of Agricultural Work Committees (UAWC), and the Union of Palestinian Women's Committees (UPWC).
Still, despite international condemnation by the UN, international human rights groups, and government officials, the Israeli occupation has doubled down in their crackdown and issued a military order that outlaws, entirely, the six Palestinian organisations in the West Bank.
The designations target six of the most eminent Palestinian human rights defenders engaged in critical human rights work and cover all aspects of civil society in the Occupied Palestinian Territory (OPT). Addameer serves as one of the biggest organizations providing direct legal support to Palestinian political prisoners.

Al-Haq, the oldest human rights organisation both in Palestine and Middle East, extensively documents international humanitarian law and international human rights law violations in the occupied territory, specialising in individual and corporate accountability. Bisan Center produces extensive research and development reports in support of the poor and marginalized communities.
DCI-P is a local affiliate of an international human rights organisation that works to protect the rights of Palestinian children. The UAWC supports thousands of Palestinian farmers and their families amid the encroachment and violence of illegal Israeli settlements. The UPWC is a feminist, progressive, and grassroots organisation that aims to empower Palestinian women.
The vital work of these six organizations to protect and empower Palestinians and hold Israel accountable for its gross human rights violations and aparthied regime of institutionlised racial discrimination is precisely the work that Israel is trying to end. Israel's designation of these six Palestinian organisations as "terrorist" groups, and the military order that outlaws them places the safety of the organisations and their staff at imminent risk.
The military order allows for Israeli occupation forces to raid their offices, forcibly shut them down, arbitrarily arrest their staff to be tried under Israeli military courts, and institute other reprisals including travel bans and residency revocations against their members.
The threat of retaliation is real, and puts at risk not just the organizations themselves, but the entire Palestinian civil society and the tens of thousands of Palestinians they serve everyday. To this end, we call on all persons of conscience across the globe to stand with us. We call on the international community to #StandWithThe6 and protect Palestinian human rights defenders, and demand that Israel rescind the terrorist designations immediately.
This statement is supported by more than 100 signatories. The full list is below:
Kevin Macdonald, film director, UK
Peter Gabriel, musician, founder, Womad Festival, UK
Mike Leigh, film director, UK
Jodie Evans, film producer, USA
Robert Wyatt, musician, UK
Alfreda Benge, artist, UK
Aki Kaurismaki, film director, Finland
Liam Cunningham, actor, Ireland
Susan Sarandon, actor, USA
Ece Temelkuran, author, Turkey
Tilda Swinton, actor, UK
Jim Jarmusch, film director, USA
Laura Poitras, film director, USA
Simon Fisher Turner, musician, UK
Iciar Bollain, film director, Spain
Kleber Mendonça Filho, film director, Brasil
Julie Christie, actor, UK
V (formerly known as Eve Ensler), Playwright, USA
Mark Ruffalo, actor, USA
Philip Pullman, author, UK
Stephen Dillane, actor, UK
Brian Eno, artist, UK
Roger Waters, musician, UK
Ken Loach, film director, UK
Paul Laverty, writer, UK
Yann Martel, author, Canada
AL Kennedy, author, UK
Naomi Klein, author, Canada
Robert Guediguian, film director, France
Asif Kapadia, film director, UK
Juliet Stevenson, actor, UK
Yanis Varoufakis, author, Greece
Peter Kosminsky, film director, UK
Titi Robin, musician, France
Etienne Balibar, philosopher, France
Harriet Walter, actor, UK
Apichatpong Weerasethakul, film director, Thailand
Bella Freud, artist, UK
David Michôd, film director, Australia
Claire Foy, actor, UK
Mark Rylance, actor, UK
Alfonso Cuaron, film director, Mexico
Thurston Moore, musician, USA
Jeremy Deller, artist, UK
Kamila Shamsie, author, UK
Monica Ali, author, UK
Eric Cantona, actor, France
Phil Manzanera, musician, UK
Laurie Anderson, artist, USA
Michèle Gavras, producer, France
Annemarie Jacir, film director, Palestine
Costa Gavras, film director, Greece
Juan Diego Botto, actor and playwright, Spain
Alberto San Juan, actor and playwright, Spain
Carlos Bardem, actor and writer, Spain
Residente (René Pérez), singer, artist, writer, film director, Puerto Rico
Irvine Welsh, author, UK
Tunde Adebimpe, musician, USA
David Byrne, musician, USA
Ohal Grietzer, musician, Israel
Tai Shani, visual artist, UK
Hany Abu-Assad, film director, Palestine
Simon Pegg, actor, UK
David Mitchell, author, UK
Mira Nair, film director, India
Jarvis Cocker, musician, UK
Fisher Stevens, director, USA
Leopoldo Gout, artist, USA
Julio Pérez del Campo, film director, Spain
Alain Damasio, author, France
Sidi Larbi Cherkaoui, choreographer, Belgium
Joe Sacco, comic book artist and journalist, USA
Mercè Sampietro, actor, Spain
Ian McEwan, author, UK
Colm Tóibín, author, Ireland
Elaine Mokhtefi, translator, USA
Madeleine Thien, author, Canada
Eliot Weinberger, author, USA
Sabrina Mahfouz, playwright and poet, UK
Joel Beinin, professor, USA
Omar Robert Hamilton, author, UK
John Oakes, publisher, USA
Mary Jane Nealon, poet, USA
Rachel Kushner, author, USA
Lina Meruane, author, Chile
Naomi Wallace, playwright, USA
Rashid Khalidi, author, Palestine
Ben Ehrenreich, author, USA
Adam Shatz, Writer, London Review of Books, USA
Farid Matuk, poet, USA
Michel Moushabeck, publisher, USA
Eileen Myles, poet, USA
Lila Abu-Lughod, Professor, USA
Natalie Diaz, poet, USA
Andrew Ross, New York University, USA
Zeina Azzam, poet, USA
Bernardine Dohrn, human rights advocate, USA
Molly Crabapple, author, USA
Jeffrey Sachs, University Professor at Columbia University, USA
Bruce Robbins, author, USA
Shuchi Saraswat, author, USA
James Schamus, screenwriter and producer, USA
nancy kricorian, Writer, USA
Jacqueline Rose, author, UK
Andrew O'Hagan, author, UK
Hannah Khalil, playwright, Palestine
Ritu Menon, publisher, India
Janne Teller, author, Denmark
Nicholas Blincoe, author, UK
Rick Simonson, Bookseller, USA
Brigid Keenan, author, UK
Massive Attack, music band
Richard Gere, actor