Global Left Midweek - February 9, 2022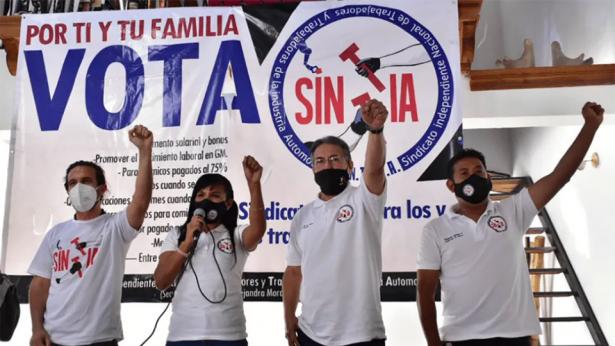 GM workers in Silao, Mexico win an independent union. Credit,SINTTIA
__________
From Cuba: The Promise of Democracy
Rita Karo / Monthly Review (New York)
Cuba was and is undergoing a multifaceted crisis. To understand the current situation, it is necessary to consider diverse causal factors that cut across every sphere of social life.
__________
Can We Head Off Apocalypse?
Piero Bevilacqua / il manifesto Global (Rome)
In Italy, the absence of a left-wing party condemns civil society to inertia, both in the face of environmental threats and of present and future wars. The [Italian] Democratic Party, which the media, with contrived language, continues to call "leftist," loyal to NATO, does not dare to move a finger to create a peace movement.
__________
Mexico: Major Win for Workers
Dan DiMaggio and Luis Feliz Leon / Labor Notes (Detroit)
Auto workers at a General Motors plant in central Mexico delivered a landslide victory to an independent union in a vote held February 1-2. It's a major breakthrough for workers and labor activists seeking to break the vice grip of the employer-friendly unions that have long dominated Mexico's labor movement.
__________
Canada: Confronting Covid Reaction
Judy Rebick and Corvin Russell / rabble.ca (Toronto)
We need to step into the current political climate and counter far-right protests, and get workers the income, housing and other social support they need.
__________
Turmoil in Swaziland
Pavan Kulkarni / Peoples Dispatch (New Delhi)
A court in the city of Manzini granted bail to Colani Maseko, the president of Swaziland National Union of Students (SNUS) on Friday, February 4. Outside the police headquarters, protesters at the demonstration openly threatened to render the kingdom "ungovernable" until the release of Maseko and all other political prisoners of Africa's last absolute monarchy. 
__________
New Pink Tide Tidings
2022 Elections  Chase Harrison and Carin Zissis / Americas Society/Council of the Americas (New York)
Chile  Franck Gaudichaud / Le Monde diplomatique (Paris)
Colombia  Andrea Jaramillo and Oscar Medina / Time (New York)
Honduras  Jeff Ernst / The Guardian (London)
Perú  Tanya Wadhwa / Peoples Dispatch
Venezuela  Ociel López / Venezuelanalysis (Caracas)
__________
UK Labour Party Stirrings
Left MPs Divided   Sienna Rodgers / Labour List (London)
'Broad Church'?  Keith Flett / Morning Star (London)
Jews, Antisemitism and the Labour Left  Joshua Leifer / Jewish Currents (New York)
__________
Armed Resistance in Jenin
Shatha Hammad / Middle East Eye (London)
The violence in May last year prompted by Israeli raids on al-Aqsa Mosque and attempts to expel Palestinian families from occupied East Jerusalem, seemed to breathe new life into armed resistance in Jenin. The camp is no stranger to violence, with a long history of confrontations with Israel that peaked in 2002, when a 10-day military campaign by Israel laid waste to it. 
__________
Who is Dora María Téllez?
Sergio Ramírez / Havana Times
Portside note: This is an appreciation of Dora María Téllez Argüello, a former commander in the Sandinista Front and Nicaraguan Health Minister in the first Ortega government, written by Ortega's first Vice President. Last week Téllez was tried and convicted of conspiracy to undermine national integrity, amid international outcry.
__________
India CP (Marxist) Draft Political Resolution
CPI(M) Central Committee / People's Democracy (New Delhi)
During this period the Party conducted various movements and struggles, against the impact of neo-liberal policies; sharpening of communal polarisation with the spread of hate and violence; with the struggles to defend democratic rights and civil liberties of the people, and in support of the various strikes/protest actions called by the trade unions and other mass organisations.