Tidbits – May 5, 2022 – Reader Comments: Abortion; SCOTUS Turns Back Rights; Amazon Workers and Today's Labor Movement; Cesar Chavez; Organizing: Then & Now; Defending Social Studies Education From Censorship; More…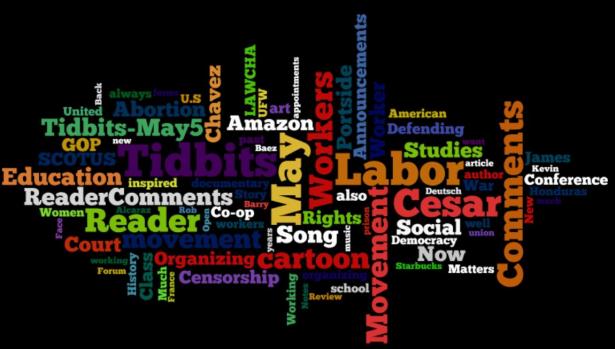 Tidbits - Reader Comments, Resources, Announcements, AND cartoons - May 5, 2022,Portside
Resources:
Announcements:
The Leak  --  cartoon by Lalo Alcaraz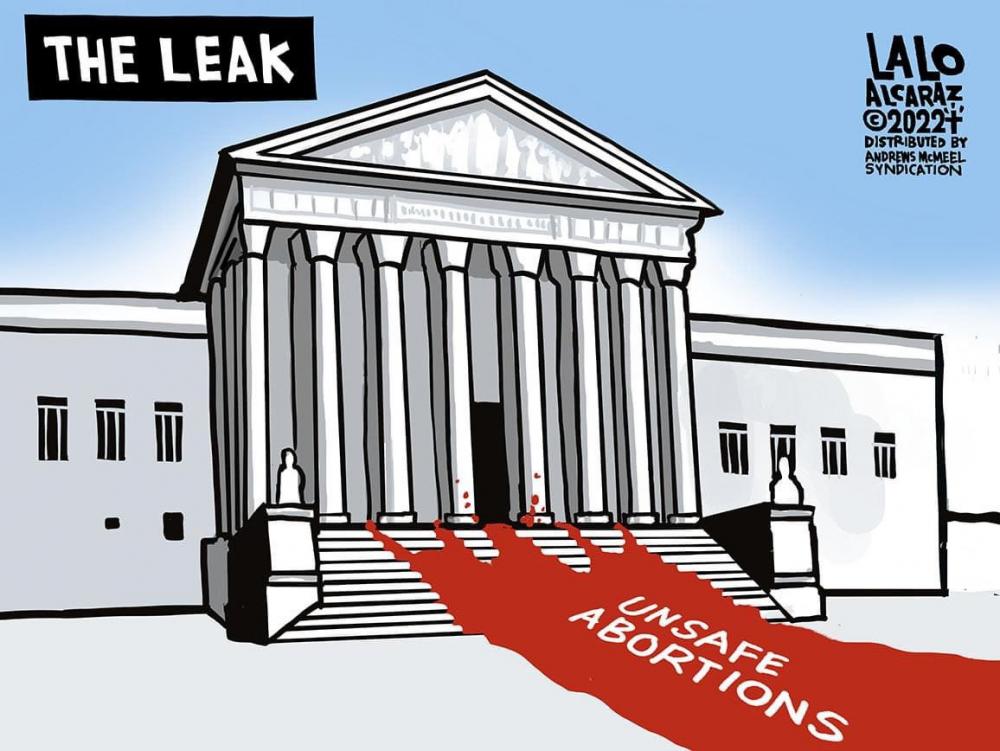 May 4, 2022
Re: Critics Warn Alito Draft Threatens Much, Much More Than Abortion Rights
 
Yes indeed. And now where are the mea culpas from those who assured us that a Trump victory would have no worse consequences than one by Hillary and belittled our warnings about the consequences for the Supreme Court?
Stan Nadel
SCOTUS  --  cartoon by James MacLeod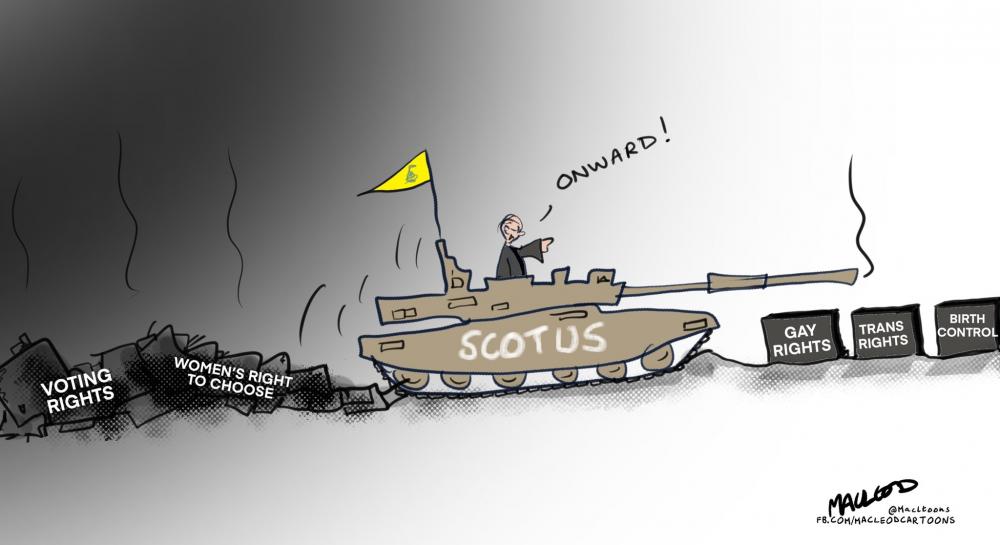 Prof. James MacLeod
May 4, 2022
DrMacLeodCartoons
Re: Ill-Judged Ruling on Travel Mask Mandate the Product of Years of Cynical GOP Court Packing
 
You could also say... after years of Democrats refusing to see the importance of control of judicial appointments, city councils, school boards and state legislatures while the GOP always realized these were the stepping stones to control and future higher office. 
As for the courts, I can well remember trying to convince Dems over the past decades that it was vitally important to vote for Dem presidential, senatorial and House candidates even if they were not liberal enough for them, instead of making a statement by voting for a third party candidate or staying home, for this very reason, to keep control of court appointments, especially for life Supreme Court appointments, out of the hands of the GOP. 
I hope all those who said they didn't care, that both major parties were just as bad, are happy with the result of their high horse, purer than thou enabling of the courts the GOP have given us. The GOP couldn't have done it without them.
Felice Sage
Posted on Portside's Facebook page
Re: The Revolt of the College-Educated Working Class
 
It's high time the college-educated realized that a degree doesn't make them "middle class."
Eleanor Roosevelt
Posted on Portside's Facebook page
Re: Why Politics Matters for Amazon Workers
 
"A reborn workers' movement needs both organized workplace militancy and left-wing politicians that back them. Sunday's Staten Island Amazon rallies — attended by Bernie Sanders, Alexandria Ocasio-Cortez, and other elected officials — featured both."
Rafael Arturo Guariguata
Posted on Portside's Facebook page
Re:: Socialists Are Trying To Revive the American Labor Movement
(posting on Portside Labor)
 
Insightful.
From the article:
This is true for everyone: consciousness is always contradictory. All of us carry around in our heads fears about the consequences of stepping out of line. We encounter them as the anxieties of loved ones who depend on us, which might make us risk averse; or the painful lessons of past failures and defeats — our own, or those of people we know, or those of the working class on a larger scale; or the optimism of ambitions that we don't want to spoil, or of relationships (including with bosses) that we don't want to damage.
Michael Henry Starks
Posted on Portside's Facebook page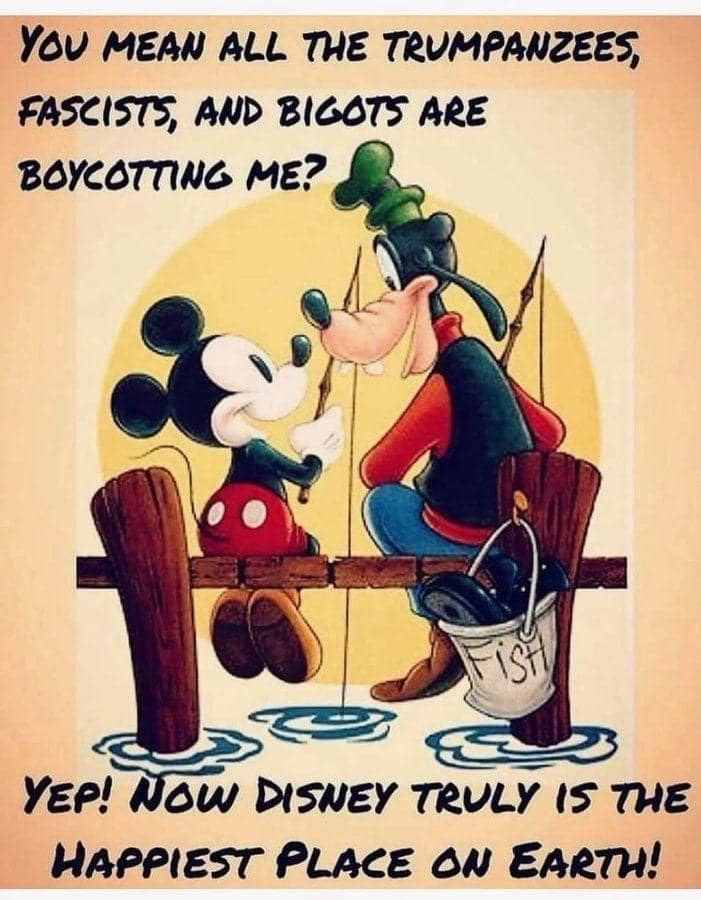 April 22, 2022
The Other 99%
Re: Female Face of Russian Anti-War Movement: Why Women Protest?
 
See: The Unwomanly Face of War by Svetlana Alexievich review – for 'filth' read truth
By Caroline Moorehead
August 2, 2017
The Guardian
James Williams
Posted on Portside's Facebook page
I've Tried Everything To Find New Workers!  -- cartoon by Barry Deutsch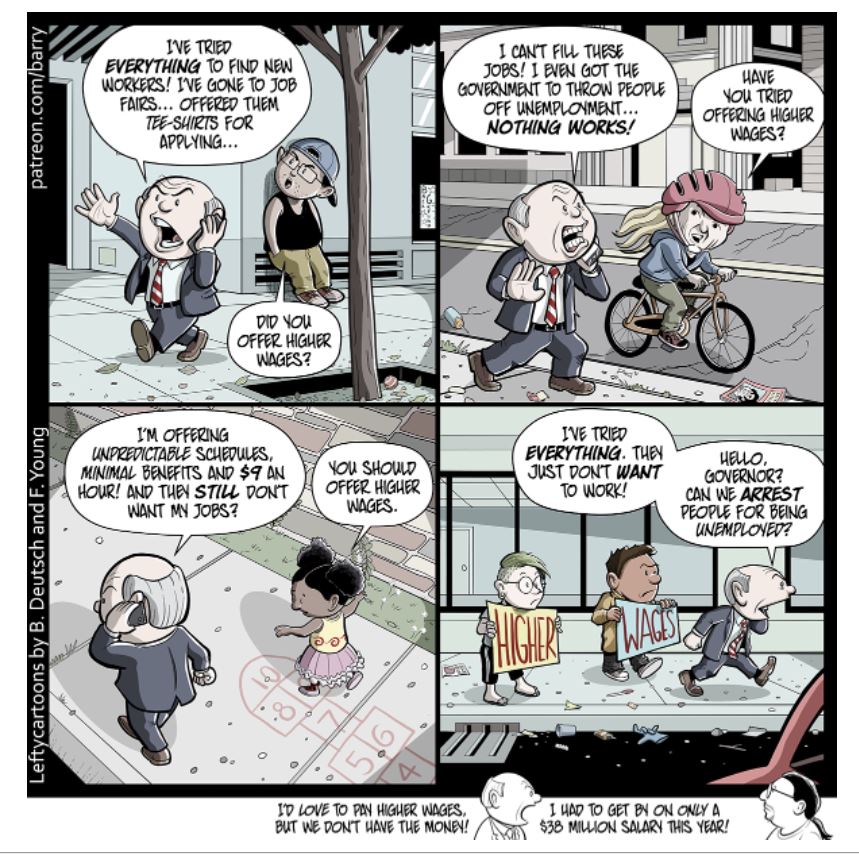 Barry Deutsch
October 17, 2021
Ampersand
Wow, is all I can say. Sounds like a story from medieval times, 
Mike Liston
      =====
If anyone doubts this, when my late ex was in jail for most of '04, she (a vegetarian) would regularly tell me that lunch included baloney or such... and that it was *green*. You know, stuff you'd throw out the week before.
Mark Roth
      =====
What a corrupt system. Food in prison provides an opportunity for prisoners to grow food and to cook. OK, some prisoners should not have knives, but it can be done. We have seen it in a prison abroad. This gives prisoners a sense of worth, better food, and skills that can lead to employment on release. By the way, this food is probably not much worse than what is served in NYC public schools. Here is a picture that a parent snapped of a Friday vegan mean in a NYC school.
Sonia Cobbins
Posted on Portside's Facebook page
      =====
The corrupt prison system is a reflection of a corrupt society.
Jay Mazur
Posted on Portside's Facebook page
Re: How Democracies Spy on Their Citizens
 
Privacy? Ha! Here, via Portside, Ronan Farrow reports on the Pegasus software that allows its users to take over the phones of targets, to extract data (contents, contacts and more) AND to act as a secret listening device. We already report our locations through ez-pass and cell towers, our purchases, our social media likes and dislikes (Twitter knows my left political leanings, for example).  The lesson I take from this is that we are always in public all the time. Surveillance bots will report on us. Smile; we are all on candid camera. The flip side of this though is that are misleaders are having trouble lying to us and keeping their lies secret. 
Daniel Millstone
Posted on Portside's Facebook page
The Court takes stock of privacy  --  cartoon by Kevin Siers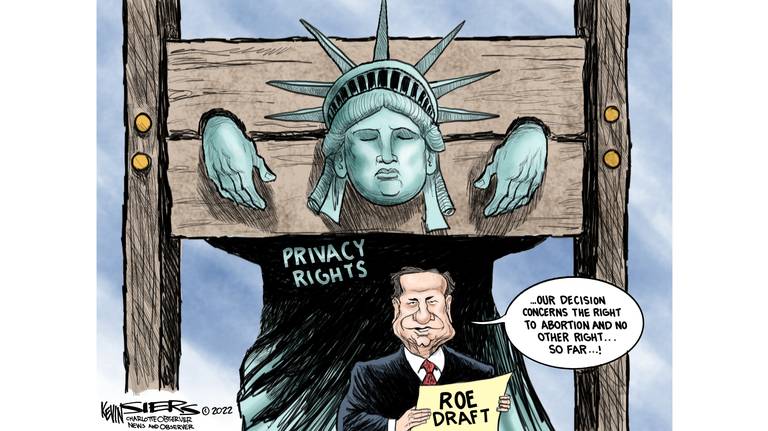 Kevin Siers
May 4, 2022
Charlotte Observer
Re: Why Bringing the Former President of Honduras to Justice Matters
The situation in Honduras exacerbated the rush to the border primarily by Hondurans.
"And there is a close link between Honduras's narco-dictatorship, the governmental dysfunction and corruption, and the Honduran migrant caravans."
Javier B. Pacheco
Posted on Portside's Facebook page
Re: From France, an Unexpected Call for a Ceiling on CEO Pay
 
Vive la France!
J. Keith Brown
Re: The Different Ways That the U.S. and Chinese Governments Use Their Power To Regulate Capitalism
 
This is a very immature analysis of economics. A casual reference to fascism revels the author's fear of the subject as how many writers with an understanding of dialectical dynamics of economics have maintained that the primary indication of decline in Capitalism is the rise of Fascism ?
Ernest Swinson
Space Cadet  --  cartoon by Rob Rogers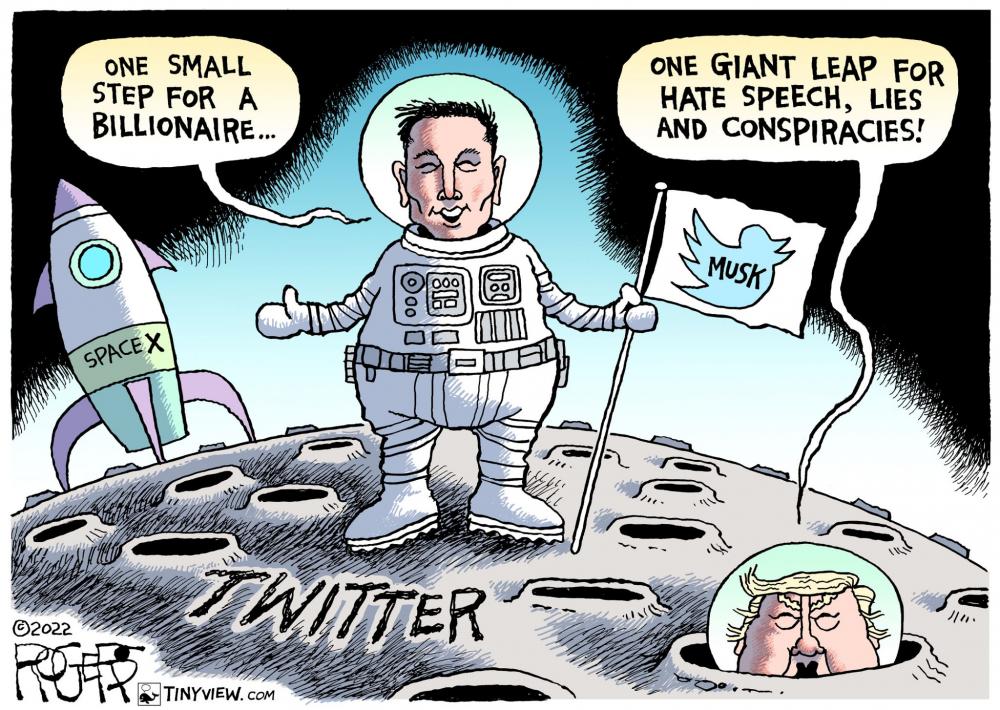 Rob Rogers
May 4, 2022
robrogers.com
Re: 'Firebird' Review: Steamy Gay Cold War Drama Recalls Russia's Past Atrocities
(posting on Portside Culture)
 
More pro capitalist propaganda. Are you not ashamed to be helping the most murderous class in world history-the US ?
Bernard Sampson
Posted on Portside's Facebook page
'A Song for Cesar' Tells the Story of the Labor Movement in the 1960s
The star-powered documentary about the United Farm Workers celebrates the art of organizing.
By Ed Rampell 
March 11, 2022
The Progressive Magazine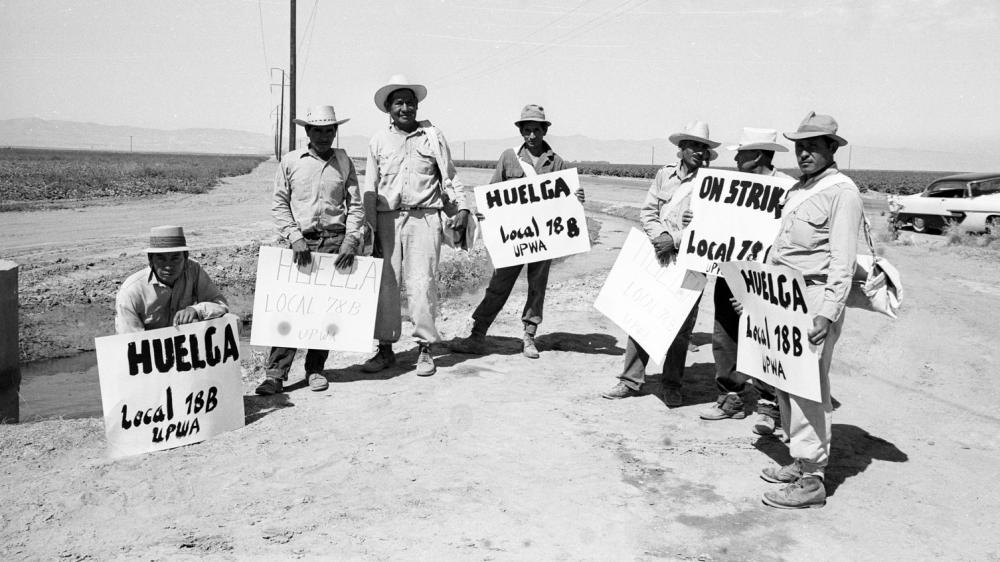 The history of organizing is brought to life through music and other art forms in Abel Sanchez and Andrés Alegria's A Song for Cesar, a documentary about the United Farm Workers (UFW) union co-organized by Cesar Chavez, Dolores Huerta, Larry Itliong, and—literally—a cast of thousands.
The filmmakers' cinematic saga unfolds with artistically assembled black-and-white and color archival footage, news clips, photos, studio recording scenes, and original interviews conducted over a fifteen-year period. There are iconic images of Chavez during the 1966 march to Sacramento and in a meeting with Senator Bobby Kennedy, but we also learn new information about his life—for instance, that the union leader was a lifelong jazz aficionado who wore a zoot suit during his youthful pachuco days.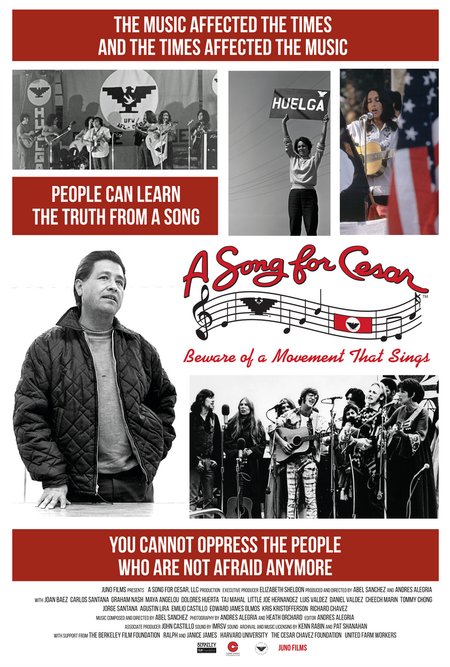 But this documentary is about much more than a mere man: It's a celebration of an entire movement, and the rabble rousers, rank-and-file workers, and artists who turned their California-based campaigns into a lofty national cause. Strikers, picketers, and marchers tell their side of the story and how, being bound to Chavez's code of nonviolence, they were often restrained from fighting back and defending themselves.
A Song for Cesar is also a treat for music fans. As vocalist Rick Stevens of the R&B funk-based band Tower of Power says, "It was the sixties—not only sex, drugs, and rock 'n' roll, it was high political times . . . making things right for the workers."
The music inspired the movement and vice versa. "This is what we're doing for those we love, who aren't being treated so well," explains blues musician Taj Mahal, who performs his labor ballad "Big Boss Man" onscreen.  In vintage footage, we see Taj Mahal play a hand piano at an outdoor funeral for a slain striker.
Another reappearing presence in A Song for Cesar is folk musician Joan Baez. "I'm always happiest when I combine activism with singing," she says. At one point, Baez performs Woody Guthrie's "Deportee," and later, after a sixty-year-old farmworker is shot on a picket line, we hear her sing the song Baez composed for him, "Juan De La Cruz." 
A Song for Cesar also features other musical icons, such as Mexican-born Carlos Santana, who migrated to San Francisco, famously rocked Woodstock, executive produced the 2017 documentary Dolores, and rhapsodizes on screen about the heady heyday of the UFW, the peace movement, and the Black Panthers. Viewers will also glimpse other legendary musicians in the archival imagery, including Graham Nash, Harry Belafonte, John Sebastian, and the Grateful Dead's Jerry Garcia.
The eighty-five-minute film depicts other art forms that were a part of the UFW's fight for dignity, higher wages, and better working conditions as well. The Royal Chicano Air Force, a Sacramento-based art collective, produced visual art as part of the movement. Literally drawing upon artistic inspirations ranging from the Aztecs to Diego Rivera, the collective plied its craft to create posters and murals for the UFW.
If you love great films about great causes and the artists they inspired, and who in turn inspired them, you won't want to miss the beautiful A Song for Cesar.  
A Song for Cesar is being theatrically released beginning March 11.
[L.A.-based film historian/reviewer Ed Rampell co-authored the third edition of "The Hawaii Movie and Television Book."]
Organizing: Then & Now  -  May 17 (The Labor and Working Class History Association - LAWCHA and Labor Notes)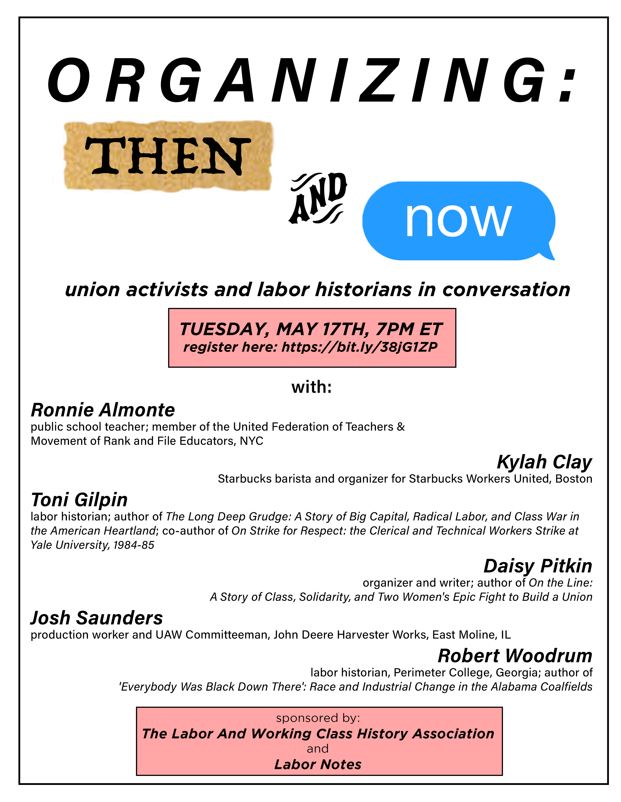 Please join us for a panel discussion sponsored by LAWCHA and Labor Notes
ORGANIZING: THEN & NOW
union activists and labor historians in conversation
Tuesday May 17, 7 - 8:30 p.m. ET
with: 
Join us for what promises to be a wide-ranging and relevant conversation about labor strategy and tactics, past and present.
R

egister now at 

https://bit.ly/38jG1ZP.

 
Please invite your friends, colleagues and students as well; forward this email to help publicize the event! Contact Toni Gilpin at 
tonigilpin@gmail.com
 with any questions.
An Open Forum: Defending Social Studies Education from Censorship - May 18 (Historians for Peace & Democracy)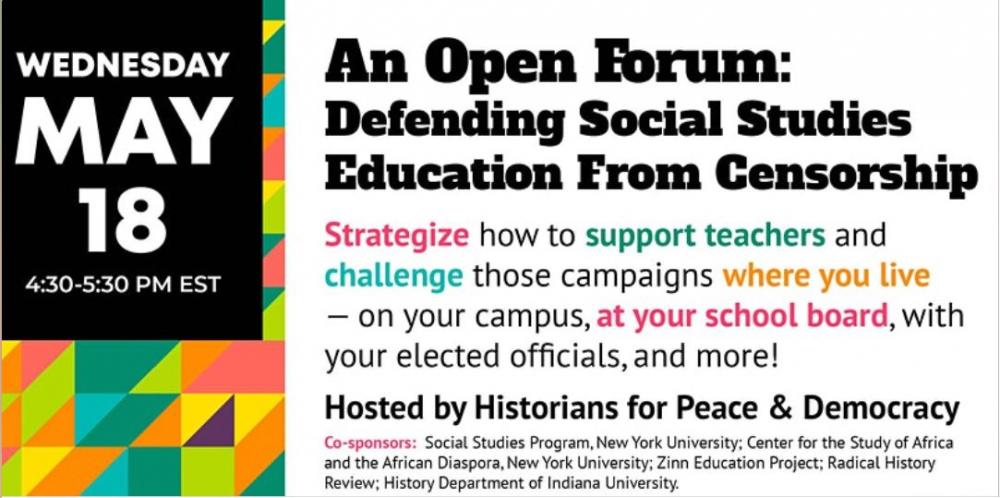 H-PAD is inviting university faculty and students, plus anyone interested, to
an online Open Forum on May 18, 4:30 to 5:30 pm Eastern
. You will:
• Learn about legislation in more than three dozen states to censor teaching about African American, Latinx, indigenous, and LGBTQ history;
• Strategize how to support teachers and challenge those campaigns where you live—on your campus, at your school board, with your elected officials, and more!
We will begin with an overview by Jesse Hagopian, co-editor of Teaching for Black Lives and Zinn Education Project #TeachTruth campaign organizer
Co-Sponsors:  Social Studies Program, New York University; Center for the Study of Africa and the African Diaspora, New York University; Zinn Education Project; Radical History Review; History Department of Indiana University.  
Go to the link below to register!
Worker Co-op Conference in Philadelphia this September 9th and 10th (U.S. Federation of Worker Cooperatives and Democracy at Work Institute)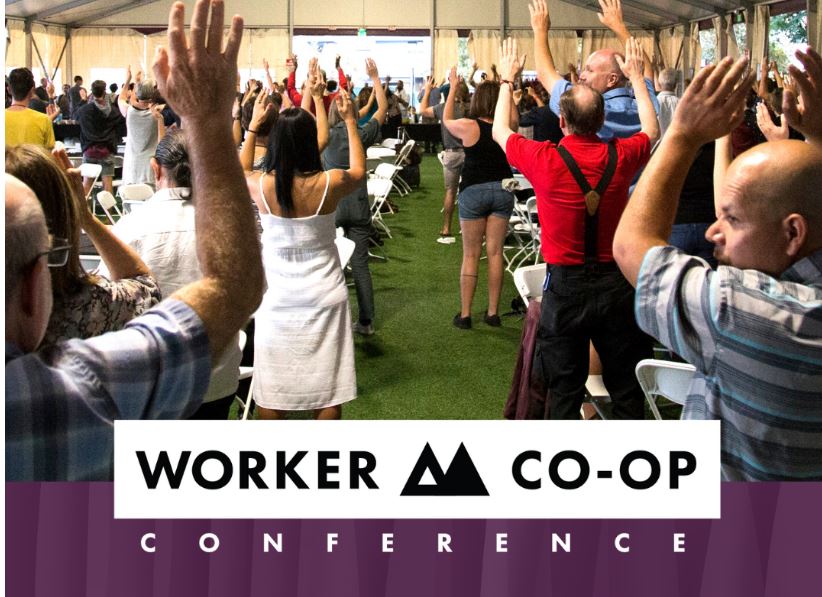 Save the Date for the Worker Co-op Conference!
 
Since 2004, the Worker Co-op Conference has inspired new collaborations among our members, has gotten startup cooperatives connected to the national movement and has spurred the creation of new forms of cooperative businesses. After years of being unable to gather and working tirelessly to take care of our communities during this still on-going pandemic, this year's conference will highlight  "why we come together". We will focus on what we've missed so much these past few years: in-person connection, innovative strategy, collective learning and celebration!
The national Worker Co-op Conference will have two days of programming, Sept 9th and 10th. Day 1 will offer opportunities to connect to local co-op leaders and hear from some movement allies and advocates, and to join our in-person member meeting (with hybrid virtual participation). Day 2 will include daylong network gatherings and sessions, each focused on a guiding theme, where participants can exchange knowledge and ideas about their work in cooperatives and the broader economic justice movement.
We are so excited to host the Worker Co-op Conference in Philadelphia this September 9th and 10th, and can't wait for you to join us!
Learn more and connect by visiting our website: usworker.coop.
Email us: info@usworker.coop
U.S. Federation of Worker Cooperatives and Democracy at Work Institute
1315 Walnut St. Suite 320
Philadelphia, PA 19107