Global Left Midweek – July 13, 2022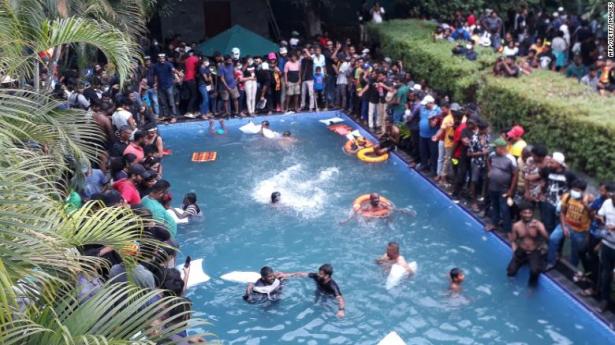 Protesters take over the compound of Sri Lanka's Presidential Palace in Colombo. Credit,CNN
__________
Sri Lanka's Government Broken by Mass Action
Devjyot Ghoshal and Uditha Jayasinghe / Euronews (Lyon)
A few dozen activists started meeting regularly at a seaside tented camp in Colombo for hours-long sessions to think up ways to revive Sri Lanka's flagging protest movement. Within weeks, hundreds of thousands of people descended on Colombo. Protesters occupied key government buildings, forcing President Gotabaya Rajapaksa to promise to step down.
__________
Survival Protests 
__________
Ecosocialism or Barbarism
Alberto Garzón Espinosa / Monthly Review (New York)
An ideological and material retreat of broad social sectors is taking place in the face of the fundamental uncertainties of the Anthropocene era. Taking up these challenges requires the ability to put together broad social and political alliances to prepare the ground for a whole historical and social bloc to emerge. 
__________
Resisting Putin's War
__________
The Battle of Algerians
Matteo Giusti / il manifesto Global (Rome)
Algeria is an African giant stretching from the endless Sahara to the southern coast of the Mediterranean, and its role is becoming more important every day. The People's Republic of Algeria has a troubled history and has had to fight to free itself from the French colonial yoke that had no intention of giving up a land it considered its own.
__________
Norway's Rødt Party
Duroyan Fertl / Rosa Luxemburg Stiftung (Brussels)
The impact of the war in Ukraine in the Nordic countries has been largely viewed with reference to Finland and Sweden and their possible accession to NATO. But what have been the reactions of other Nordic countries to Russia's war of aggression, what are their most important demands, and what role are left parties playing in this response?
__________
Backlash Against Police Violence in Trinidad
Janine Mendes-Franco / Global Voices (Amsterdam)
Trinidad's capital city, Port of Spain, was in gridlock on July 4 as a result of protests about the police killing of three young men over the weekend. In one Instagram video, police are seen warning residents of east Port of Spain to desist from obstructing the roadways during their protests; in response, one man shouts, "Stop the police killing!"
__________
New Turn for Labour Party's Momentum Group
__________
Sudan: Street Heat and Frustration
__________
Where is Cuba Going?
Michael A. Lebowitz / michaelalebowitz.com
The Party has used state planning to develop key sectors, provided full employment (via the state), ensured universal free education, universal free healthcare and universal subsidized necessities. The party leadership has mobilized masses to battle the effects of natural disasters and for the purpose of consultation on party proposals.