Tidbits – July 21, 2022 – Reader Comments: Hearings Big Night, When Are Charges?; Latin America's Next Left; African American Solidarity Archives; Rosenberg Sons File New FOIA Request; Donations To Send Books & Pamphlets to Newly-Unionized Baristas;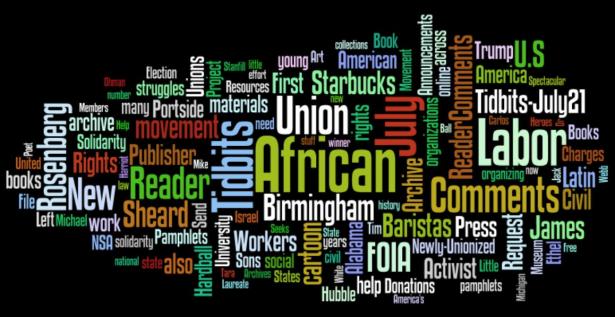 Tidbits - Reader Comments, Resources, Announcements, AND cartoons - July 21, 2022,Portside
Resources:
Announcements:
Re: Latest Hearing Makes Plain Why Unhinged Trump Should Face Charges
 
The missing pieces are falling into place.
Posted on Portside's Facebook page
Re: Leaked Audio: Before Election Day, Bannon Said Trump Planned To Falsely Claim Victory
 
This exposes the plan for election night when Trump declared himself the winner.
Jennifer Nouri
Posted on Portside's Facebook page
What Little Girls Want  --  cartoon by Mike Stanfill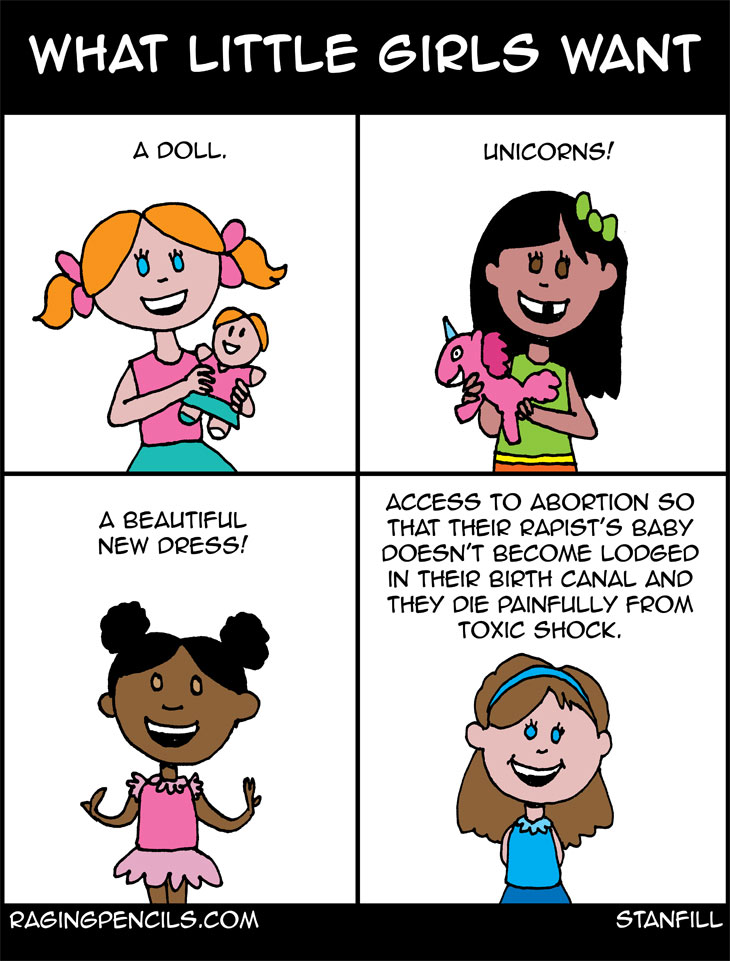 Mike Stanfill
July 16, 200
Raging Pencils
The Founding Fathers Can't Be Wrong  --  cartoon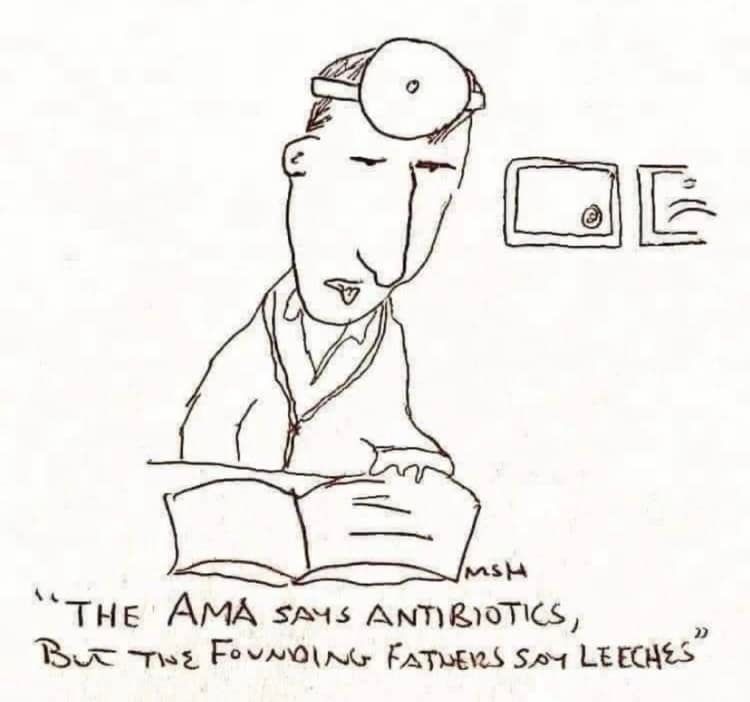 Re: The Case That Could Blow Up American Election Law
 
Will this nation let this court destroy democracy?
Gina Klein
Posted on Portside's Facebook page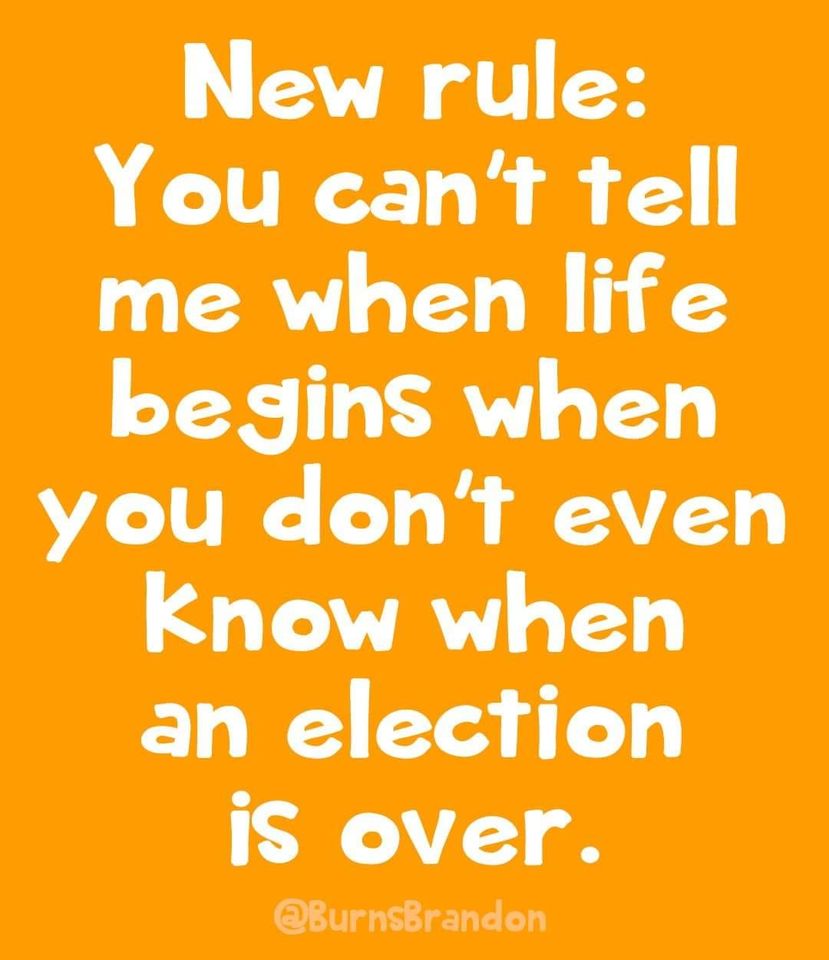 Re: Latin America's Second Wave of Left-Wing Governments Could Be More Powerful Than the First
 
Bravo to those who did the hard work organizing for these elections.
Jean Douthwright
Posted on Portside's Facebook page
      =====
Until the Left in Latin America overthrows capitalism, the left-wing governments will be replaced by more-or-less non-left-wing governments.
Apparently no lessons have been learned.
David Berger
Posted on Portside's Facebook page
Say it ain't solar, Joe  --  cartoon by Jack Ohman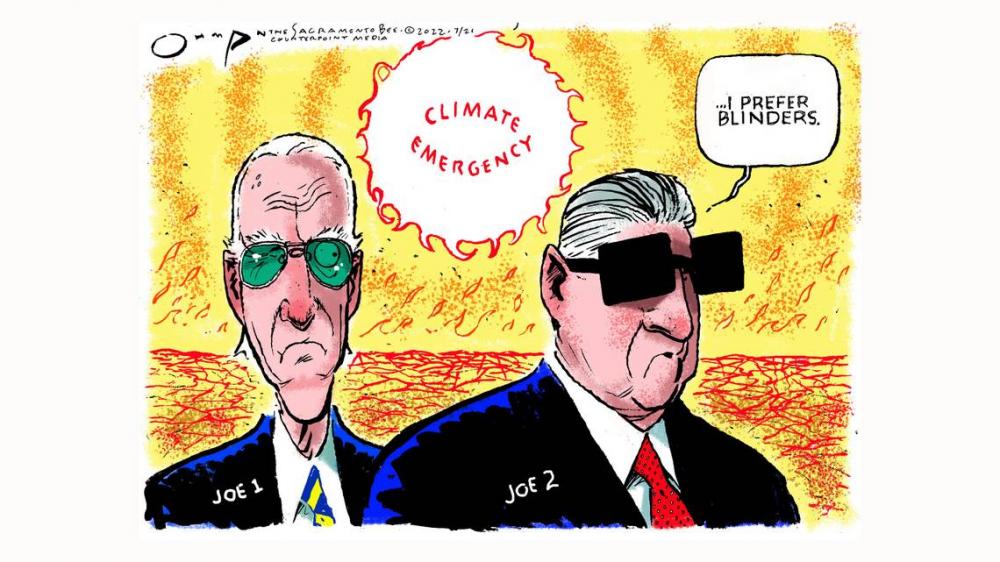 Jack Ohman
July 21, 2022
Sacramento Bee
Re: Israel Lobby Is Spending Millions To Defeat Progressive Democrats in Primaries
 
This claim is misleading, they are just targeting candidates hostile to Israel, not progressives in general. There are a number of Israel friendly progressive candidates who they are not opposing. It's fair enough to disagree with them on this issue, but twisting this into a supposed general attack on the left is dishonest.
Stan Nadel
Re: We Have a Problem: Live With Our Eyes Open Without Allowing Ourselves To Be Defeated
 
We now have a bigger propaganda campaign than we have ever seen before, aimed at making us "believe to be true" the ruling class warmongering. To win peace, end suffering and possibly save humanity, we need to push for peace and not arms shipments.
Dan Morgan
Posted on Portside's Facebook page
Re: Dodger Stadium Concession Workers Threaten an All-Star Strike
 
Linda Gillison
Posted on Portside's Facebook page
      =====
Absolutely! Walk out. Force The Dodgers to double their pay. Leave the stadium empty of people working the concessions.
Julie Cochran
Posted on Portside's Facebook page
      =====
I read they agreed not to strike during the All Star game
Rachelle Kivanoski
Posted on Portside's Facebook page
Re: 7 Spectacular Lessons From James Webb's First Deep-Field Image
 
Your article of July 18 reads like an advertisement: As if James and Hubble are in a competition and James i the clear winner. Like an add, we are convinced Hubble is the looser and inferior and the proof is in all 7 Spectacular Lessons From James Webb's First Deep-Field Image
Seems to me Hubble did a job that James could build on. Hubble found out stuff and James learned and built on stuff.
Why is there a declared winner. My parents taught me stuff that then benefited me in my life. My parents were Mary and Fredrick Hubble and I am Ms James Web.
Claire O'Connor
Re: Tapping Into the Million-Year Energy Source Below Our Feet
 
I have little faith in tech magic. Are there any environmental downsides to this process? Has that possibility even been considered?
Ken Roseman
Posted on Portside's Facebook page
Re: How Foreign Private Equity Hooked New England's Fishing Industry
 
Such insatiable greed.
Mariam Alunkal
Posted on Portside's Facebook page
Re: Why Is the Government in the Habit of Hoarding Cheese?
(posting on Portside Culture)
 
Produce for use, not for profit.
Eleanor Roosevelt
Posted on Portside's Facebook page
MBS and JOE  --  cartoon by Rob Rogers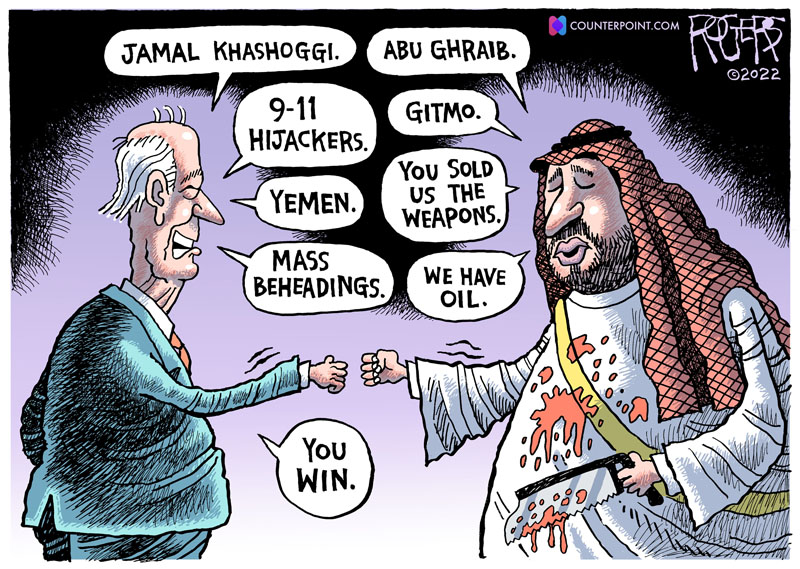 Rob Rogers
July 18, 2022
robrogers.com
African Activist Archive Project (Michigan State University)

The African Activist Archive is preserving and making available online the records of activism in the United States to support the struggles of African peoples against colonialism, apartheid, and social injustice from the 1950s through the 1990s. The website includes:
Growing online archive of historical materials - pamphlets, newsletters, leaflets, buttons, posters, T-shirts, photographs, and audio and video recordings
Personal remembrances and interviews with activists an international directory of collections deposited in libraries and archives
The African Activist Archive Project is collaborating with activists across the U.S. who supported African liberation struggles to create this online archive of more than 10,000 items. The project also assists individuals and groups to deposit their collections in public repositories, including the African Activist Archive collections in the Michigan State University Libraries.
African Activist Archive Project
The African Activist Archive Project is building an online archive of primary materials - documents, photographs, artifacts, and written and oral memories - of 50 years of activist organizing in the United States in solidarity with African struggles against colonialism, apartheid, and injustice. This is a "people's archive" focused primarily on local organizations in the U.S. that supported African struggles against colonialism and white minority rule. We also include materials from national organizations that provided research, educational and organizing materials, and some reporting about these local community and campus groups.
The U.S. African solidarity movement was racially diverse and was a significant part of the broad struggle against racism in the United States. The movement involved many types of organizations across the country, and this project seeks to document as many organizations as possible that participated in activist work in solidarity with African people's struggles. The geographic focus of activism in the collection is Angola, Guinea-Bissau, Mozambique, Namibia, South Africa, and Zimbabwe; however, this focus is not exclusive.
This movement offers important lessons about popular organizing for social justice. The anti-apartheid movement of the 1970s-1994, in particular, was unprecedented. Campaigns by community activists, students, faculty, churches, unions, and city, county, and state legislators led to divestment from U.S. companies doing business in South Africa and culminated in passage of the Comprehensive Anti-Apartheid Act of 1986 that changed U.S. foreign policy over President Reagan's veto.
Organizations in the African solidarity movement created newsletters, pamphlets, leaflets, policy and strategy papers, meeting minutes, correspondence, and graphic, audio and visual material such as posters, buttons, T-shirts, photos, slideshows, radio interviews, and videos. Many groups and coalitions no longer exist, but individuals associated with them have preserved many vital records.
We are eager to work with anyone who can help document additional campaigns and organizations to be included in this online archive. We also encourage people to submit written remembrances and audio or video interviews. Please contact the project if you would like to Contribute Content to this website or donate materials to a physical archive.
https://africanactivist.msu.edu/
Rosenberg Sons File New FOIA Request of the NSA 
July 19, 2022
Rosenberg Fund for Children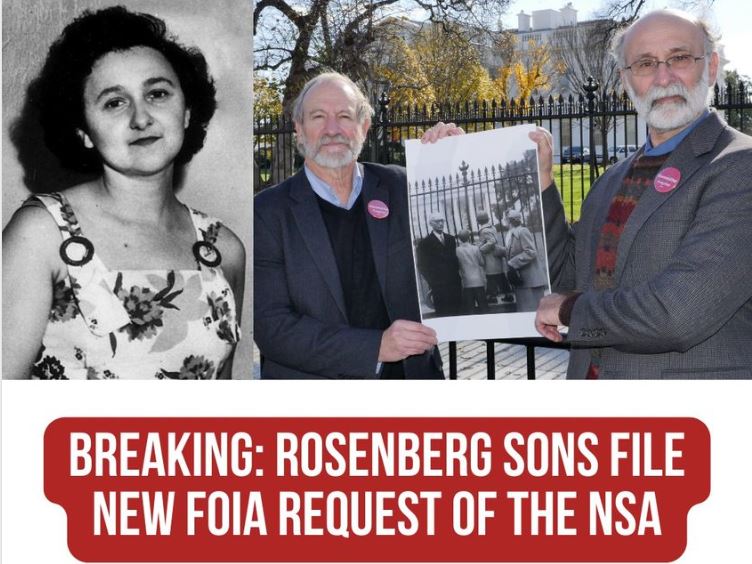 On July 13th, 2022, the sons of Ethel and Julius Rosenberg, Michael and Robert Meeropol, filed a new Freedom of Information Request (FOIA) of the National Security Agency (NSA) demanding all material in the NSA's possession related to Ethel Rosenberg.
NSA material has already indicated that, unlike all KGB agents, Ethel was never given a code name and that she was not engaged in espionage work. However, that release was partial, and now the Meeropol brothers are asking for everything.
While we had hoped to relaunch the effort to Exonerate Ethel this year, the crush of recent national and international events, as well as the midterm elections on our doorstop, forced us to delay until next year.
But while we wait, we will not be idle. The FOIA request continues the Meeropol brothers' insistence – since their first FOIA requests in the 1970s – that the public is best served by full disclosure of all the materials and information related to their parents' case. Almost 70 years after the executions, this remains true; it is long past time for the government to release all the documents pertaining to the prosecution of the Rosenbergs.
Stay tuned for further developments, and read Robert and Michael's new FOIA Request letter in its entirety here
116 Pleasant St., Suite 348
Easthampton, MA  01027
tel: (413) 529-0063
Union Book Publisher Hardball Press 'Looks To Help' Young Starbucks Workers Learn About Labor Unions & How They Work - Publisher Tim Sheard Seeks Donations To Send Hundreds Of Books & Pamphlets To Newly-Unionized Baristas Across The U.S.
Published Sunday, July 17, 2022
by Tom Campbell, Editor
WNY Labor Today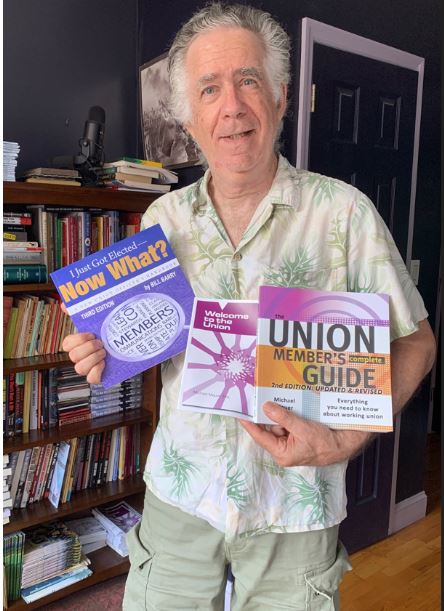 Tim Sheard, who owns and operates the Union Book Publisher Hardball Press and Little Heroes Press in New York City, came away so impressed with those young Workers who are Unionizing Starbucks stores across the U.S. that he wants to help the newly-Unionizing Baristas educate themselves about the inner workings of Labor Unions so they can take full advantage of what they offer as many head to the bargaining table to negotiate first contracts.
That's why he's asking the Labor Movement and Friends of Labor to help him accomplish that goal by donating as little as $11 each so he can begin sending a total of 400 books and 1,000 pamphlets to the newly-Unionized Starbucks Workers.
The three are titled, individually as: Welcome to the Union; Union Member's Guide; and I Just Got Elected… Now What?
"We 'need to raise ($2,300) to get it done and right now we've raised a little less than one-third of that' (about $700)," Sheard told WNYLaborToday.com during a telephone interview.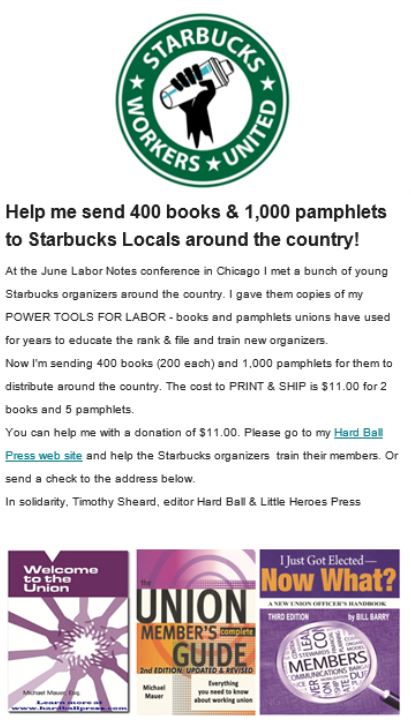 Sheard, whose run his Union Book Publishing Company since 2005, recently met a number of the young Baristas in Chicago while attending a Labor Notes Conference.
"They were from Boston, Buffalo (where the movement to Unionize Starbucks Stores started in 2021) and Philadelphia.  I gave them some of the books 'and they were thrilled.'  They're young and 'you know this is about Labor Solidarity.'  They're 'new' to the Labor Movement 'and they need to know how to deal with all the issues (they will face), from handling a difficult boss to infractions of the contract to knowing their workplace rights.'  'It's so important for them to know this because it will give them even more confidence going in.'"
Sheard tells WNYLaborToday.com he's hopeful this effort with catch fire within the Labor Movement and that either a large national or regional Union, or a Friends of Labor corporate sponsor, will come through so he could send out as many as 10,000 books in the not too distant future.
"I would need a sponsor who could underwrite ($5,000) to do that," he said.
Over the years Sheard and his Hardball Press/Little Heroes has published more than 40 books written by Union Members who had "good stories to tell" and has also published within that number children's book with a Labor theme that he also believes should be widely circulated by Unions and their Members, including Teachers Unions.
"This has been a 'Labor of Love' for me," he said.  "I retired nine years ago as a Nurse and 'I believe in this effort.'  'I 'm also proud of working with Union Members and helping them publish their' Union stories.  'In fact, I am especially proud of that fact.'"
For More Information On How You Can Help With This Effort & More On Hardball Press, Go To: http://hardballpress.com/index.html
Entangled Histories: Free Speech & Civil Rights From the 1960's to Today - Birmingham Museum of Art - July 29 (PEN America)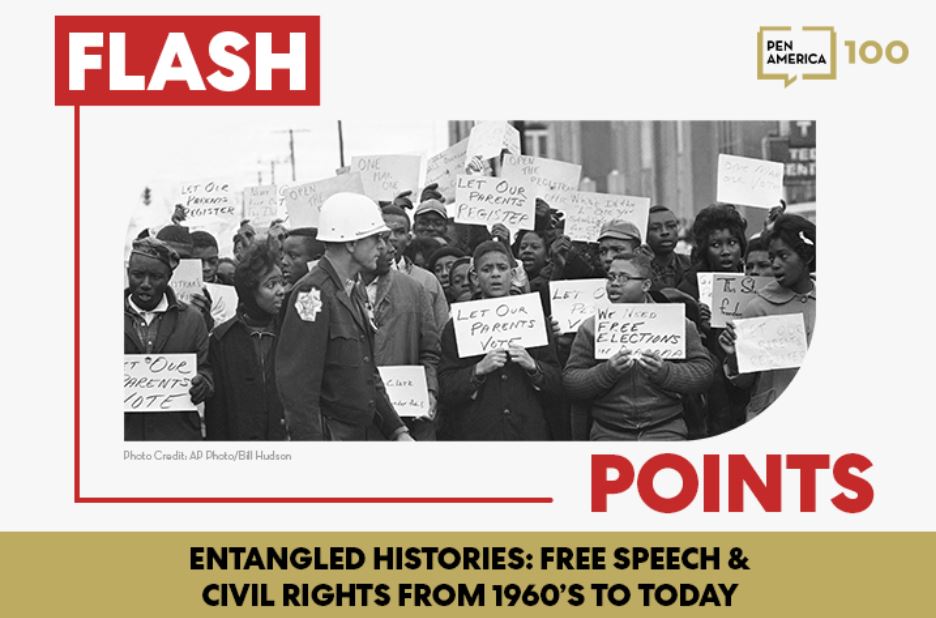 Thursday, July 28, 2022 | 6:30 pm – 8:00 pm CT
Birmingham Museum of Art
2000 Rev. Abraham Woods, Jr. Blvd Birmingham, AL 35203
205.254.2565
https://www.artsbma.org/
How has the First Amendment been invoked to help or to hinder the progress of civil rights? This discussion will examine how the mid-1960s were a turning point not only for the Civil Rights movement, but also the history of free speech in the U.S. From the Civil Rights Act to landmark Supreme Court decisions, the boundaries of the First Amendment were tested in ways that affected civil rights in the decades following.
DeJuana Thompson, President & CEO of the Birmingham Civil Rights Institute, along with panelists Carlos A. Ball, Michael Harriot, and Dr. Tara Y. White will dig into the rich legacy of civil rights and advocacy that has propelled social change in Birmingham and beyond. Ashley M. Jones, Poet Laureate for the state of Alabama, will open the panel at the Birmingham Museum of Art with a reading of her own work.
In this exciting conversation moderated by DeJuana Thompson at the Birmingham Museum of Art, panelists Carlos A. Ball, Michael Harriot, and Dr. Tara Y. White will dig into the rich legacy of civil rights and advocacy that has propelled social change in Birmingham and beyond. Ashley M. Jones, Poet Laureate for the state of Alabama, will open the panel with a reading of her own work.
Moderator:
DeJuana Thompson, thought leader on race, politics, and social engagement strategy; president and CEO of the Birmingham Civil Rights Institute; founding partner with Think Rubix.
Panelists:
Carlos Ball, nationally recognized expert on LGBTQ rights law and constitutional law; professor of law at Rutgers University; and author or editor of nine books.
Michael Harriot, columnist at theGrio.com and The Guardian where he covers the intersection of race, politics, and culture; political commentator on MSNBC and CNN; and recipient of the National Association of Black Journalists Award for digital commentary as well as TV news writing.
Dr. Tara Y. White is an Assistant Professor of History at the University of North Carolina Wilmington, where she specializes in African American history and public history.
Ashley M. Jones, Poet Laureate for the state of Alabama, founder of the Magic City Poetry Festival, board member of the Alabama Writers Cooperative and the Alabama Writers Forum, co-director of PEN Birmingham, and a faculty member in the Creative Writing Department of the Alabama School of Fine Arts.