Tidbits – July 28, 2022 – Reader Comments: Upcoming Supreme Court Decisions; 2022 Elections; Joe Manchin and Our Senate Problem; GOP, Democracy and Fascism; Abortion; U.S. History and Class War; Paying Tribute to Howard Zinn; More…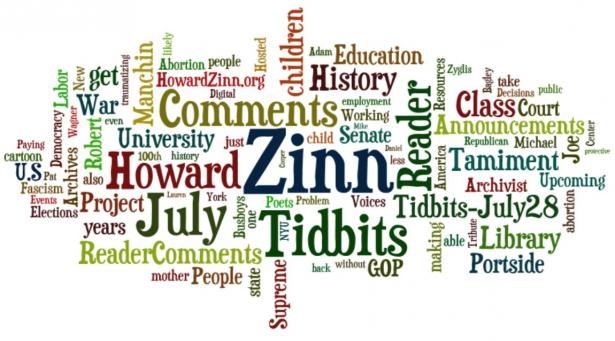 Tidbits - Reader Comments, Resources, Announcements, AND cartoons - July 28, 2022,Portside
Announcements:
Howard Zinn Centennial Week Events - August 23 - 25 (HowardZinn.org, Zinn Education Project, Tamiment Library, Busboys and Poets, and Voices of a People's History)
Re: The Most Dangerous Upcoming Supreme Court Decision You Never Heard Of
 
The vast right-wing conspiracy dressed up as a "supreme court" threatens elections everywhere. Robert Reich explains how a looming decision could rip more power from voters and even from state courts. The looney argument is that state legislators can regulate (manipulate) elections any way they want even if the outcomes violate state law.  Thanks to Portside for the link.
Daniel Millstone
Posted on Portside's Facebook page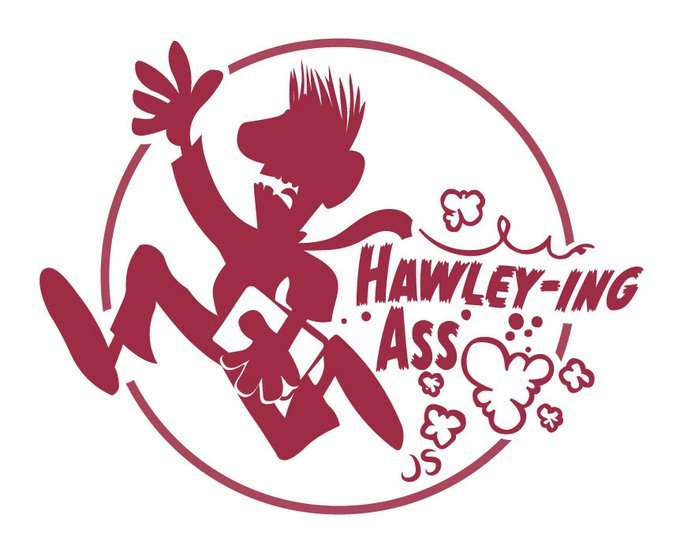 The Plot Against America  --  cartoon by Pat Bagley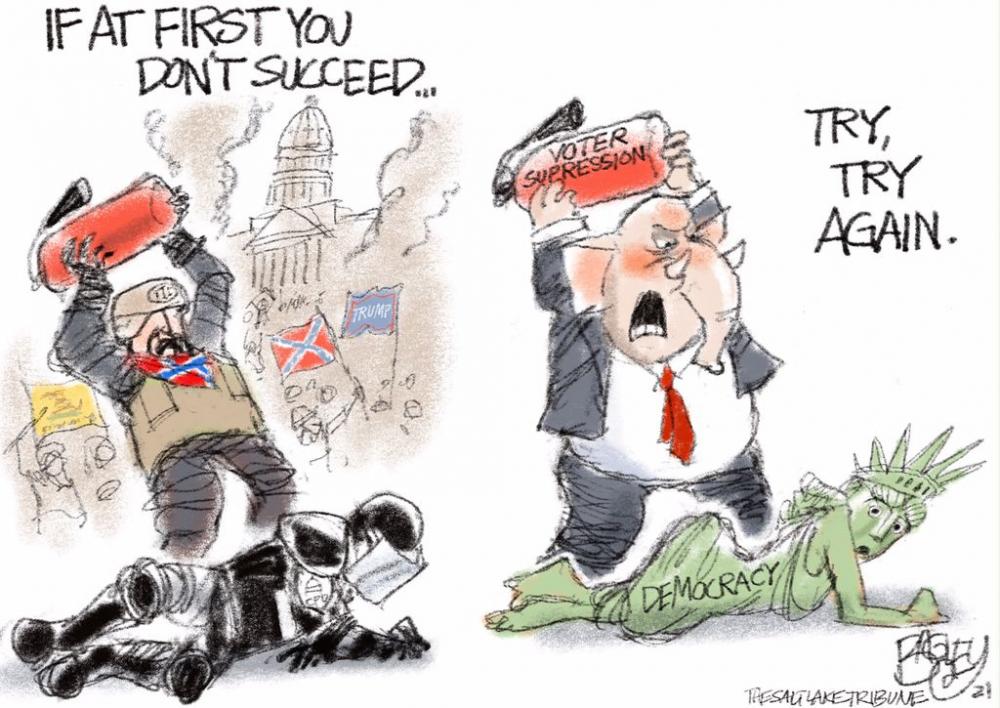 Pat Bagley
March 12, 2021
The Salt Lake Tribune
Re: Militarism on the Ballot: Two Vets Vie in NY Primary
 
A "centrist Democrat" is a Republican without the courage of their convictions.
Eleanor Roosevelt
Posted on Portside's Facebook page
Re: Joe Manchin Is a Symptom but It's the Senate that's Sick
 
Betrayal is the mothers' milk of bourgeois politics.  But the flat-out, in your face, duplicitous political treason practiced by Senator Manchin is quite rare.  He is a Benedict Arnold without the saving grace of Arnold's stellar military record in service of the Revolutionary Army.
The string of rationales he offered to justify his sabotage were invariably wrong and false. I grew up around West Virginia hillbillies.  They are honest, respectful, and polite people.  He explained his opposition to a fifteen dollar minimum wage as not wanting to create a feeling of 'entitlement' in his constituents. Who is more entitled that a United States Senator, one who live on a fancy houseboat anchored in the Potomac, one who drives a Maserati, one who enjoys deluxe health insurance fully funded by taxpayers?
He is willing to contribute to the destruction of the planetary environment so that his family-owned coal company can continue to prosper.  To contemplate that is to stare into a black, bottomless abyss of corruption that would require a John Milton to adequately describe it.
Robert Supansic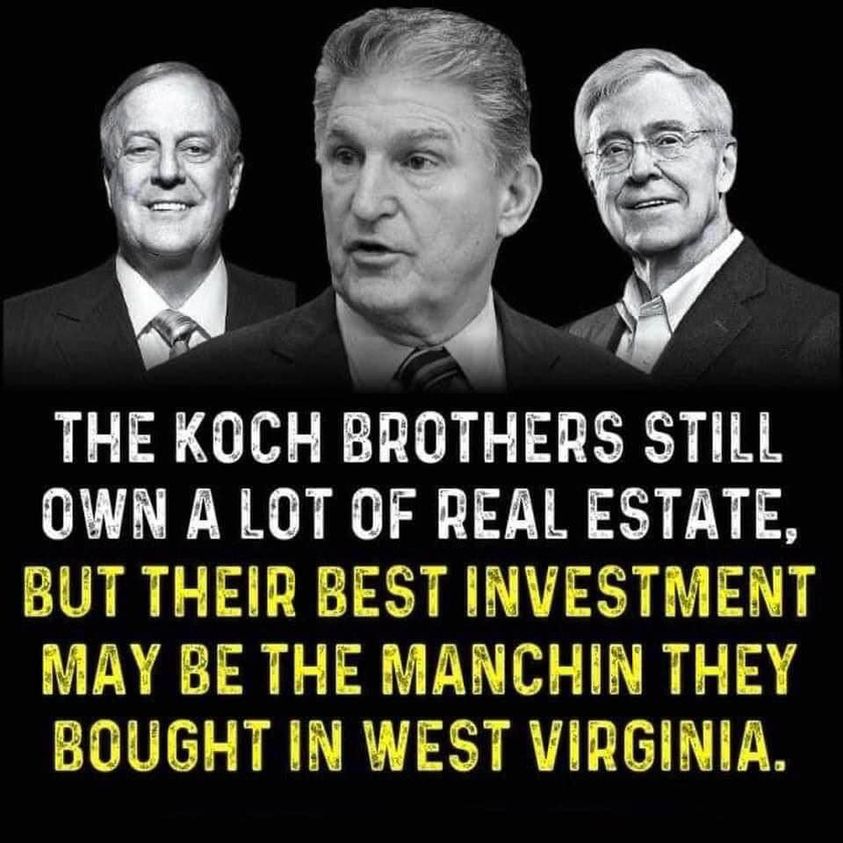 Re: What Will You Do When the GOP Comes for Your Wife, Daughter, or Sister?
 
After coming for you, your mother, sisters and wives, they'll wait 18 years and come for your sons. That is, if you, your mother, sister or wife wasn't one of the women who would have been able to make a decision. If subject to forced birth, she probably would have seen her children grow up with insufficient healthcare, education, food, housing, and eventually employment. They would be forced to join the military in order to eat and the "voluntary" enrollment as fodder for the war machine could continue.
Arlene Halfon
It's not just about not being able to get an abortion
 
Not so hypothetically: After a late-term miscarriage, a single mother is charged with illegal abortion and arrested. Because she cannot make bail, she is incarcerated for an extended time. As a consequence of incarceration, she loses her job and her home. Because she cannot care for her children -- and also because the miscarriage will no doubt be classified as child abuse -- child protective services will take custody of her children (which will traumatize them), put her children in foster care (further traumatizing them), where there is a high likelihood they will be abused (further traumatizing them), and perhaps they will be adopted (further traumatizing them). 
Perhaps she gets out of jail without a conviction, but she cannot find employment -- because of the gap in her employment history which she will have to explain to any prospective employer -- which will jeopardize her chances of getting her children back. Further, she will likely need therapy, which will be unaffordable and unavailable, making her less employable. To deal with her hopeless situation, there is a good chance she will self-medicate, making it less likely she will get or keep a job or get her children back -- and just as if not more important, making it less likely her children will ever get their mother back, vastly increasing the likelihood that the children will ultimately self-medicate and spend time incarcerated. And so on .
(In my 22 years as an attorney, I spent 16 years doing indigent criminal defense and 6 years representing a state child protective services agency, so I know whereof I speak.)
It's not just about not being able to get an abortion; it's about being criminalized for being a woman of child-bearing age and for being the child of that woman.
Alan Wagman
Re: The Never-Ending War on the Woke
 
If the Dems take big losses this next election, it won't be because of the left in the party, it'll be because they let the right wing of the party (Manchin's the poster boy) wreck the agenda on which Biden was elected. Hopefully even more progressives will take those seats as that's the only thing that will save the Democrats, 
Mike Liston
Inflation  --  cartoon by Adam Zyglis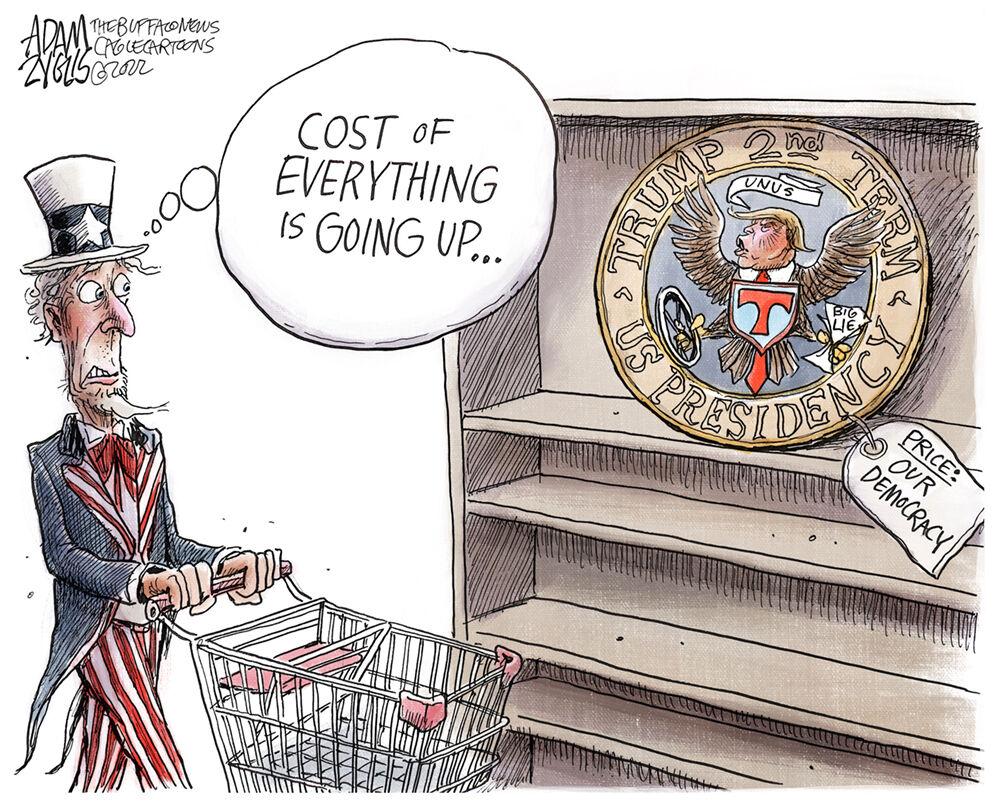 Adam Zyglis
July 24, 2022
Buffalo News
Re: The 1877 Class War That America Forgot
 
The tragedy was the blindspot of this insurrectionary strike to making common cause concurrently with the Reconstruction governments, our real 'Paris Communes,' in their resistance to being overthrown, to the detriment of African Americans, but also poor 'white' labor as well.
Carl Davidson
Posted on Portside's Facebook page
      =====
Thank you for his history of the Labor Movement. Union Forever!
Anne Murray
Posted on Portside's Facebook page
Re: RRR Is an Incredible Action Movie With Seriously Troubling Politics
(posting on Portside Culture)
 
I get it, but ffs, can we let people enjoy things? This is the most uplifting NONtoxic masculinity I've seen on screen in years and years.
Erika Juhlin
Posted on Portside's Facebook page
Howard Zinn Centennial Week Events - August 23 - 25 (HowardZinn.org, Zinn Education Project, Tamiment Library, Busboys and Poets, and Voices of a People's History)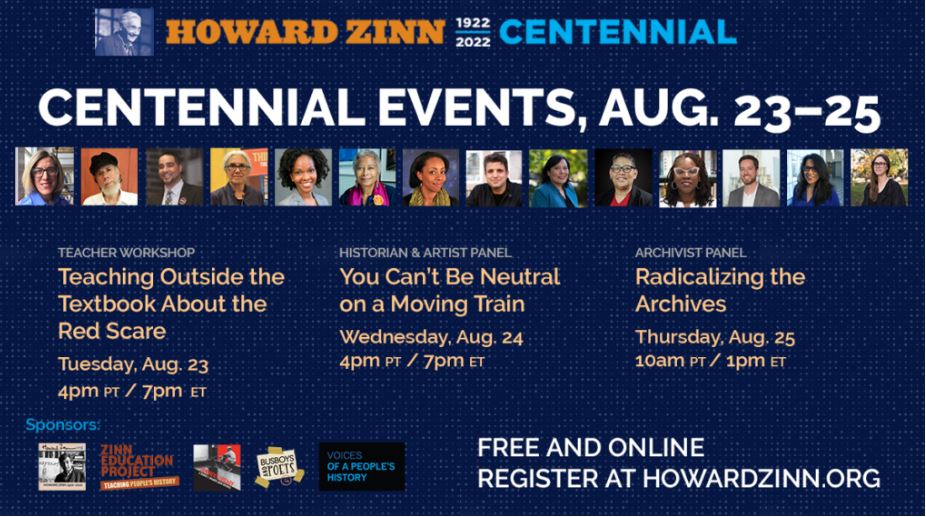 HowardZinn.org, Zinn Education Project, Tamiment Library, Busboys and Poets, and Voices of a People's History are pleased to present a week of events to celebrate Howard Zinn's 100th birthday that include:
Events are free, online, and open to the public. 
Register online at zinnedproject.org/howard-zinn-centennial-week-events/.
Read about other events and commemorations at Howard Zinn at 100.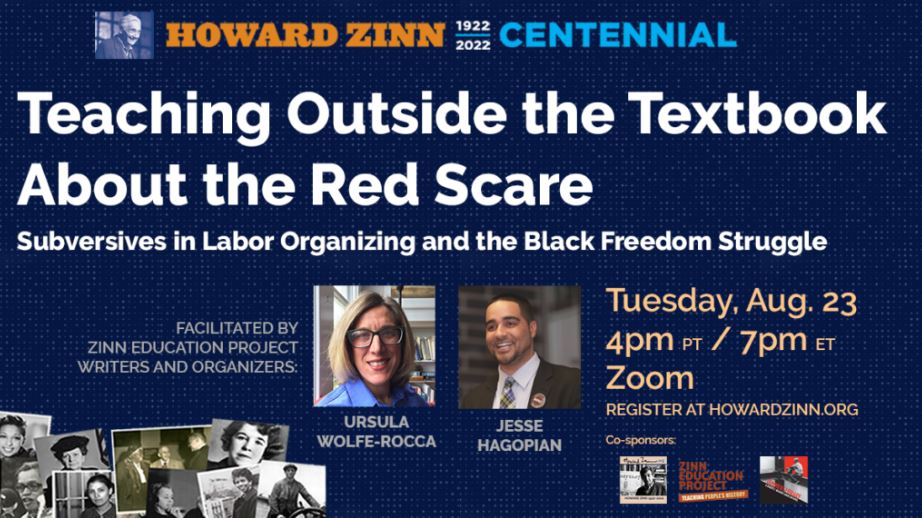 Tuesday, August 23 • 4pm PT / 7pm ET
Teaching Outside the Textbook About the Red Scare: Subversives in Labor Organizing and the Black Freedom Struggle
In legislatures across the country, Republican lawmakers are introducing bills to curtail what educators in public schools and universities can say and teach about racism and sexism. It is also worth reminding ourselves — and our students — of other times in U.S. history when powerful politicians manufactured threats and whipped up fear to neutralize progressive challenges to the status quo — the McCarthy Era being a well-known high watermark of state repression. In this session, participants will experience a mixer lesson that can be used in grade 7+ classrooms. Students meet 27 different targets of government harassment and repression to analyze why disparate individuals might have become targets of the same campaign, determining what kind of threat they posed in the view of the U.S. government. Participants will also be introduced to relevant primary documents from the Tamiment Library at NYU.
Facilitated by Ursula Wolfe-Rocca and Jesse Hagopian, Zinn Education Project Writers and Organizers • Introduction to the primary documents from Tamiment Library by Michael Koncewicz, Michael Nash Archivist & Ewen Center Program Coordinator
Hosted by the Zinn Education Project. Co-sponsored by the HowardZinn.org and Tamiment Library and Robert F. Wagner Labor Archives at New York University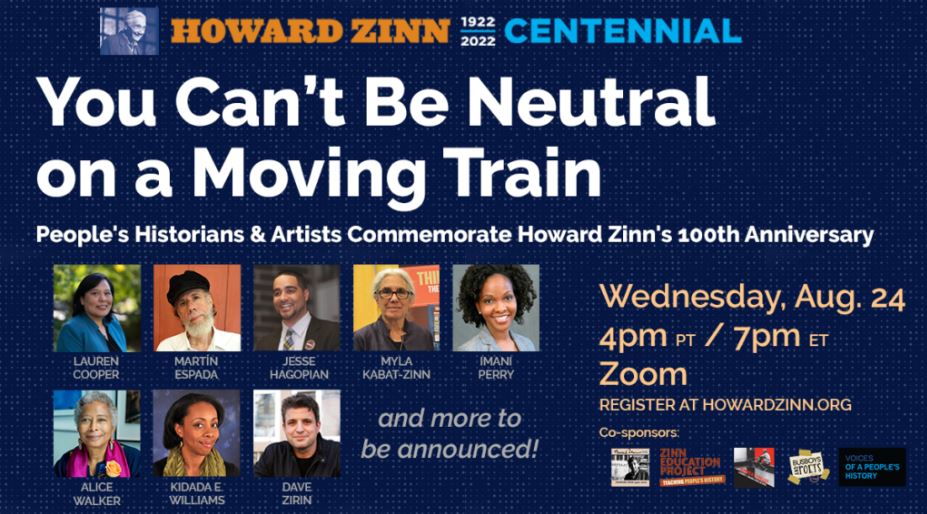 Wednesday, August 24 • 4pm PT / 7pm ET
You Can't Be Neutral on a Moving Train: People's Historians and Artists Commemorate Howard Zinn's 100th Anniversary
On the anniversary of Howard Zinn's birth, guests will speak on the theme, "You Can't Be Neutral on a Moving Train," the title of Zinn's autobiography and documentary.
Confirmed speakers:
Lauren Cooper
Martín Espada
Myla Kabat-Zinn
Imani Perry
Alice Walker
Kidada E. Williams
and more to be announced!
Hosted by Dave Zirin, sports historian, and Jesse Hagopian, Zinn Education Project Writer and Organizer
Hosted by the Zinn Education Project. Co-sponsored by the Howard Zinn Revocable Trust, Tamiment Library and Robert F. Wagner Labor Archives at NYU, Busboys and Poets, and Voices of a People's History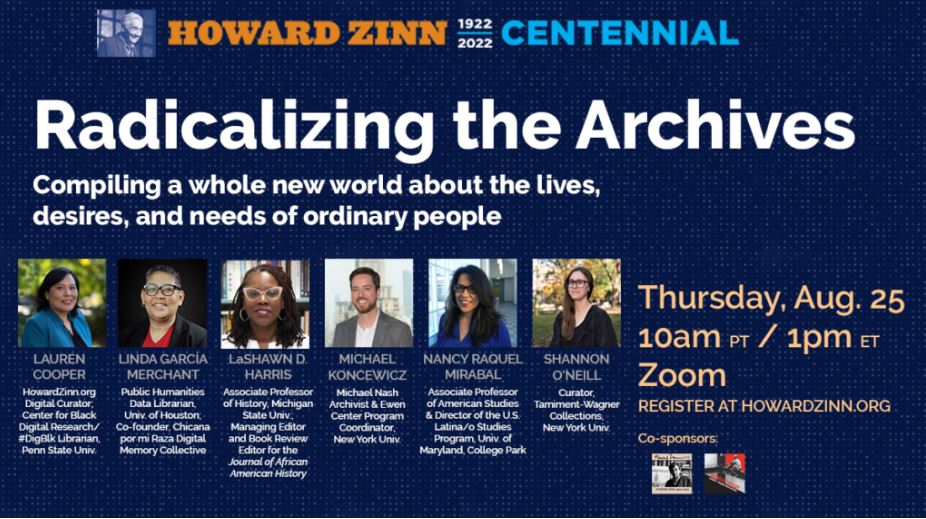 Thursday, August 25 • 10am PT / 1pm ET
Radicalizing the Archives: Compiling a Whole New World About the Lives, Desires, and Needs of Ordinary People
To mark the 100th birthday of historian Howard Zinn (1922-2010) in 2022, we reflect on his paper presentation at the 1970 SAA "The Activist Archivist" and subsequently published in Midwestern Archivist as "Secrecy, Archives, and the Public Interest." In this paper, Zinn urged archivists to "take the trouble to compile a whole new world of documentary material, about the lives, desires, needs, of ordinary people" and is often cited by those in the field who's work includes methods to humanize the archive with a praxis of anti-racist and anti-colonialist methods. While Zinn was not alone in that charge, he pierced through conventional, professional standards, inspiring archivists still today.
Building on the momentum of 2020, many institutions committed to assessing their record of collecting and featuring the histories of people of color and who is making the decisions. This initiated a surge of activities to highlight obscured histories and sought ways to improve public and private archives. This session will focus on highlighting the work of humanizing the archives and ask what opportunities and challenges lie ahead. The audience will discuss these questions in small groups and contribute to a living document to serve as a guidepost for others to get past the roadblocks.
Presenters include:
Lauren Cooper, HowardZinn.org Digital Curator with Teaching for Change; Center for Black Digital Research Librarian & Managing Director, Penn State University
Linda García Merchant, Public Humanities Data Librarian, University of Houston; co-founder of Chicana por mi Raza Digital Memory Collective
LaShawn D. Harris, Associate Professor of History, Michigan State University
Michael Koncewicz, Michael Nash Archivist & Ewen Center Program Coordinator, Tamiment-Wagner Collections, New York University
Nancy Raquel Mirabal, Associate Professor of American Studies, University of Maryland
Shannon O'Neill, Curator, Tamiment-Wagner Collections, New York University
Hosted by the Howard Zinn Revocable Trust and Tamiment Library and Robert F. Wagner Labor Archives at NYU
Email Tamiment at Tamiment.Events@NYU.edu
Our mailing address is: 
Tamiment Library & Robert F. Wagner Labor Archives/ NYU Special Collections
Elmer Holmes Bobst Library
70 Washington Square South, 2nd Floor
New York, NY 10012