Global Left Midweek – August 10, 2022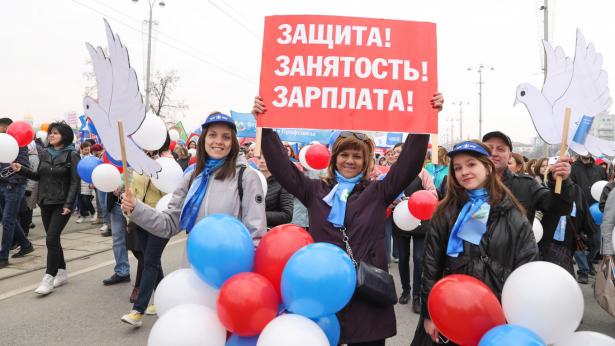 May 1, 2022 in Yekaterinburg. Dozens of protesters were detained across Russia that day. The poster reads "Protection! Employment! Salary!" Credit,Donat Sorokin/TASS
__________
Hands Off Walden Bello!
Peoples Dispatch (New Delhi)
On Monday, August 8, social activist, environmentalist and former vice-presidential candidate Walden Bello was arrested by the Quezon City police in the Philippines for 'cyber libel'. Bello was temporarily released on bail on Tuesday August 9. Bello's arrest follows the formation of the new government in May 2022 headed by Bongbong Marcos, son of former dictator Ferdinand Marcos.
__________
Economic Perspectives
__________
Why the New Attack on Gaza
Ibrahim Fraihat and Reema Abu Ramadan / Middle East Eye (London)
Instead of a large-scale invasion of Jenin refugee camp, it seems Israel decided to attack Gaza where Palestinian resistance factions maintain a much stronger presence.
__________
Latin America: More on the New Pink Tide 
John Feffer / Foreign Policy in Focus (Washington DC)
Gustavo Petro, Francia Márquez and Gabriel Boric must navigate their way through the various layers of the Latin American left. Transformed by social movements, the post-Chavez left can show the world how progressives can wield power justly and judiciously in an age of climate change and political polarization.
__________
Anti-Hijab Protests in Iran
Somayeh Malekian / ABC News (New York)
Iran's hijab laws are enforced by the morality police, which often patrols busy areas of the cities and arrests women on the streets for not being compliant with the traditional Islamic dress code. Last month's campaign activity has been treated more strictly by the morality police and those arrested for their activism could face more severe sentencing.
__________
Ethiopian Unions Still Kicking
Samuel Andreas Admasie / Global Labour Column (Johannesburg)
Trade union movements in several African countries are on a course which is profoundly different from that of unions in industrial economies. That is the case in Ethiopia, where the membership, impact, clout and prestige of the trade union movement has grown rapidly in the last decade.
__________
Labor in Russia and Ukraine
__________
Tanzania: Maasai Women Resist
Hibist Kassa / This is Africa (Cape Town)
By being rooted in collective action, Maasai women can increase their access to knowledge, social relations, collective identity, and authority by asserting their rights to access land, which enables greater political control. To resist land grabbing, women must assert their rights to contest control and ownership over land and natural resources. 
__________
NZ: You Too Can Wreck a Party
Dave Armstrong / Stuff (Wellington)
Are you a member of a right-wing political party aching for power? Or perhaps you are a CIA operative travelling the globe destabilising left-wing movements. Or maybe you are simply very wealthy and want to keep those lefties away from your tax-free property investments. Whatever your brand of right-wing activism, this self-help guide to destroying left-wing parties is for you.