Tidbits – Sept. 15, 2022 – Reader Comments: Women's Vote Key in November Elections; Aretha Franklin; Angela Davis; Clean Environment; Chile, Ukraine War; Legacy of Violence: History of British Empire; Barbara Dane Book Launch; Cartoons; More…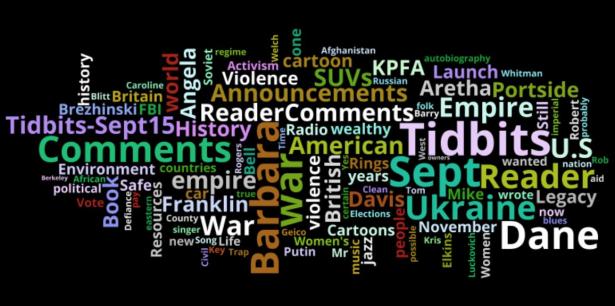 Tidbits - Reader Comments, Resources, Announcements, AND cartoons - Sept. 15, 2022,Portside
Resources:
Announcements:
Doing Her Part  --  cartoon by Mike Luckovich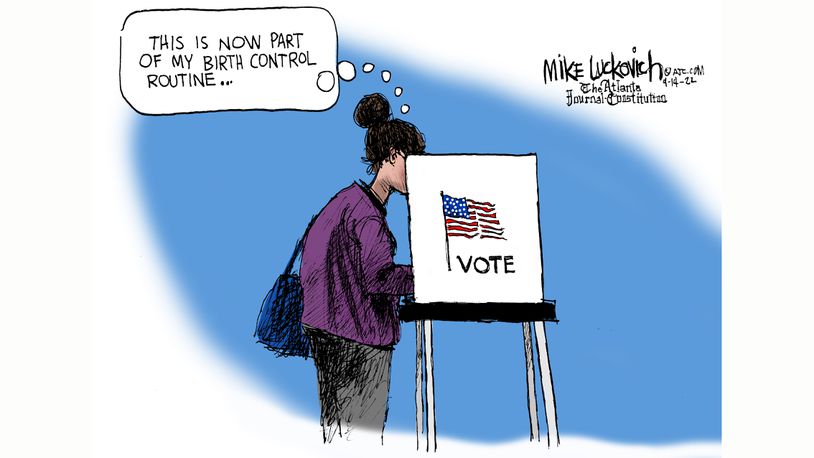 Mike Luckovich
September 13, 2022
Atlanta Journal-Constitution
Women Know What to Do ... This November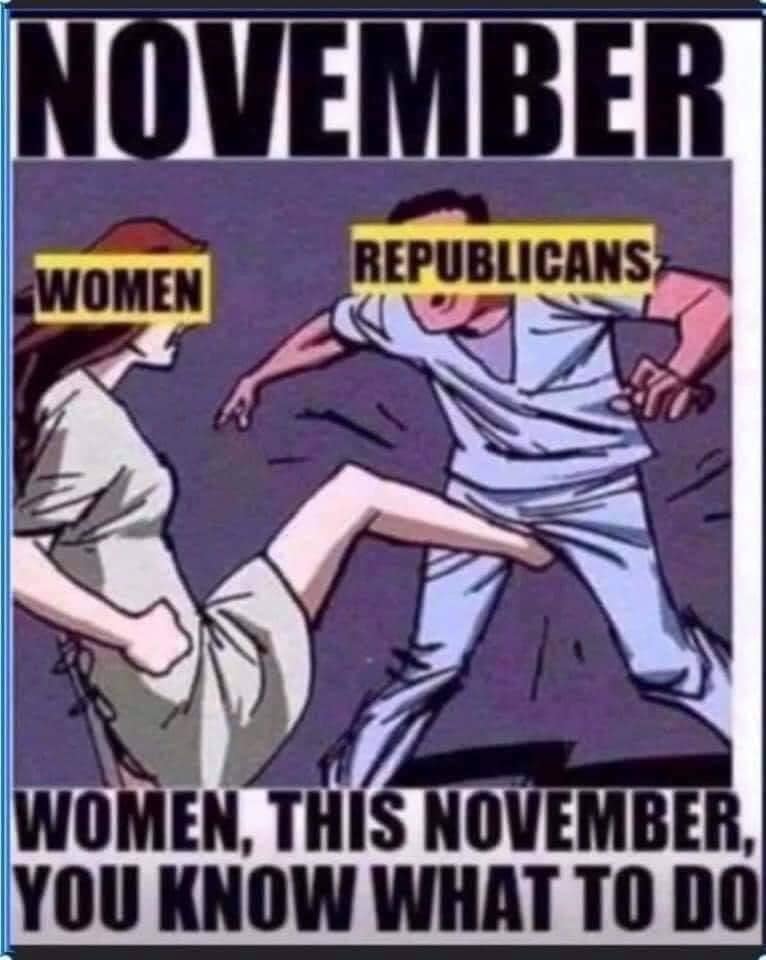 Re: Aretha Franklin's Unsealed FBI File Shows Bureau Tracked Her Civil Rights Activism
 
Good grief!!
Kirsten Mullen
      =====
A just-unsealed file shows that the FBI extensively tracked Aretha Franklin's civil rights activism, particularly her friendships with Martin Luther King, Jr., and Angela Davis
Lew Rosenbaum
Posted on Portside's Facebook page
      =====
The FBI was never the good guys.
Vincent Brough
Posted on Portside's Facebook page
Re: 'Hell, Yes, We Are Subversive'
 
Papers of Angela Y. Davis, 1937-2017 (inclusive), 1968-2006
The above link is to the Radcliffe College Schlesinger Library collection of the papers of Angela Davis. Clicking the link will show you everything in the collection.
Marilyn Albert
Posted on Portside's Facebook page
Steve Bannon Gets His Wall  --  cartoon by Barry Blitt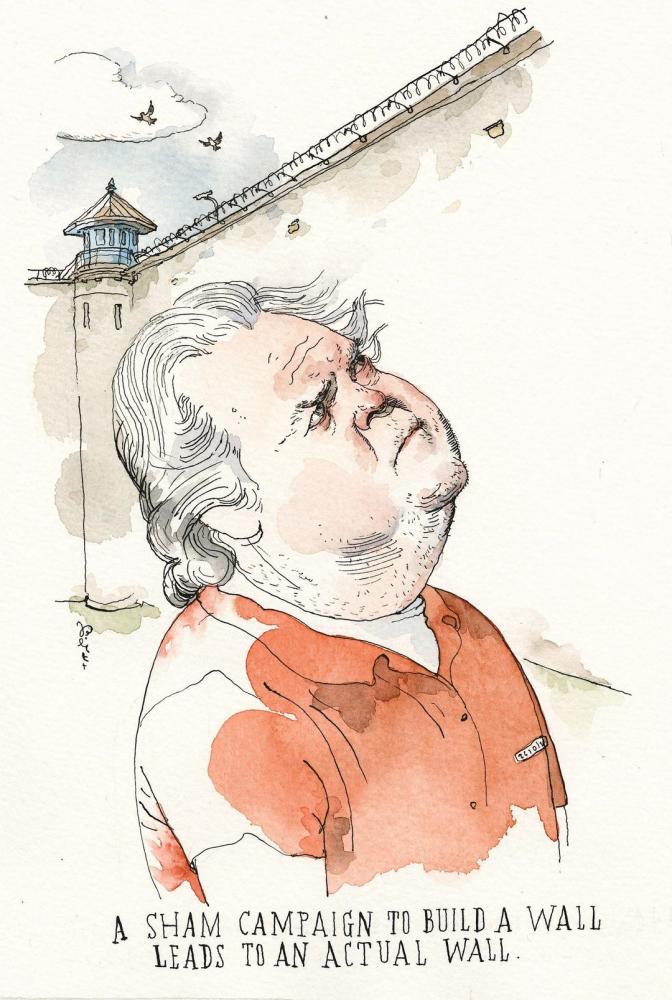 The master of irony is served.
Barry Blitt
The New Yorker
September 8, 2022
Re: How This Rural Wisconsin County Put Publicly Funded, Non-Profit, National Health Care on the Ballot
 
"By focusing on the health care crisis in America's heartland, the people of Dunn County hope to propel the issue onto the nation's agenda.  They believe that rural concern for neighbors just may outweigh the rancorous partisan divide, and with the idea spreading, influence a Congress that has, so far, refused to consider Medicare for All."
Norm Littlejohn
Posted on Portside's Facebook page
Re: Time To Blow Up Electricity Markets
 
Also, Major emphasis on regenerative agriculture! See, Gabe  Brown, "Dirt to Soil"
Also see him on YouTube, where you hang out.
Regenerative Agriculture, low tech, very high return, can be practiced anywhere.
Love your stuff!
Robert McNattin
Re: 600 SUVs 'Disarmed' in One Night
 
Tyre Extinguishers condemns SUVs as "unnecessary 'luxury emission', flaunted by the wealthy ... ." That organization probably needs a deeper analysis. 
Granted, I am not certain about SUV ownership in the UK, France, Germany, Switzerland, the Netherlands, Norway, Denmark, the Czech Republic and Canada. However, in our country, "S.U.V.s made up 47.4 percent of U.S. sales in 2019 ... ," said Tom Libby, automotive analyst at IHS Markit. (Source: https://www.nytimes.com/2020/05/21/business/suv-sales-best-sellers.html#:~:text=%E2%80%9CS.U.V.s%20made%20up%2047.4%20percent%20of%20U.S.%20sales,percent%20of%20sales%20compared%20to%2072%20percent%20now.%E2%80%9D). Logic says that the European countries and Canada cannot be completely different. Clearly, not just the wealthy are purchasing SUVs if those models are nearly half of all car sales in the U.S. My neighborhood, in the 10472 zip code of Soundview/Parkchester areas of the Bronx, is full of SUVs and crossovers. No one in their right mind would call this a wealthy neighborhood.
Non-wealthy people are also buying SUVs—a horrible choice given their pollution, gas consumption, difficulty to park, dangerousness, etc. But unless Tyre Extinguishers is only targeting wealthy neighborhoods when it deflates tires of SUVs, the organization probably pisses off more people than it converts to its cause. Maybe it should seek other solutions, like a massive fee to purchase an SUV, to help pay for all of the burdens caused by SUVs and to dissuade all but the wealthy from buying them.
If nothing else, the out-of-control spending by 47 percent of all new car owners proves that people are willing to pay an extra price for certain car ownership. If governments or companies can be coaxed into lowering the price of electric vehicles—to make a Volkswagon counterpart to Teslas—maybe it won't be so hard to convince car owners to pay a bit extra for a certain (electric) car.
Mike Arney
The Bronx
Re: There Is No Replacement for a Safe and Fair Work Environment
(posting on Portside Labor)
 
The Future of Capitalism is the same screw job as the Past of Capitalism. There is no "ethical" capitalism. There is no "gentler" capitalism.
Eleanor Roosevelt
Posted on Portside's Facebook page
Re: Geico Workers Organizing in Amherst NY
(posting on Portside Labor)
 
Boycott  Geico !!! Why not ? Get AFL-CIO to call it !  
Tom Jennings
Re: Chile's Constitutional Makeover, Take 2
 
The Communist Party of Chile is the biggest Party in the coalition that brought Gabriel Boric to the Presidency. Here is part of its statement of 10th September:
"We have to evaluate more clearly the context in which the constituent process took place: from the social explosion and its motivations up to the result of the plebiscite; inflation and economic recession that has mainly hit poorer people, and where the refusal to grant a fifth withdrawal from the personal pension funds had a political effect in the population; a negative evaluation of the government, both of its ability to respond to the material needs of the people and with respect to the problems of public safety and other facets of the government's management."
"The political and economic right wing used all its hegemonic apparatus to vilify the Constitutional Convention from day one, and consolidated a narrative in April. Strongly based on the falsification of its content, they planned and developed a media campaign, to defend their privileges and to prevent, once more, democratic transformations. This was picked up by the hegemonic means of communication, and found a deep response in wide segments of the people."
Translation, Dan Morgan in Chile.
Posted on Portside's Facebook page
At the risk of being accused of indulging in "ideological clichés," I would point out that the war in Ukraine is one between two capitalist countries.  For socialists to take sides in it is to favor one working class over another.  That was the great mistake of 1914 and we should not repeat it.  Nonetheless many leftists attempt to find justification for doing exactly that.  There are fascists in both countries, yes, but that is to be expected in capitalist countries and should not come as a surprise.
I am an admirer of Mr. Kagarlitsky's work and I defer to him in his analysis of the state of the Putin regime and the internal conditions in Russia.  What he misses is the role of the United States in shaping and even encouraging this war.  The foreign policy objective of the U.S. has been from the start to remove Putin, even if it takes the last Ukrainian.  Yes, it is true that, "It is now clear that the prolongation of the war has thwarted the Kremlin's plans."  But a prolonged war has been Washington's goal from the start; neither the Ukrainians nor the Russians wanted a long war.
I suggest that what we are seeing is a new version of the Brezhinski Trap.  In an article published in Le Nouvel Observateur in January 1998, Brezhinski was asked if he regretted U.S. intervention in Afghanistan in 1979. He made the following remarks:
"According to the official version of history, CIA aid to the Mujahiddin began during 1980, that is to say, after the Soviet army invaded Afghanistan on December 24, 1979. But the reality, closely guarded until now, is completely otherwise: Indeed, it was July 3, 1979 that President Carter signed the first directive for secret aid to the opponents of the pro-Soviet regime in Kabul. And that very day, I wrote a note to the president in which I explained to him that in my opinion this aid was going to induce a Soviet military intervention [emphasis added throughout by the magazine].
"Regret what? That secret operation was an excellent idea. It had the effect of drawing the Russians into the Afghan trap and you want me to regret it? The day that the Soviets officially crossed the border, I wrote to President Carter, essentially: "We now have the opportunity of giving to the USSR its Vietnam war." Indeed, for almost 10 years, Moscow had to carry on a war that was unsustainable for the regime, a conflict that bought about the demoralization and finally the breakup of the Soviet empire.
"What is more important in world history? The Taliban or the collapse of the Soviet empire? Some agitated Moslems or the liberation of Central Europe and the end of the cold war?"
Thus spake Mr. Brezhinski.  The neocons who run U.S. foreign policy have not forgotten this precedent and are blithely unconcerned with the disaster for the U.S. and Afghanistan which it set in motion.  In 2021 after eight years of stalemate in eastern Ukraine, Putin took the bait and mobilized the Russian Army on Ukraine's borders, placing 190,000 Russian troops against the Ukrainian's 130,000 in the east.  Why did he wait so long?  And what did he want?  As Mr. Kagarlitski notes, "As we remember, at the beginning of the war the Putin government did not put forward any territorial claims against Ukraine."  So much for Putin's plans for expansion of a revived Russian Empire.  I do not claim to know what he was thinking, but it is not possible that he simply wanted an implementation of the Minsk Accords, which was apparently opposed by the U.S. and, under its pressure, by the Ukrainians?  Is it not possible that he only wanted some sort of autonomy for the eastern "Republics" and a guarantee that Ukraine would not join NATO?  The eastern insurgents had become a pain in the ass for him and he wanted the Western sanctions removed.  In other words he was engaged in old-fashioned sabre-rattling.  His calculation – and his great mistake – was that the West would not tolerate a real war in Ukraine and so accept negotiations for a real settlement.  That was in October 2021; by February 2022 he realized that he was wrong.  The U.S. would indeed tolerate such a war.  By then he could not back down; Mr. Kargarlitsky is I think correct in pointing out the internal reaction that such a move would engender.  Thus the invasion.
As socialists we must oppose the U.S. delivery of weapons to Ukraine which will only prolong this war, probably the most needless of my lifetime.  Rather we should vigorously press Washington to actively support negotiations, something it has consistently failed to do.  Personally, I would wish this would result in a return to the October 2021 boundaries but I think things have gone too far for that.  And that will only add new animosities in a part of the world where that cup is already over-filled.  Meanwhile the chaos that followed Brezhinski Trap I is now being repeated all over the world in the wake of Brezhinski Trap II.
Robert Supansic
Re: 'Confederates Were Traitors': Ty Seidule on West Point, Race and American History
(posting on Portside Culture)
 
Someone I never thought I'd see quoted in Portside ??
Suzanne Crowell
Posted on Portside's Facebook page
Re: The Democracy Walt Whitman Wanted
(posting on Portside Culture)
Not a chance. Whitman was writing when the American bourgeoisie was completing the revolution with the Civil War. That kind of joyful citizenship is no longer possible.
David Berger
Posted on Portside's Facebook page
Mourning the Empire  --  cartoon by Rob Rogers
Rob Rogers
September 13, 3033
robrogers.com
Legacy of Violence: A History Of The British Empire
By Caroline Elkins
From Pulitzer Prize–winning historian: a searing study of the British Empire that probes the country's pervasive use of violence throughout the twentieth century and traces how these practices were exported, modified, and institutionalized in colonies around the globe
Sprawling across a quarter of the world's land mass and claiming nearly seven hundred million people, Britain's twentieth-century empire was the largest empire in human history. For many Britons, it epitomized their nation's cultural superiority, but what legacy did the island nation deliver to the world? Covering more than two hundred years of history, Caroline Elkins reveals an evolutionary and racialized doctrine that espoused an unrelenting deployment of violence to secure and preserve the nation's imperial interests. She outlines how ideological foundations of violence were rooted in the Victorian era calls for punishing recalcitrant "natives," and how over time, its forms became increasingly systematized. And she makes clear that when Britain could no longer maintain control over the violence it provoked and enacted, it retreated from empire, destroying and hiding incriminating evidence of its policies and practices.
Drawing on more than a decade of research on four continents, Legacy of Violence implicates all sides of Britain's political divide in the creation, execution, and cover-up of imperial violence. By demonstrating how and why violence was the most salient factor underwriting Britain's empire and the nation's imperial identity at home, Elkins upends long-held myths and sheds new light on empire's role in shaping the world today.
Hardcover:  $37.50
Published by Knopf / PenguinRandomHouse
March 29, 2022  -  896 Pages
Caroline Elkins is professor of history and of African and African American studies at Harvard University and the founding director of Harvard's Center for African Studies. Her first book, Imperial Reckoning: The Untold Story of Britain's Gulag in Kenya, was awarded the 2006 Pulitzer Prize for General Nonfiction. She is a contributor to The New York Times Book Review, The Guardian, The Atlantic, The Washington Post, and The New Republic. She has also appeared on numerous radio and television programs, including NPR's All Things Considered and BBC's The World. She lives in Watertown and Marion, Massachusetts.
Barbara Dane Book Launch Party - Berkeley - October 17 (KPFA Radio)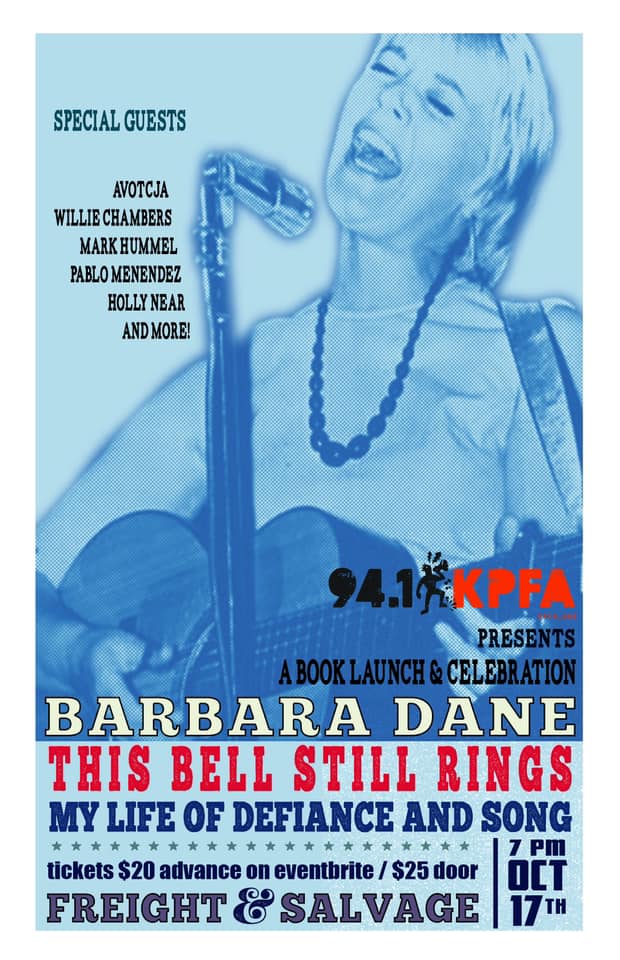 KPFA welcomes Barbara Dane in celebration of the release of her autobiography, This Bell Still Rings: My Life of Defiance and Song
Please join KPFA Radio at The Freight & Salvage on Monday, October 17th at 7:00pm when we welcome the legendary Barbara Dane (and Friends) in celebration of the release of Barbara's autobiography, This Bell Still Rings: My Life of Defiance and Song. This live, in-person event will be hosted by KPFA's Kris Welch and will include special guests such as: Tammy Hall, Holly Near, Maureen Gosling, Avotcja, Mark Hummel and Pablo Menedez.
The autobiography of a courageous singer-songwriter, activist, and American icon.
A renowned folk, blues, and jazz singer who performed with some of the twentieth century's most celebrated musicians, from Louis Armstrong to Bob Dylan. A proud progressive who has tirelessly championed racial equality and economic justice in America, and who has traveled the world to sing out against war and tyranny. An organizer, a venue owner, a record label founder, and a woman who has charted her own creative and political path for more than ninety years. Barbara Dane has led an epic, trailblazing life in music and activism, and This Bell Still Rings tells her story in her own adventurous voice.
Dane's memoir charts her trajectory from singing in union halls and at factory gates in World War II–era Detroit, to her rise as a respected blues and jazz singer, to her prominence as a folk musician frequently performing at and participating in civil rights and peace demonstrations across the US and abroad—from post-revolutionary Cuba to wartime Vietnam.
This Bell Still Rings illuminates "one of the true unsung heroes of American music" (Boston Globe), and it offers a wealth of inspiration for artists, activists, and anyone seeking a life defined by courage and integrity.
Barbara Dane is an American folk, blues, and jazz singer, guitarist, record producer, political activist and co-founder of Paredon Records with Irwin Silber. "Bessie Smith in stereo," wrote jazz critic Leonard Feather in the late 1950s. Time wrote of Dane: "The voice is pure, rich ... rare as a 20-carat diamond" and quoted Louis Armstrong's exclamation upon hearing her at the Pasadena jazz festival: "Did you get that chick? She's a gasser!" On the occasion of her Barbara's 85th birthday, The Boston Globe music critic James Reed called her "one of the true unsung heroes of American music."
Kris Welch is celebrating 50 years with KPFA Radio and is currently the host of The Talkies, a place for the cultural, the intellectual, the political, the spiritual — and the silly. Life as we know it, fear it, love it, question it and live it.
EVENT DETAILS:
Monday October 17th at 7:00pm
Barbara Dane & Friends hosted by Kris Welch: Book Launch for This Bell Still Rings: My Life of Defiance and Song
TICKETS: $20.00 in advance / $25.00 at the door
MEDIA CONTACT: Kevin Hunsanger, KPFA Radio: kevinh@kpfa.org 510-684-3401