Global Left Midweek – September 21, 2022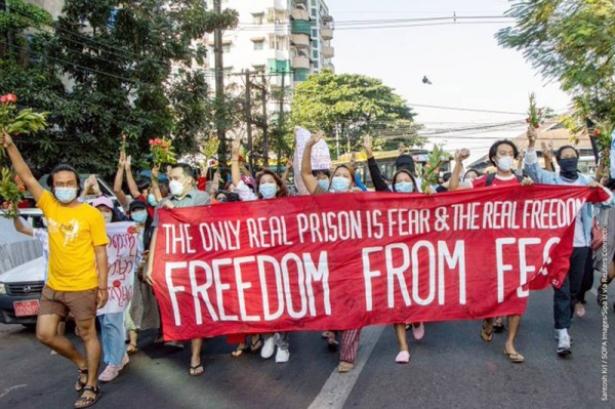 Myanmar demonstrators defy the junta. Credit, Unsplash/Pyae Sone Htun
__________
Africa Struggles With Neocolonialism
Anis Chowdhury and Jomo Kwame Sundaram / Inter Press Service (New York)
Neglected by the US after the first Cold War until its 21st century African initiatives, including Africom, African nations have increasingly welcomed alternatives to the West, albeit somewhat warily. Together, the world can help Africa progress. But if support for the continent remains hostage to new Cold War considerations, non-alignment becomes the pan-African choice.
__________
Die Linke on the Brink of a Split
Max Zeising / Neues Deutschland (Berlin)
(Note: The following was translated by Portside. Read the original here.)
For Die Linke, as a party that fights for social balance and is widely known for it, increased prices due to the Ukraine war create a situation in which it should actually benefit. The party calls for a gas price cap and an over-profit tax—measures that could make an effective contribution to the financial relief of many people. And it also takes to the streets with these demands: In Leipzig it demonstrated with nationally-known celebrities, and in Erfurt it took part in a demonstration of the "Nicht mit uns" alliance, in which Thuringia's Prime Minister Bodo Ramelow also participated. And indeed, a slight upward trend can be seen in current surveys: all relevant research institutes currently see the party coming back by at least five percent.
And yet, these survey results don't come close to old successes. In the 2009 Bundestag election, Die Linke reached almost twelve percent. The public image of the party remains very negative. One reason is repeatedly pointed to: that instead of leading with programmatic common ground, bombast and controversy have dominated. But that's only half the story.
In the debate about Sahra Wagenknecht's [August 8] speech in the Bundestag, it is very easy to see how parts of the left have long since been separated, and even alienated, from the party. The former faction leader had barely sat down on her chair before all cannons were firing: by talking about an "economic war" of the West against Russia, Wagenknecht violated party congress resolutions by relativizing Russia's responsibility, which was resented above all by reformers who do not directly belong to the circle of co-faction leader Dietmar Bartsch, and by parts of left movements. Many argued that she does not speak for Die Linke, and that it was time for her to leave. Wagenknecht's own people—Sevim Dağdelen, Klaus Ernst and others—counterattacked, arguing that Wagenknecht was right and the others simply did not understand the party congress resolutions correctly. A reasonable dispute between these camps hardly seems possible anymore.
If the left now takes to the streets, it is as a party that stands for a certain program that also includes foreign policy. If Wagenknecht uses the sanctions of the West as the main reason for the social upheavals, then this is a clear contradiction to the position that Putin, whose violation of international law made a reaction necessary in the first place, is primarily responsible for this. It is not possible to appear as a united force for social justice until an overall package has been agreed on.
Instead, there are rumors about a secession of the Wagenknecht camp. And it seems as if her supporters want to let off a little steam before they jump or, as some say, throw around some dirt: "A party chairman who confuses the parallel universe of his Twitter bubble with the mood among the population is miscast," Wagenknecht scolded the co-party leader Schirdewan after he warned that the the debates about her are drowning out all efforts for a "hot autumn."
Dietmar Bartsch stands with the reformers loyal to him, between the two fronts, who in turn are aligned with Wagenknecht supporters in the parliamentary group, but who largely stay out of debates about Wagenknecht's position. Bartsch wants one thing above all else: "do everything" to prevent a split. He clings to the power he still has, because he knows that if Wagenknecht and co. leave, his time at the top could also be over. At the same time, the pressure on him and Amira Mohamed Ali at the top of the parliamentary group is increasing massively, and an open letter calls for their resignation. But it could also be that Bartsch has to be involved in order to get rid of Wagenknecht.
Beyond the ideological trench warfare, however, there is a second level that all sides of the conflict should consider. Ulrich Schneider and Fabio de Masi, two well-respected politicians from different wings, have left the party. Whatever a left-wing party will look like in the future, if such people leave, it will not do it any good.
__________
Myanmar Peoples' Fight for Democracy
__________
Italy: Election Tea Leaves
Guido Liguori / Jacobin (New York)
Polls for Italy's September 25 general election suggest the far right is coasting to victory. Its center-left opposition is weak and divided — showing what happens to a Left that grows apart from its working-class base.
__________
Cuba's Left
Rafael Hernández / OnCuba (Havana)
In addition to philosophers and economists, there are sociologists and communicators, historians, jurists, psychologists, anthropologists, and many also research, and are part of groups that do activism. They take up feminism, anti-racism, the fight against homophobia, and other issues related to social justice and citizen participation.
__________
ANC at the Point of No Return?
Raymond Suttner / Polity (Johannesburg)
If democracy is to be salvaged, and people are to be rescued from hunger, continued violence and a range of other ills that compromise their basic needs, we must look beyond ANC-led governments that caused these problems in the first place.
__________
Learning From Ireland
__________
Iran: Women Rage in the Streets
Middle East Eye (London)
Dozens of protests that have broken out across Iran over the past four days, sparked by the death in custody of a young woman who was arrested by Iran's so-called "morality police", who were enforcing the country's strict regulations on women wearing the hijab.
__________
Russia: Dissent in the Military
Alec Dubro / Foreign Policy in Focus (Washington DC)
Critics within Putin's military are using a variety of tactics—from online campaigns to desertion—to make their voices heard. And although Russia has tried very hard to hush up refuseniks in the army, news has leaked out.
__________
Brazil: Landless Leader's Election Take
Arturo Hartmann, Igor Carvalho and José Eduardo Bernardes / Brasil de Fato (São Paulo)
João Paulo Rodrigues, a national leader of the Landless Workers' Movement (MST), talks about the coming election, the effects of international scenarios on Brazil, the role Lula could play in Latin America and the challenges that Bolsonaro imposed on the popular camp.