Dispatches From the Culture Wars – September 27, 2022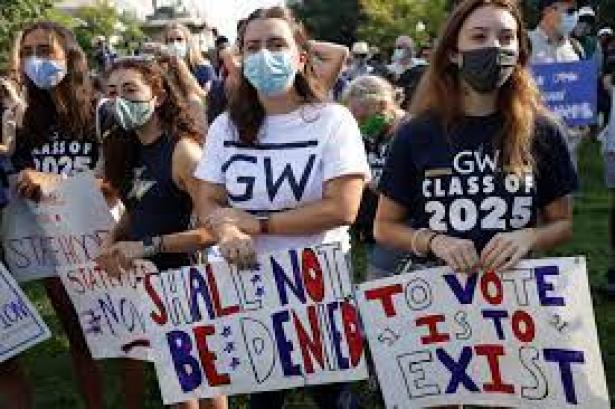 Credit,, ALEX WONG/GETTY IMAGES
Polls Show Division on Migrant Trafficking
By Kaleigh Rogers and Zoha Qamar
FiveThirtyEight
A poll fielded in the days after the Martha's Vineyard flights found that Americans were evenly split over whether or not they approved of Texas and Florida sending undocumented immigrants to northern cities without giving those cities notice.
Labor Stirs
By Chris Isidore
CNN Business
The 11th hour deal that prevented a crippling strike at the nation's freight railroads is the biggest win for US unions in years. It also showed the power that unions can still wield, especially when a strike threatens to deal a body blow to the nation's supply chain and economy. More than 100,000 union members are voting on whether or not to ratify the tentative agreements.
Chattanooga High School Walkout Against Brutality
By Carmen Nesbitt
Chattanooga Times Free Press
About 200 students and some teachers walked out of class at East Ridge High School, in protest of a Tuesday arrest in the school gym that was the subject of a viral video. The footage shows a white school resource officer attempting to restrain a Black student, Tauris Sledge, 18, on the bleachers by pulling his hair and pushing him to the ground. 
The Sheriff Fellowship
By Jessica Pishko
Slate
Over the course of a week, eight sheriffs—all white men—chosen from the more than 3,000 in the country stayed at the Waterfront Beach Resort in Huntington Beach, California, attending a series of discussions, lectures, and fireside chats steeped in the far-right-wing Claremont Institute think tank's heady intellectualism and radical ideology. 
Open Anti-Semites Riding the GOP
By Jonathan Chait
New York magazine
The GOP may not be an antisemitic party. Indeed, it has managed to maintain a big tent that includes both Jewish ultrahawks and their most paranoid enemies. Nevertheless, it has become a party in which antisemitism has gained a foothold.
Young Voters: Superheroes of Democracy
By Dakota Hall
The Progressive
For the past two election cycles, young voters have been the superheroes of our democracy. In 2018, they turned out in record numbers to take back Congress from Trumpism. In 2020, in the midst of a global pandemic and widespread economic uncertainty, half of all young people aged 18 to 29 voted, an increase of 11 percent from 2016. 
QAnon GOP
By Will Bunch
The Philadelphia Inquirer
No one predicted that U.S. authoritarianism would come with a bat-guano crazy musical soundtrack — music that sounds like a Bible Belt altar riff but is actually tied to the weirdly popular QAnon conspiracy theory whose legion of followers believe there's an elite global cabal of child-trafficking, baby-blood-drinking liberal politicians and movie stars.
Prosecutors Pledge No Abortion Bans
By Lauren-Brooke Eisen and Miriam Aroni Krinsky
Ms.
A growing group of prosecutors is promising to use their charging discretion and not prosecute abortion-related conduct now that many of these laws are beginning to take effect. One of the groups organizing this effort is Fair and Just Prosecution, a nonprofit that supports elected prosecutors who are looking to reimagine the justice system. 
Unions Fight for Education
By Eleanor J. Bader
Truthout
Bills to restrict the freedom to teach and learn have sparked outrage — and organizing — on campuses throughout the country. In addition to increased COVID-inspired health and safety concerns and an ever-increasing spike in the number of low-paid contingent laborers, campus workers are mobilizing in every region of the U.S. and pushing for a New Deal for Higher Education. 
Disability Justice Activists Speak
Teen Vogue
Many Americans with chronic illness or disabilities — whose numbers have grown due to long COVID — feel they've been left behind, discarded as an acceptable consequence of the return to "normal." We asked 11 disability rights advocates about their experiences during the various stages of the pandemic and what's next in the fight for disability rights and inclusion.