Dispatches From the Culture Wars – October 11, 2022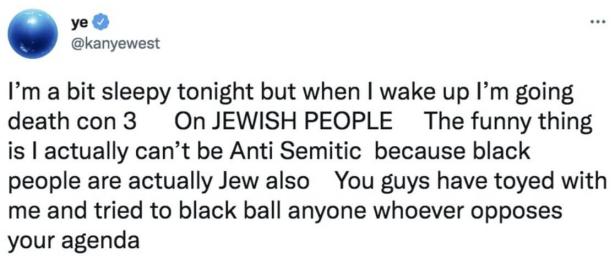 Credit, Kanye West/Twitter
Voting For Our Lives
By William J. Barber and Tope Folarin
Newsweek
As the Poor People's Campaign has held voter mobilization events around the country, we've seen how the most marginalized are building the power to revive our Constitution's commitments to establish justice, promote the general welfare, and ensure equal protection under the law.
SCOTUS: Problems and Solutions
Kanye's Antisemitism
By Mira Fox
Forward
Who knows why Ye tweeted out his antisemitic conspiracy theories. Maybe he was trying to troll people, maybe it was a publicity stunt or performance art. In the end, it doesn't really matter; plenty of his fans will absorb his statements uncritically. And regardless of the tweets' impact, there's no question they were antisemitic. It's OK to say that — in fact it's essential.
Military Recruitment in the Ghetto
By Aina Marzia
Yes!
Military recruiters count on economic hardship to lure young people of color to sign up. Counter-recruiters are working hard to thwart their efforts.
Kicking Manchin's Ask
By Denali Sai Nalamalapu
Truthout
Frontline climate leaders just secured a huge win by stopping West Virginia Sen. Joe Manchin's pipeline bill from weaseling into the Senate's key funding bill. Frontline leaders joined forces together to lobby and call their representatives, tell their stories, and rally in Washington, D.C. and elsewhere, with the support of "Big Green" environmentalists.
Ciao, Fascism
By John Feffer
Foreign Policy in Focus
The same Europeans who quaked at the prospect of Marine Le Pen becoming president in France have been bracing for the impact of far-rightist Giorgia Meloni winning in the September elections in Italy. The fascist Brothers of Italy coming out on top with 26 percent of the vote. One of the reasons for this electoral victory was surely Meloni's strategic pivot to the center.
Rightists' Secret Abortions
By Leah Hampton
Salon
In the wake of abortion rights being overturned is the fundamental tension between progressive Southerners, and conservative white women who quietly take advantage of abortion rights while helping abolish them.
Suing for Houseless Rights
By Tim Redmond
48hills
The Coalition on Homelessness and two legal nonprofits filed suit against San Francisco and Mayor London Breed, alleging that the city has failed to provide affordable housing for homeless people and continues to criminalize them with illegal sweeps. The Lawyers Committee for Civil Rights and the ACLU filed the complaint in federal court.
Nobelist Annie Ernaux: Class is a Writer's Block
By Manuel Cervera-Marzal
Jacobin
The Nobel Literature Prize winner talks about the barriers working-class writers face, the sociological influences on her thought, and how writing about individual experience can express the violence of class domination.
Is Depression Biochemical?
By Carlos L. Garrido
Science for the People
A recent study published in the journal Molecular Psychiatry sent shockwaves across the scientific community and popular outlets as it disproved the predominant "serotonin hypothesis" of depression. Researchers concluded that "there is no convincing evidence that depression is associated with, or caused by, lower serotonin concentrations or activity."