Tidbits – Oct. 13, 2022 – Reader Comments: Los Angeles City Hall Racism; Segregation; Amazon Workers; Ukraine War Dissent; COVID-19 Protocols and Feminist Ethics of Care; Abortion Access-A Workers' Issue; Cartoons; Announcements; More;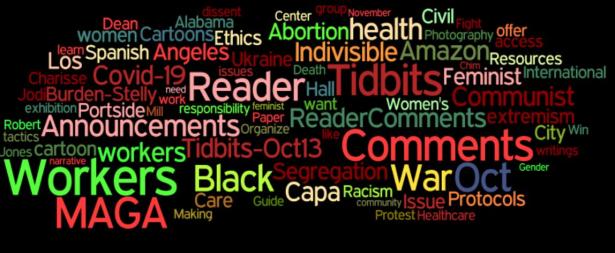 Tidbits - Reader Comments, Resources, Announcements, AND cartoons - Oct. 13, 2022,Portside
Resources:
Announcements:
Postcard from the Edge: Los Angeles City Hall  --  cartoon by Lalo Alcaraz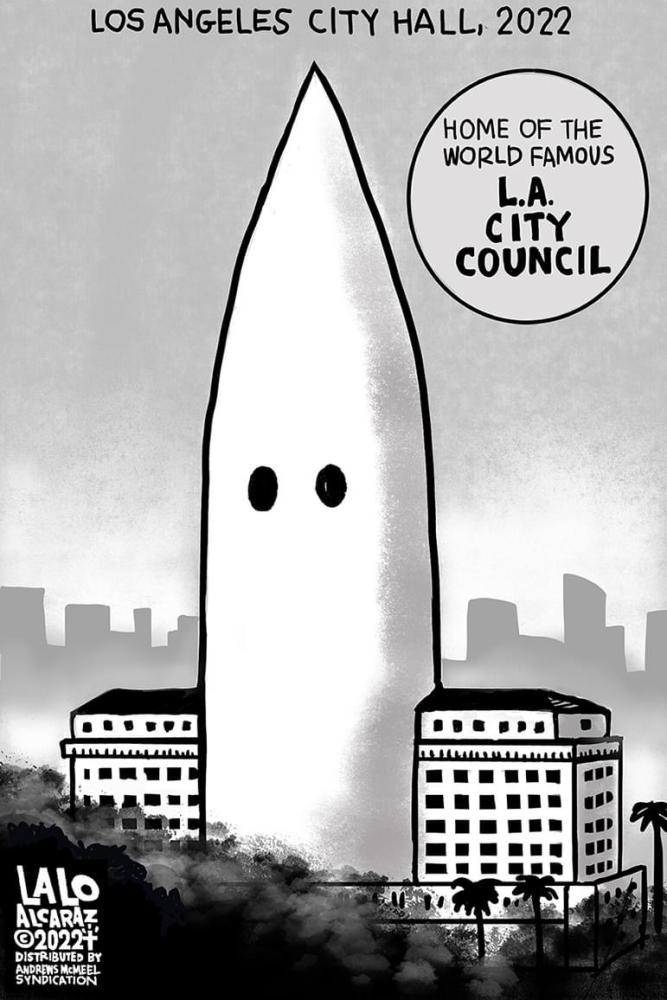 Lalo Alcaraz
October 11, 2022
Pocho.com
Our segregation problem ???
Synnachia Mcqueen
Posted on Portside's Facebook page
      =====
Racial separation in living conditions ???
Posted on Portside's Facebook page
Leave Herschel Alone  -  cartoon by Clay Jones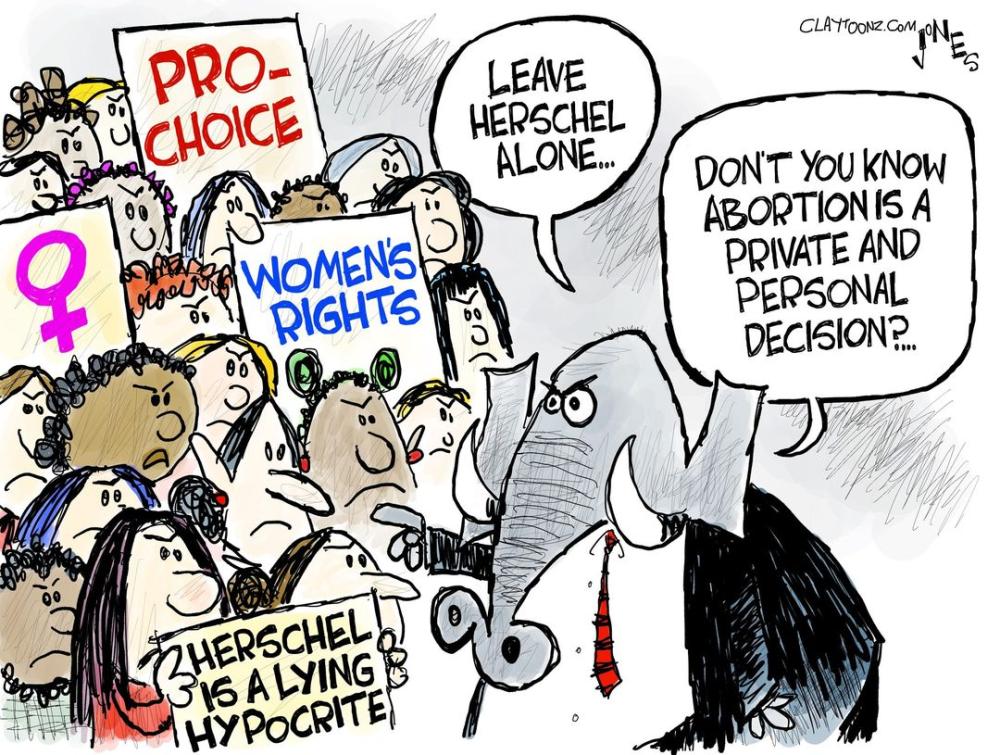 Clay Jones
October 11, 2022
Sarasota News Leader
Re: Three Amazon Warehouses Catch Fire; Workers Protest Unsafe
 
"Our plant caught on fire again," an Amazon worker at the HSV1 told WAFF. "This time it was in the same area, but it was a couple aisles over. You could still smell smoke in there. Half the warehouse was off limits."
Jennifer Watson
Posted on Portside's Facebook page
Re: Alabama Paper Mill Workers Want Their Lives Back—And They're Giving Up $30,000 To Get It
Sometimes--IMAGINE IT!!-- workers' dignity is more valuable than money.
Linda Gillison
Posted on Portside's Facebook page
      =====
Alabama Papermill Workers: Want their money AND their lives! 
Ellen Shaffer
Posted on Portside's Facebook page
Re: Russian Protest and Exodus
What an ignorant article. The mobilization is for reservists only. Students all have a deferment. Over 70,000 have already volunteered. This is just parroting the war mongering neo cons in the US government. Read both sides ,wait I'm sorry the other side's info is banned.
Bernard Sampson
Posted on Portside's Facebook page
Re: When Texas Cowboys Fought Private Property
"away with your foreign capitalists; " is neglected here. In fact British corporations bought up large portions of Texas grazing land--the largest Cattle Baron in the world was the British owned King Ranch so the fence cutters were also anti-imperialists.
Stan Nadel
Re: Sacheen Littlefeather, Who Delivered Marlon Brando's Oscar Rejection Speech, Dies at 75
RIP, dear one.
Genevieve Gen Davidson
Posted on Portside's Facebook page
Head Covering  --  cartoon by Rob Rogers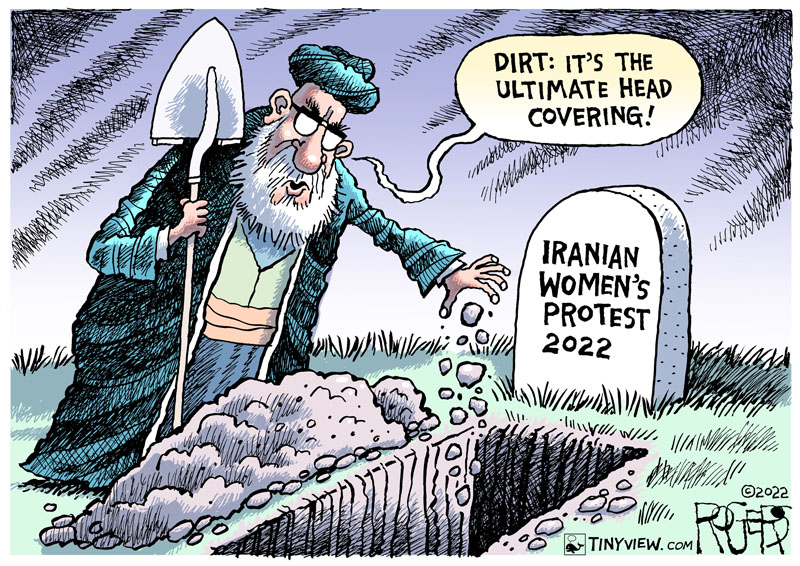 Rob Rogers
October 12, 2022
robrogers.com
Covid-19 Protocols and Feminist Ethics of Care (Department of Women's and Gender Study, Syracuse University)
Statement about campus Covid-19 protocols
Department of Women's and Gender Study, Syracuse University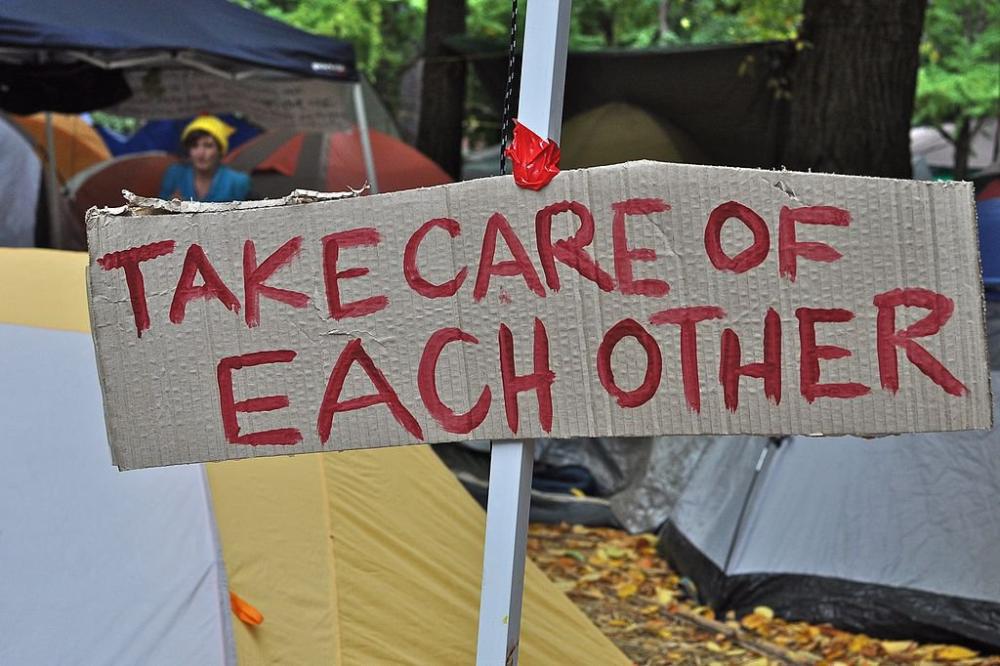 In light of the university's announcement that masking is now an individual decision on our campus, we, as a feminist community, want to offer a counter-practice grounded in feminist ethics of care, disability justice, accountability, and the notion of collective access. We believe that health is more than an individual choice/decision, and we understand health as part of a larger ecology of care and responsibility towards each other and to our communities.
We reject the language and ideologies behind the notion of the "vulnerable minority" as the only members of our society who must take extra precautions to stay safe. We believe that people should not be required to declare their health status in order to ensure their safety. Instead we want to prioritize the knowledge and tools that we have collectively gained throughout the (ongoing) pandemic, which recognize the fact that we all are connected and, therefore, share the responsibility to keep each other safe.
COVID-19 not only poses a threat to our collective well-being, but also, and consequently, directly impacts access to education. We are troubled by efforts to place the responsibility for ensuring equal educational access onto individuals with higher health risks. We are literally putting the onus for their well-being on them alone. Further, we see the implicit or explicit requirement of health and individual vulnerability disclosures as practices that perpetuate power inequities. They further privilege those who appear "fit" and "strong" while enabling them to show or deny compassion and concern for those required to disclose sensitive information.
Individualizing issues of health during an ongoing public health crisis appears to relieve institutions of any responsibility for ensuring the health and educational access of all members of their community.
Read full statement here
Give No Ground: Defeating MAGA Mayhem (Indivisible)
It's no secret that we love Guides here at Indivisible. After all, it's how this movement got its start five years ago. This Guide is a little different, though, and we want to be up front about that. 
Over the last several weeks, Indivisible has been working with groups in Pennsylvania and Arizona to pilot some of this work, learn lessons, adjust plans, and offer our best advice to you as your group thinks about the work ahead of November. This Guide is a first attempt. We want you to read it, begin to use it, learn your own lessons, and offer us feedback on how it's going so we can capture what you learn along the way. We'll use that feedback to offer trainings, learnings, and updated thinking to Indivisible groups across the country.
The Defeating MAGA Mayhem Guide is a living document — and for it to do what it needs to do for Indivisible groups across the country, we need to hear from you. Once you've tried some of what's below, want to hear from you. Click here to offer feedback and your thoughts on the strategy
Here's the quick summary of the Guide. While this section summarizes the top-level takeaways, the full guide has substantially more details about the thinking behind this new strategy and how to carry out these actions.
Introduction: Why we need to flip the script. We explain that in order to win in November, we need to go on offense and put MAGA Republican extremism front and center for voters. 
Who is this guide for?: You! If you are already part of an Indivisible group, these tactics will help your group build a narrative for both national and local races. If you aren't yet part of an Indivisible group, now is the perfect time to join one!
What does success look like?: Our goal here is to build a long-term, sustainable narrative focused on MAGA Republican extremism. We explore escalating tactics to build that narrative like LTEs, calling into radio shows, billboards, or birddogging candidates or Members of Congress. 
Why is exposing MAGA extremism important at this moment?: MAGA Republicans are incredibly good at message discipline and building long-term narratives. They distract voters from their extremist views and blatant power grabs with hate and fear mongering. If we're going to win in November, we must face MAGA extremism head on, expose MAGA Republicans as the extremists they are, and redefine this election on our terms. Put simply, if we can make this election a referendum on their extremism, they lose.
What issues should we focus on?: We recommend specifically focusing on issues with broad public support where MAGA Republicans are in the minority. Currently, we think there are three broad buckets of issues that fit this criteria: MAGA attacks on people and our rights (think: abortion), attacks on schools (book banning, censoring our history, and more), and attacks on our democracy (the Big Lie, January 6th, and election subversion).
Tactics to force MAGA on the record: All of our recommended tactics are designed to generate earned media and shine the spotlight on MAGA Republican extremism. That said, you know your district and your community the best so choose tactics that make the most sense in your local context. 
Read and Access the full Guide here
Death in the Making - Reexamining the Iconic Spanish Civil War Photobook - New York - Sep 29, 2022 – Jan 09, 2023 (International Center of Photography)

Death in the Making: Reexamining the Iconic Spanish Civil War Photobook brings together nearly 75 original photographs and related ephemera to tell the story of Robert Capa's iconic 1938 photobook about the Spanish Civil War. In addition to work by Capa, the exhibition presents new insights into the contributions of Polish American photojournalist David "Chim" Seymour, who was only recently credited for his work in the book, and German photojournalist Gerda Taro. Taro's death in the Spanish Civil War spurred the production of the book, which is dedicated to her.
The exhibition is accompanied by a 2020 edition of Death in the Making, published by Damiani/ICP. Curated by Cynthia Young, former curator of the Robert Capa and Cornell Capa Archive at the International Center of Photography, the exhibition represents the first in an ongoing series of exhibitions that revisit and highlight the ICP permanent collection and celebrate ICP's history.
Cynthia Young has curated numerous exhibitions on photojournalism in the 1930–50s, including Capa in Color; We Went Back: Photographs from Europe 1933-1956 by Chim and The Mexican Suitcase: The Rediscovered Spanish Civil War Negatives of Robert Capa, Chim and Gerda Taro. These exhibitions traveled widely to multiple venues in France, Spain, Italy, Mexico, Brazil, Hungary and Sweden. She was until 2020 the curator of the Robert Capa and Cornell Capa Archive at ICP, where she worked since 2000.
Availability
This exhibition is available for tour. If you are interested in finding out about availability or to reserve a slot on the tour, please contact travelingexhibitions@icp.org.
International Center of Photography
79 Essex Street
New York, NY 10002
Charisse Burden-Stelly and Jodi Dean present "Organize, Fight, Win: Black Communist Women's Political Writing" - Baltimire - October 15 (Verso Books)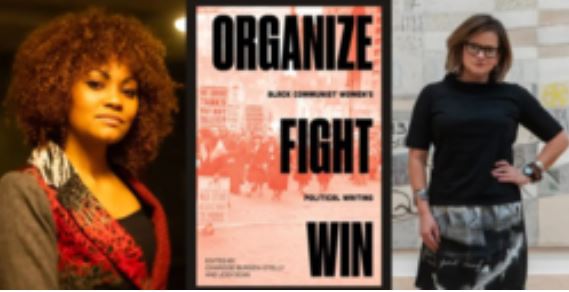 October 15, 2022
7.00pm - 8.30pm
Red Emma's
Baltimore, MD 21218
Join Charisse Burden-Stelly and Jodi Dean at Red Emma's!
The first collection of its kind, Organize, Fight, Win brings together three decades of Black Communist women's political writings. In doing so, it highlights the link between Communism and Black liberation. Likewise, it makes clear how Black women fundamentally shaped, and were shaped by, Communist praxis in the twentieth century.
Black Communist women throughout the early to mid-twentieth century fought for and led mass campaigns in the service of building collective power in the fight for liberation. Through concrete materialist analysis of the conditions of Black workers, these women argued that racial and economic equality can only be achieved by overthrowing capitalism.
Organize, Fight, Win includes writings from card-carrying Communists like Dorothy Burnham, Williana Burroughs, Grace P. Campbell, Alice Childress, Marvel Cooke, Esther Cooper Jackson, Thelma Dale Perkins, Vicki Garvin, Yvonne Gregory, Claudia Jones, Maude White Katz, and Louise Thompson Patterson, and writings by those who organized alongside the Communist Party, like Ella Baker, Charlotta Bass, Thyra Edwards, Lorraine Hansberry, and Dorothy Hunton.
"Charisse Burden-Stelly is a sharp engaged radical thinker, representing the best of the Black radical tradition. Along with co-editor Jodi Dean, Burden-Stelly has curated a powerful and enormously valuable collection of writings by Black socialist and communist women, rightly placing their voices at the center of US and international left histories. A great teaching tool and a much needed source of inspiration for contemporary activists." —Barbara Ransby, historian, author and activist
Charisse Burden-Stelly (@blackleftaf) is Assistant Professor of Africana Studies and Political Science at Carleton College. She is the author, with Gerald Horne, of W. E. B. Du Bois: A Life in American History.
Jodi Dean teaches political, feminist, and media theory in Geneva, New York. She has written or edited thirteen books, including The Communist Horizon and Crowds and Party.
It's a Workers' Issue! Abortion Access and the Right to Healthcare - October 19 (Labor Campaign for Single Payer)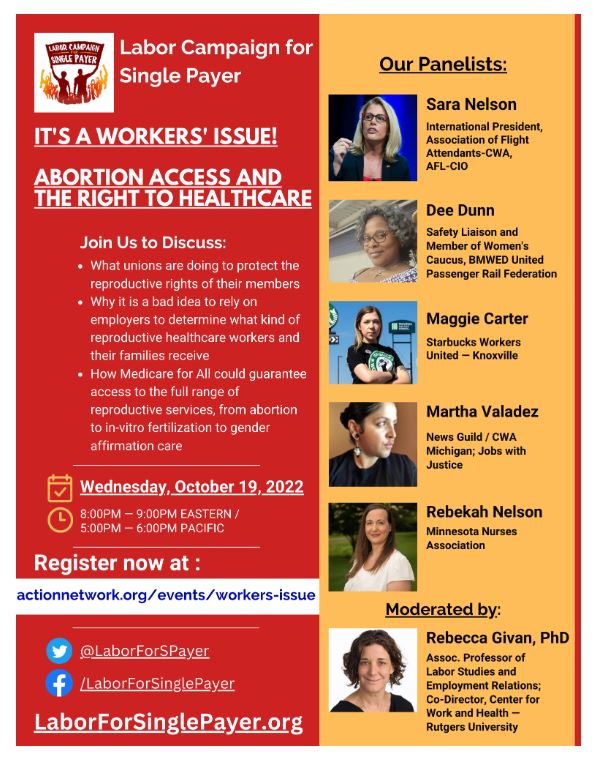 Wednesday, October 19, 2022 • 8:00 PM • Eastern Daylight Time
Join us and Sara Nelson (International President of AFA-CWA), Dee Dunn (BMWED/IBT), Maggie Carter (Starbucks Workers United, Knoxville), Martha Valadez (News Guild, CWA Michigan), and Rebekah Nelson (Minnesota Nurses Association) to learn about:
what unions have been doing in response to the Supreme Court decision
why it's bad to rely on your employer for reproductive health coverage
how single-payer / Medicare for All will cover not only abortion access but the broader scope of reproductive rights such as wellness visits, birth control, in vitro fertilization, and gender-affirming care.
We will be sending out the Zoom information soon to those who RSVP.
Host Contact Info: Organizers@LaborForSinglePayer.org