labor
Work Won't Love You Back: After a Union Election Victory Comes the Hard Part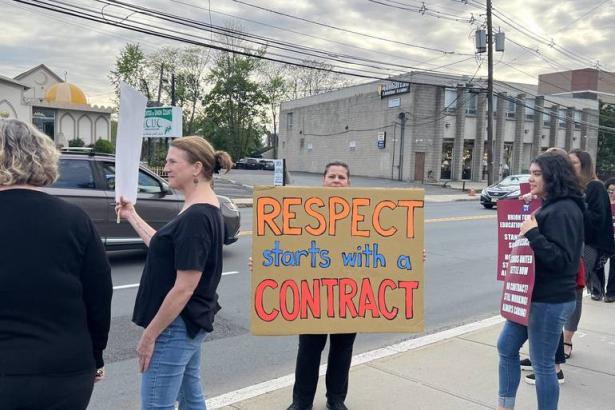 Teachers, members of the Union Township Education Association in Union, N.J., demand a contract during a rally in 2022.,TapintoUnion
On the morning of December 16, workers from about 100 Starbucks stores across the United States began a three-day strike. They were protesting the company's closure of unionized locations and its refusal to bargain with workers at more than 260 stores who have already voted to become part of Starbucks Workers United.
That same morning, workers from Planned Parenthood North Central States (PPNCS) held a virtual press conference to tell reporters how their bargaining process was going. Ashley Schmidt, a training and development specialist for Planned Parenthood clinics in Nebraska and Western Iowa, noted that the desire to unionize among clinic workers was a sign of the need for change at the organization, and it "deserves to be met with goodwill and without stalling."
These were just a few of the workers who have voted to unionize in recent years, in an upsurge of victories in National Labor Relations Board (NLRB) elections, but who are still struggling to secure their first contract. In some cases, like at PPNCS, workers have been able to meet with management. But, as worker Grace Larson—who was featured in this column last September—says, the meetings left workers "generally disappointed" in their employer's response to the process.

At other companies like Starbucks, workers attempting to bargain are met with a scorched-earth, anti-union campaign that can, at times, make the tactics used before the election look soft. And while a lot of attention has been paid recently to election victories, comparatively less is paid to the bargaining process, even though bargaining is where the win at the ballot box turns into real change in the workplace.
"When you win your union, that is such an awesome moment," says Chris Brooks, field director at the NewsGuild in New York, which has organized dozens of new union shops in recent years. "It's like poetry in motion. It's just incredible, but then bargaining often feels like sausage making."
That feeling of being put through a meat grinder is deliberate, Brooks says. "Their plan is to delay, delay, delay. They want to drag things out to the point where either you feel like bargaining is futile and you are just going to have to accept whatever management is going to give you, or they're capable of supporting a de-certification drive."
And management, particularly at a massive, multi-billion-dollar corporation like Starbucks or Amazon, has lots of resources to do the delaying. Just one complaint last May against Starbucks in Buffalo, New York, where the current unionization wave began, included more than 200 alleged violations of the National Labor Relations Act. The violations included allegedly threatening and intimidating workers by closing stores, reducing workers' compensation, enforcing policies against union supporters in a discriminatory way, engaging in surveillance, and firing workers.
Brian Murray, a Starbucks worker in Buffalo, acknowledges that "it can be really disheartening for a lot of workers who have put so much into this process to still have this even-larger-than-organizing obstacle in front of us now."
The firepower leveled at workers simply making demands for a more equitable workplace often seems ridiculous. "My definition of bargaining is when workers go to management with great ideas about how to improve their pay, benefits, and working conditions, and management says no," Brooks says. Particularly when those proposals are around things like diversity and inclusion, it is frustrating to workers like those at Planned Parenthood to see the company stonewall.
But it's especially important for workers to get those key issues into the first contract. "If you don't get just cause in it, if you don't get grievance and arbitration and these essential components of a labor agreement in that first one, it's going to be hard to get them in a successor agreement," says Sean Collins, a union representative and organizer at SEIU Local 200 United in upstate New York. Even bargaining for subsequent contracts can drag on and on.
The law, Collins notes, only requires employers to "meet and confer." Often they will do so, but in bad faith. "They'll refuse to furnish information. They'll meet at inconvenient times. They'll come unprepared. It serves as this psychic anvil over your head," Collins says.
From there, workers must decide how to proceed. For everyone I spoke to for this story, the answer is the same: Effective organizing away from the bargaining table is the only thing that can speed up the process at the table. "The contract you win is a reflection of the power you build, and your power is rooted in your unity and capacity for collective action," Brooks says.
For a while, though, much of the labor movement has treated workers as ancillary to the bargaining process, leaving them to passively wait for a contract to be delivered by staff, lawyers, and a small committee. Yet the best contracts come when those workers are essential to the process. "We have to bring the bargaining table into the shop and the shop into the bargaining table. And that means we need union democracy," Brooks says. "What we have to do is radically change the way the majority of the labor movement does bargaining, which is often behind closed doors."
Brian Murray has been a part of the Starbucks Workers United campaign since its public launch in August 2021. Before working at Starbucks, he had been a social service worker, but he burned out in an underfunded field. Starbucks, he notes, "is very strategically placing itself to try to incentivize workers with college degrees like myself to get a job there." But when those workers announced that they wanted a union, he says, Starbucks flew in the big guns. (The NLRB complaint referred to "unprecedented and repeated" visits to Buffalo by high-ranking Starbucks executives.)
The captive audience meetings didn't stop Murray and his co-workers from winning their election and supporting workers at hundreds of other stores. But the pressure didn't stop with the election win.
The average time to bargain a first contract in the United States is 465 days, according to Bloomberg Law. Yet the median job tenure is just 4.1 years, according to the U.S. Bureau of Labor Statistics. For workers in food service, it's a mere 1.6 years. And Amazon's warehouse turnover has been clocked at roughly 150 percent in a single year. For the labor movement, this should raise serious questions about the time that bargaining takes, particularly in the service and warehouse sectors, which are cornerstones of the economy with desperately low union density. Yet the workers, Murray notes, have little legal recourse for the company's stalling, and even the process of filing those unfair labor practice charges can take a year.
There are some crucial democratic processes that must go into bargaining. One is determining the workers' key priorities for the contract. For the PPNCS workers, diversity and inclusion and equal pay were top-line issues; at other workplaces, it might be paid sick time or an across-the-board raise.
A bargaining committee is elected to sit at the table with management and take responsibility for keeping the rest of the workforce engaged. At Starbucks, Murray says, workers have built a national bargaining committee that crafts proposals workers can modify as they see fit for the specific needs of their stores. They also have regional committees that attend sessions for as many stores as possible. Most importantly, they've been fighting for "inclusive bargaining," which means allowing workers from the particular store and national committee members to observe the proceedings via Zoom.
But Starbucks is having none of that: "They've walked out of every one of our bargaining sessions where we've presented the Zoom option," Murray says. It is to management's advantage to have the bargaining process narrow; by contrast, as organizer and negotiator Jane McAlevey and others have stressed, workers benefit from having the process open to their participation.
The goal for the NewsGuild, Brooks says, is to build to a strike in a year or less if the employer won't come to the table. That's hard, even for a union that has pulled off successful strikes in recent years. But he believes the time is ripe for unions to fight harder, and more publicly.
"Whether it's blue collar or white collar, everyone sees that their boss is doing really well and they're sick and tired of being told they're not worth the value that they're creating," Brooks says, pointing to sky-high profits, housing costs, and inflation paired with piddling wage increases. And strikes can have a momentum of their own.
Union members look at successful strikes by other workers, and it feeds their own willingness to take risks. "When we strike a target, it automatically has ripple effects at all our other tables," Brooks says. "When one shop goes out on strike, we have them go to all the other shops where they're still bargaining a contract and have them talk about how they effectively organized their strike and what they did and how they did it. And we're very public about this. We want the employers to see that this is what we're doing."
The NewsGuild is one of several unions that have been so successful at organizing new shops that they have a lot of new members who are not yet paying dues. Most unions will not have members pay dues until they secure a first contract, but this creates costs that the unions must bear. The issue of dues, along with strikes, is one that employers will nearly always try to use to crush the union, with statements such as, "The union only wants your money," and "The union will force you to strike." Collins thinks that unions might have conceded too much ground on these issues. Most organizers worth their salt will explain that dues are collected to provide the necessary resources to win battles the union needs to fight—including strikes. Would workers be willing to pay something ahead of the contract victory in order to build a more powerful union?
Brooks notes that for new, independent unions, the question of when and how to collect dues and raise strike funds is even more important than for unions like the NewsGuild, which is an affiliate of the larger Communications Workers of America (CWA). NewsGuild members voted for an increase in dues in 2021 after a lot of public debate. That helps them support new organizing. They also chose to state in the union's bylaws that workers do not pay dues until they win a first contract. "Our goal is to pay it forward," Brooks says. But for small or new unions, the choice might well be different.
One effective angle for outside pressure has been political. In an increasingly polarized country, companies like Starbucks that want to have a progressive reputation—not to mention nonprofits like Planned Parenthood—can't afford to alienate their base too much. Yet many of these companies still run intense anti-union campaigns. Murray points to the pressure on REI after its executives produced a podcast that began with land acknowledgments and ended up arguing against the union. Planned Parenthood workers across the country, as I previously wrote, have also faced anti-union campaigns before and after winning recognition elections.
Even when employers voluntarily recognize the union, Brooks says, it doesn't mean they bargain in good faith. They avoid the bad press of an election, but then they use the same delay and retaliation tactics as any other boss might. "They feel like it's more hidden, people are paying less attention then," Brooks says.
In other words, the bargaining process requires as much attention, from outside as well as from union members, as the NLRB election process. "It's really great that people are so excited about unions right now," Brooks says. "But we've really got to turn that into something actionable." That means turning up to picket lines, leaning on companies to bargain in good faith, and supporting and publicizing worker demands.
As Murray says, "Bargaining doesn't just happen at the bargaining table. It's going to have to happen in the streets. It's going to have to happen through community pressure. It's a much larger process, kind of a movement you're going to have to mobilize." 
Sarah Jaffe is a regular contributor to The Progressive and a reporting fellow at the Type Media Center, covering labor, economic justice, social movements, politics, gender, and pop culture. Find her on Twitter at @sarahljaffe.