Global Left Midweek – Indigenous in the World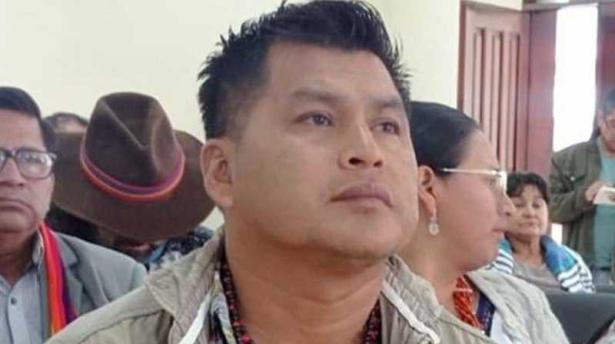 Eduardo Mendúa, an Indigenous activist who was fighting to protect Ecuador's Amazon rainforest from oil extraction, was killed by hooded gunmen on February 26. Credit, Cortesía Facebook del dirigente
__________
Indigenous in the World
__________
How to Be an Ethical Communist
Raymond Suttner / Polity (Johannesburg)
When I joined the South African Communist Party, I was told that the definition of a communist is to be a member of the Communist Party. Where a Communist Party no longer adheres to the ethics of communism, it is important for one to find a way of realising those ethics, of helping others who experience pain and oppression, from outside the Communist Party. 
__________
Ukraine One Year In: Reports and Analyses
__________
Tunisian Unions Build Cost-of-Living Fight
Al Jazeera (Doha)
Thousands of Tunisian trade unionists have held protests across the country over worsening economic woes and the arrest of a top union official. Demonstrators in Sfax, where the largest protest took place on Saturday, chanted "Tunisia is not for sale!" and "No to removing subsidies!" Some raised loaves of bread as a symbol of protest at soaring living costs.
__________
New Leader for Italy's Center-Left
Andrea Carlo / Euronews (Lyon)
Italy's Democratic Party (PD) has selected Elly Schlein as its new leader. Young and openly bisexual, a feminist and impassioned pro-European, she posits herself as a "real" leftist -- one who appeals to society's most disenfranchised. Media outlets have described Schlein as the "anti-Giorgia Meloni", and compared her to US Representative Alexandria Ocasio-Cortez.
__________
Violent Protest in Suriname
Maggie Schmeitz / Stabroek News (Georgetown, Guyana)
A peaceful mass protest against the killing cost of living, held on the Independence Square in Paramaribo, turned into a violent confrontation between citizens and armed forces. Shots were heard and tear gas was used to disperse the crowd that included children, elderly, and persons with disabilities. 
__________
Philippines: Marking the Fight Against the Marcoses
Lance Spencer Yu / Rappler (Manila)
Various groups vowed to keep the spirit of the mass anti-dictatorship uprising alive as the Philippines commemorated its first People Power Revolution anniversary under another Ferdinand Marcos. Several groups drew parallels between the ousted Marcos Sr. regime and the current administration of his son.
__________
Jewish Applause for Barcelona
International Jewish Collective for Justice in Palestine
From many cities around the world, our members celebrate Barcelona Mayor Ada Colau's decision to cut ties with Israel until everyone in Israel/Palestine fully enjoys their rights, safety, and self-determination. We thank Barcelona's mayor and citizens for refusing to look away from abuses that they would not tolerate in their own streets. 
__________
Organizing the Unorganized in Japan
Aoki Kotaro / Asian Labour Review (Seoul)
One of the most important events in the Japanese labor movement's calendar is the Spring Offensive. This year, labor organizers announced a Spring Offensive for Non-Regular Workers. An organizer talked about efforts to mobilize workers on part-time, temporary or dispatch contracts, and why this is important for revitalizing the labor movement.
__________
Video: Ireland Against Racism
Colman O'Sullivan / RTÉ News (Dublin)
Veteran civil rights activist Bernadette McAlliskey was at the head of the march. She told RTÉ News that there is plenty of room in Ireland, the problem is not refugees, the problem is the way the country is organised. The marches come amid rising numbers of anti-refugee and asylum seeker protests around the country in recent weeks.